Houston's 'Coolest' Composer Debuts New Work at DACAMERA's Opening-Night Concert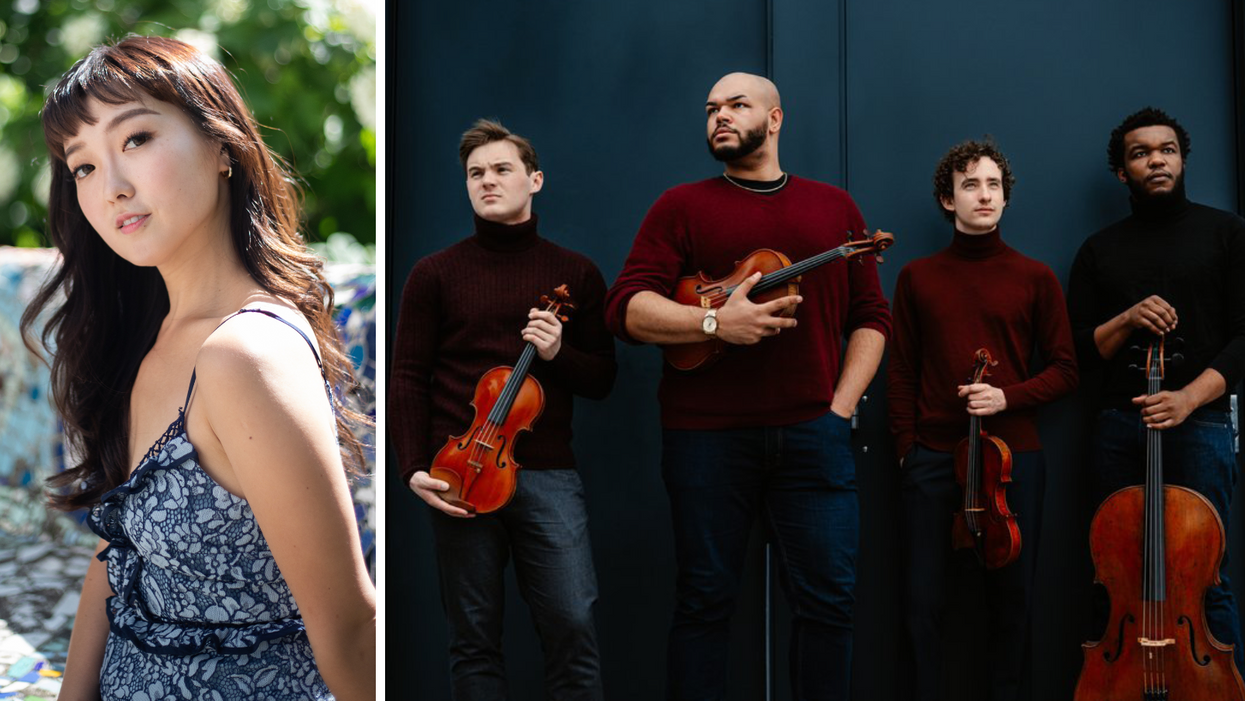 IT'S OPEN SEASON for Houston's fine-arts community. Next up: On Friday, Sept. 29, at the Wortham Center, DACAMERA opens its 36th season with the Houston debut of Isidore String Quartet, one of the hottest young quartets performing and touring today.
---
The program, titled Awakenings, includes Mozart's Quartet No. 19 in C Major, nicknamed "Dissonance" due to the first movement's slow, spooky and harmonically ambiguous introduction; Mendelssohn's regal Quartet No. 5 in E-Flat Major, Op. 44., No. 3, the third from a set of three quartets he dedicated to the Crown Prince of Sweden; and Time's Dialogue, a new, commissioned quintet by Houston-based composer Nicky Sohn, featuring DACAMERA artistic director Sarah Rothenberg on piano.
Born in Seoul, Korea in 1992, Sohn was the sole classical composer among Houston CityBook's Cool 100, but her star was certainly rising before then. She has received commissions and enjoyed performances by some of the world's preeminent performing arts institutions, including Stuttgart Ballet, National Orchestra of Korea, St. Louis Symphony, Aspen Philharmonic, and New York City Ballet. Here in Houston, Sohn is composer-in-residence of Houston's 16-member, conductor-less Kinetic Ensemble string orchestra. Kinetic premiered her violin concerto Home, inspired by the stories of previously unhoused graduates of The Women's Home, featuring soloist Mary Grace Johnson and dance choreography by Kayla Collymore.
For Time's Dialogue, Sohn was inspired by the 1957 recording of "Bye, Bye, Blackbird" by the legendary trumpeter and band leader Miles Davis; both the tune itself, along with Miles' immediately identifiable approach to playing and improvising with a melody, were touchpoints for Sohn in the creation of her own "dialogue" with the recording as well as the two quartets on the Awakenings program, each composed by Mozart and Mendelssohn when they were in their late 20s. "I'm usually the youngest composer to be programmed, but I'm going to be the oldest composer to be performed on this concert," says Sohn.
Sohn cites jazz as a major influence on her compositional output and hears it as a uniquely "organic way of making music that sounds like a conversation." Conversational textures abound throughout Time's Dialogue, which whizzes by in less than six minutes, with intervallic and harmonic content from "Bye, Bye, Blackbird" embedded in the individual and combined parts like strands of musical DNA. It doesn't feel like "jazz," but Miles never liked that word anyway, and reveled in doing the unexpected, which is another thing Sohn admires about the man. "He always came up with new styles of music," says Sohn. "He was always looking for new ways of expression."
Sohn also alludes to but doesn't elaborate on, coming to terms with some painful personal experiences this past spring that led her to listen to sadder, blues-infused music in the vein of classic Miles. "Music is such a powerful tool for expression where I can be as abstract or as specific as I want," says Sohn. "It's almost like keeping a diary."
Art + Entertainment