Jason Moran Jazzes Up His Repertoire with New Art Show at Houston Gallery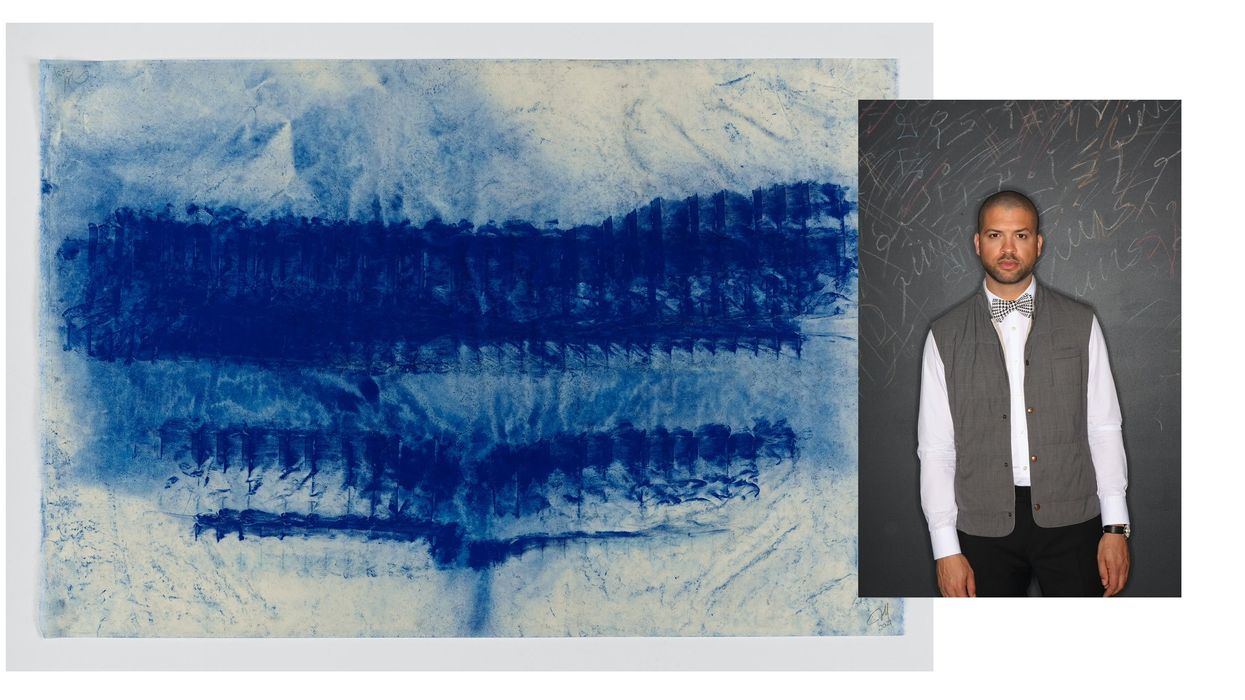 FANS OF HOUSTON-BORN jazz pianist Jason Moran may be surprised by Across Time, a new two-person exhibit at Josh Pazda Hiram Butler gallery of Moran's visual art hung alongside an equal number of works-on-paper and one "readymade" sculpture by the late, great American maverick composer John Cage. The show runs through May 27, and Moran also plays Discovery Green's Jazzy Sundays series on April 16.
---
Conceived by Pazda, who like Moran is an HSPVA grad, the art exhibit is an exclusive for Houston, and last Saturday's opening, not surprisingly, was packed. Conceptually speaking, pairing artwork by these two forward-thinking musicians makes total sense. But in person, the dialogue "across time" between these two feels like a bit of a stretch. But then again, maybe that's the idea here, to explore how supposedly different creative enterprises, be it Black American jazz or Black Mountain, have always drawn inspiration from the other.
Cage the composer could be highly critical of improvisation and despite having been alive to witness the evolution of the music from swing to bebop, was dubious in his appreciation of jazz. However, he did collaborate with such jazz outliers as reeds master Joseph Jarman and Saturn-by-way-of-Birmingham-born keyboardist Sun Ra. Meanwhile, Moran's roots are in jazz, and he has paid tribute to those roots with recordings and multimedia performances honoring Fats Waller and Thelonious Monk, as well as his Robert Rauschenberg-inspired DACAMERA commission Holed Up, featuring legendary Houston vocalist Horace Grigsby. But he has also stretched any definition of the music to include live, freely improvised performances with pioneering video artist Joan Jonas, and co-curating Bleed, a five-day, multi-media residency at the Whitney Museum organized with his wife singer Alicia Hall Moran. But unlike Cage, Moran is exploring a vernacular, rather than inventing a new language, which just means there's some history to consider here, which can only lead to an even deeper appreciation for each man's work outside of music and in the medium of visual art.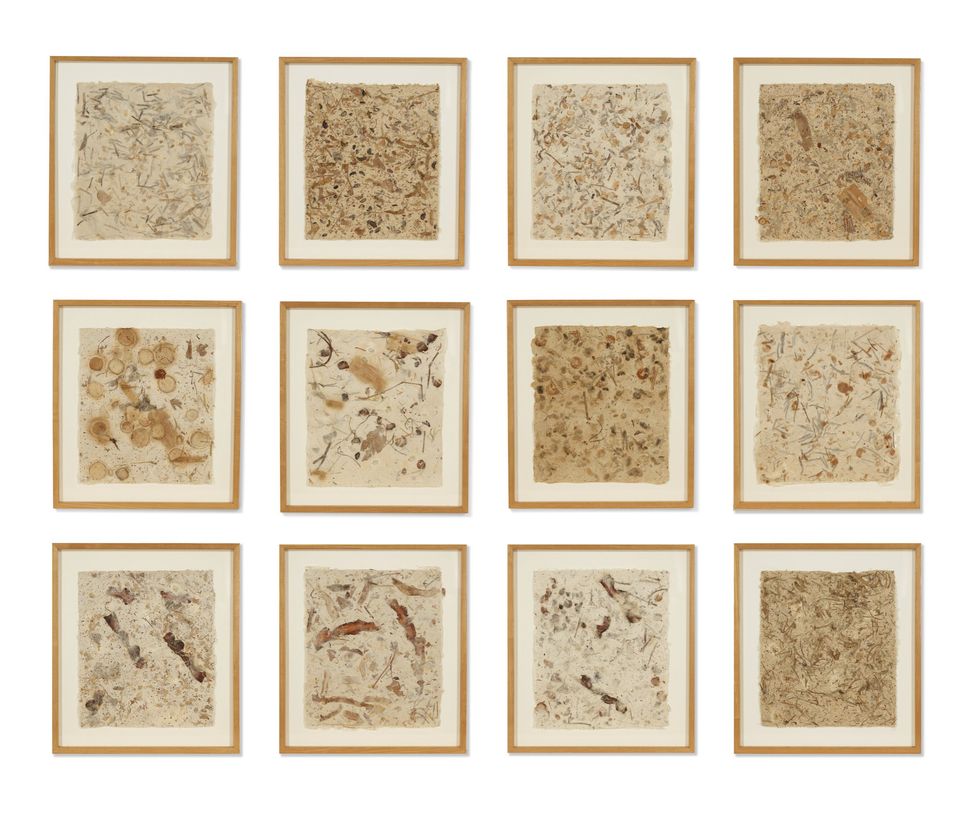 'Medicine Drawings' by John Cage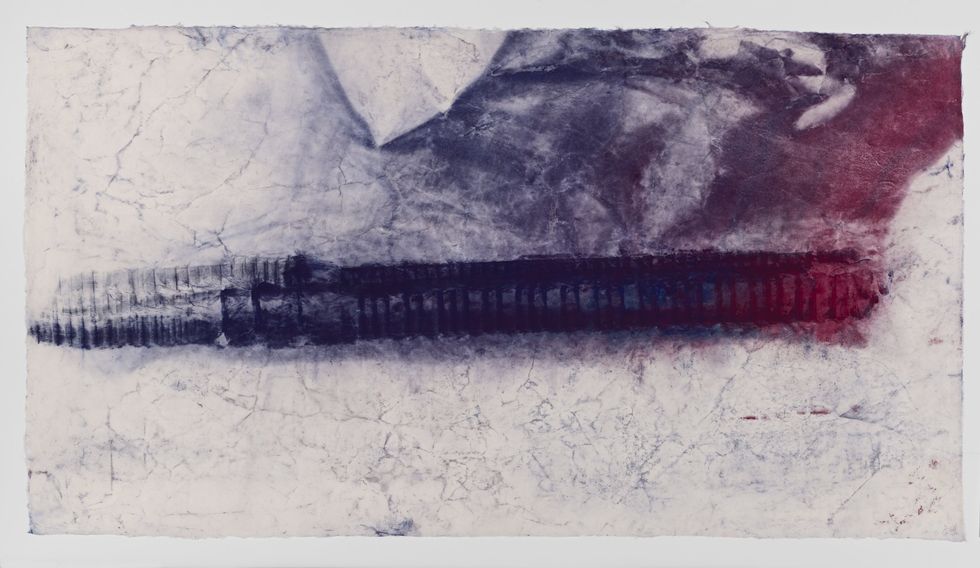 'Before the Downbeat,' by Jason Moran
The works by Cage in Across Time are pretty diverse and include twelve compositions of medicinal herbs on handmade paper (Medicine Drawings, 1991) and twelve 36-note wind-up music box mechanisms (Extended Lullaby, 1994), which when activated by visitors, create an intimate, stately texture of unpredictable sounds. (Kudos to the gallery for allowing folks to "touch the art.") Meanwhile, Moran's cobalt-blue pigment on paper works are variations on a single theme. To create these works, Moran drapes his piano with thin, Japanese Gampi paper, covers it with pigment, and then proceeds to play the keys, capturing a moment in time as the powder brings an image into relief. Moran's Barline Hopkins Deathbed, which showed last summer at Lawndale as part of Tierney Malone's multi-year exhibit The Sankofa Project, was created using the same messy, performative technique. But while Barline was elegiac and haunting, Moran's works in Across Time are more congenial, like pages from a composer's sketchbook, with many titles describing his musical practice in transcendental terms. ("My Hands, My Mind." "Five Minutes, Five Hours.")
Throughout the exhibit, one feels a sense that these two artists are reaching "across time" without actually grasping the others' hands. But without such attempts at provocative conversations, no matter how awkward or painful they may be, what hope is there for forward movement in art, culture, and our divided society?
Art + Entertainment