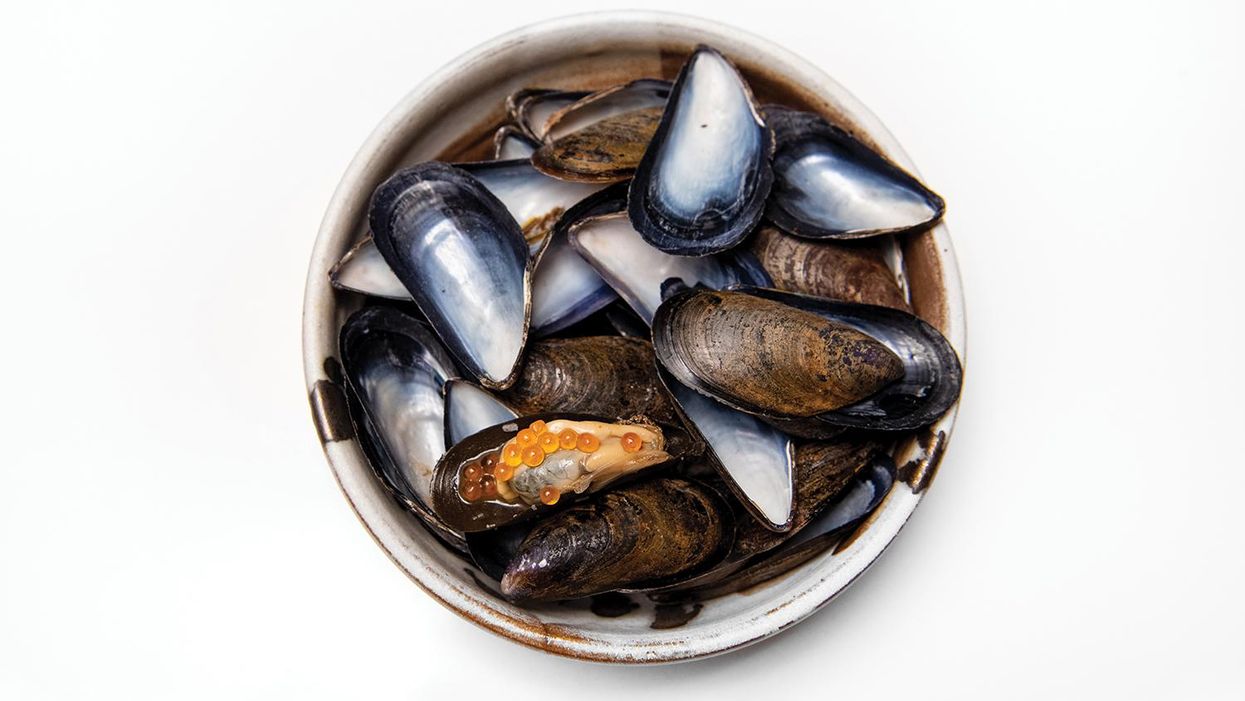 FOR BETTER OR worse, tasting-menu restaurants have always been a risky proposition in Houston. There's the promise of critical acclaim, as in the case of Oxheart, which catapulted Justin Yu into the national limelight, earning him one of Houston's few James Beard Awards. Ditto for Jonny Rhodes of Indigo, whose 13-seat restaurant, in its first year of opening, earned tons of national recognition, namely a place on Time magazine's list of the world's greatest places in 2019.
---
And yet, they tend to be short-lived. Oxheart shuttered, replaced by the more casual Theodore Rex. Come July, Indigo, too, will close after a two-year run. And who can forget Seth Siegel-Gardner and Terrence Gallivan's The Pass & Provisions, which is now Bludorn?
Degust, which opened in January in Spring Branch, is a 20-seat tasting-menu-only spot helmed by chef Brandon Silva. To say that the owners — in this case The Kirby Group, which owns Heights Biergarten and a growing portfolio of establishments — are taking a risk to open such a restaurant during a pandemic is an understatement. But book one of the three nightly seatings, Thursdays through Saturdays, and you can't help but be thankful for their fearlessness.
The restaurant represents the realization of Silva's lifelong dream. "Every chef that aspires to be something wants to own a restaurant," he says during his introductory speech, which he gives at the beginning of each seating. Houston native Silva's 15-plus-year career was spent locally in kitchens like Uchi, Pesce and Holley's before he became the culinary director of the Kirby Group five years ago. In his spare time, he traveled the world to gain experience, visiting Copenhagen to stagière at places like Noma, Relae, Amass and Bror; or traveling to Lima, Peru to amplify his understanding of Peruvian cuisine under chef Virgilio Martinez at Central.
Degust's current menu, available in vegetarian or meat-and-seafood format, is offered in six courses. The menu, priced at $75 with an optional beverage pairing for $45, is mostly Mexican and Spanish, with Japanese touches and techniques he acquired from his travels.
His live-scallop course is the perfect example of what Degust is all about. Its preparation involves taking a live scallop and slicing it like sashimi. It's flame-seared in the style of Japanese aburi, and then topped with salmon roe that is marinated in Silva's salsa Jalisco, which comes from his Mexican grandmother's recipe. The main meat course is made from Wagyu Texas short rib from Strube Ranch braised guisada-style and paired with crispy-skinned pork belly served over mole negro, with an heirloom-corn tortilla made from masa that is nixtamalized in-house with a stone mill grinder imported from Oaxaca.
The restaurant itself is casual — no white tablecloths. Natural woods and earthy terra cotta Mexican tiles recall a Mexican hacienda. It's arranged in a chef's-counter style, with high seats overlooking a central exhibition-esque kitchen where patrons can watch the chefs at work. Due to the pandemic, sanitizing UV filtration has been installed in the HVAC system; HEPA filters run in each room; and plexiglass dividers separate patrons from each other, as well as from the chefs, with six-feet social distancing built into the seating arrangement.
Degust is a unique and memorable restaurant. Let's hope it sticks around a while.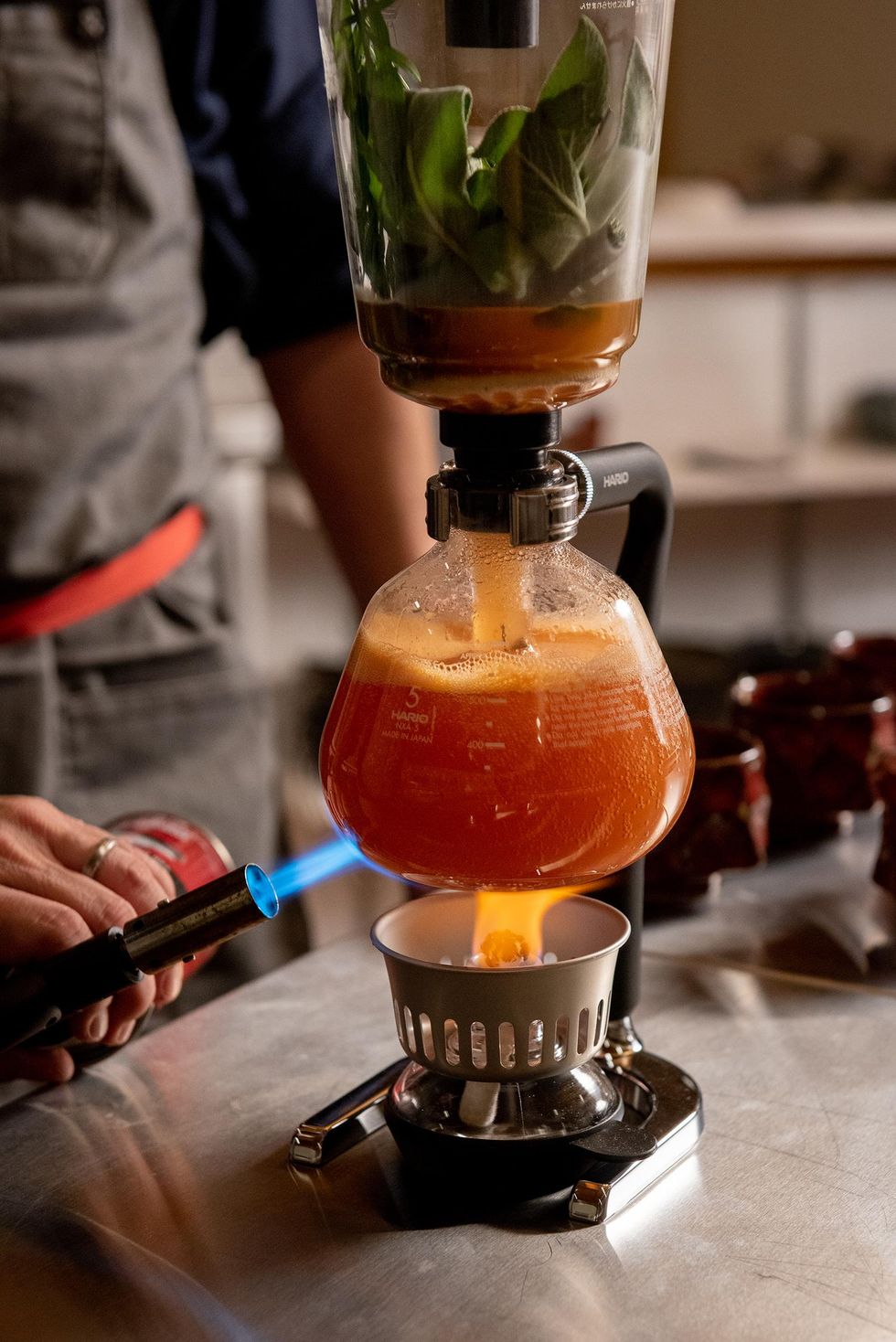 The making of smoked fermented tomato consommé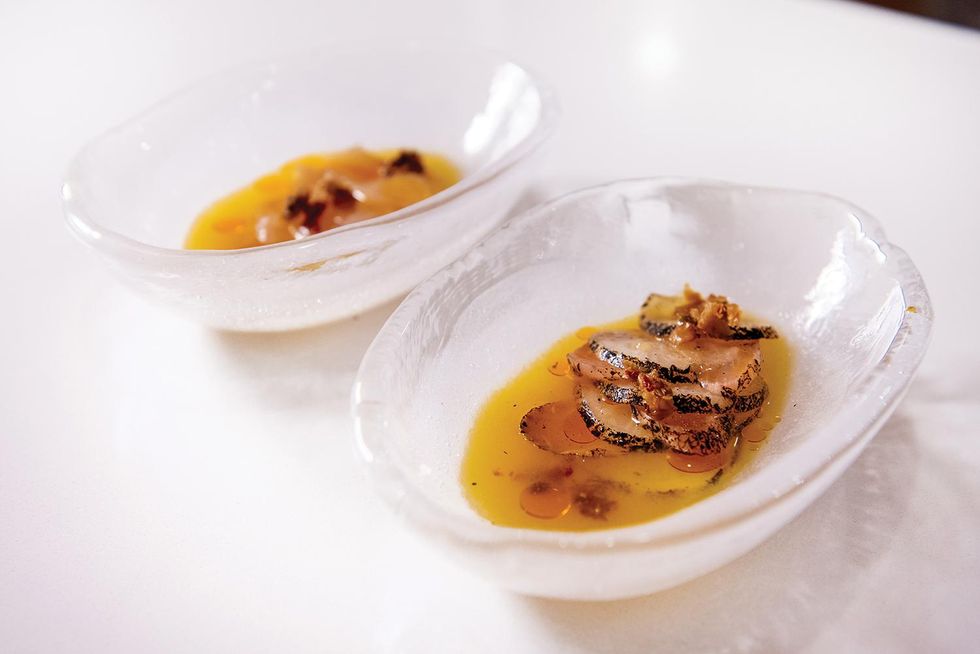 Charred radish sashimi from Degust's farm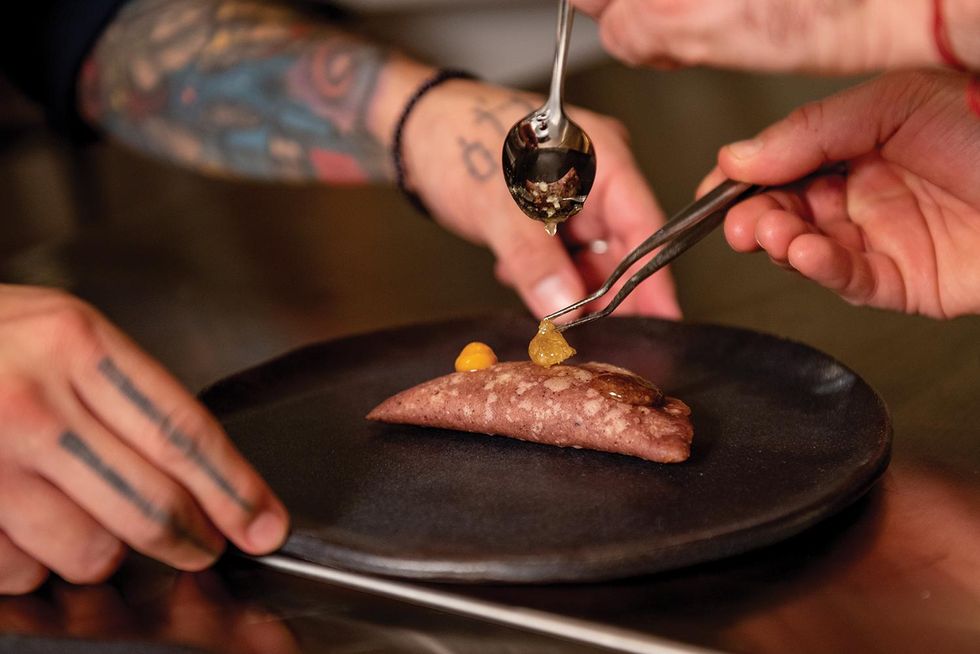 A "quesadilla" with fermented Texas peach, honey and persimmon mustard
Food