Fiora's Bottle Shop Uncorks Worldly Wines and Showy Sandwiches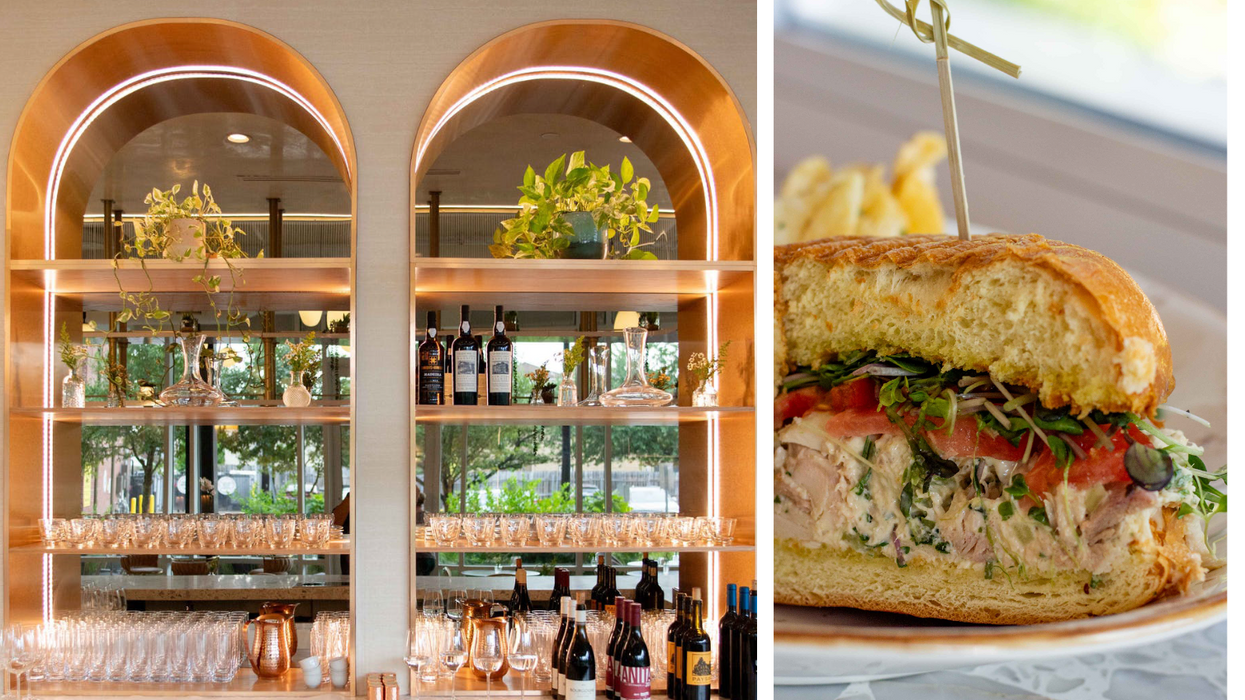 ARE SANDWICHES BECOMING a thing? Stuffed Belly is the new sandwich king in Spring Branch, newcomer Josephine's offers a slew of po'boys, and high-end Navy Blue has added a lobster roll and a crunchy fried grouper tucked between buns with cabbage and caper aioli. The newest kid on the block is Fiora's Bottle Shop, a wine bar and retail shop at the Montrose Collective specializing in elevated sandwiches.
---
Located across the mixed-use development's courtyard from Austin-based Picnik, Fiora's comes from partners Natalie Navi and Amir Sed. Navi brings her sandwich and kitchen experience from working as general manager at Paulie's while Sed has worked in multiple Houston hospitality concepts. Sean McNeely, who was employed at Camerata before working for a wine distributor, is the general manager of Fiora's and curator of the thoughtfully sourced wine collection. The team has been working on opening Fiora's for the last few years.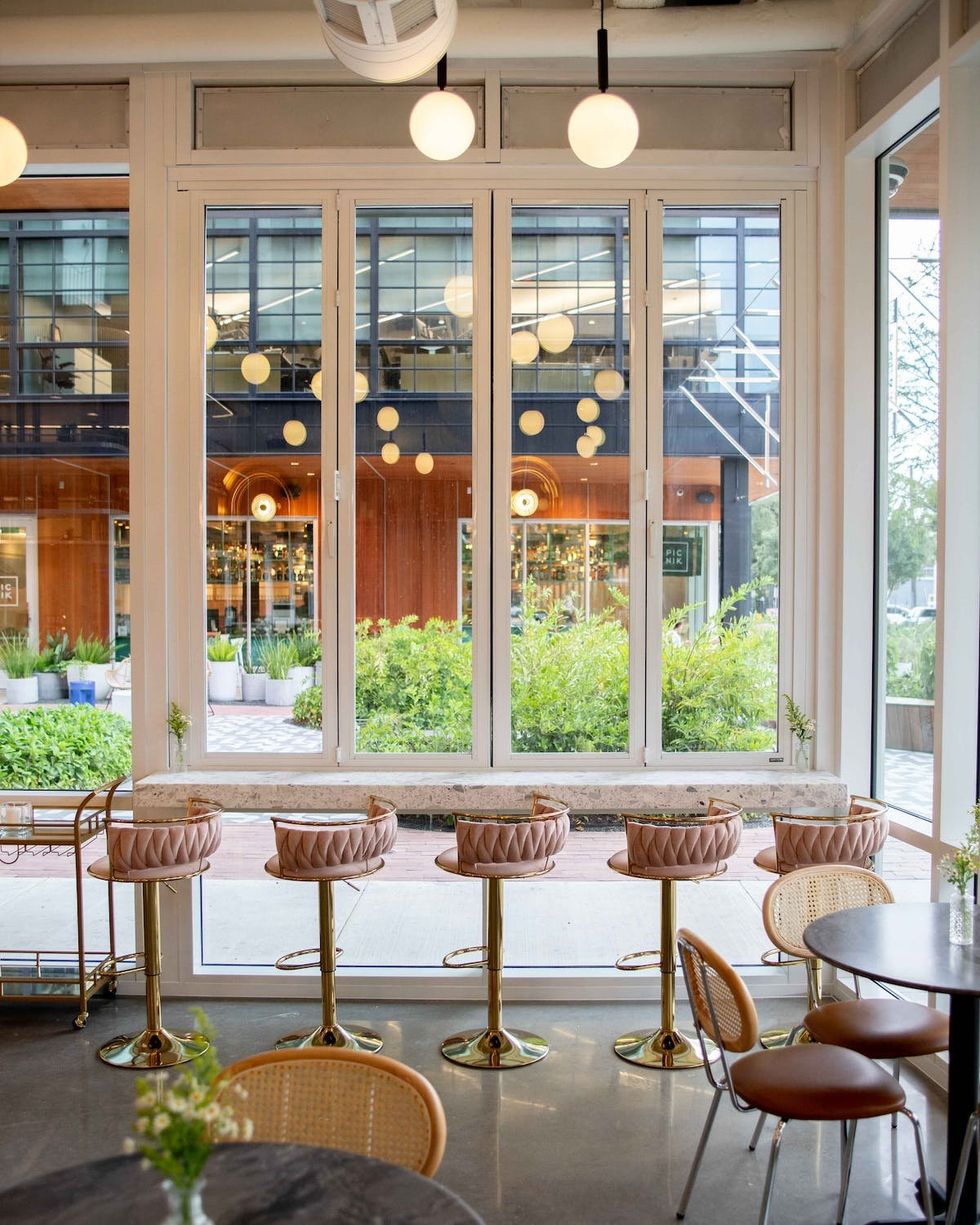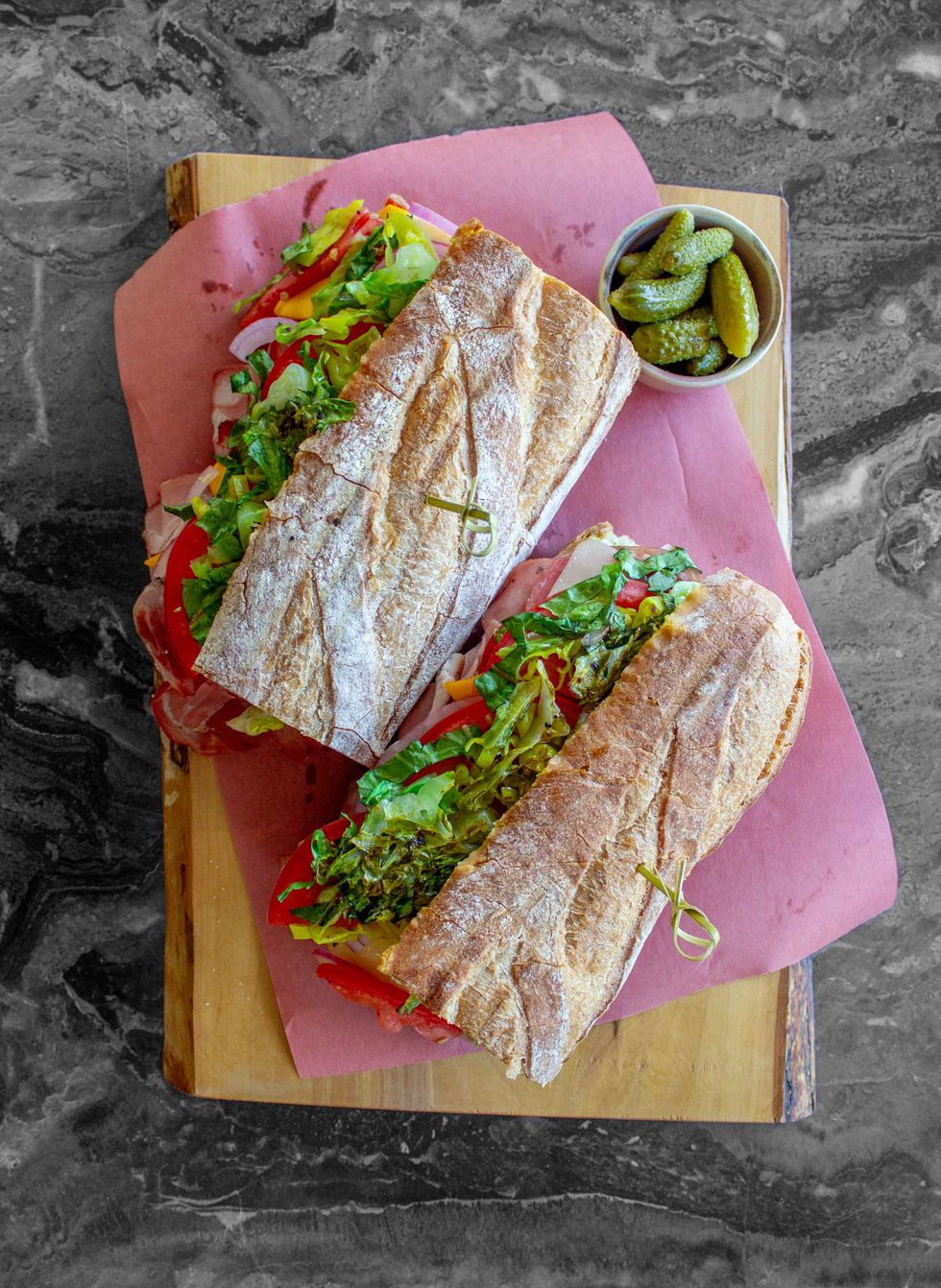 Bottles span the globe with some natural wines, conventional picks, as well as overlooked regions and varieties that are not as common. "We want to offer a creative, quality wine program in an unpretentious setting, maybe like you hanging out in a friend's backyard," says Sean McNeely. Fiora's chic aesthetic has a garden party vibe with floor to ceiling windows, arched brass shelves and rose gold light fixtures and accents, greenery, and whimsical wallpaper in unexpected places. There's a shaded two-sided patio and roll-up garage door style windows "which will be open during the fall and spring," assures McNeely.
Sandwiches, crafted with deli-style meats, local Slow Dough bread and homemade condiments, are pricey but huge; ample enough to split. Some options include a deli-style turkey and Swiss on sourdough ($14), boquerones with vegetables and burrata on baguette ($18), and mortadella with prosciutto, and chile pesto spread on focaccia ($16). The signature is The Goat — a 14-inch masterpiece stacked with mortadella, applewood smoked ham, pepperoni, vegetables, provolone, American cheese and Fiora spread made with vinegar, herbs, garlic, lemon and olive oil ($25). Craving something classic? Try the cooling house made chicken salad with tarragon and sprouts on brioche.
Pair them with the wine for a few matches made in heaven. Expect about 15 selections by the glass (choose half or a full glass) and a rotating inventory of around 50 bottles from myriad regions in a variety of styles including Champagne and several Texas wines. Texas is also represented on the beer menu. McNeely says they will be adding a happy hour soon highlighting sustainable selections in alternative packaging such as kegs, bag-in box, and cans for $6 per glass. "These are friendly, high quality and responsibly made wines that would be at home as the house pour in a Paris bistro or an osteria in Venice," says McNeely. By the end of August, the team hopes to open for lunch at 11am. Other plans in the works include expanding their private event business and catering services.
Related Articles Around the Web