HGO's New Season Opens Friday with 'Heavy, Important' Commission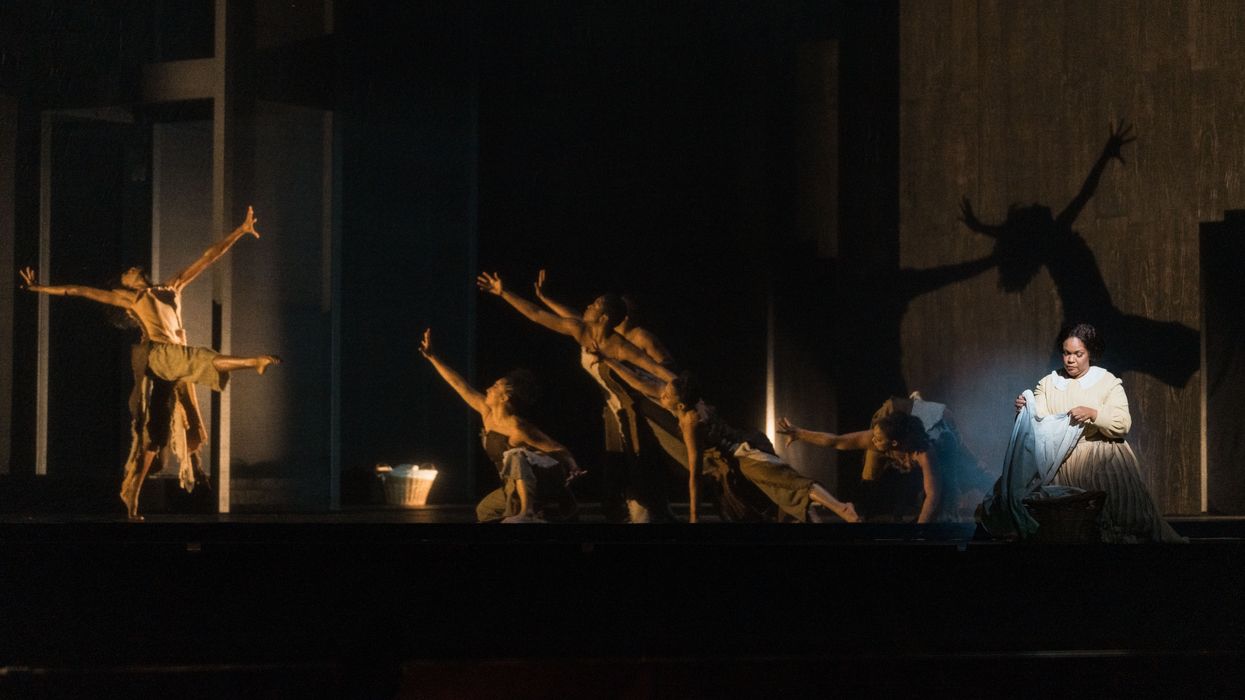 ON FRIDAY, OCT. 20, Houston Grand Opera opens its 2023-24 season with the world premiere of Intelligence, by celebrated American composer Jake Heggie and librettist Gene Scheer. Set in Richmond, Va., during The Civil War, Intelligence tells the true story of Elizabeth Van Lew, a prominent member of Confederate society who ran a secret pro-Union intelligence ring, and Mary Jane Bowser, who was born into slavery and, with Lew's help, embedded herself as a spy in Jefferson Davis' Confederate White House. The production is directed by choreographer and 2021 MacArthur Fellow Jawole Willa Jo Zollar, and features a chorus of eight dancers from Zollar's company Urban Bush Women. Kwamé Ryan conducts.
---
Chicago-born soprano Janai Brugger makes her company debut as Mary Jane, who along with Elizabeth, played a crucial part in a war that ended chattel slavery. "I was completely in awe of and intrigued about these two women, especially Mary Jane," says Brugger, who had never heard of Mary Jane before being offered the role, but immediately connected with the magnitude of the story, the lyricism and tunefulness of Heggie's music, and the collaborative nature of the production. "I knew it was going to be something special," says Brugger.
Intelligence is the 75th company-commissioned opera by HGO, an endeavor that began in 1987 with John Adams' controversial Nixon in China. Like Nixon, which brought together three unlikely collaborators — Adams, poet Alice Goodman, and director Peter Sellars — Intelligence is similarly provocative in its subject matter and forward-thinking in how it is being realized for the stage, with Zollar for the first time bringing her formidable skills as a choreographer and director to the world of opera. "She's a very calming spirit," says Brugger of Zollar. "She cares about all aspects of what we are doing."
Throughout the opera, the dancers, an "ancestral force" identified as the Is-Was-Will, propel the story visually and emotionally not with words, but with movement. There are moments when Brugger as Mary Jane can't see the dancers, but somehow knows they are there. "It's like feeling an energy," says Brugger. "And then there are moments where she does see them, and you know and understand why."
As a singer with a voice described by Opera News as a "supple, beautifully shaded lyric soprano," Brugger has learned more about her own body through working with Zollar and a cast of eight dancers. "For singers, I always say our whole body is our instrument, it's not just our voice," says Brugger. "So learning how to move in that regard has been helpful for me, especially in a role like this."
Brugger and her fellow cast members, including mezzo-soprano J'Nai Bridges in her HGO mainstage debut as Lucinda, soprano Caitlin Lynch as Elizabeth's sister-in-law Callie, baritone Michael Mayes as the Confederate Home Guard Travis Briggs, bass-baritone Nicholas Newton as the Davises' butler Henry, and tenor Joshua Blue as Mary Jane's husband Wilson, are committed to telling the story of two women who risked their lives to help people, and hope audiences are encouraged to learn more about Mary Jane and Elizabeth's remarkable, but complex relationship.
"I think any time you have to talk about oppression and the atrocities that happened to human beings, in any shape or form, it is traumatic," says Brugger when asked about the psychological toll of singing the role of Mary Jane. "You realize this is something that happened and in some ways is still happening today."
"It's heavy content," says Brugger. "But it's an important story, and I feel this is how we grow and learn. By embracing history and learning from it and having those difficult conversations to inspire and bring about change."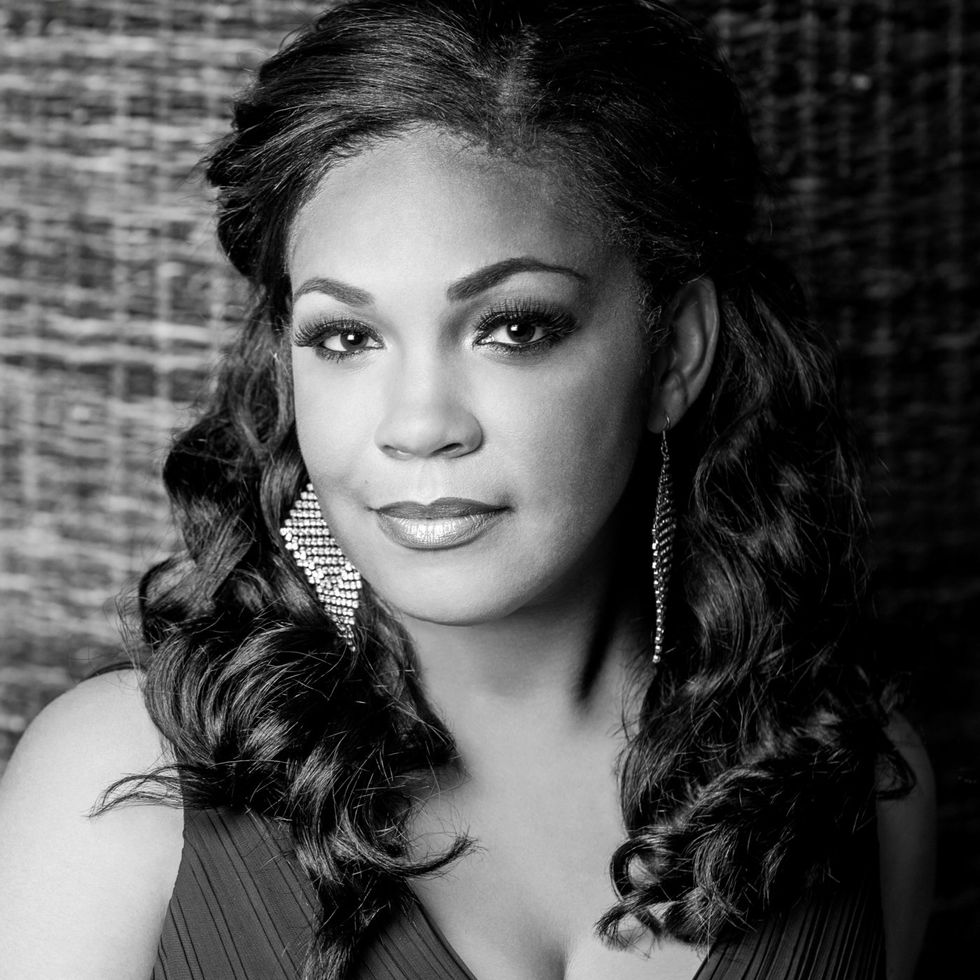 Brugger (photo by Dario Acosta)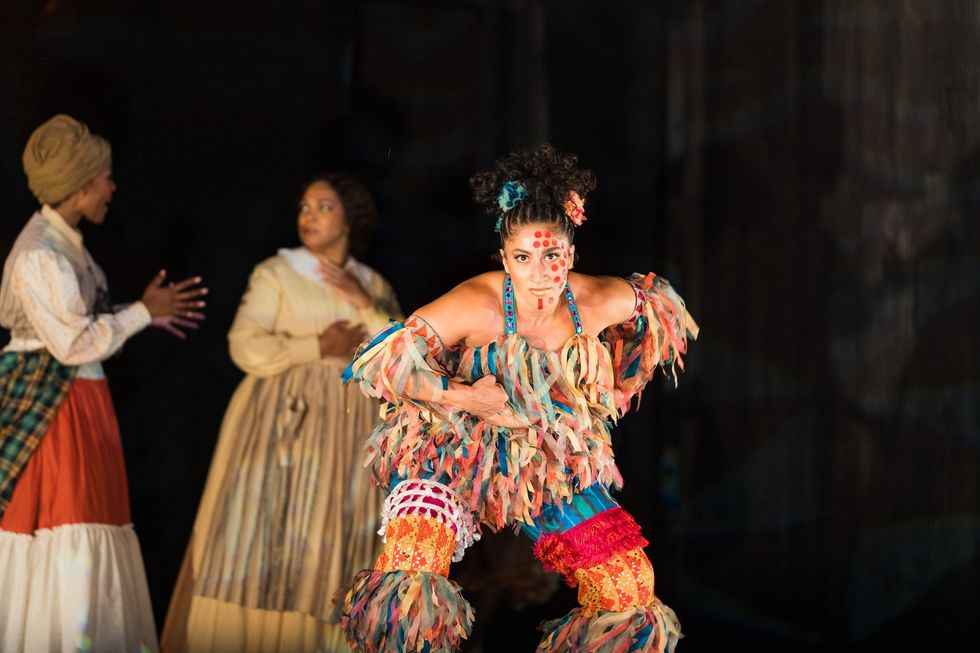 J'Nai Bridges and Janai Brugger, with Urban Bush Women dancer Bianca Leticia Medina
Art + Entertainment