'House' Rules
Expect smart, classic bistro cuisine — with an artful, international twist — from the Latin American brother-owners of the Heights' new Maison Pucha.
Kirsten Gilliam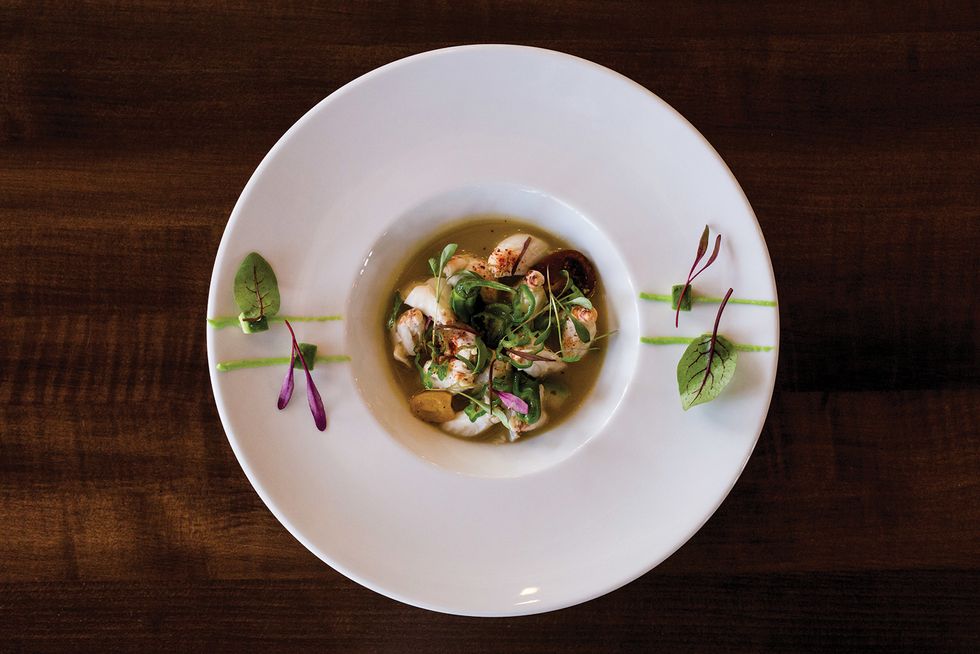 In the Heights, everything inside the new Maison Pucha Bistro (1001 Studewood St.) looks artsy and attractive. Globe lighting and deep-blue painted ceilings with matching walls inspired by Van Gogh's "The Starry Night" and Chagall's "Lovers Over Paris" offer a moody backdrop for French dining.
---
"Painting was my first passion," says the executive chef, Ecuadorian-born Manuel Pucha. He glances up at the Salvatore Dali-esque piece he himself painted 24 years ago — the only one he refused to leave behind when he moved with his family from Venezuela to New York in search of better opportunities. "In three years of art school, I learned discipline, focus and creativity. For me, creativity is more important than knowledge."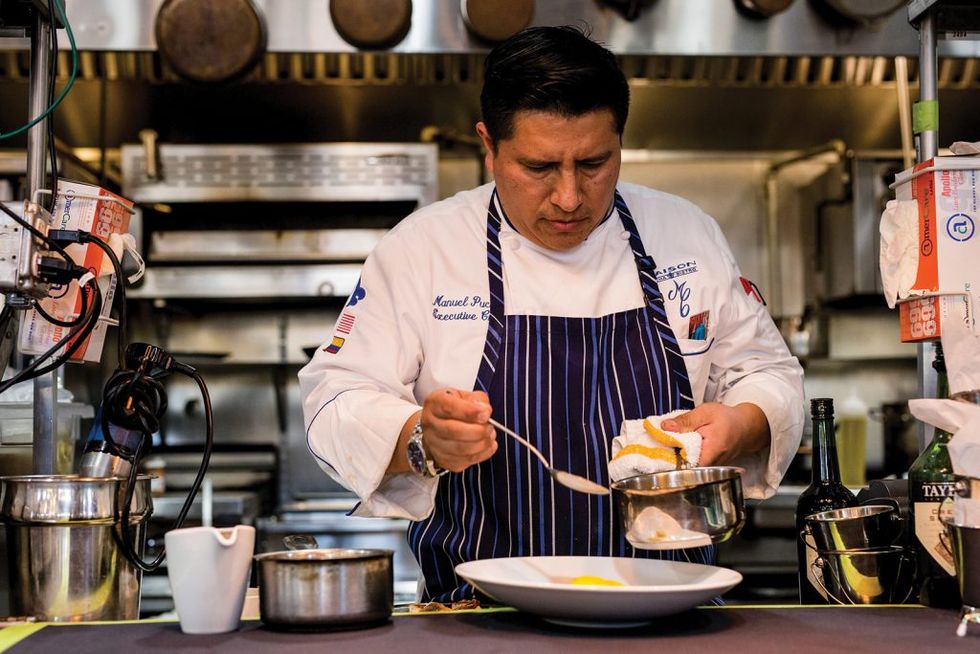 Chef Manuel Pucha in the kitchen
The painting, a dream-like mix of shadowy figures and animals, now resides in the private dining space of his restaurant, a collaborative culinary undertaking with his three brothers. With maison meaning house in French, and Pucha as the family name, Manuel chose to incorporate the word bistro in the restaurant's title, as a way of noting that there is a true chef in the kitchen. "The name means I am inviting you over to my house. Let me serve you; let me make sure you have a good experience."
The brothers Pucha are no strangers to hospitality, bringing a wealth of experience over the last two decades. Manuel most recently served as executive chef at La Table on Post Oak; Victor and Cristian worked in New York at Brasserie du Cognac and Le Colonial respectively, and Gabriel has taken on the role of managing the restaurant's day-to-day duties. Today, all four brothers share a common goal — the success of a family business.
"This is not a gastronomic restaurant," he says, aware that its location on Studewood will likely draw in young families who "like to eat what looks right and sounds right on the menu" along with those who want good food and lots of fine wine. Here, there are 30 wines by the glass — and an impressive 200 by the bottle, with a hefty focus on French varietals in categories listed like Bordeaux and Beyond, and Red Rhone Rangers.
The "French-American bistro with an Ecuadorian twist" lists recognizable items like steak frites, shrimp ceviche, onion soup and chateaubriand — and traditional roasted chicken. Roasted chicken? "Yes," Manuel laughs. "A roasted chicken is a roasted chicken, but can you do it right? Can you do it juicy? Can you do it flavorful?"
Old is new again, and a bit pricey, he says, but you must conform. "Classic dishes are coming back, but they have to be prepared slightly different than before. These days, people are pescaterian, gluten-free, vegan. Free-range chickens are better. It is very, excuse my French, f***ing expensive." He has to ask $22 for that roasted chicken.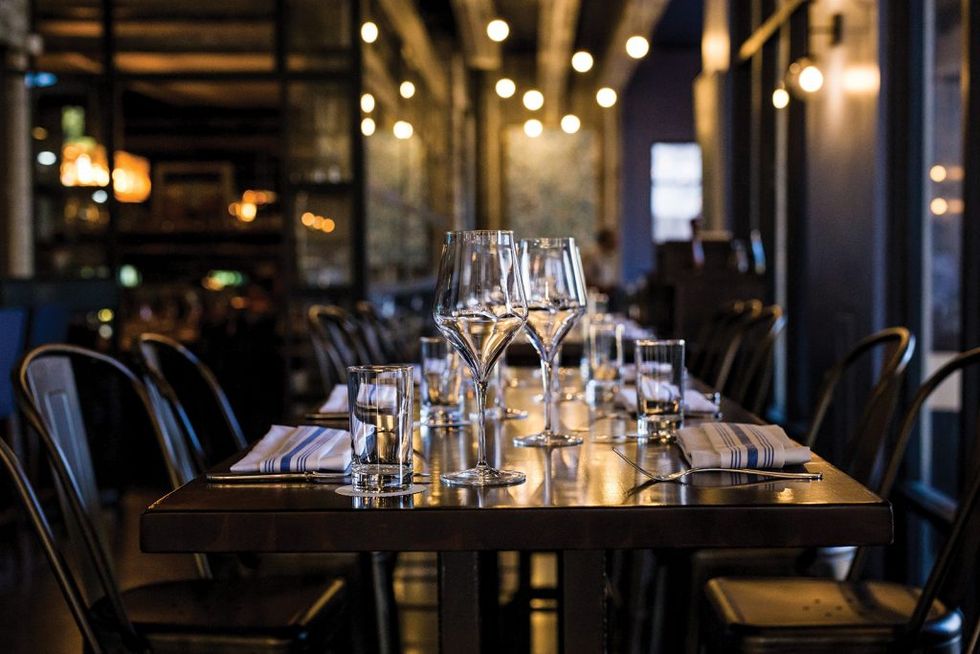 The dining room of Maison Pucha Bistro
Even so, Manuel is ready to ride the wave of change. He is thoughtful in his approach when it comes to meatless options — he often opts for vegetable stock rather than chicken — and welcomes vegan diners with a salad of heirloom organic baby vegetables, tofu and kale.
In January, the restaurant hosted an exclusive 16-seat Ecuadorian-tasting dinner alongside a chef friend from New York. Manuel hopes to continue the tradition of showcasing Ecuadorian-influenced cuisine in such dinners throughout the year, while still maintaining the classic menu and strong foundation of the restaurant, which is regularly open for lunch, dinner, happy hour and weekend brunch. Manuel says there's a breakfast menu in the works, too.
As a chef who is also an artist, Manuel was determined to offer private dining, a place where he could paint outside the lines. "A chef's table gives us the opportunity to showcase our talents, our experience," he says. "It is a place where we can do something more personal for our diners."
When asked if his prized piece of artwork — the lone painting from Venezuela — had a name, he proudly looks up at it. "Of course. 'Reborn.'"
AT TOP: Bouillabaisse in a tomato-saffron fish broth
Food+Travel