In Chef We Trust
Restaurants put indulgent spins on Japanese 'omakase.'
Shannon O'Hara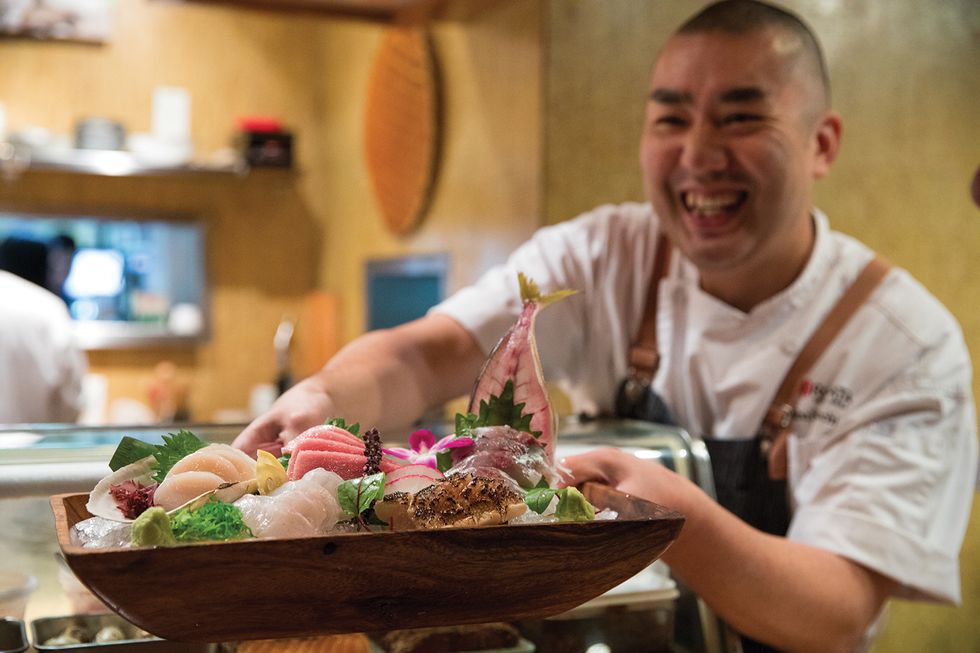 'Tis the season to eat, drink and be merry. What better way to revel in the riches of a festive feast than to enjoy it wholly in the hands of one of the city's finest chefs?
---
"I'll leave it to you, chef." That's roughly how the phrase omakase shimasu translates. Shortened in the States to omakase, this is a longstanding tradition that allows a chef to flex his creative muscles through a multicourse menu made with seasonal ingredients. It's common in Japan, and has in recent years evolved into its own culture in Houston. And while those here may consider it an option reserved for special occasions, omakase's origin in diners and fast-casual spots, where chefs whip up whatever they feel like based on what's available that day, is far less formal. 
"Traditionally, dishes are presented in a certain order: The menu starts with a core dish and then continues on with sashimi," says chef Manabu "Hori" Horiuchi of Kata Robata. Almost hiding in the corner of an inconspicuous strip center on Kirby at Richmond, it's a go-to for some of Houston's best chefs and most in-the-know foodies. Its dining room is centered around a bustling sushi counter and open kitchen; the soft-spoken chef says his choice spread is one that can be enjoyed at the counter, per conventional practice, or at a table.
With the exception of Wednesday and Sunday, a reservation to Chef Hori's omakase dinner can be reserved for any day, at any time — but he allows no more than two couples to dine at once. "This is a special dinner. It requires our planning and preparation."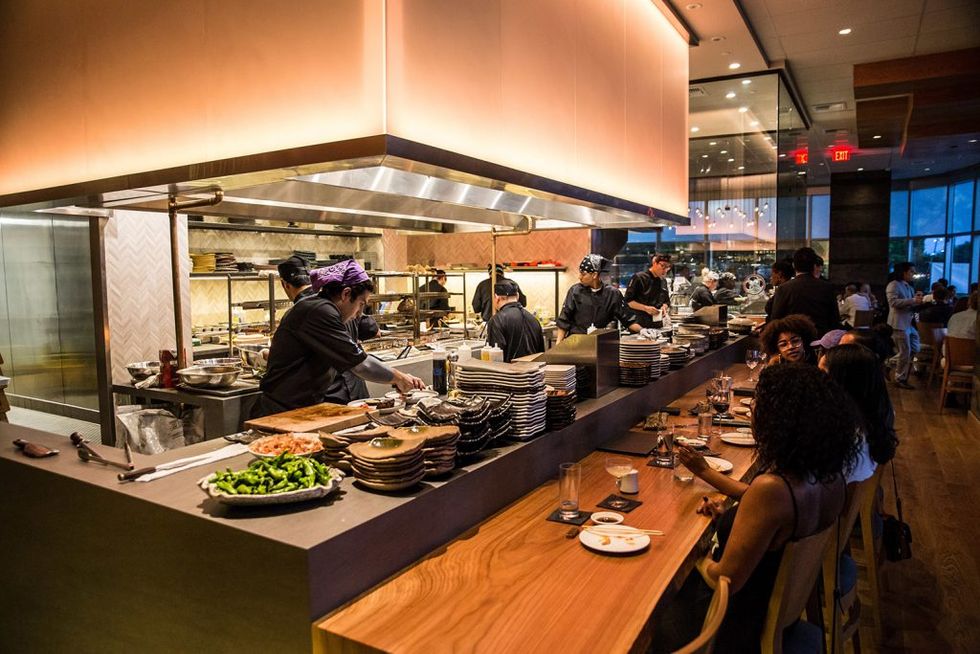 Roka Akor's bustling bar
Horiuchi typically sends out nine or 10 courses, comprised of seafood flown in from around the globe — fish from Tokyo, spot prawns from Santa Barbara, salmon from New Zealand — and paired with delicacies like caviar, truffle, foie gras and premium cuts of Japanese A5 wagyu. On this night, he is serving a Miyazaki A5 wagyu carpaccio decorated with burgundy black truffle, which he says is not considered traditional, and also the Japanese golden-eye snapper shabu shabu, which very much is. 
The movements he makes as he prepares the various cuts of fish with his blade are smooth and hypnotic, and he makes a noticeable effort to connect with diners, handing dishes directly to them, and asking how everything tastes.
His matsutake dobin mushi, a Japanese teapot soup, is made of matsutake mushrooms from Oregon (when they're in season), gingko nuts, shrimp and a white fish; tonight's is snapper. During this course, Horiuchi encourages guests to pour the broth into a teacup and slurp it, before using chopsticks to enjoy the heartier ingredients. 
The full experience, with a unique menu built purely from Chef Hori's imagination, will set you back about $140 per person.
Around the city, other popular restaurants are serving customized omakase and omakase-inspired meals, ranging from a few courses to upwards of 20. At year-old Japanese steakhouse Roka Akor, a decadent, six-course omakase dinner ($128/person) begins traditionally, with succulent sushi starters like toro tartare, delicately crowned with Ossetra caviar. With the restaurant's focus on grilled meats, the menu is known to take bold turns with hearty courses of robata-grilled octopus, or Alaskan King crab dressed in chili-lime butter. 
Celeb-beloved Nobu, which opened this summer in the Galleria, offers two takes on the practice: a slightly standardized multicourse menu, which provides a sampling of the restaurant's regular offerings, and a separate chef's tasting menu, which changes daily and is reserved for the more adventurous. 
In West U, Chris Kinjo brings the thunder during his omakase at MF Sushi, where a sleek, flat sushi bar, flush with glass cases used to store fresh seafood, allows no obstructions during dining. Here, MF delivers sexy food with substance, course after 20-plus courses.
Paul Qui's Montrose restaurant Aqui added the option of omakase dining to its menu in August, hiring Yoshi Katsuyama as the face of its bold program. The former head sushi chef at Uchi Houston, he works alongside Qui and the executive sous/pastry chef, James Beard nominee Jill Bartolome, to present a lively, out-of-the-box feast. "We launched omakase as a way for me to explore my creativity and for guests to have fun," says Qui. "With Yoshi, Jill and myself at the counter, it is like having a band together jamming out, rather than a stiff tasting menu."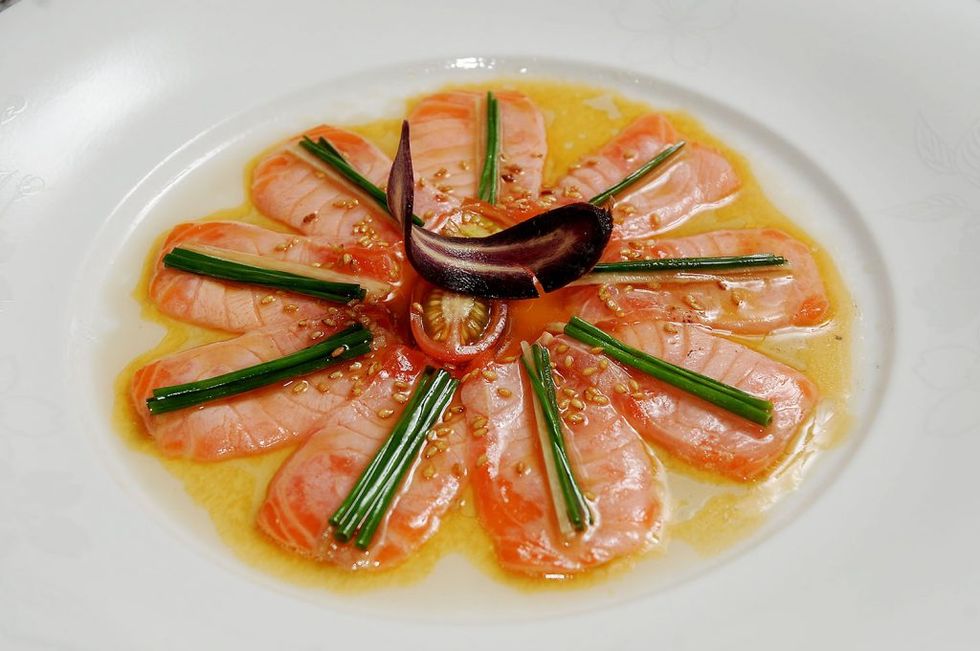 New-style salmon sashimi at Nobu
Qui says that with Katsyuama's specialty being unagi, or eel, the menu boasts a good bit of traditional sushi, but there is much more — fried dishes, proteins ranging from rabbit and frog to bison and duck parts, and up to five different desserts. Guests can always expect to see iterations of pork belly, oysters, caviar and A5 wagyu, but he says live uni, or sea urchin, and shellfish are what tend to drive the price of the dinner up; prices range, but usually fall between $125 and $175 per person.
"The least number of courses we have ever served is 18 courses," he says. "The idea is to give you the perfect bite each time."
For now, Aqui offers two seatings nightly from Wednesday through Sunday, at 5pm and at 8pm. There's room for up to eight diners for each seating at the chef's counter. "I want it to be a refined experience," says Qui of the two- to three-hour meal, "but it is definitely not a traditional omakase."
By that he means one can expect a spirited bunch and a boozy good time. Beverage director Leslie Krockenberge pops in and joins the jam sesh, creating custom cocktails on the fly for guests to pair with dishes. While nobody has yet paired all 18 cocktails, Qui says he will "be happy to call an Uber for anyone who wants to take on the challenge."
Day-to-day menus do change, and dishes may never find a permanent home on the Aqui menu because Qui says each bite is meant to be eaten "right away." A fatty piece of Bluefin tuna belly, or toro, glistens with savory oil and clamato water. A mini bowl of noodles presented in jamon broth, which is made with Greenway coffee, are meant for slurping quickly. "Some foods translate better when I hand them to you and you eat them immediately," he says.
Saving room for dessert may sound near impossible after endless courses, but here, it is a must. "I try to counterbalance the past 16 courses," says Bartolome, who uses omakase as a creative vehicle for workshopping future desserts. Ones like a creamy chocolate rice pudding contrasted with avocado cream and finished off with crisp fried anchovies have made it to the main menu. 
It may sound a bit peculiar. But then again, do you trust the chef?
AT TOP: Chef Manabu 'Hori' Horiuchi proudly presents his nightly selection of globally sourced sashimi at Kata Robata
Food+Travel