Laidback in Business!
After shuttering his famous Oxheart earlier this year, top chef Justin Yu returns with the hip, 'more approachable' Theodore Rex.
Jenn Duncan
Even the violent rush of water from Hurricane Harvey could not keep T-Rex away. What sounds like a dinosaur documentary is, in fact, the announcement that the re-imagined concept by James Beard-winning chef Justin Yu — actually named Theodore Rex — has officially bowed after a brief delay caused by Hurricane Harvey.
---
So what's with the dino reference? "I thought it would be funny when people wrote about it, in emails or texts, if they called the restaurant T-Rex," laughs Yu. The response is an indication of his easygoing approach to the restaurant biz since shuttering his widely lauded Oxheart at the same address.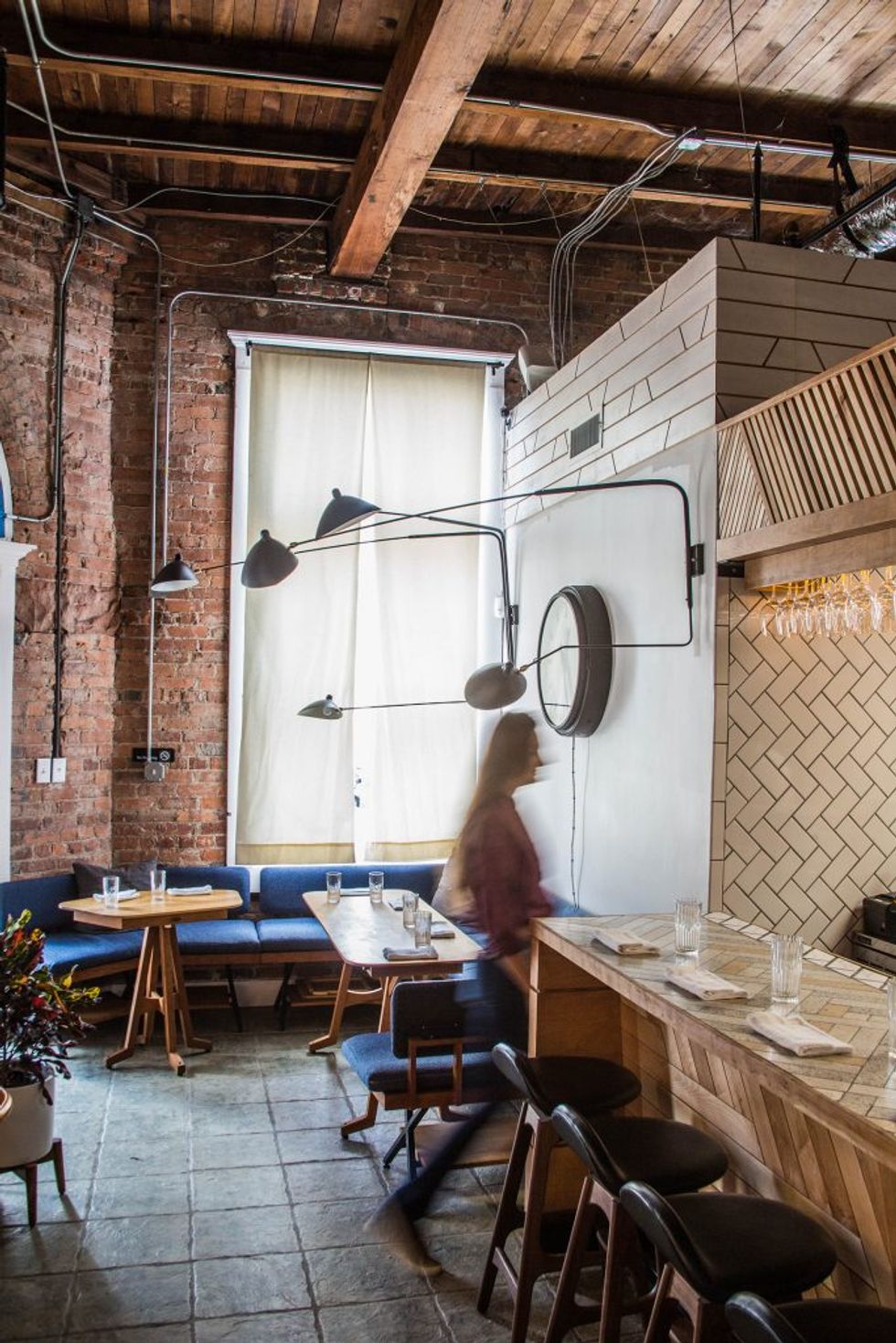 Justin Yu warmed Oxheart's previously industrial-chic design scheme with lots of wood
The friendly, soft-spoken chef who named the restaurant after his nephew — a "happy-go-lucky and carefree" boy Yu says is the love of his entire family's life — has created a vastly different experience overall with this laidback dining room. Perhaps the biggest difference is that Rex boasts no tasting menu, which was famously the only option before. "You can order as much or as little food as you want," he says, noting that he doubled the wine list — there are 90 to choose from — and added a happy hour menu.
"Oxheart was a place people would go to celebrate something," says Yu. "I wanted Theodore Rex to be more approachable. My goal is to make it a destination you can dine at once a week … but with great food and service. You can still celebrate here if you want to."
A playlist of soul, indie and '80s pop tunes curated by Yu and his girlfriend is as much a part of the cozy, 28-seat interior as the open kitchen and intimate bar. "I love the space, how small it is," he says. "I think it has a lot of character, like you stepped back in time." The no-frills banquettes and tables, complete with built-in drawers for flatware, allow all focus to remain on the food.
The menu — which will, as per Yu's custom, change with the seasons — clearly distinguishes dishes that are "great for sharing" and those that are "not as great for sharing," so as not to cause any confusion among extra-hungry diners. Rex has a notably Italian influence with items like tomato toast, similar to bruschetta — a dish that Yu says "may never come off the menu." His strong relationship with David Glover at Tejas Heritage Farm in Cleveland, Texas, dating back to Oxheart days, guarantees some sort of fantastic poultry dish will always remain in rotation. And since he doesn't have a sweet tooth, he relies on desserts that are "focused on a level of simplicity," as in chocolate ice cream with apple-butter.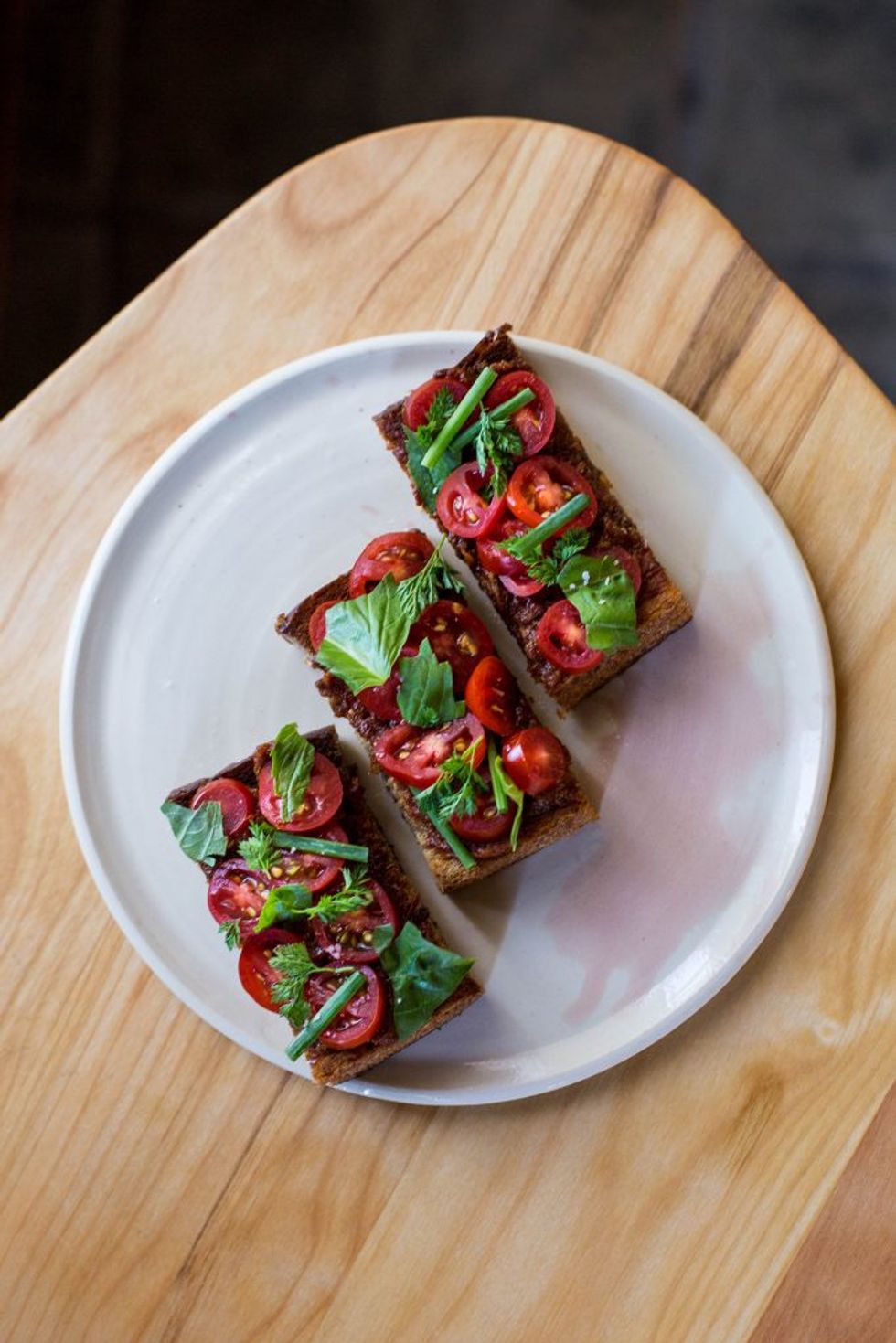 The bruschetta-like tomato toast
While Oxheart may be no more, remnants of the flavor profiles from the iconic restaurant can still be found on Yu's revolving menu at Rex, in exotic dishes like the oyster mushrooms fried "pakora-style." "The Asian influence will never really leave because I'm Asian, but honestly, I have no idea how to cook Asian food," Yu says, laughing. "I base my cooking style around the diversity of Houston — Cantonese, Indian cuisines — but I relate to European cooking more."
Yu has hardly had a moment to catch his breath since launching Heights bar Better Luck Tomorrow with Morgan Weber in the summer, and says that since opening Theodore Rex, he was told he is going to be an uncle once more — this time, he'll have a niece. So, does this mean another namesake biz?
"Maybe. I'm thinking coffee shop."
Food+Travel