There's Nothing Little About New Little's Oyster Bar: What to Know Before You Go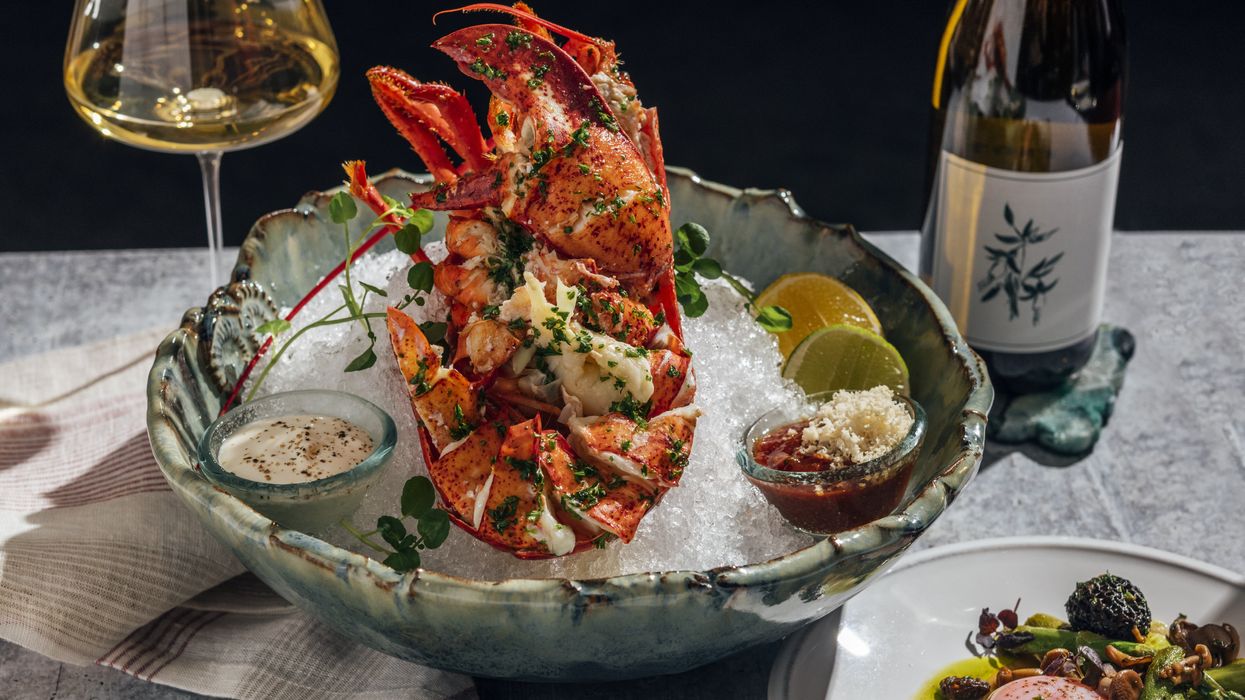 AFTER MUCH ANTICIPATION, Little's Oyster Bar bowed recently, a new concept in the home of its former iteration, Little Pappas Seafood House. As promised, we are back to plunge into the delicious details!
---
The Vibe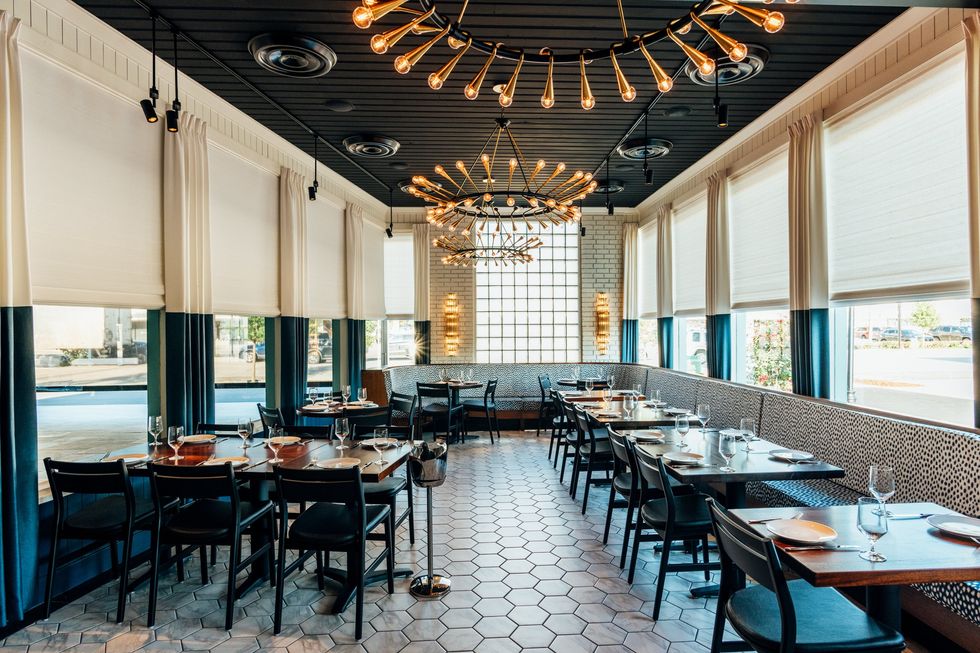 The name, Little's Oyster Bar, conjures up a tiny, casual oyster bar, right? So when you walk in the door of this newcomer from the Pappas Restaurant Group, you'll be delightfully surprised by the retro Hollywood vibe: There's a grand marble-topped bar, several dining areas including a temperature-modulated patio, and a luxe aesthetic. Then you'll realize the name isn't literal. It was chosen to evoke "fun," and that's exactly what it is.
Design director Evy Pappas has created a cool setting with crisp shades of white and navy blue inside and out, and gleaming brass lighting. There's a charming galley-style side room wrapped in windows with banquette and table seating. The glassed-in retractable roof patio tucked in the back has more spacious seating, and provides reprieve from the upbeat music and bustling bar area.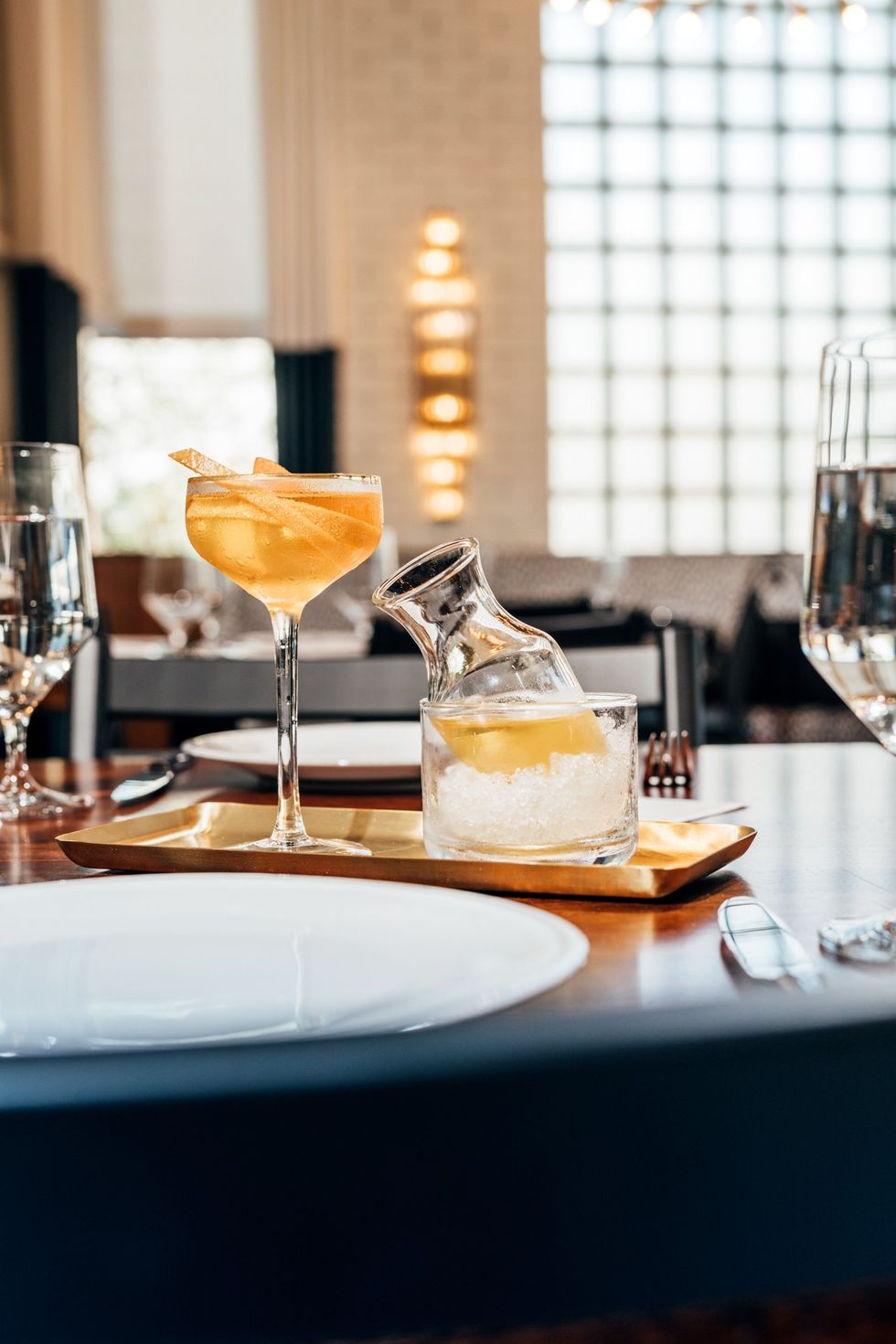 Golden martini at the bar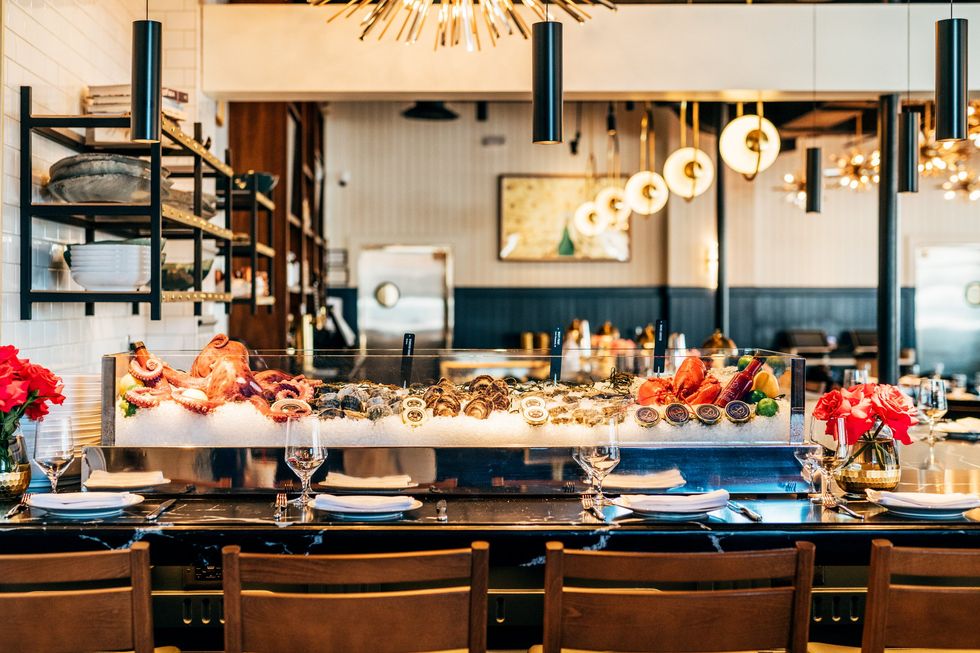 Oyster and raw bar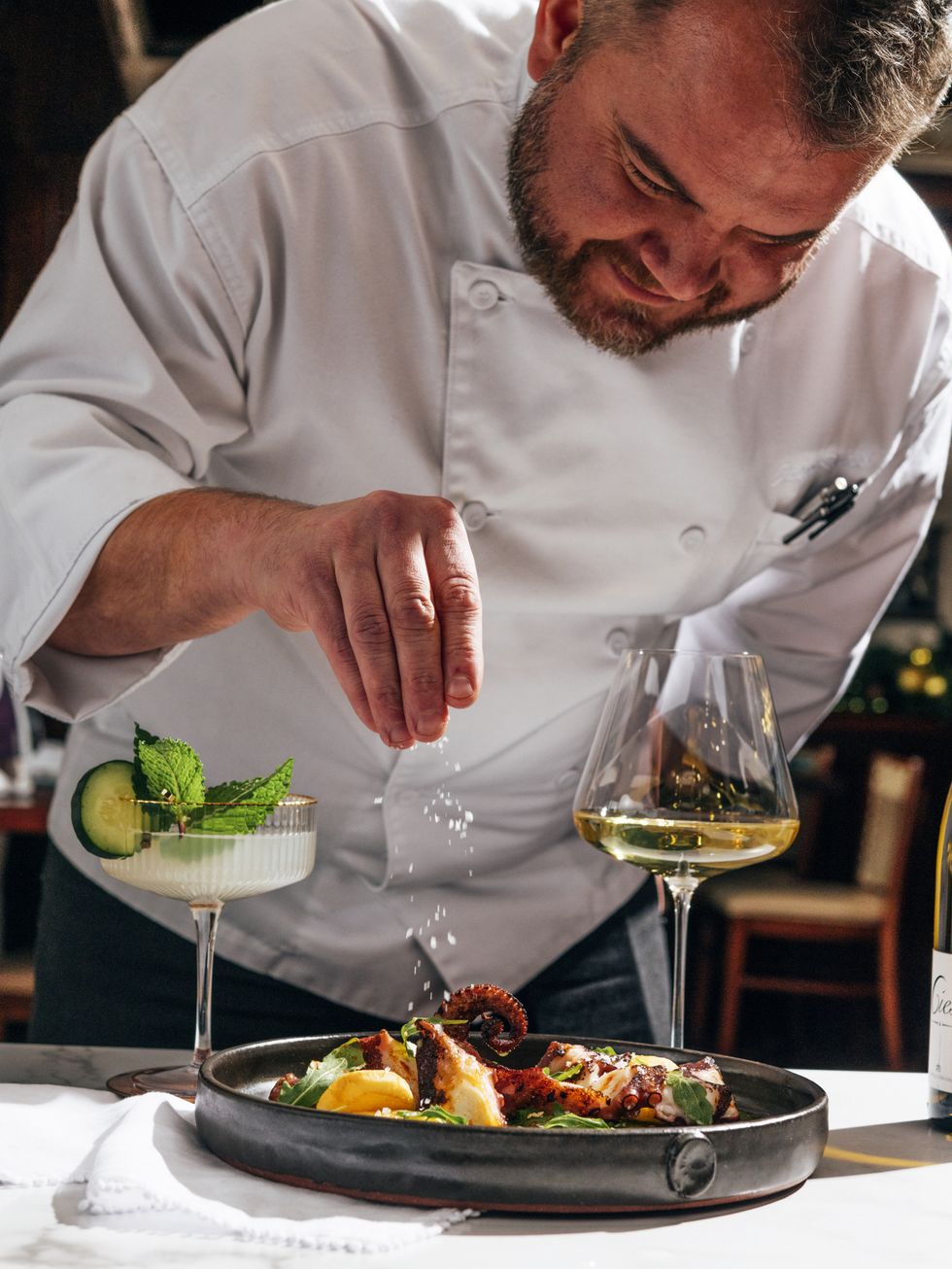 Chef Jason Ryczek
The Food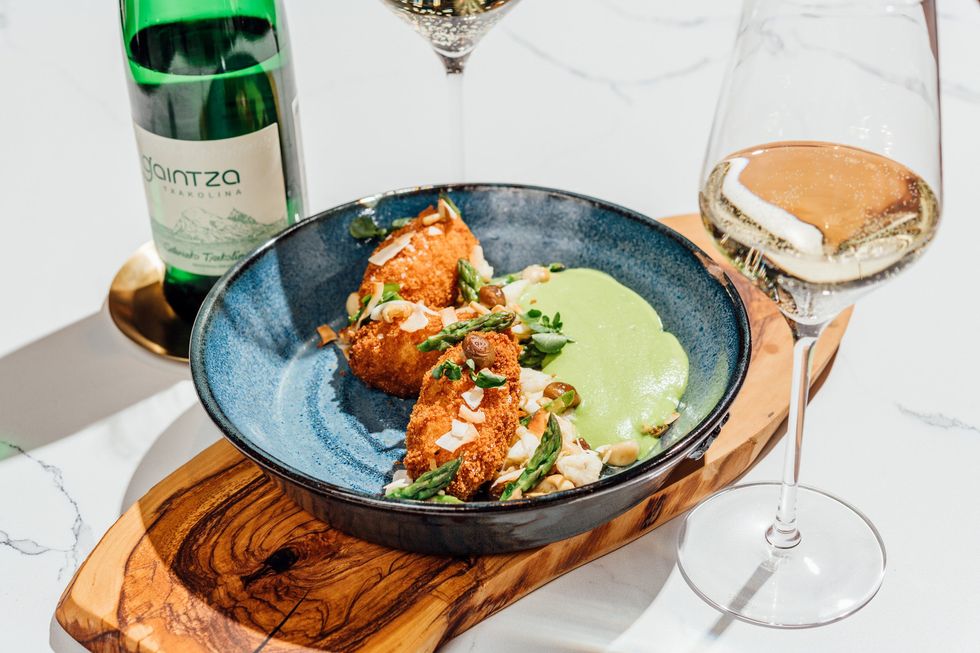 Crab Croquettes
The cuisine, artfully created by chef Jason Ryczek, a California native and caviar expert, wows as well. Ryczek cut his chops in restaurants from San Diego to San Francisco. He cooked at the lauded sustainable seafood house Waterbar, and was the executive chef at award-winning Farallon. The chef also worked with the California Caviar Company for years.
So when it's time to indulge in caviar, this is the place. Little's signature caviar is hand-selected sturgeon, which Ryczek personally harvested, and its accoutrements are downright addicting. A striking presentation is delivered to your table with puffed potato dumplings, radish butter, crème fraiche with onion jam and chives. All caviar can be paired with a cocktail, Champagne or vodka from a handy pairing guide. A dollop of everything — including perfectly clean-tasting sturgeon fresh from the sea — ends up on the potato dumplings (think elevated tater tots). So amazing, you could stop at that one dish. But don't.
Crab croquettes are another hit. Sounds simple enough, but this brilliant dish stars three cakes — dense with jumbo lump crab, scallop and shrimp — that are lightly fried and served with bright green coconut sauce, pickled mushrooms and tender asparagus. If you prefer a cold app, jumbo lump blue crab arrives with Louie dressing and sea-salt crackers. The Atlantic yellowfin tuna crudo is also a refreshing dish Houstonians could eat all summer long. Served in a chilled broth made with pickled watermelon rind and peppers, the diced fresh crudo is crowned with chopped peanuts.
Expect oysters on the half shell, of course, with fresh grated horseradish, citrus, mignonette and house made Fresno chile hot sauce. Pulling out all the stops? Consider the lobster on ice for dipping in black pepper crème fraiche, or the fruit de mer platter with oysters, shrimp, crab, lobster and tuna. Gulf grouper and snapper are sourced using Pappas' own boats. Yellow-edged grouper is gently cooked and moist, finished with a caper radish brown butter. Expect King salmon, swordfish, Texas redfish, Maine lobster, jumbo lump blue crab, and a filet mignon for main plates.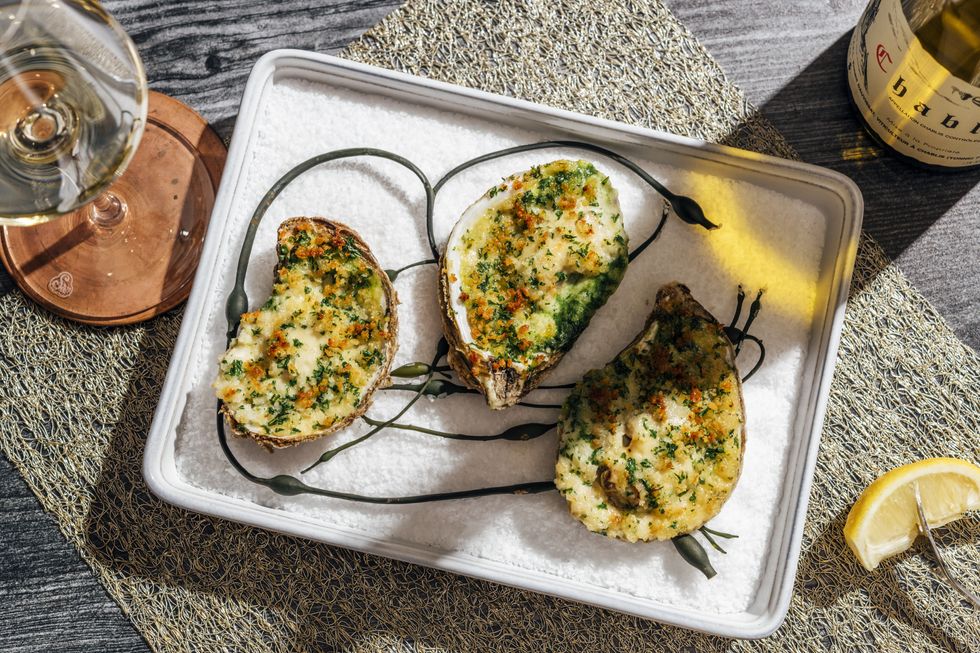 Baked Gulf oysters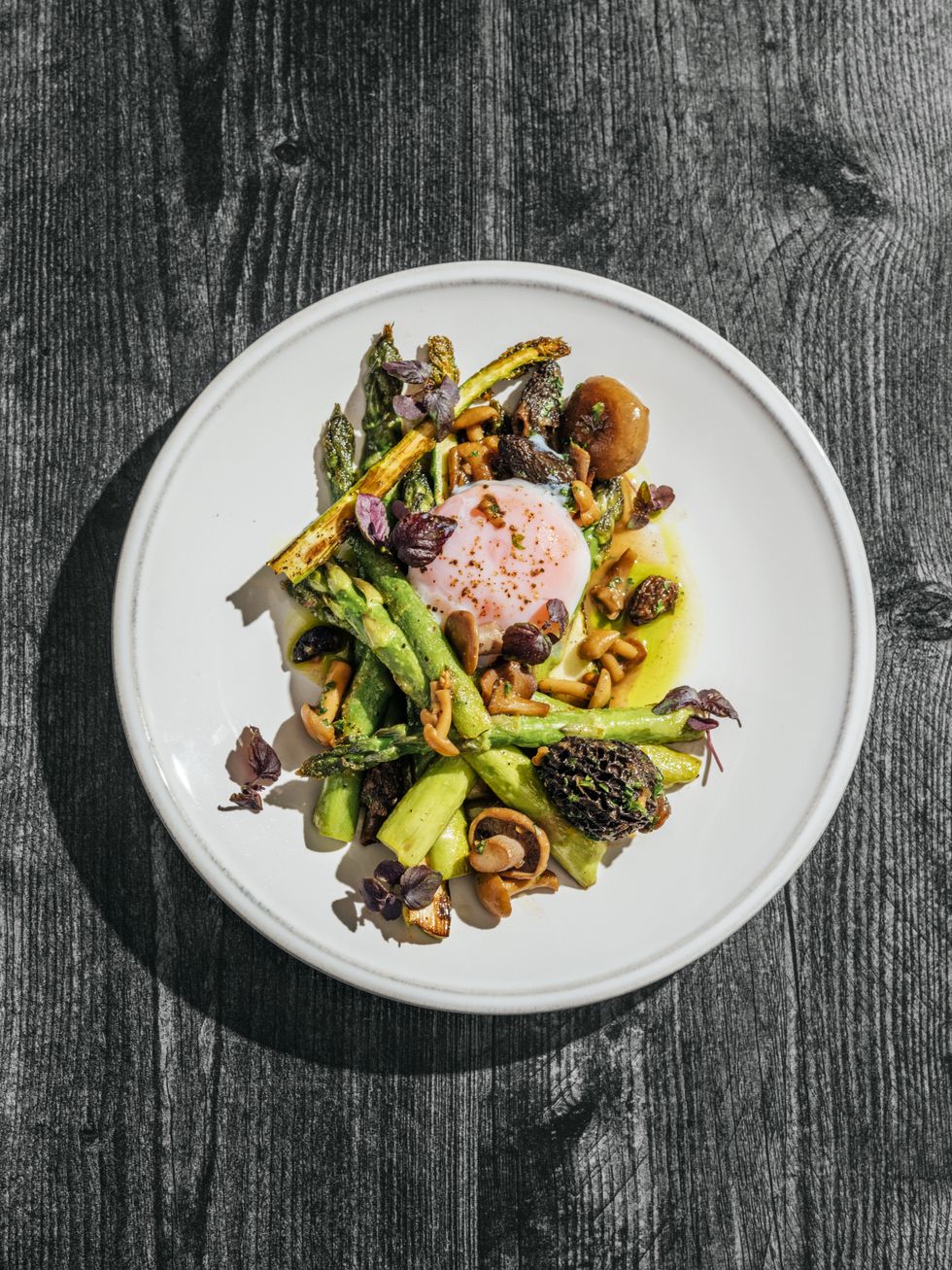 Asparagus and morels
The Parking & Details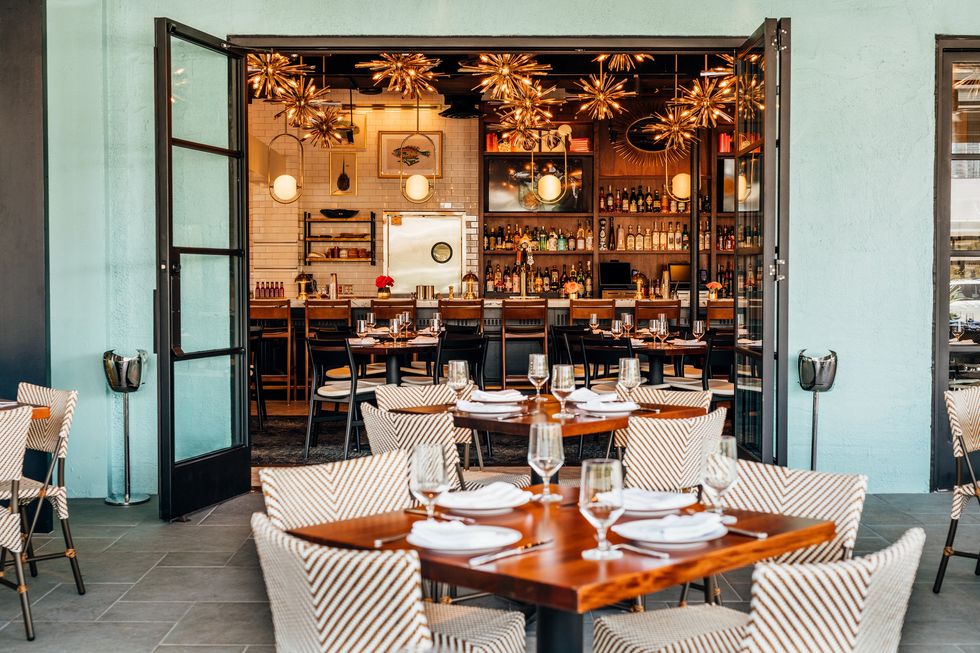 Glassed-in patio with retractable roof
Little's glassed-in patio, which seats 50, will soon have roll-up garage doors for opening during cool weather. Indoor dining can accommodate 80 guests. Always ahead of their game, the team has several new adjacent parking lots in the works for guest parking. The expansive Houston-based hospitality group now owns nine restaurant brands, with 90 locations in eight states. Pappas Bros. Steakhouse on Westheimer was the first fine dining restaurant for the group, which opened more than 25 years ago. Little's Oyster Bar serves dinner Wednesday through Sunday.
Food