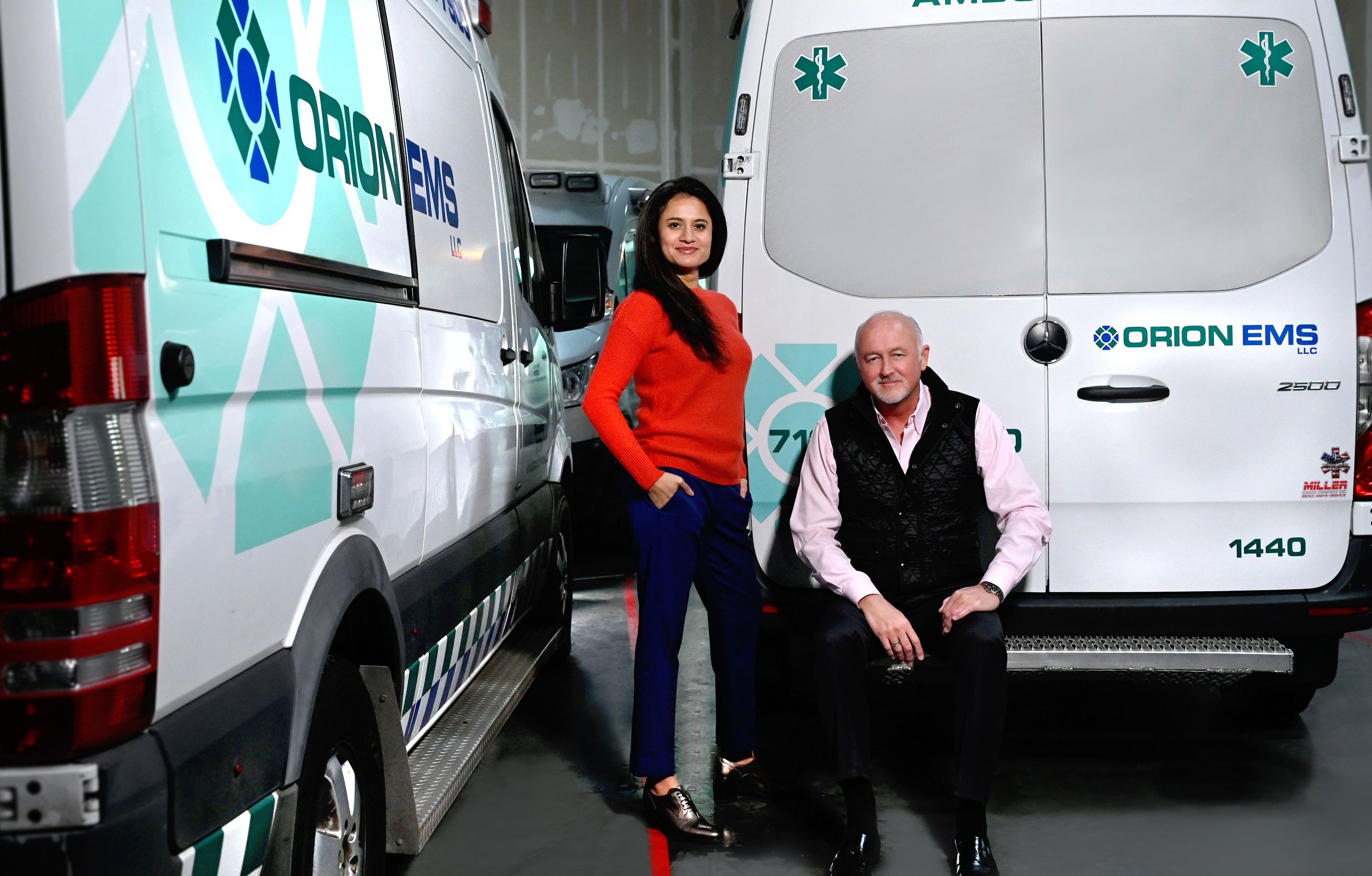 HOW DID YOU get where you are today? The EMS industry, quite literally, never stops. Our staff and units are called to serve our community every hour of every day; there are no weekends, holidays, or "days off." Obviously, the demands of EMS are not for the faint of heart, and we have established a culture of service and accountability that is different than nearly every other organization. Our leadership team sets this culture by exhibiting their passion for this industry daily. Their tireless dedication makes a better experience for our staff when they come to work and for our patients and clients when they call on us to transport their loved ones.
Who do you credit? Foremost, I credit the leaders and staff of my team. Beginning with Vice President Sumi Patel, who has been with ORION for 15 years, I am extremely proud to work with, and for, everyone who wears our logo. Houston has amazing diversity in the community, and ORION celebrates that both publicly and internally, as seen in the makeup of our leadership team and staff. The people who work at ORION do so because they are committed to our mission and to providing the most professional medical care to every patient we transport. Their devotion to and support of ORION has made us one of the best EMS companies in the city.
What lessons have you learned that might enlighten/inspire? One of the most important roles that Sumi and I play is mentoring and guiding our managers, so that they can effectively lead their departments. Watching their professional growth is very rewarding, but it also has clear benefits to the business, as it allows us to expand to meet new opportunities. Over the last 15 years, we have learned that complacency is not an option. The EMS industry is vibrant, especially in Houston, which requires ORION to have an agile and dynamic business model. We are constantly evaluating our processes to ensure that we are meeting the needs of our community in ways that provide the most impact and value to them. We are tactical enough to respond to every day-to-day circumstance that arises, while, at the same time, maintaining a strategic focus on our goals for the future.
What's new or upcoming for ORION? As we continue to fulfill our mission of service to the Houston community, we are excited to expand our reach into other hospital systems in the region. Our team and fleet are growing to ensure that we are always ready to serve the people of this community.
THEY SAY A picture is worth a thousand words, and in the case of artist Libbie Masterson, her storied collection of global and Houston-centric photographs does the talking — on apparel and accessories, that is.
Art for Wear is Masterson's new fashion line, in which her professional landscape photographs are printed on various fabrics and finished as wearable art, clothing and accessories. Her collection includes an artistic line of women's dresses, light wraps, tunics, purses and various unisex bags splashed with her iconic photography. Love Houston's South Boulevard? There's a dress for that. Always on the move? She has a yoga mat and the backpack of your dreams!
The line was motivated by Masterson's love of merging history with contemporary design. Inspired by a Fortuny exhibition curated by Oscar de la Renta at the Spanish Institute in New York, the tactile history of the fabric and Mario Fortuny's engraved block printing methods, she prints each piece using landscape images from her photographic series.
"Art for Wear has been in the works for years, but I've expanded the line," says Masterson. "I made one gown — but then the project went on the back burner. After the pandemic when things picked up again, I started to experiment with different materials and made more designs starting with a better-looking diaper bag for my twins!"
Then her line led to more purses and more bags including the very popular "The Weekender" with a rope handle that can be folded inside another bag. "It sports a generous amount of surface space for a photograph, so I can take advantage of a beautiful image," says Masterson. Apparel in the small line includes gorgeous silk and satin slip dresses and short and long tunics which can work with jeans or as black-tie, respectively.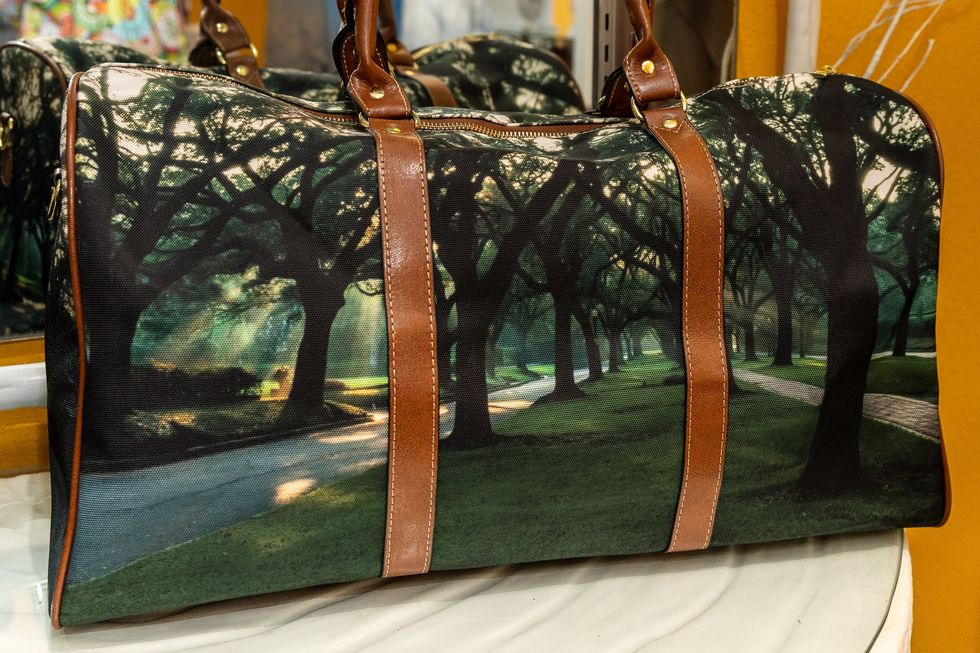 A duffle bag sporting a photos of Houston's South Boulevard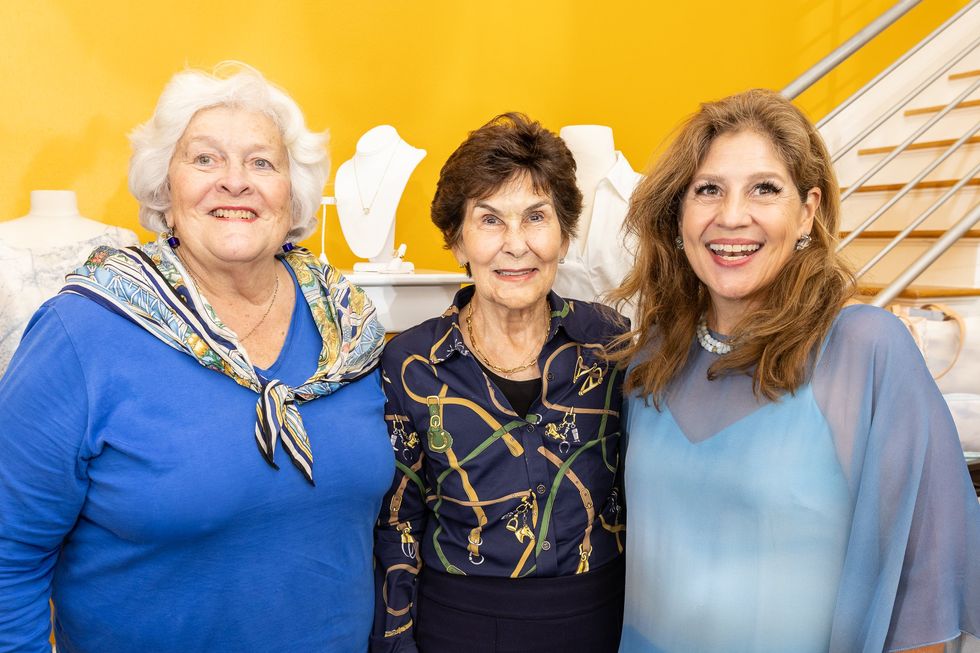 Kathy Lord, Klinka Lollar and Masterson at a recent pop-up event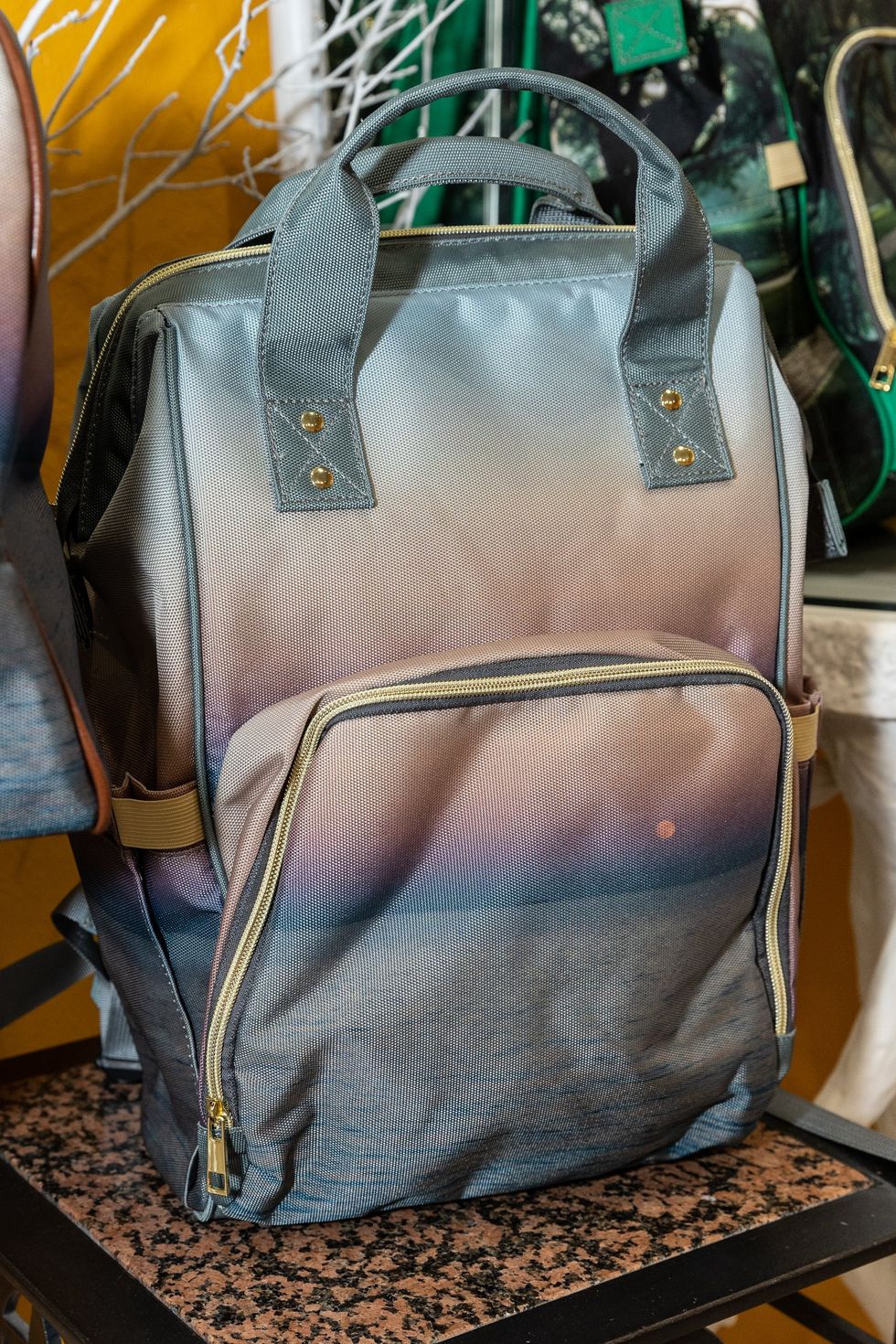 'Moonrise on the Bay' bag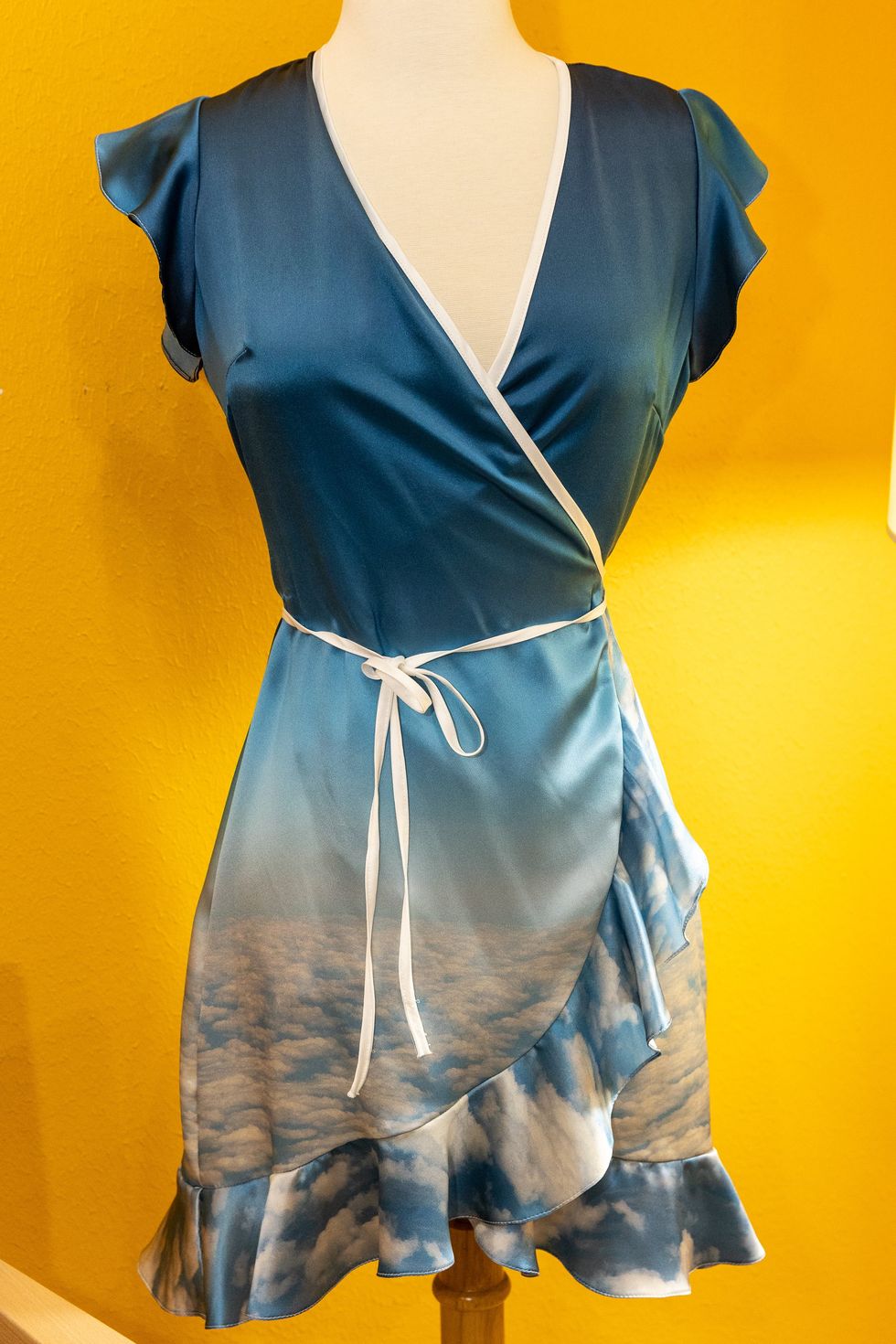 'Skyscape' flounce dress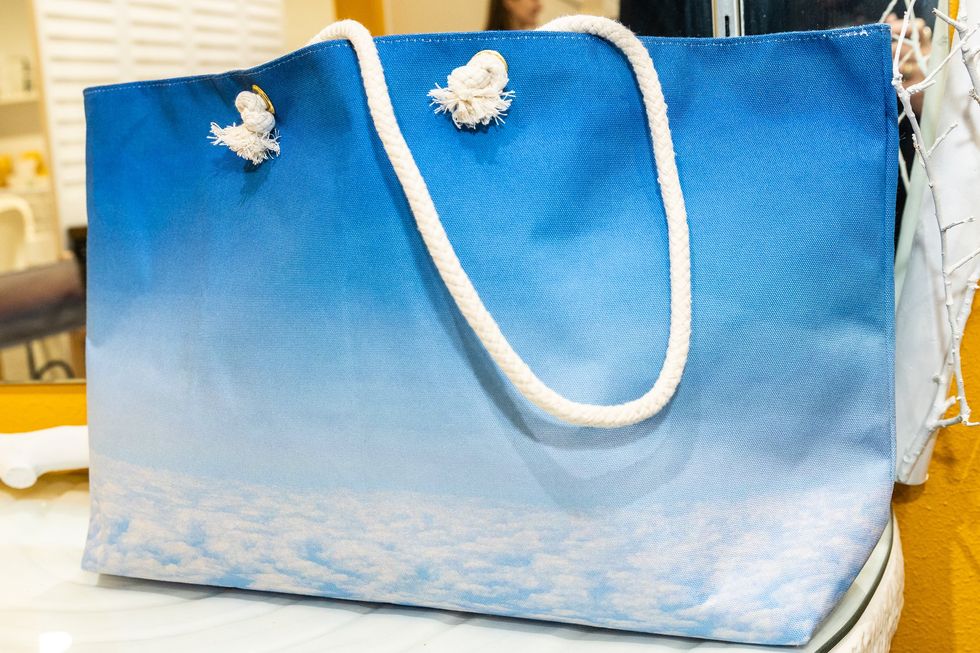 'Skyscape' weekend bag
Currently her pieces are available at her website online and eventually with select retailers. Masterson has held a few pop-up parties to show her boutique collection including the first at Foto Relevance Gallery, where her landscape photography inspired by years of world travel can be viewed. Another pop-up showing with many Houston heavyweights in attendance was held at Mariquita Masterson, her family jewelry store, in River Oaks.
"Art for Wear aims to create and to visually inspire through the use of pieces you can wear and use in daily life; ideas that are accessible and bring joy while still having a story to tell. Being able to start with my photography as the base of this adventure in my hometown is an extraordinary gift," says Masterson.
And what does the busy artist and mom enjoy in her leisure time? "I like to go to the country and photograph and to be with my kids and their dad — it's great to get out of the city and dig in dirt, plant things, roast hot dogs and marshmallows — that's a breather," says Masterson.
From Your Site Articles
Related Articles Around the Web
Art+Culture
READY OR NOT, Christmas is almost three weeks away and Houston restaurants and bars are beckoning with sparkling décor, holiday cocktails, and even shopping. Here's where to slip into the spirit during the most wonderful time of the year!
Food