On Montrose's Restaurant Row, an Exclusive Newbie Star 'Marches' In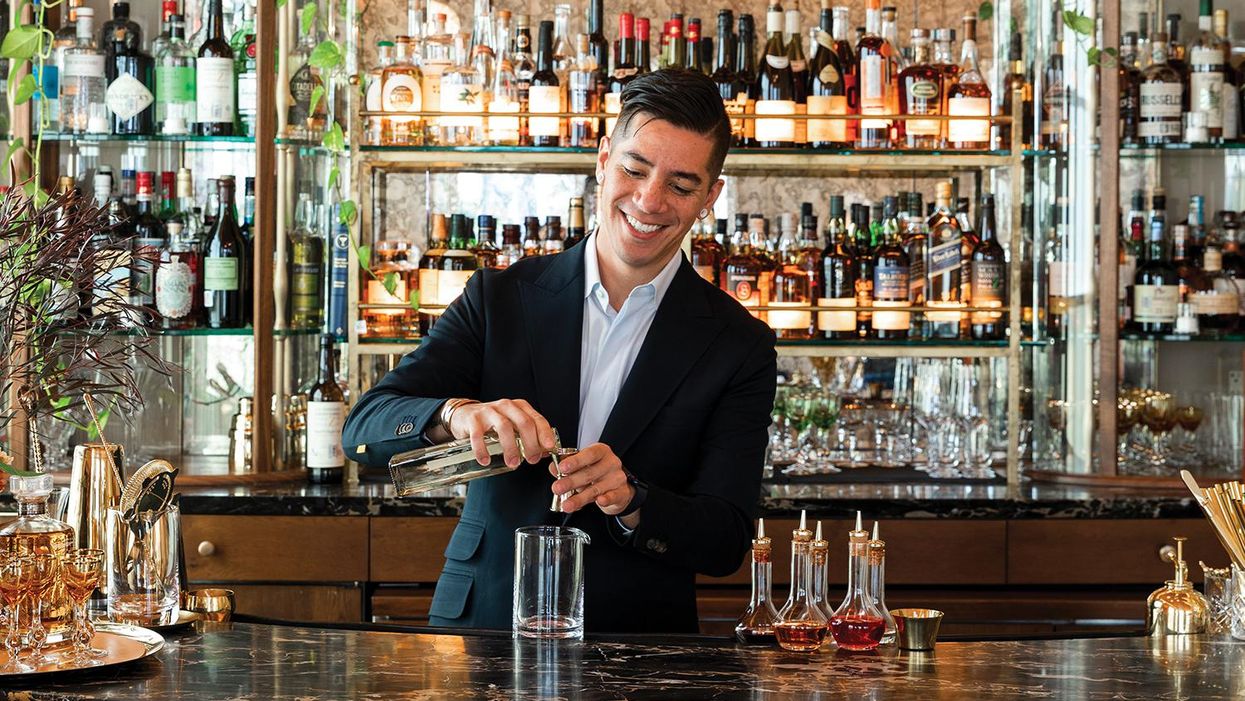 SLOWLY, FOR YEARS now, passersby have watched the site that now houses the exquisite and grandly subtle March restaurant come to life on Westheimer's Restaurant Row.
---
Little by little the two-story structure was erected, on the campus that now houses hip Goodnight Charlie's country bar in back — the first arrival of the ambitious Goodnight Hospitality group a few years ago. Rosie Cannonball, a smart and bustling upscale pizzeria of sorts, and the Montrose Cheese & Wine shop occupy the bottom floor and have been earning plaudits for their chill, urbane flair for a while now.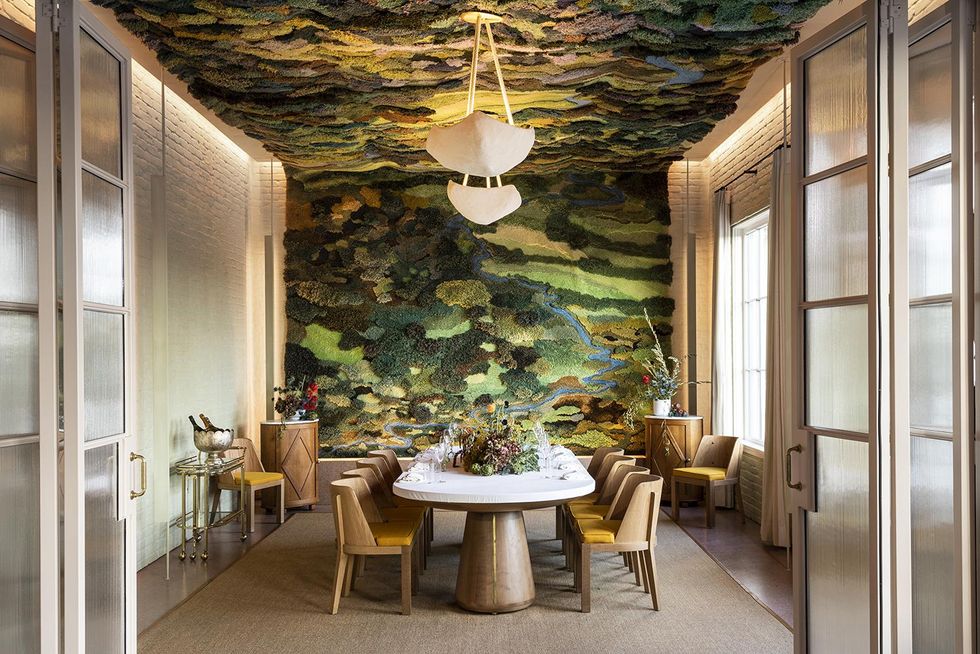 The private dining room's art installation grows on you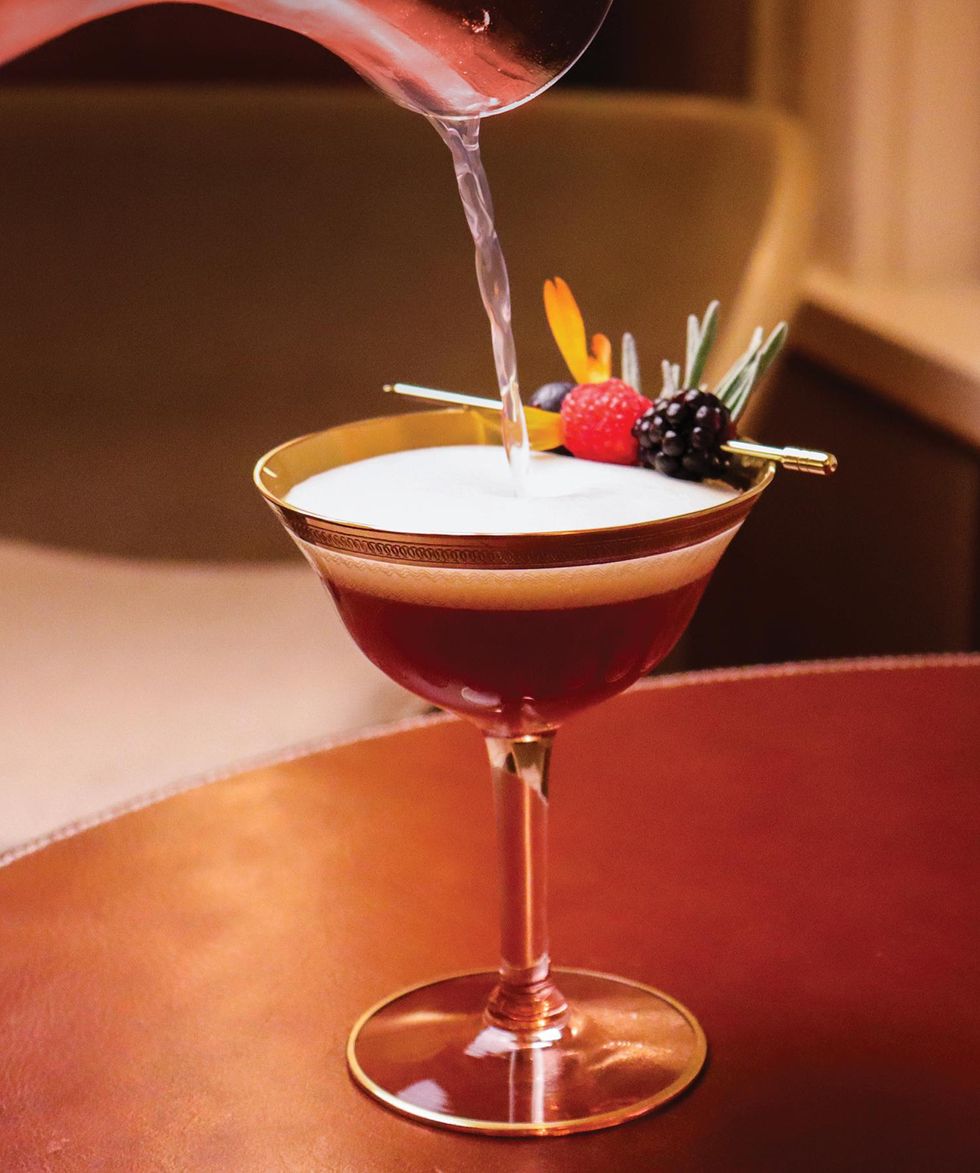 Herb and flower cocktails in the lounge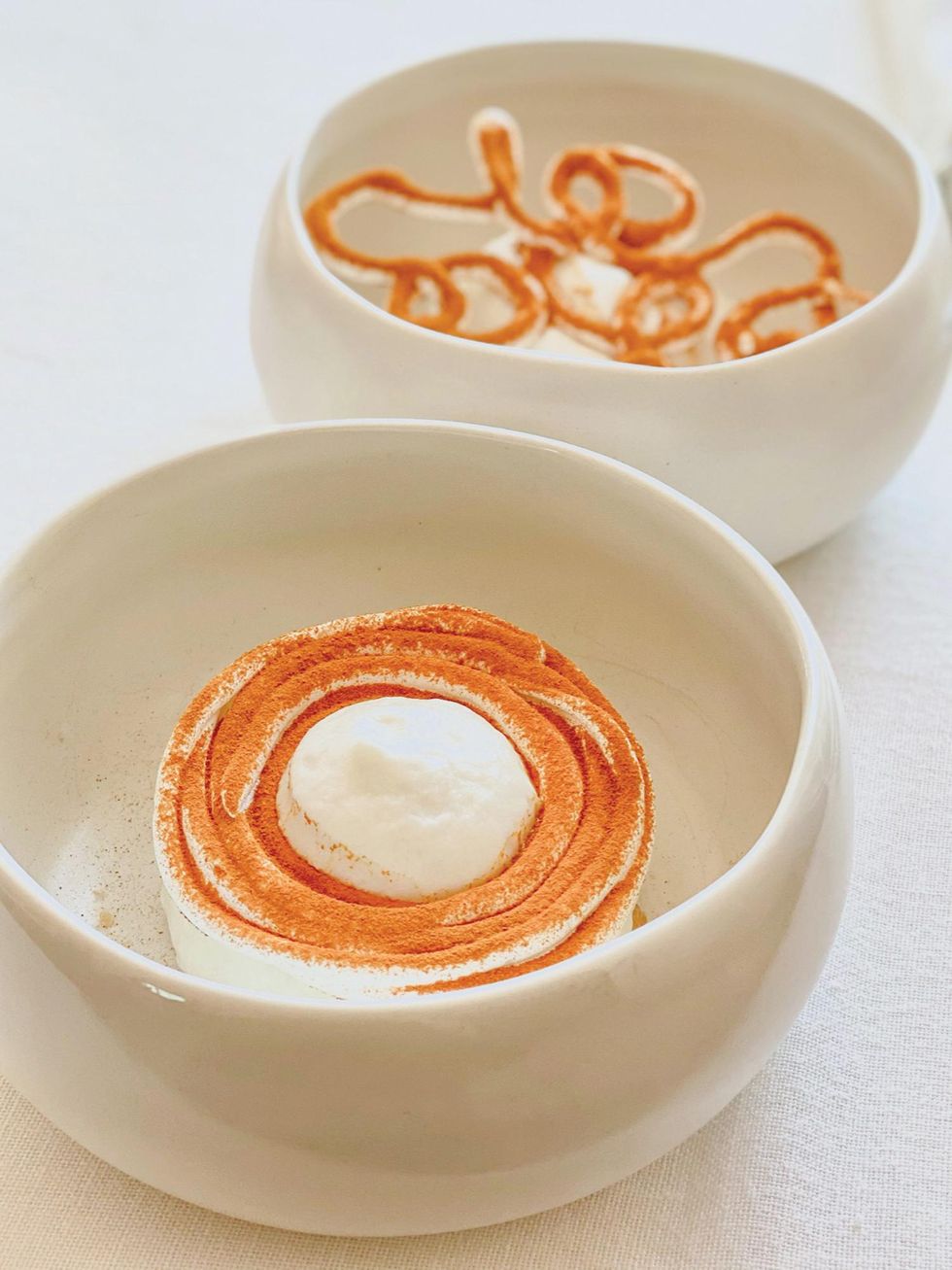 A dessert of beeswax gelato with heirloom turmeric and honey
Finally, the flagship has arrived, glowing the from the top story. An exclusive and pricey tasting-menu-only affair — a meal for two, with wine pairings, could easily run as much as your car payment — March isn't named for the month. Although it did make a point to open on the last day of March, one assumes as an appeal to karma.
The actual meaning connotes the spaces in the middle grounds between the formal boundaries of countries or regions. The frontier, if you will. The idea is that the food is informed by traditions — in this case, those of the Mediterranean — but will venture into surprising new places. A bit familiar, a bit avant-garde. And this vibe is imparted from your first steps through the front door downstairs.
First you're led up to the lounge, at once a slick and funky kind of space that favors a wheat-hued farm-house study — but one with a vaguely mid-century feel, with low-slung minimal banquettes and bits of colorful abstract art and chicly bulbous Roly Poly dining chairs that look uncomfortable but aren't. This is where, with a soundtrack featuring the likes of Erykah Badu and next-level cocktails so laden with fragrant fresh herbs and blooms they resemble floral arrangements, all March meals begin. Posh snacks here include bite-size vehicles for caviar and foie gras.
After cocktails, again guests are led as if on a tour, with anticipation growing, to the dining room, which is brazenly understated, in soft hues of pinkish white and light caramel. Brand-new exposed brick walls are painted to look old, like a refurbished loft in a city where they do that kind of thing. The only design element that shouts rather than whisper is in the private dining space to one side, on whose far wall and ceiling grows an art piece by the Argentinian Alexandra Kehayoglou that appears to be a living wall but is really made of carpet-like green textiles.
Tables, with all seats angled to give a view of the open kitchen, are topped with custom, elasticized linens, like a fitted sheet — can't have fabric flapping to the floor and breaking the minimalist chi. Likewise, a server will promptly bring you a little stool for your purse or phone if they see it cluttering up the table surface. They run a tight ship.
All of this, of course, is to set the scene for either six or nine courses of highly refined dishes — the kind in which each microherb is set in place with tweezers — by Chef Felipe Riccio, who is also a co-owner. The first one out might be a wonderfully fresh salad of local peas, bright green and al dente, with a pretty pile of smoked trout roe and a salty little hit of lamb pancetta. The next perhaps is a crudo of amberjack fashioned into four checkerboard-like squares, adorned neatly with apple slices and pickled rose petals. And so on.
The food is regal and yet feels bright and simple in its essence. Bold and unexpected flavor combinations, grounded ultimately in the Mediterranean and its longstanding influences, served up as theater. And, like any smash stage show, tickets are hard to get. Reservations are definitely required, and advance planning highly recommended.
Food