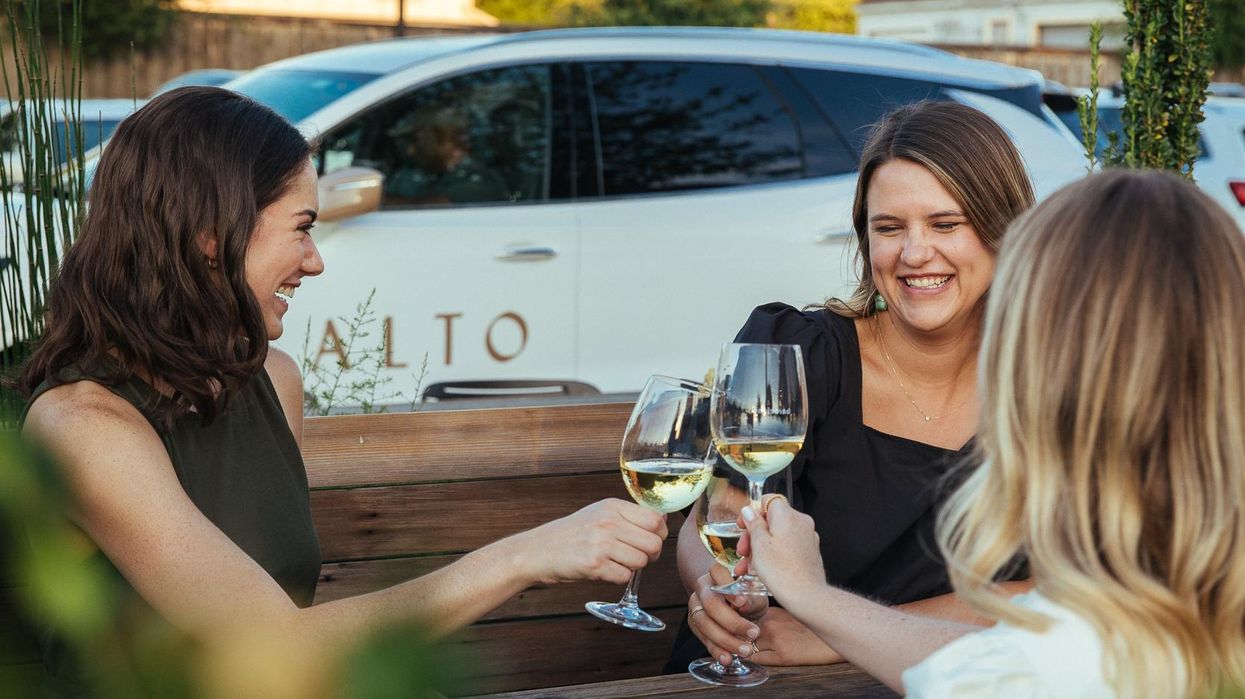 HOUSTON FOODIES ARE out this month, and those in the know are getting from restaurant to restaurant in the rideshare service that has taken the industry by a storm.
Alto started driving in Houston in late 2020, and it has quickly become a favorite way to get around. The experience is unparalleled. Think luxury SUVs with leather captain chairs, thoughtful amenities like complimentary water and umbrellas, and even curated playlists to choose from in the Alto app. Those who have ridden know that Alto is more than a ride from point A to B, but a journey to be enjoyed — because the recap of every dish on the ride home should be just as good as the dinner.
Community is at the heart of Alto. Rather than hiring independent contractors, Alto has hired W-2 employee drivers who are trained and supported by a local Houston team. The service also offers a Membership that unlocks Alto benefits as well as unique offers from Houston partners. Those who join Alto's exclusive Membership gain full access to the Alto fleet during the busiest "Members Only" hours, savings on every ride, and Alto's prescheduling feature for booking rides in advance (Pro tip: Lock in your ride when you lock in your dinner reservation!). Join a community of adventurous, in-the-know Houstonians, at only $12.95 a month.
Alto shared the top pick-up and drop-offs that make up their Members most recommended spots — and also happen to be celebrating Houston Restaurant Week! — so you can plan the perfect night out.
Trattoria Sofia A top drop-off among Alto Members, we recommend Trattoria Sofia for authentic Italian with the perfect atmosphere.
The Annie Cafe Another frequent destination, The Annie Cafe and Bar serves classics, totally reimagined.
MAD Houston A spot as innovative as your Alto. Book a ride to MAD for a night of tapas with a twist that are sure to be a new adventure.
Ouzo Bay The Alto team's go-to modern Mediterranean spot for a perfect night out.
B&B Butchers and Restaurant This upscale steakhouse and traditional butcher shop is a classic Alto favorite.
FLORA A must try this month — FLORA is a culinary journey through the small towns of Mexico with a Texas touch.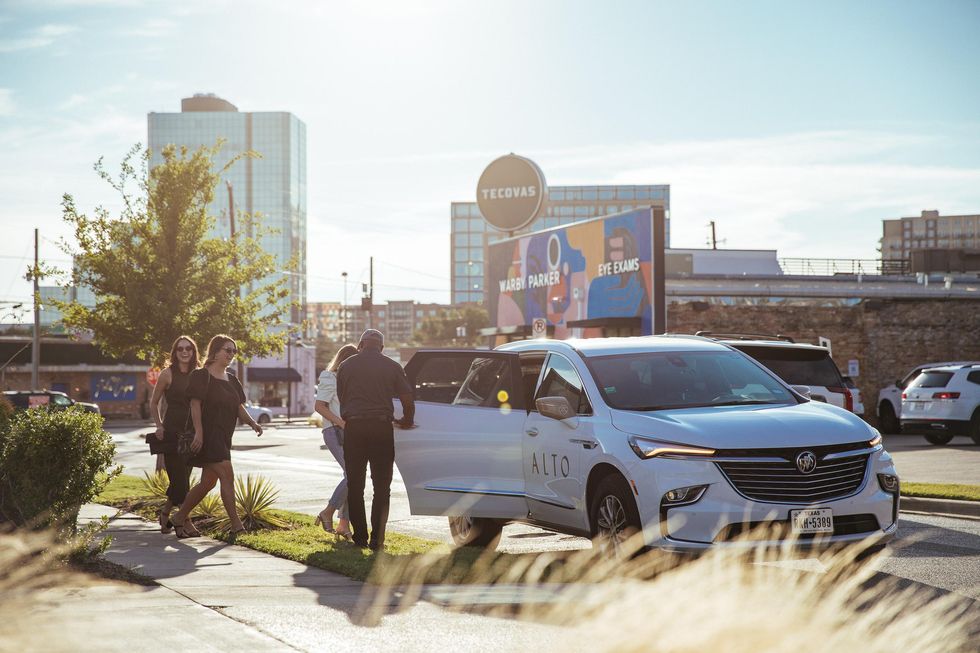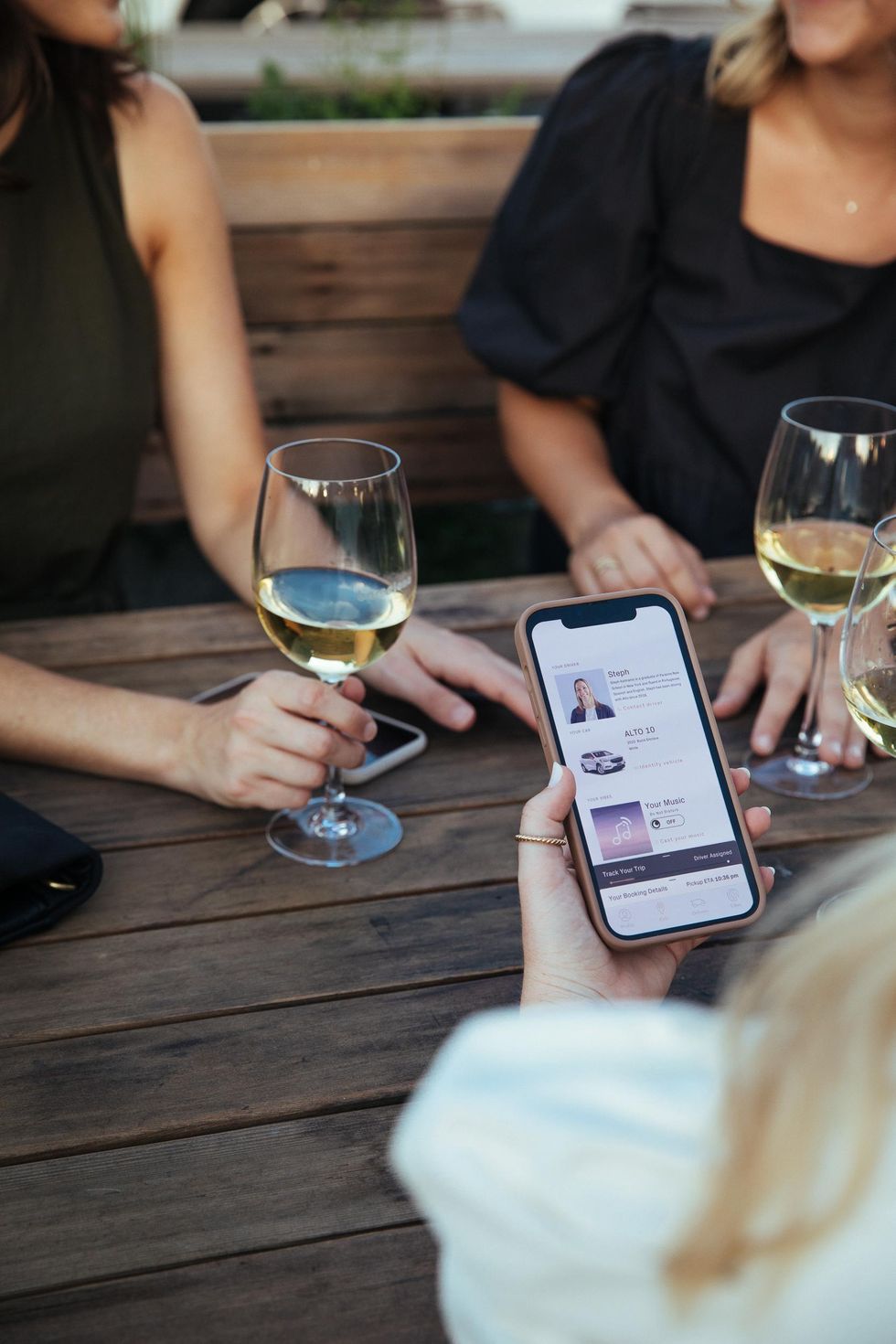 CASEY LARKIN BLOND knows fashion: Her great-grandmother taught Victor Costa how to sew and was Houston's go-to wedding dress designer; her mother created a private label for Neiman Marcus and Bloomindales. "I was a shop kid," she says. "My life was always clothing, retail and buying. It was all around me."
Following the family trade, Blond graduated from Texas Tech's tailoring program before enrolling at Otis College of Art and Design in California. Through an Otis exchange program, she traveled to and lived in Europe, where she worked for Dior, Joseph, and for a British archivist who assisted with couture pieces worn by icons like Audrey and Katherine Hepburn before returning to the States.
Blond always knew she wanted to launch her own line, and eyed sustainable practices at different companies along the way. She started the Mr. Larkin womenswear label in 2008, using plants to make dyes, and burying older textiles that would decompose and refresh the soil. Her efforts caught the eye of fashion execs in Denmark.
"I traveled to Copenhagen every three months to deliver seminars and meet with huge corporations in the industry," she says. "We would go to dinners afterward, and I kept being seated next to Alan Blond." They fell in love, and she became pregnant and moved to Scandinavia, pausing her career to build a family, which soon included a second child.
Within a few years, Blond jumped back into business, opening a physical location of Mr. Larkin in Copenhagen in 2014. In 2020, she moved it to one of the city's most prestigious thoroughfares. With her operations gaining steam, she decided to open a second store — this time in Houston, in her childhood neighborhood of Southampton.
Conceptualized in partnership with her uncle, Kevin Antill, Mr. Larkin opened this spring. The space features pieces by various local artists in different ways; Blond, who splits time between Texas and Denmark, commissioned her aunt, mosaic artist Katy Antill, to create a statement mirror to function as the store's focal point. An eclectic mix of luxury and independent labels fills the store, including Rachel Comey, Jesse Kamm and Sophie Buhai. Many are "run by women, and they're just like me," says Blond. "They're moms. Some of their husbands might work for them. It's cool to support other women who are doing what I'm doing and with the same ideas – small production and using beautiful materials.
"It's really easy to sell their clothes because it's … an extension of myself."
Style
SUMMER HEAT NEVER stopped pioneering restaurateurs from forging ahead to make Houston's culinary landscape even more delicious. Read up on five new restaurants to try — and a (not-so-) little something sweet.
Gatlin's Fins & Feathers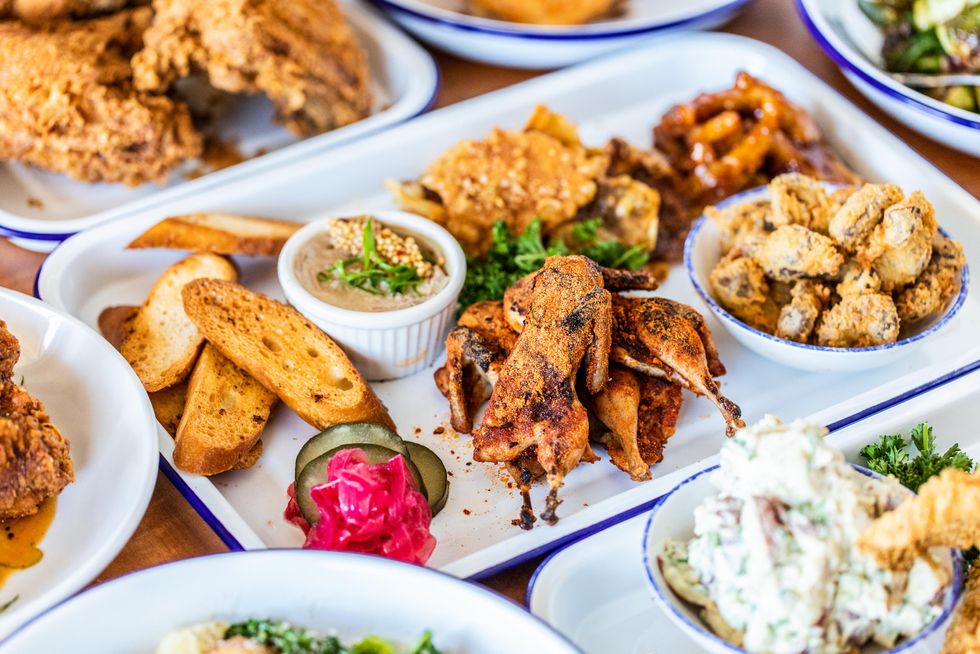 The Clucker board at Fins & Feathers (photo by Becca Wright)
In the Independence Heights neighborhood, Gatlin's barbecue pitmaster Greg Gatlin dishes out a Houston spin on Southern staples at his new Gatlin's Fins & Feathers. Arrive hungry for expertly fried chicken and fried fish with a variety of fixings (and don't skip the buttery biscuits); "everything" gumbo packed with chicken, shrimp, crab, and sausage; and the H-Town hot sandwich starring a hunk of fried fish or chicken dunked in spicy Viet-Cajun sauce. Start light with the charred Brussel sprouts salad, and then splurge on the orange Creamsicle doughnut — topped with vanilla ice cream and orange peel. To drink, sip beer, wine or bubbles.
Dinette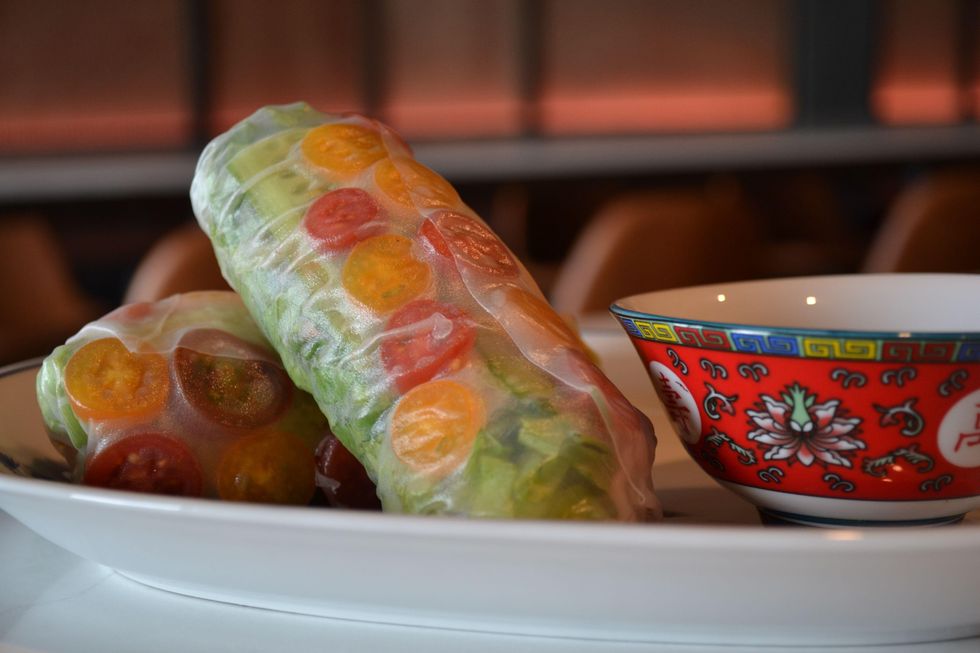 Summer rolls at Dinette
You wouldn't know it from the name, but Dinette is a modern Vietnamese restaurant and bar. Founded by Jason Andaya and Raymond Chan, owners of Hando and Kanpai Club, the newbie is getting lots of action for its vegan specialties, unique creations like square eggrolls and Vietnamese pizza, and colorful tiki cocktails. Protein dishes including pho rolls laced with steak and seared cod with dill and vermicelli tempt the eye as well as the palate. The sleek, intimate space is split between bar tables and dining tables with pretty rattan wall panels and soft pink lighting, flattering to both the guests and the Instagram-worthy cuisine.
The Stand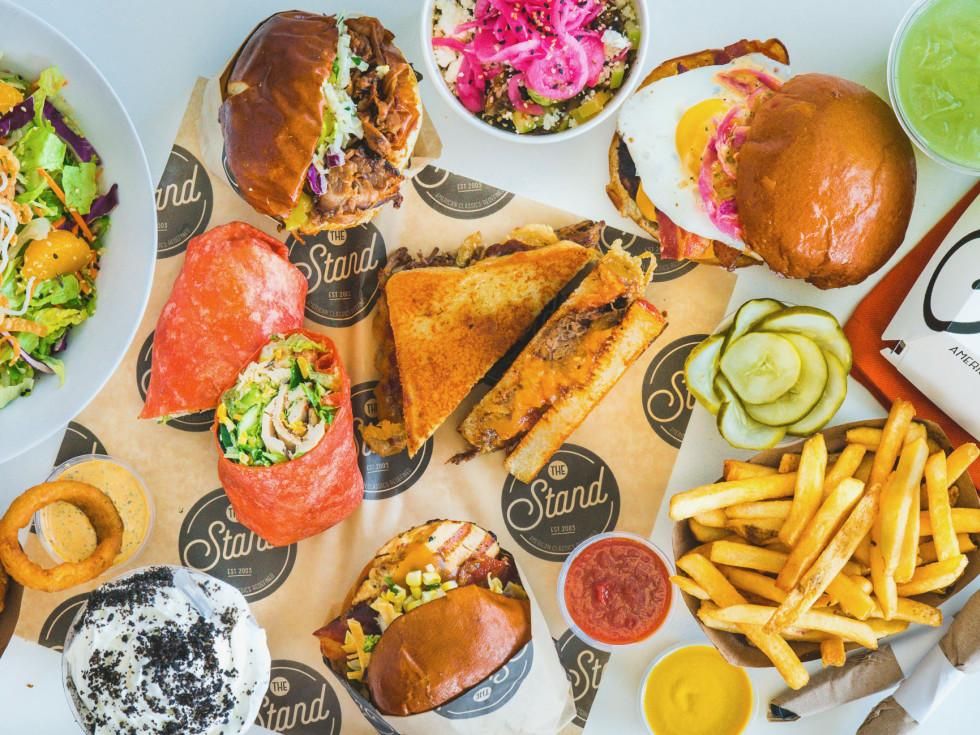 The Stand
Community-minded California restaurant The Stand will bow in The Woodlands Aug. 10 in the Hughes Landing development. It will be the company's first Texas location. Described as "American classics redefined," The Stand serves a wide variety of sandwiches, burgers, big salads and shakes in a fast-casual atmosphere. The restaurant, which was founded in 2003 in Los Angeles, prides itself on using high quality ingredients and offering a more upscale environment than similar concepts.
Pudgy's Fine Cookies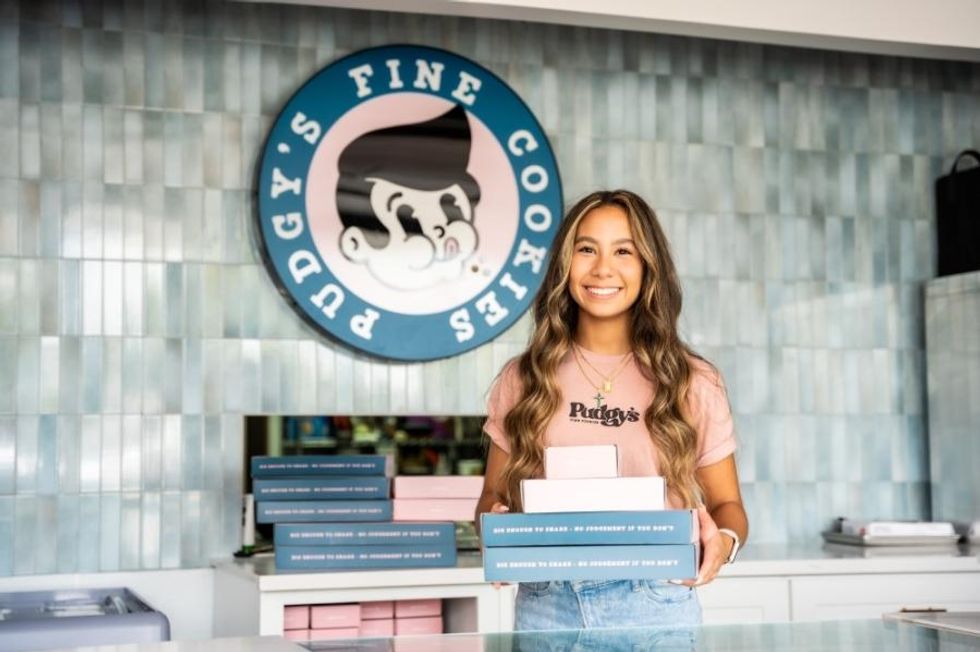 Pudgy's owner Van Teamer
What was once a pop-up cookie shop featuring crave-worthy, super-fat cookies created by owner Van Teamer is now her own Pudgy's Fine Cookies brick-and-mortar in the Heights. Its original Pudgy cookie boasts a crispy exterior and chewy interior with gooey chips of Callebaut chocolate. New flavors on offer include Bonanza brûlée, a caramelized banana cookie with a creme brûlée center; Thickerdoodle; PB Sensation, Double Trouble (read: lots of chocolate), and more decadence.
"What began as a family pandemic project has become so much more," Teamer said in a news release. "Our goal was to create an amazing cookie made with high-quality ingredients that made people smile. We've been blown away by how we've been received by Houston, and can't wait to share even more Pudgy cookies with our city and beyond with our new space."
The Upside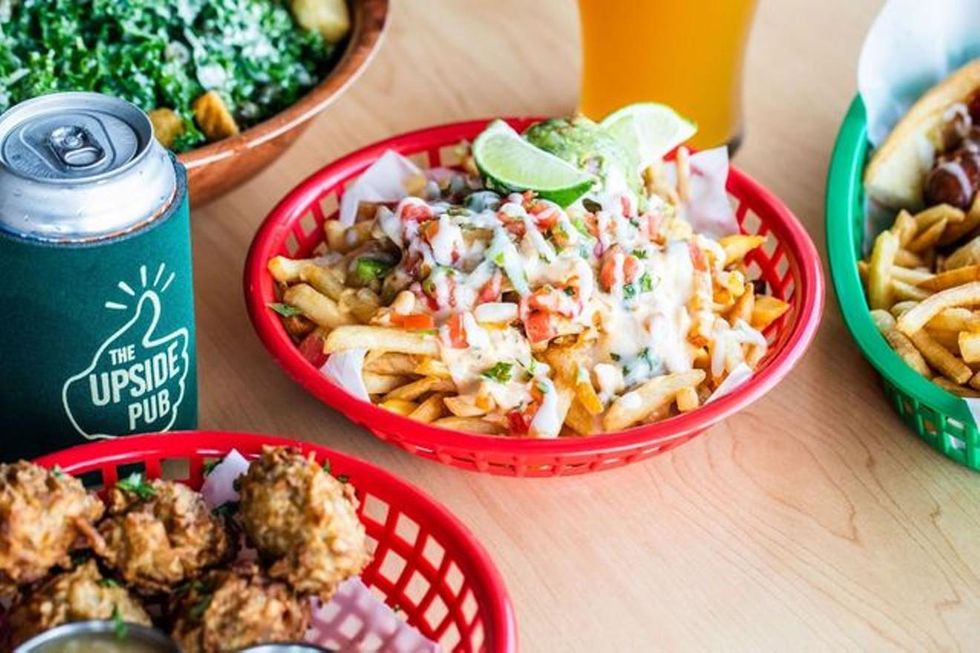 Jersey diner fries and more at The Upside
The Upside Pub in Garden Oaks from husband-and-wife team Andy and Paige Lujan will hold its grand opening Aug. 9. Paige, who serves as the bar's managing partner, has major cred in the craft-beer industry, including opening myriad bars in California. "Every neighborhood deserves a neighborhood pub, and after a lot of hard work, we are finally ready to bring this pub to the GOOF neighborhood," she said in a statement. Expect 15 beers on its initial tap list from area breweries such as Eureka Heights and 8th Wonder, along with wine, cocktails, and pub noshes like queso, Jersey diner fries, and spicy boiled peanuts. Look for a variety of board games, a shuffleboard table, and TV sports.
Rosland's
Photo by Raydon Creative
A new concept that'll appeal to foodies, night owls and restaurant-industry folks alike opens this week on Washington. Rosland's Grill & Bar will serve seafood, salads and sandwiches into the wee hours of the morning — 4am on Fridays and Saturdays, and 2am all other days. Proprietors Don and Kim Cristopher of DKC Companies hope guests will "settle in" to a booth and stay a while. The inviting 6,000-square-foot space features murals by local artists. In developing the menu, chef Cameron Cain prioritized quality ingredients — think aquaponic greens — and modest pricing. He adds that the bar is "built around the historic style of the 1880s Brunswick bar with high craft cocktails, finest liquors, frozen drinks, curated wines and select beers from local breweries."
"We're thrilled to offer an early-morning dining option where service guests, along with our neighborhood guests, can sit down and enjoy a meal, fine drink or mocktails once they have finished their late-night shift," said Don in a statement.
Food