Rock Stars
With massive new facilities opening this summer, H-Town's rock-climbing craze reaches new heights. On belay!
Traci Ling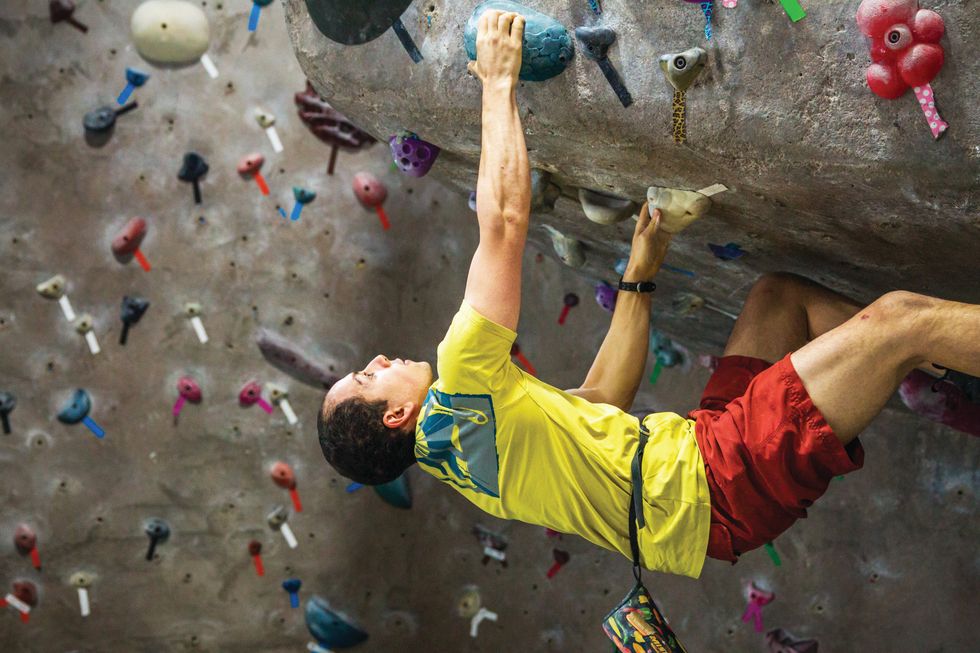 Rami Najjar, 25, hangs suspended from an arched climbing wall in West Houston's Texas Rock Gym — Houston's original climbing facility — as he considers how to maneuver his body to continue his ascent up the colorfully speckled, climbing-hold-dotted precipice. His mid-climb respite is short, however, and he quickly maneuvers his body with his characteristic arachnid equipoise and finishes his ascent with ease. It's no surprise that the young climber, who will complete his master's in nutrition at UH in May before heading off to Atlanta to start work on his Ph.D., is considered one of the city's strongest climbers.
---
Despite its well-earned reputation as a pathologically flat city, Houston actually has an increasingly vibrant rock-climbing culture; it's just that all the climbing here has to be done indoors at gyms. In addition to Texas Rock Gym, H-Town climbers can now practice their sport at places like Stone Moves Indoor Rock Climbing in Northwest Houston and inSpire Rock in Spring — the two gyms Najjar frequents most — and at Space City Rock Climbing in League City. For now, that's about it for the city's major rock-climbing gyms. And you'll notice that none of them are inside the Loop, meaning many Houstonians have to make a hefty commute to get their climb on.
But not for long.
Salt Lake City-based Momentum Rock Climbing is opening not one but two massive new gyms — Momentum Silver Street and Momentum Katy — in Houston soon. They are poised to revolutionize the rock-climbing scene in the city. Momentum Silver Street will open in September in the Washington Avenue Arts District as one of the largest "bouldering" gyms (making use of built-in handles and footholds rather than ropes) in the world at 40,000 square feet. And inner-Loopers willing to make a bit of a commute out to Katy to try out Momentum Katy — which opens in July — will likely find it worth the drive. Situated in the Katy Mills Mall, Momentum Katy will also be massive, with nearly 13,000 square feet of roped climbing and 7,000 square feet of bouldering, in addition to a large training area and a kids' climbing zone.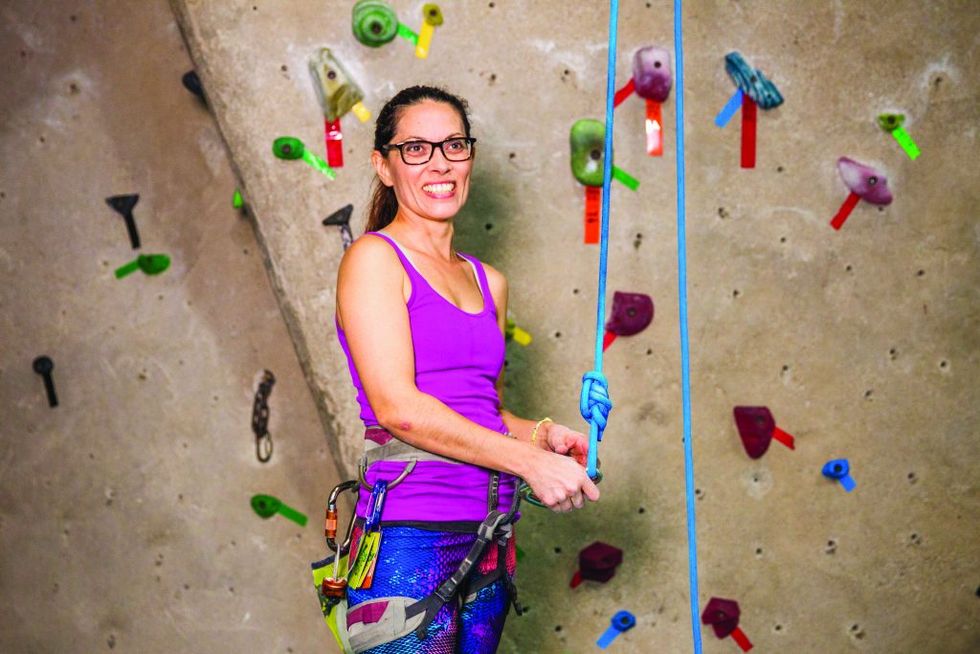 Far Above: Rami Najjar, 25, thought to be one of the city's strongest climbers, maneuvers a wall at the Texas Rock Gym; Just Above: Rock climber Viviana Vargus owns a pilates studio and also runs the Houston Area Female Climbing Club
"We knew a bunch of Texas climbers who kept begging for modern climbing gyms in Houston," says Momentum's Noah Bigwood on why the company decided to expand southward. "The market in Houston is so big, but it's really underserved."
It's an expansion that has seasoned local climbers like rock-climbing instructor Max Deische, 30, eager with anticipation. "I think it's going to grow the community exponentially," says Deische, who's been an avid climber for the past 11 years. "And it's definitely going to expand the terrain that's available in Houston."
Like many local climbers, Deische climbs at least three times a week for several hours at a time. It's actually hard to meet a climber who isn't avid about the sport. Climbing seems to be one of those things that you either just don't get what the fuss is about, or that you get obsessed with.
And Deische is one of the lucky few who has managed to turn his obsession for climbing into a thriving small business. His company Lost Soles is the only climbing-shoe-resoling business in the South. And the self-taught climbing cobbler has become quite proficient at his craft. When not resoling shoes, or teaching climbing at Texas Rock Gym, Deische also leads trips to hotspot climbing locales in the Texas Hill Country, Mexico and even Europe. "It's nice to be able to train people in the controlled environment of a gym," he notes. "And then help them translate those skills outdoors."
Although some climbers are happy to practice their sport entirely in gyms, most are eager to try their craft outdoors. Getting people climbing outside is actually a major focus of gyms and companies like Momentum, which often organizes outdoor expeditions for its members. It's also a goal for Houston climber Viviana Vargus, 44, who runs a Facebook group that connects local female climbers for support and excursion-planning.
Vargus also pens a blog, on which she posts interviews with local female climbers to inspire those who are interested in, but perhaps intimidated by, the sport. "It's different climbing with men than it is with women, and it's also physically different for a woman than it is for a man to climb the same route," says Vargus. "So it helps to have a different perspective. Not that we don't want to climb with the guys — we do it all the time. But sometimes it's just good to get all of the ladies together and do it together."
Vargus says that one of the main reasons she loves the sport is that it offers both fitness and community. It's a sentiment echoed by many local rock climbers who see climbing as much as a social outing as a workout. "At gyms you walk in and do your workouts, then you leave without really making any connections with anyone," she explains. "But with rock climbing, you spend several hours at the gym, climbing with other people while you're getting your exercising in. You're having fun and making new friends. That's why rock climbing is such a tight-knit community."
It's a community that's about to get a whole lot larger. Bigwood says he expects Momentum's two new gyms to draw in a combined 3,000 members, essentially doubling the number of climbers in Houston. Building up and supporting the Houston climbing scene is important to Momentum, and their philosophy will fit in nicely with the low-key, unpretentious vibe of the people like Deische, Vargus and Najjar.
"The Houston rock-climbing community is just so welcoming. It's almost like a tribe," says Deische. "I feel like I have a strong community of people around me now that I can rely on for anything." And that just might be the best kind of social climbing. 
Uncategorized