Southern Smoke Festival Fires Up 2023 Lineup: New Location and Events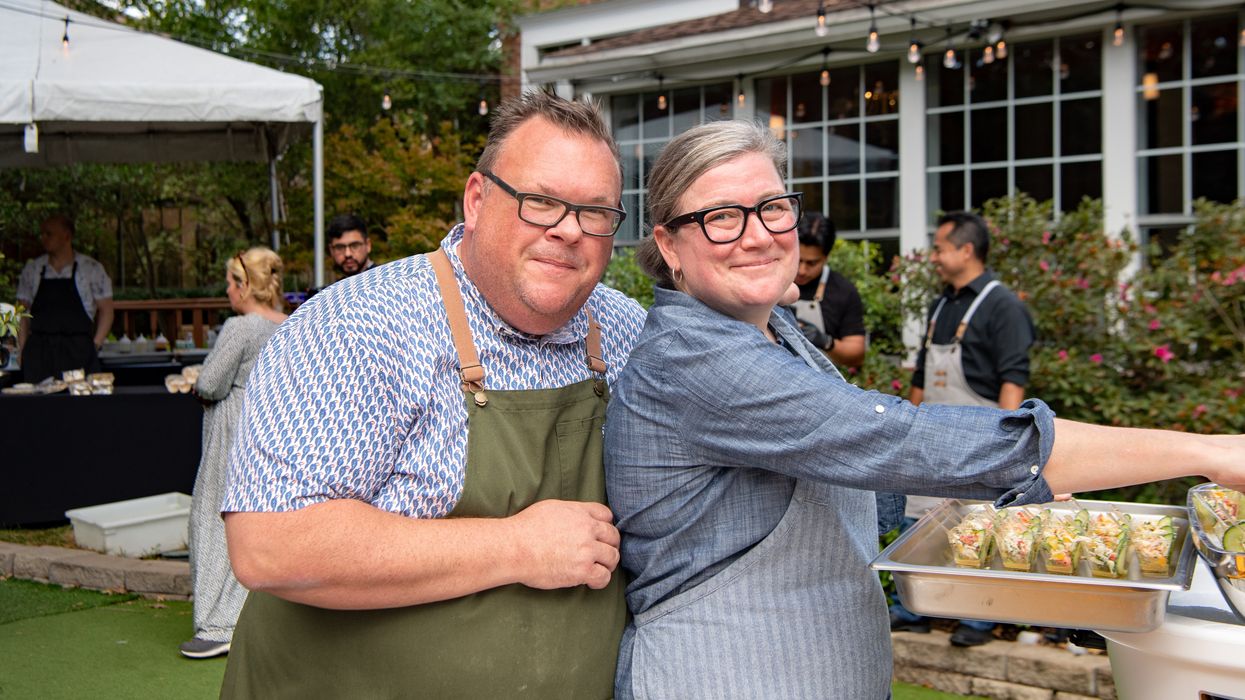 H-TOWN'S BIGGEST CULINARY party returns for its 7th year. The 2023 Southern Smoke Festival takes place Oct. 13-14 in the heart of downtown. Tickets go on sale June 7.
---
In case you haven't heard, the nonprofit Southern Smoke Foundation founded by Chris Shepherd and his wife Lindsey Brown raises proceeds to benefit and support food and beverage workers nationwide through emergency relief funding and access to mental health services.
Whittled down to two events this year instead of three, Oct. 13 brings new event Respect the Rose wine dinner at the Four Seasons Hotel Houston. Saturday, Oct. 14, is the Throwdown event at Discovery Green. Per usual, the event spotlights some of America's most talented pitmasters, as well as a cornucopia of James Beard Award winners and top Texas chefs.
Friday night's wine dinner is pitched as a 007/Monte Carlo-themed event, which raises money for Behind You, The Southern Smoke Foundation's program that provides no-cost mental health counseling to workers nationwide. Guests can expect first-class wines from some of the Foundation's favorite producers and are encouraged to dress up in their swankiest attire to sip wine and indulge in multiple courses. Expect lots of talent in the kitchen including Sarah Grueneberg (Monteverde, Chicago), Memphis chefs Michael Hudman and Andy Ticer, Rebecca Masson (Fluff Bake Bar, Houston), Ryan Prewitt (Pêche, New Orleans), Jason Stanhope (FIG, Charleston, S.C.), and Stephen Stryjewski (Cochon, New Orleans).
On Saturday, Oct. 14, the big stars will shine at The Throwdown, the Foundation's annual street party celebrating great food and drink. More than 40 culinary luminaries from across the country will join the best wine, spirit, and beer producers, along with live music at Discovery Green. Chefs making their festival debut include Reem Assil (Reem's California, Oakland), Angel Barreto (Anju, Washington, D.C.), Ana Castro (Lengua Madre, New Orleans), Nina Compton (Compère Lapin, New Orleans) Tracy Malechek-Ezekiel (Birdie's, Austin), and more.
The newcomers will be joined by longtime Southern Smoke Foundation chefs including Chris Bianco (Bianco Pizzeria, Phoenix), Ashley Christensen (Poole's Diner, Raleigh, N.C.) Aaron Franklin (Franklin Barbecue, Austin), Mason Hereford (Turkey & The Wolf, New Orleans), Cheetie Kumar (Ajja, Raleigh), and Claudette Zepeda (San Diego). Plus, more than 20 of Houston's own chefs including Bun B (Trill Burgers), Aaron Bludorn (Bludorn), Dawn Burrell (Late August), Patrick Feges and Erin Smith (Feges BBQ), Evelyn Garcia (Jūn), Benchawan Painter (Street to Kitchen), Chris Williams (Lucille's), to name a few.
To date, the foundation's Emergency Relief Fund has distributed more than $10 million to recipients nationwide. Tickets are priced at $500 for an individual ticket, $5,000 for a table of 10, and $7,500 for a table of 10 with special wines on offer. It's a really big show!
Food