The New 'New Asian'
The city's fascination with fresh takes on Asian cuisine seems boundless, as sexy Roka Akor and sophisticated Aqui bow.
Kirsten Gilliam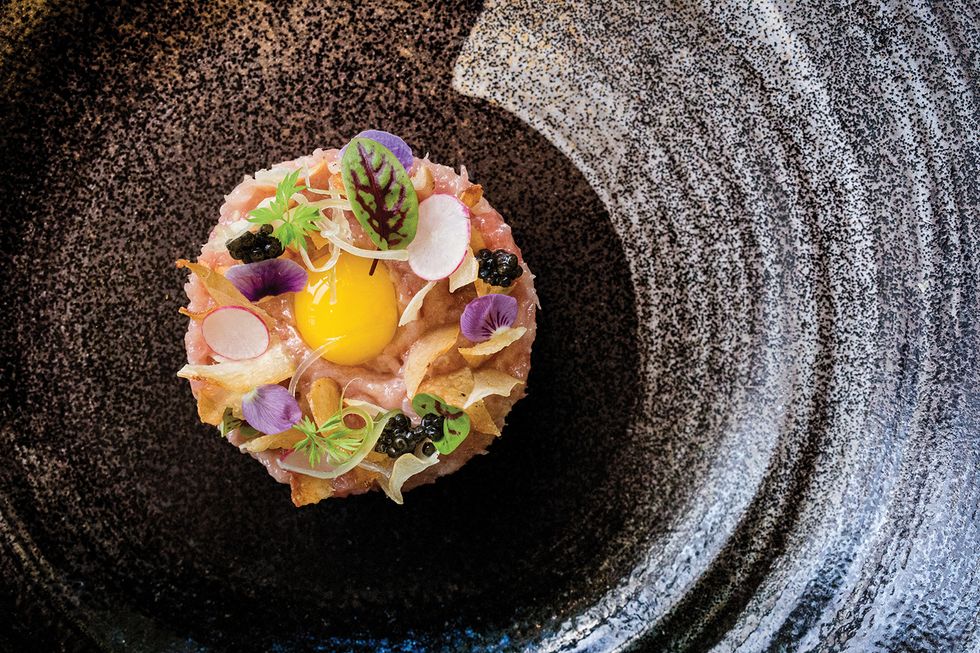 Without much pomp and circumstance, for practical reasons really, Houston has long welcomed a broad mix of people and ideas, creating a culturally diverse city. There's no statue in a harbor here to homage our multiculturalism. But what we do have to show for it, in addition to a multi-colored response to Hurricane Harvey that inspired the world, is a deliciously vibrant and varied food culture. And as people from different culinary backgrounds collide, so do their recipes! Curious foodies may wonder what will be the next big mash-up. Is it Indian-Chinese? Korean and Mexican?
---
How about something you could broadly describe as Asian fusion? Asian with a twist.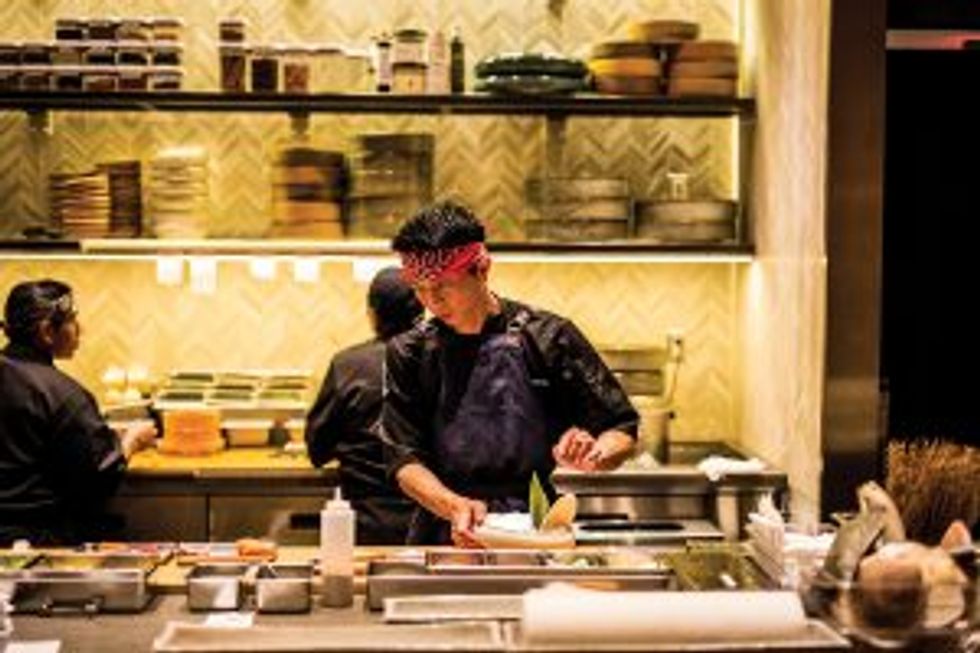 A chef prepares sashimi at hot new Roka Akor
Lately, Asian has gotten sexy and innovative, with restaurants offering loungey vibes, inspired cocktails and dishes that test the boundaries of any one cooking style. The buzzy sushi and robata bar Roka Akor (2929 Weslayan St., Ste. 100) and the highly anticipated Montrose newbie Aqui (520 Westheimer Rd.) by celebrity chef and James Beard winner Paul Qui boast stylish interiors and pretty plates, and most notably, exciting new interpretations of familiar Southeast Asian dishes.
Located on the ground level of the 40-story luxury residential high-rise 2929 Weslayan, Roka Akor's Houston location is the fifth in the U.S. and one that can hold its own among the various sushi bars in town.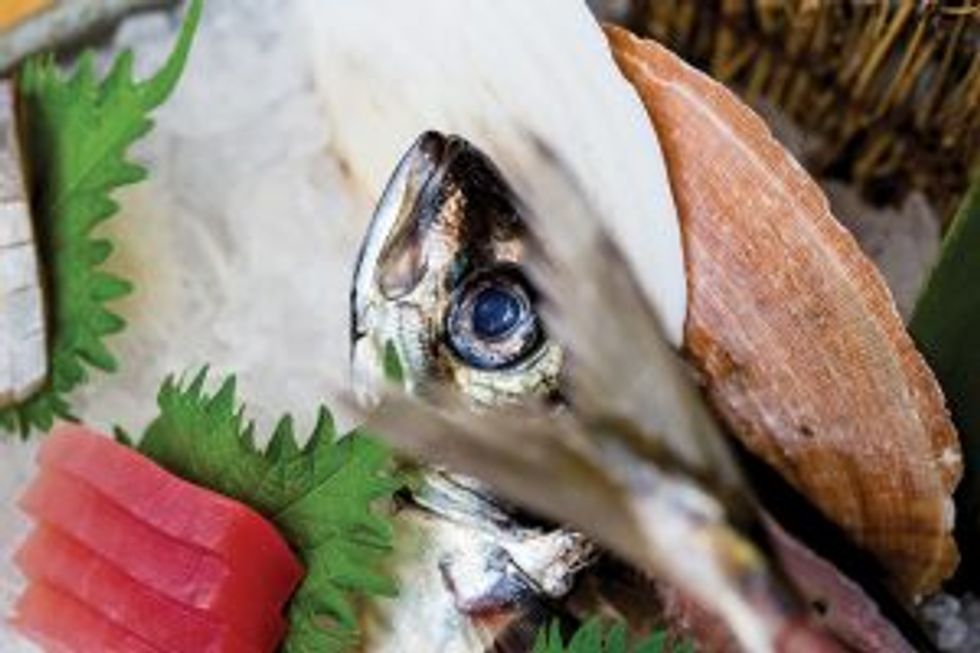 Roka Akor's sashimi platter
"Roka's menu is considered contemporary Japanese," says Ce Bian, executive chef of the Scottsdale-based Roka Akor group and a native of China with almost 20 years of experience in French and Japanese cuisine, and a commitment to high quality. "We are particular about where we source ingredients from — we consider location and seasonality."
Seafood is flown in daily from around the globe, including from Japan and New Zealand, for a clean, honest presentation of sushi served alongside house-made soy sauce, Himalayan rock salt and fresh wasabi grated tableside. Grilled seafood plates offer a bit more intrigue and adventure. The robata-grilled diver sea scallops — Bian's favorite dish on the menu for their rich, fresh flavor — are sweet and tender, enhanced only by the delicate addition of yuzu (for a sense of citrus), aioli and wasabi pea dust, a subtle addition which he says gives "a nice, spicy crunch."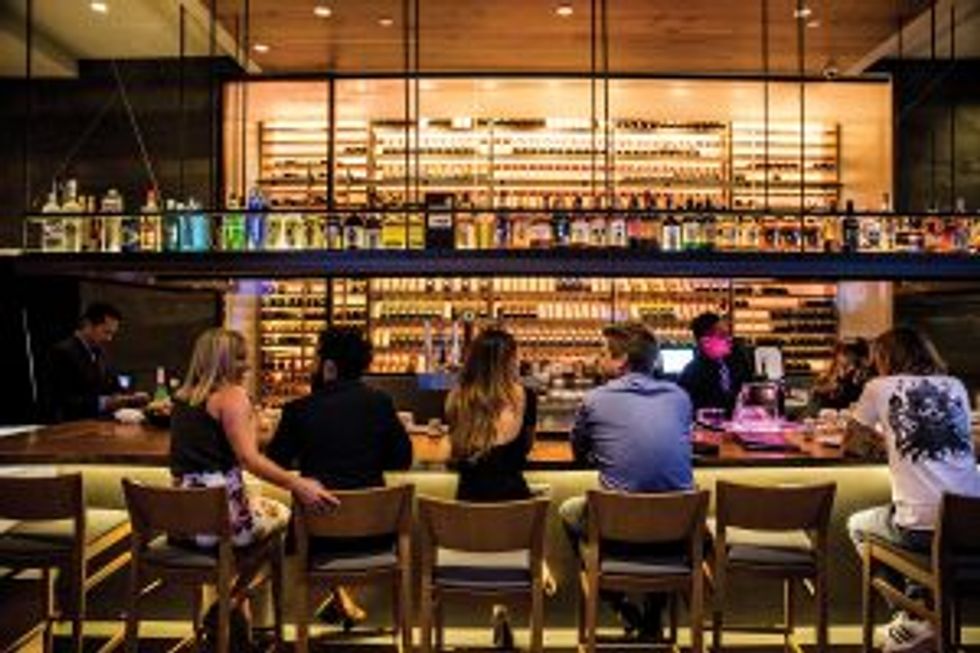 'Roka Bar' lounge
Bian describes the food as "not complex," but that may be a matter for debate. He notes the escolar tataki, a cold plate which is crafted with more than 50 ingredients from three different sources, and the robata-grilled black cod marinated with yuzu and miso, which takes 72 hours to prepare. "I strive to make the dishes memorable," he says. "Guests should look back and remember exactly what they ate."
Beyond its very broad seafood menu, Roka's steak program is given equal attention, which is not happenstance. "We offer more steak selections in Houston than any of the other Roka locations," says the chef, citing Snake River Farms and Greater Omaha as trusted vendors, while Shiga from Hokkaido, Kobe from Tejima and Miyazaki from Kysho Island round out the three selections of certified Japanese wagyu. And, in true Roka fashion, steaks are enhanced — like the proverbial gilded lily — by the addition of fresh truffles, spicy garlic soy or Sukiyaki egg yolk.
Multiple visits may be in order to navigate through Roka's vast menu, but the risk of finding yourself at the same table twice is slim to none. The restaurant has a sushi counter — where diners can opt for the Omakase menu, entrusting the chef to plan a full sushi order — a robata bar with views of the open kitchen, and an expansive patio. At the lively Roka Bar, an innovative menu of Asian-inspired cocktails — including ones that incorporate house-infused shochu, a popular Japanese distilled spirit — are playfully presented in thoughtfully colorful and festive ways.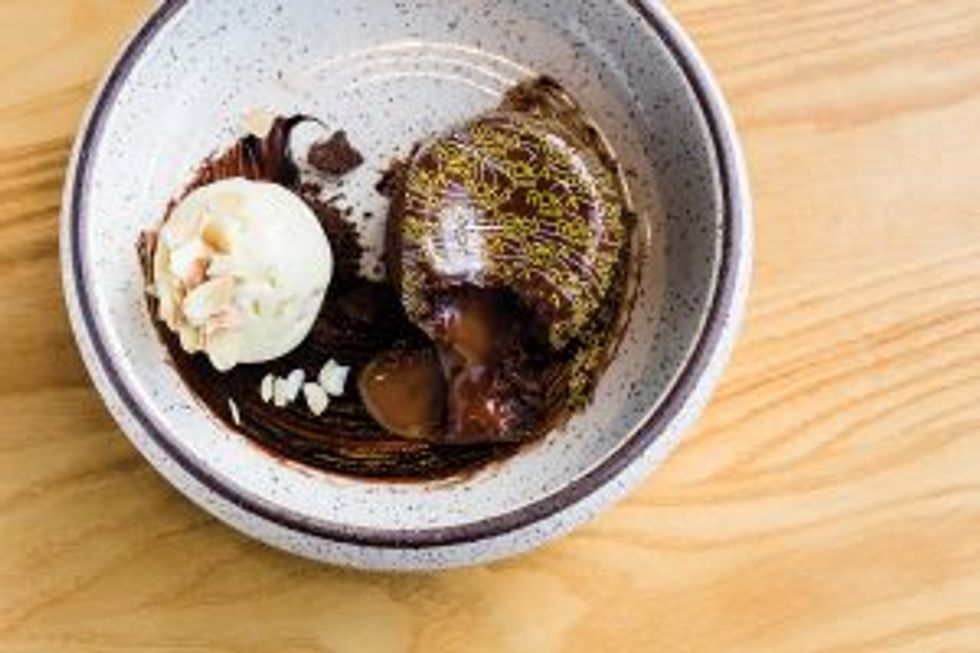 Warm Valhrona dessert
Becoming more prevalent in Houston, shochu, which is often infused with sweet fruit or tangy peppers, is also present on the cocktail list at Aqui in the smooth Sho-You cocktail, crafted with grapefruit and soda. While Aqui shares the use of trendy booze with Roka, it has a strikingly different vibe, more understated and tailored. It starts with its menu, crisp and to the point. The space itself is spare and unruffled, with blank walls and soft pops of color, with blue banquettes and plum-colored dining chairs. And the place is not without its hints of whimsy: Lego pieces prop up the chopsticks at each seat. An enclosed patio and discreet bar are equally enticing for either dinner or drinks, and the vast, open kitchen allows the food to take center stage.
The brainchild of chef Paul Qui — who has earned fame for his acclaimed Austin restaurants Kuneho, Thai Kuhn and East Side King, and also the gossip-page-worthy ups and downs in both his professional and personal life — Aqui touts a no-nonsense menu featuring dishes with strong Filipino influences. Foie gras is served with pandesal, Filipino bread rolls, and dishes like dinuguan, a pig's blood stew served with rice cake, and tuna kinilaw prepared in coconut milk with hearts of palm and jackfruit, are bold, and tasty. Selections that may sound familiar are given new life, like the fried bao paired with chili crab, tomato and egg, and the duck tartare with roasted chili paste, served as crispy, poppable one-biters, aptly placed under the menu's "Perfect Bites" category.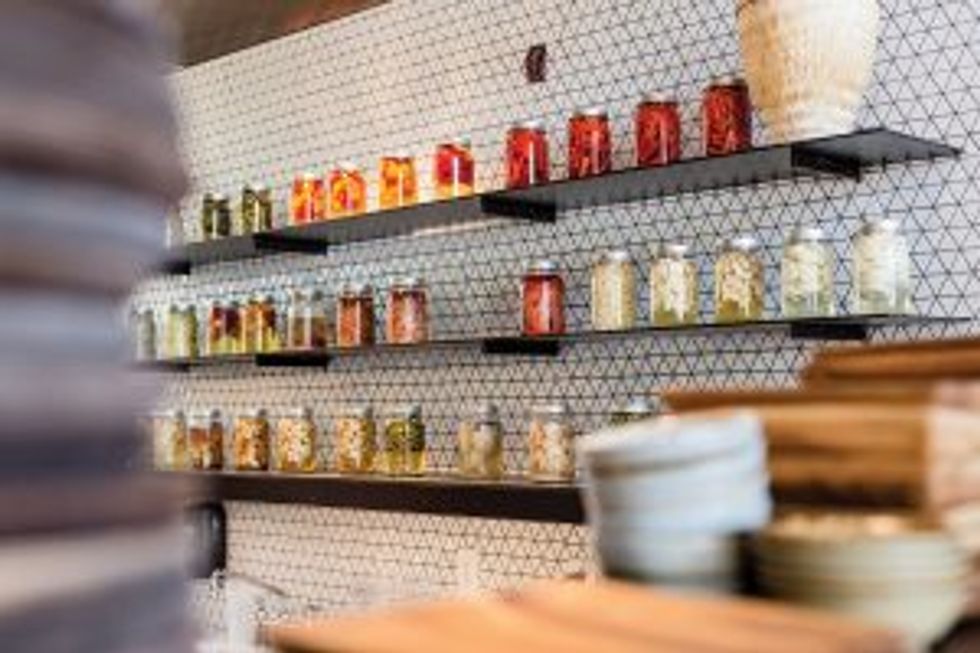 At Aqui, jars of pickled veggies
Desserts are not to be missed, as Qui draws from an array of Asian influences to offer artfully plated sweets. The Tamarind Rose combines gulab jamun, a kind of Indian doughnut hole, with a smear of creamy rose namelaka, and fuses a burst of flavors in one dainty dish. For those who prefer to proceed with caution, the dessert aptly called Chocolate safely pairs milk chocolate curry mousse with coffee cocoa crumbs and citrus.
Whatever you decide, you'll be choosing a fine ending to a great meal, having joined a cultural culinary movement that's just beginning.
Food+Travel