Driven Chef and DACA Recipient Victoria Elizondo Tastes Success at Inventive New East End Restaurant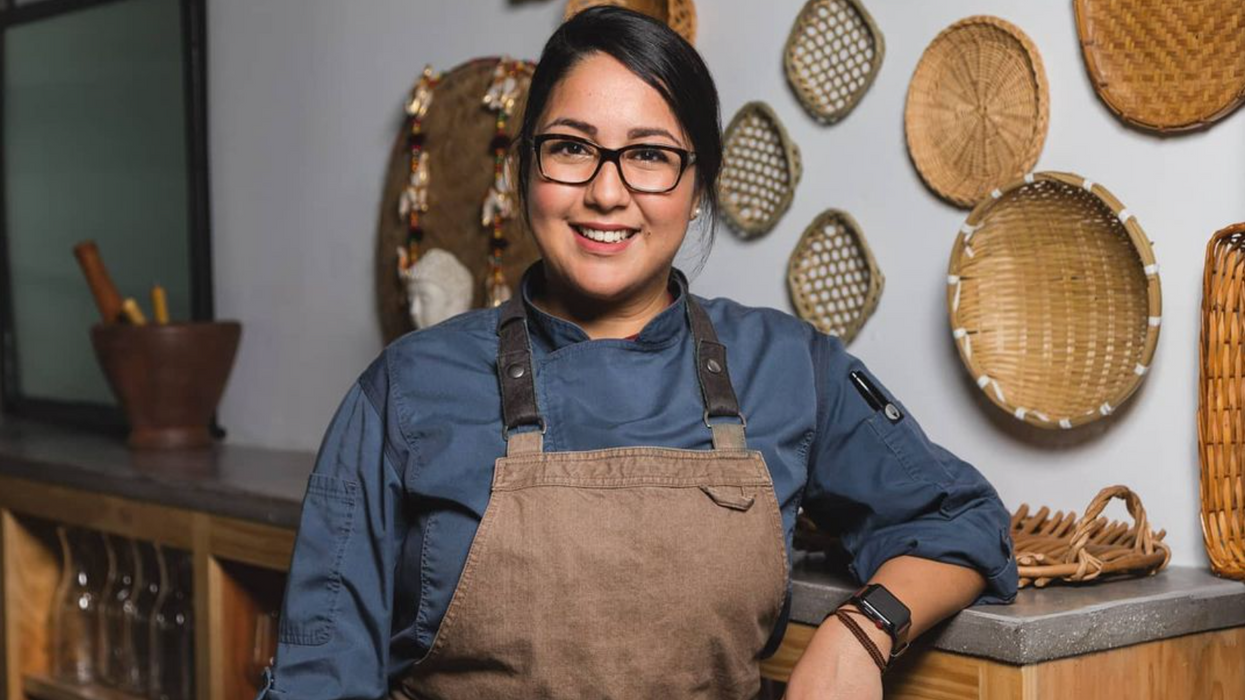 The almendrado mole tacos at Cocina Local, the restaurant inside Kickin' Kombucha's newly opened Kickin' Market in Eastwood, are constructed from a so-good-it's-sinful alliance of chicken, almonds, chile, cacao, sesame seeds and spices that are so resolute in their combined deliciousness that they aren't known to survive long after being plated.
---
It's a situation that the nascent restaurant's mushroom tinga tacos — with a delectable combo of smoky chipotle, lion's mane, oyster mushrooms, crema and queso fresco — and other tasty menu items like elote, nopalitos and piled-high tostaditas also find themselves in.
The food here, while meant to be savored, tends to be inhaled — often washed down with the restaurant's horchata. Bottles of the authentic beverage are among the grab-and-go items populating the well encumbered display cases lining one side of the shop, cases that display epicurean treats from local businesses like Angela's Oven, Bee2Bee Honey and Flying Saucer Farms, in addition to Cocina Local's tamales, salsas and more.
The Mexican-inspired restaurant, which already has a loyal fan base in spite of being so new, is the latest project by Mexican immigrant and DACA recipient Victoria Elizondo — the chef behind popular pop-up, catering and market concept Cochinita & Co. — and her business partner, Chef Julio Moreno, 32.

"It's a collaboration and a partnership," says Elizondo, 30, of her brand's culinary marriage with Kickin' Kombucha. "They let us do whatever we want. They don't put any limitations on what we can do on the menu. It's not us working for them or them working for us — we're both just working in conjunction and doing our own thing."
It's an arrangement for which Elizondo is grateful, because the entrepreneurial-minded young chef's meandering journey through Houston's culinary scene has not always been easy.
She came to the U.S. at the age of 12, and grew up watching her single mother come up with novel recipes in the kitchen of their home after ending her shifts at the restaurants where she was a cook. "She would come home and make her own little creations from what she learned," remembers Elizondo. "She's a very spontaneous and charismatic person. She's very flamboyant, so she definitely gave me my creativity."
Following in her mother's footsteps, Elizondo got her first gig at the age of 16 as a hostess, but it wasn't necessarily because she had a keen interest in the restaurant industry. "It was more to pay the bills," she recalls.
Eventually, though, Elizondo found her way her way to Latin Bites, the now-defunct Peruvian restaurant by Chef Roberto Castre, whom Elizondo considers one of her chief mentors, and she worked her way up to becoming the general manager of the lauded, family-run spot. It was a valuable training ground for the future chef.
"He was so dedicated to, not just the food, but to teaching us about the culture. I learned so much about Peruvian history through his food," says Elizondo. "I started developing a passion for food, and that's why I kept moving up."
After Elizondo got her DACA permit, she decided to take a brief hiatus from the restaurant industry to work an office job, something she had always dreamed of doing. But she quickly found that that lifestyle, although it came with perks like weekends off, health insurance and paid holiday leave, just wasn't for her.
"I was so miserable," she says with a laugh. "It was not my thing, so I left the office job and enrolled in culinary school just so I could get the basics down."
She eventually found work in the kitchens of top local restaurants like State of Grace, Pax Americana and Xochi — where she first met her current business partner and good friend Moreno — before deciding to go off on her own in 2016 to start Cochinita & Co., initially a food-truck concept that pivoted to a pop-up and catering model.
In the tail end of 2019, Elizondo thought she had finally found a permanent home base for her Cochinita & Co. brand in Rice Village's food hall concept Politan Row. She says her kitchen was busy nonstop — until the pandemic hit. The food hall permanently shuttered its doors in November, leaving Elizondo to pick up the pieces of her shattered brick-and-mortar dreams and fall back on the one thing that had never let her down — her family, in particular her mother, Graciela.
Graciela had also lost her restaurant job due to the pandemic, and Elizondo invited her to move in with her at her home in Fifth Ward so they could figure things out together.
"'You make bomb-ass tamales,'" Elizondo remembers telling her mom one day. "I told her, 'why don't you start making them, and I can sell them.'"
The tamales, which they crafted in Elizondo's garage, were a hit with Elizondo's loyal base of clients. The duo started freezing them and selling them at farmer's markets and at businesses like Henderson & Kane and, eventually, Kickin' Kombucha.
Elizondo's mother still makes the tamales, but now she gets to make them in an actual kitchen instead of a garage. And instead of creating an occasional pot or two of them for Elizondo to hock to her clients, Graciela is pushing out around 600 tamale packages a month.
Elizondo has also used the opportunity of the new restaurant to grow her staff, which she treats like her own family, to six people. She credits much of her business' success to their dedication and familial relationship with one another.
"I'm very involved in the wellness of my team, and they're just as important to me as my business," she says. "They all really put their hearts into this business and take care of it just like it is their own. When you do things right and have the right work ethic, you attract those kinds of people."
People + Places