We Meat Again
At unique Doris Metropolitan and glam Mastro's, carnivores have terrifiic new options for their cravings.
Kirsten Gilliam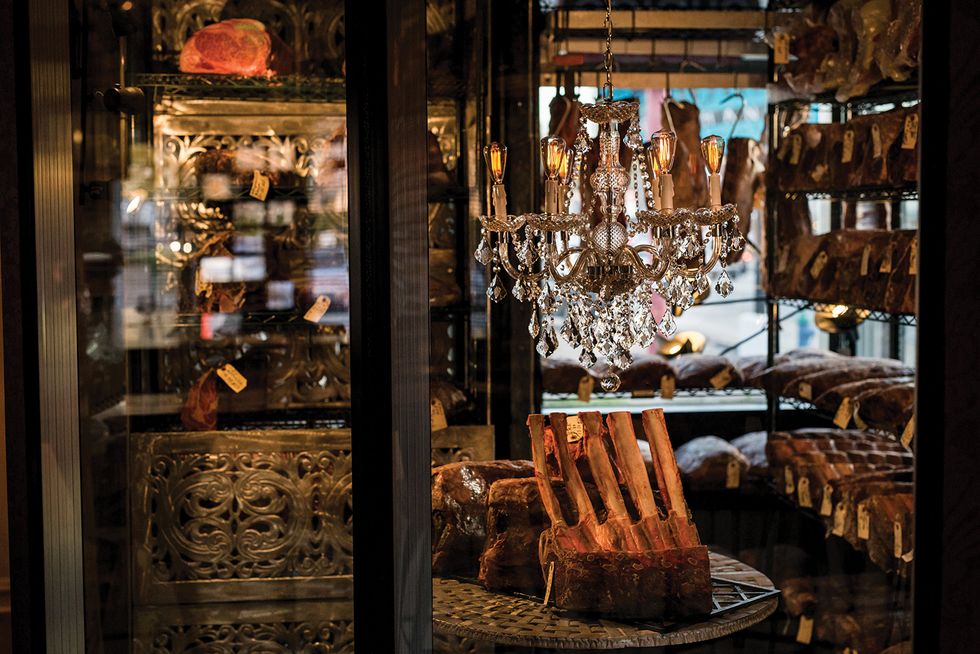 To say that steakhouses are popular in Houston would be a bit like announcing Kardashians are popular on reality TV. And have big butts. Duh.
---
And yet, it must be said that the city's current zeitgeist is extra meaty. Even by Houston standards. As one of H-Town's most famous and widely followed chefs, Chris Shepherd, breaks the news that he'll soon convert his next-level, multi-ethnic, James Beard-baiting Underbelly on Montrose's restaurant row into a steakhouse — his mod-minded Georgia James will open in late 2018 — two other buzzy steakhouses have bowed.
The pair, Upper Kirby's Doris Metropolitan (2815 S. Shepherd Dr., 713.485.0466) and the Galleria area's Mastro's (1650 West Loop South, 713.993.2500), are a study in contrasts. The former is owned by low-profile entrepreneurs from out of town, and the latter is owned by another reality star — one from the these parts, hospitality mogul Tilman Fertitta of Billion Dollar Buyer. The former has a unique, scaled-down menu, while the latter boasts a huge over-the-top array of traditional steakhouse favorites. What they have in common, however, is a commitment to style, and excellent food.
At Doris Metropolian — that's pronounced Dor-ee Metropolitan, by the way, like a cool Israeli dude and not your long-dead great-aunt, as the four owners are from Israel — that means a warming-up of the contemporary environs that once housed Triniti. Where the space was stark ivory with accents of natural wood, you'll find a more varied palette of rich blue and yellow-gold. The bar, once glowing onyx and flanking the space from the south wall, is now much larger and honed in polished wood and jutting out into the dining room.
Other décor additions are inspired by the menu. There are wine walls at every turn, highlighting, unsurprisingly, bottles from Israel. And, in the front corner, a glassed-in meat locker where steaks await the grill gets mood lighting from a crystal chandelier.
Memorable moments from the Middle East-esque dining experience at Doris, which also has locations in Costa Rica and New Orleans, begin shortly after sitting down. The breadbasket alone may be worth the trip. There's a pretzel-shaped roll flavored with caramelized onions and feta, and a cinnamon-roll-shaped one with olives — with crushed tomatoes for spreading, and butters infused with sumac and za'atar herbs.
Standout starters include fat octopus arms cooked sous vide for 18 hours, then grilled and served with creamy-garlicky tzatziki sauce, smoked tomatoes and charred baby okra. Yogurt-based tzatziki is also incorporated into a salad, which combines multiple varieties of artichokes prepared in multiple ways, including beefy, decadent Jerusalem artichokes. There are also raw oysters spirited with sashimi of tuna belly and pomegranate seeds and a zippy Sing Sing sauce.
Tender steaks, luxuriously dry-aged for either 21 or 31 days, tout a rich, roasty depth of flavor. And the sparse menu of simple sides seems designed not to distract; truffle fries is the wildest option on the list. And don't go looking for mashed potatoes, as a "root puree" including celery root and carrots has taken its place.
The sides may shrink in deference to the meat, but the desserts aren't so shy. In fact, they're pure spectacle. The most popular is the "ravioli" with rose-water-infused, extra-light malabi custard inside shimmery sheets of raspberry gel, the whole affair accented with candied rose petals and small beads of thyme cream on the side.
When it comes to spectacle, Fertitta's Mastro's — Vegas comes to Houston, with everything but showgirls and roulette wheels — may have cornered the market. Whoever first observed that less is more has not dined here. The crowd alone, boisterous and drinking a lot, sets Mastro's apart. This isn't just dinner; this is a rowdy party with meat, and managers with earpieces à la secret servicemen striding hither and yon and adding drama.
This, of course, follows the Fertitta model. He also owns casinos in Sin City and other gaming towns. And he recently snapped up the Houston Rockets.
The large restaurant, darkened and clubby with amber crystals dripping from above, sprawls in all directions. Over here, a u-shaped black marble bar and a live band and a patio appointed with a grand sleek-style water wall. And over there some intimate dining rooms decked out with abstract paintings, and a smaller whiskey-and-sports bar. From the main dining room's precious few elevated, semi-circular, chocolate-leather booths — one of which, more often than not, contains Fertitta himself, his pretty wife Paige and their 20-something sons — VIPs may survey the scene below.
To some, dining here might seem an afterthought, given the lure of the sexy selfies and the whir of the celebration and whatnot. But the food is top-notch. The starters are sophisticated, tilting to sushi and pretty numbers like the crunchy, sculptural shrimp and scallop "bird nest" dumplings. The steaks are toothsome and satisfying. Sides are old-school ideas, reworked for high-rollers and executed well, as in lobster mashed potatoes.
The more-is-more approach is never more apparent than at dessert. Even though the famous Mastro's butter cake is oversized and gooey-crumby amazing, and topped with ice cream, the server brings a tub of whipped cream on the side. Like the Vegasy trappings of the place, the vat of creamy goodness is enticing and mostly for show. You couldn't possibly eat it.
But, should you want just a taste, you can bet your bottom dollar it'll be delicious.
AT TOP: Doris' crystal-bedecked meat locker; the tomahawk steak at Mastro's
Food+Travel