Queso Saves the World! A Celebrated Chef Opines on Houston's Gooiest, Greatest Comfort Food
I REMEMBER WHEN I first heard that comedian Aziz Ansari was dating a chef from Texas who was famous for bringing queso to New York City. Besides dating the comic, Chef Courtney McBroom went viral with her chile con queso on YouTube and at her New York City restaurant, Casa Blanco. As cool as it was to hear, it was strange to think that something as routine for us as queso could be so novel and interesting outside Texas.
---
It might be easy to attribute queso's moment in Manhattan to Texas' cultural impact in recent decades. Maybe queso is just the symbol of where everyone wants to be, with Texas being such a desirable place to move these days. But I think queso, and its place at our tables in Texas, stands for something altogether greater.
Most people in Texas have their neighborhood spot for chips and queso. On any given week you probably have a Mexican place in your neighborhood rotation. With a margarita, chips and queso, sometimes no other food order is required, as long as you keep feeding the bar tab. We've all been there when the food arrives at a Mexican restaurant, and you realize you've had your fill with chips and queso. It's usually during this part of the meal that the best conversations happen; it's the stories you couldn't wait to tell and the catching up that needed to happen.
At home, queso happens in the Crockpot; that culinary artifact from generations of home cooks is probably more used for liquid gold than anything else. It's where you go when the game gets boring or the conversation with your uncle gets weird. The fondue party never ended in Texas. It just got moved to the kitchen in a crock pot. It is exactly these gatherings and local neighborhood dining that people have missed so dearly and needed most of all during the often-isolated times of the pandemic.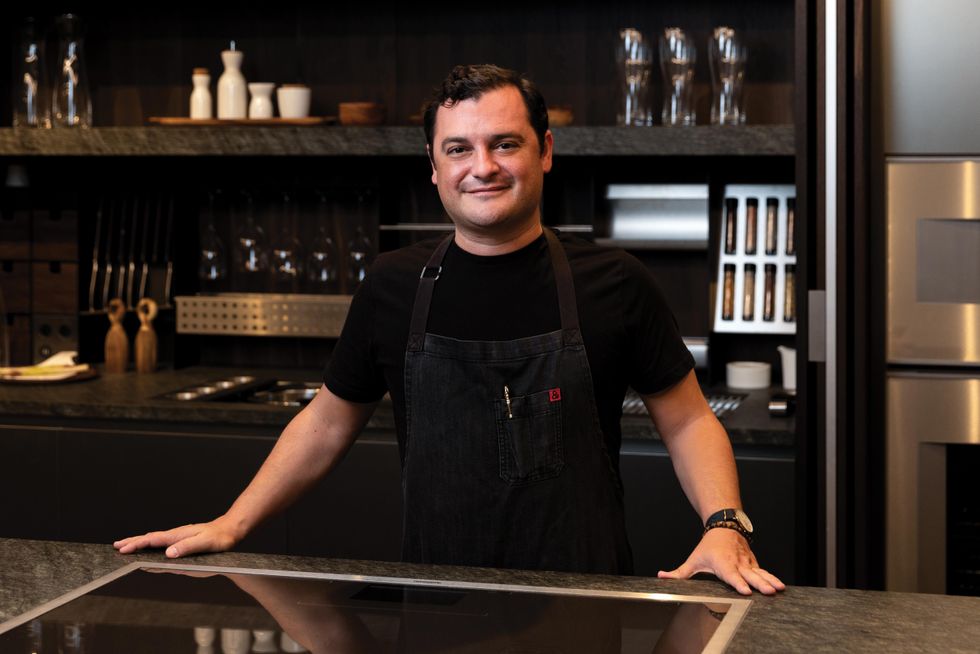 David Cordúa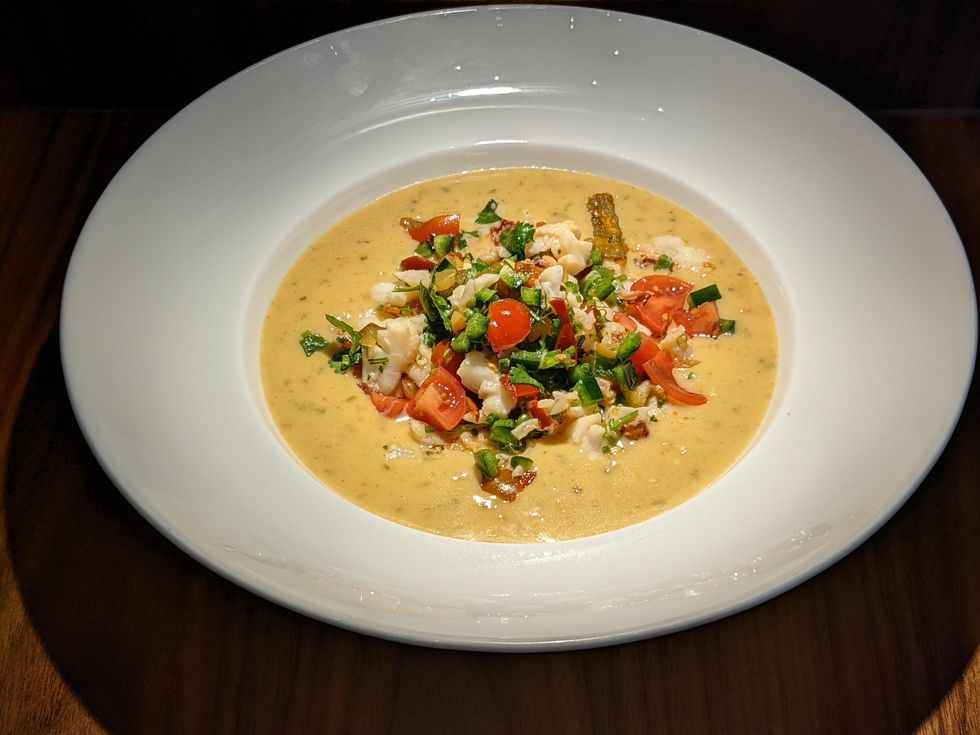 Lobster queso at Guard & Grace
Chile con queso, as is its full name, has several different origin stories. The most obvious link is to queso fundido, a popular appetizer in northern Mexico made from melted Asadero or Chihuahua cheese and usually a ground protein component such as chorizo, beef or even seafood. It's chewy, stretchy and satisfying. But the chile con queso that graces most Texas tables has more to do with something that would eventually become known as government cheese.
The process of combining dairy products with emulsifiers to make a spreadable, highly meltable cheese product has been around since the turn of the 20th century. It was highly nonperishable and could be mixed with different herbs, seasoning and spices. When it was combined with the red dye of the annatto seed, the same that gives butter its yellow hue, to look like English cheddar or Colby, we get what we now know as American cheese. Canadian-American James L. Kraft was the first to market it as such.
Because of its value and shelf stability it became indispensable during the second World War and was used in food rations in the U.S. and Great Britain. By the 1950s, American cheese and its most popular brand, Velveeta, were ubiquitous for burgers, sandwiches and in family cookbooks for enchiladas and casseroles. It became known as government cheese in the Reagan era, when it was provided to welfare beneficiaries and the elderly.
In the 1940s, symbiotically in Elsa, Texas, Carl Roetelle began a canning company that combined tomatoes and green chilis at varying degrees of heat. Thinking his name was too difficult to pronounce, he stylized it to Ro-Tel on the can. The two products, Velveeta and Ro-Tel combined, are the party standard that most homes across America identify as queso. You might not have known this two-ingredient recipe before, but you've had it many times. And when you do have it, you realize you've missed it. Just like you missed college football Saturday get-togethers during lockdown.
You can make chile con queso without Velveeta and Ro-Tel without a doubt, by sauteing onion, garlic and jalapeno and making a simple bechamel. First cook flour and butter together in the same pan to make a roux. In the process you create a stabilizer similar to the chemical emulsifiers in processed cheese. Add milk and whisk. Once the milk coats the back of a spoon and is thickened, apply copious amounts of shredded cheese, typically Monterey Jack and Cheddar.
But even with the most perfect bechamel and the highest quality blend of cheeses, you will be missing something. That combination of Ro-Tel and Velveeta is what is really is necessary to bring you back home, and begs you to share it with someone you like (and don't mind the occasional double dipping if it happens by accident). I prefer a hybrid of a bechamel-based cheese sauce with the addition of American cheese and canned tomato and chilis.
If there was a Bourbon Street for queso and margaritas in Houston, it would be Navigation Boulevard. Here, Mama Ninfa and the Laurenzo family created some of Texas' most iconic dishes, including fajitas. If you walk down Navigation during any lunch or dinner service, you will go home smelling like a sizzle platter. Be prepared to explain yourself. My family and I live in this neighborhood.
From the East End in Houston, Tex-Mex cuisine has been exported to much of the rest of the state, and then the rest of the country apparently. But the East End itself as a neighborhood has also been able to maintain something that is worth exporting: a community with families dating back generations that have kept their traditions and routines of outdoor eating, celebrating and gathering. You can see it on any given Sunday in the churches, markets and parks. The community has been medicine to us during the Covid years.
In the new post-pandemic world where one in seven people work from home, it's community and genuine neighborhood experiences that people are searching for. Especially during lockdown, our neighbors became an essential part of life in a way that I had never experienced before. And since then, just escaping from our devices is reason enough to go outside, cook together and gather.
In ancient France and Italy, most villages shared a communal oven, provided by the lord or the church, where each home or family would bring their bread to bake together. Each family's bread would have a distinct mark to identify its owner. In the East End, the Laurenzo family hosts an annual taco throwdown where chefs and restaurants gather to leave their mark on the taco. How great would that be right now.
If we can't all have a communal oven in our cul-de-sac to share with our neighbors, we can at least gather at our local Mexican restaurant. We can share a Crockpot of queso with our friends for the game. Queso is rarely enjoyed alone. We need neighborhood gathering spots more than ever, to break bread together — or in our case, some chips and queso. It's our glue.
For the time being though, please try your best not to double dip.
David Cordúa, whose father Michael is also a celebrated Houston chef, is the chef and owner of David + Michael Cordúa Events and The Lymbar Kitchen and Cocktails opening soon in The Ion. He was formerly executive chef at Américas and Churrascos restaurants.
Food