If They Build It
Since 2015, Houston has added nearly 15,000 hotel rooms. As historical properties undergo significant renovations, boutique and behemoth brands alike continue to make a reservation in H-Town. Here's your room key to all the latest hotel news.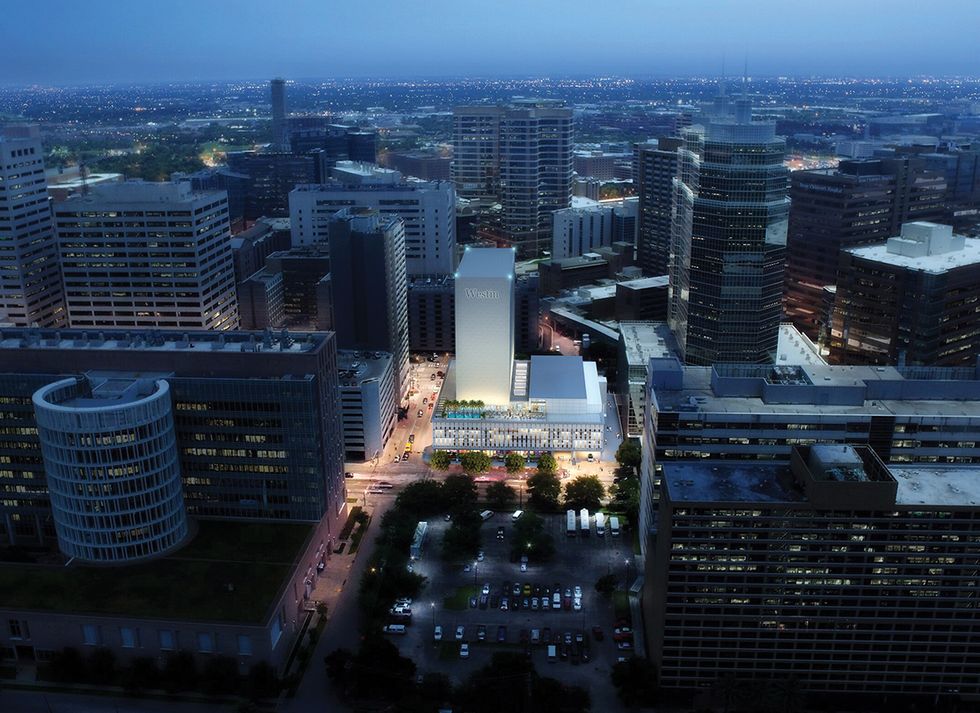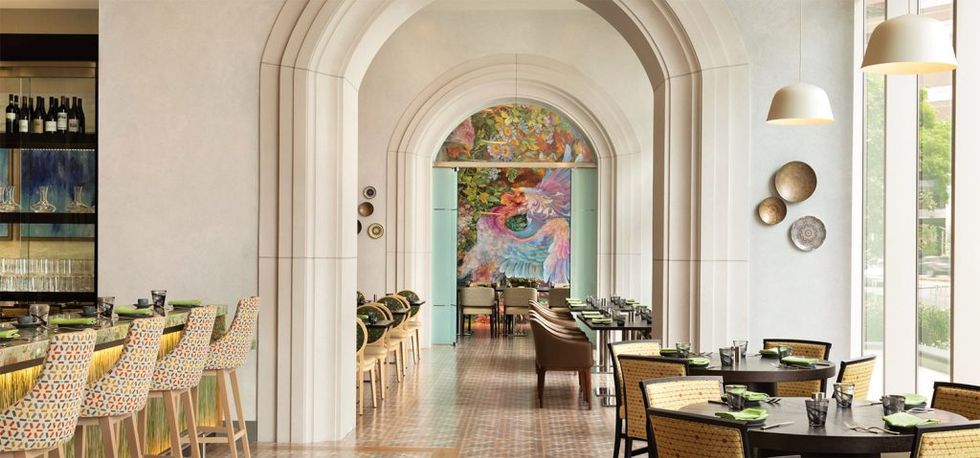 Safina restaurant in the new InterContinental
---
Med Center Marvels
Houston's world-class medical complex has two new hotels to match.
Each year, 7.2 million people visit the Texas Medical Center for treatment and conferences. The new 354-room InterContinental Hotel (6750 Main St., 713.422.2779) — the first luxury property to open in the area since the ZaZa (née Warwick) — promises to deliver to visitors a level of comfort and ease worthy of the Med Center's best-in-the-world reputation. The 21-story tower boasts an outdoor pool terrace, Safina restaurant, a ballroom and flexible meeting space. Meanwhile, Pearl Hospitality — which in 2014 opened Downtown's J.W. Marriott in the historic Carter building — will transform the mid-century Medical Towers into the Westin Houston Med Center (1709 Dryden Rd.). Slated to open in April 2020, the property will have standard guest rooms as well as 13 extended-stay, apartment-style rooms for patients undergoing long-term care at area hospitals. And the TMC3 Collaborative Campus, an ongoing project to accelerate research and advance human health, will eventually house the TMC Hotel and Conference Center, with 410 guest rooms.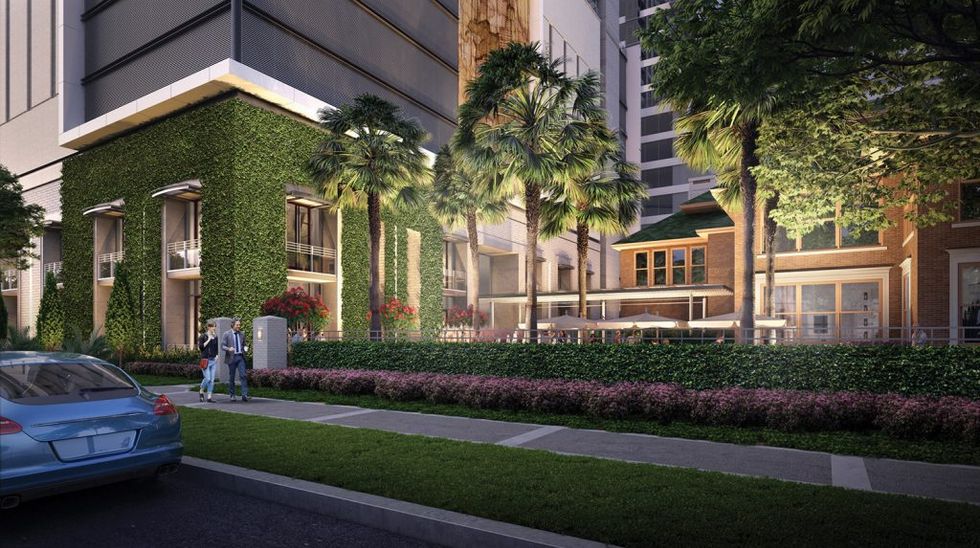 The plans for La Colombe d'Or's new hotel and residential tower
Room Refresh
Checking in: Million-dollar renos!
In the wake of Hurricane Harvey, hotels like the Lancaster (701 Texas Ave., 713.228.9500) took an opportunity to try something new. The storm prompted an art-filled renovation of the historic 1926 building: More than 200 paintings, drawings, sculptures and prints by Texas artists bring the walls of the hotel to life. Also Downtown, the Magnolia Hotel (1100 Texas Ave., 713.221.0011) recently unveiled the result of its years-long overhaul, which plays up the building's former life as home of the Post Dispatch newspaper. Meanwhile, the Omni (4 Riverway, 713.871.8181), no stranger to flooding, reopened in November after a $30 mil renovation that highlights natural elements like greenery, wood, leather, stone and copper. Just across Woodway from the Omni, the Houstonian Hotel, Club & Spa (111 N. Post Oak Ln., 281.680.2626) begins a $45 mil reno of its 27-acre complex later this year, coinciding with the property's 40th anniversary. Guest rooms and common areas — including the Trellis Spa — will all receive a major facelift. And Montrose's  La Colombe d'Or (3410 Montrose Blvd., 713.524.7999), which closed at the end of last year, will reopen in 2020, redesigned by Rottet Studios. A high-rise residential tower, which broke ground in early 2018, will be connected to the hotel, offering 18 additional guest rooms.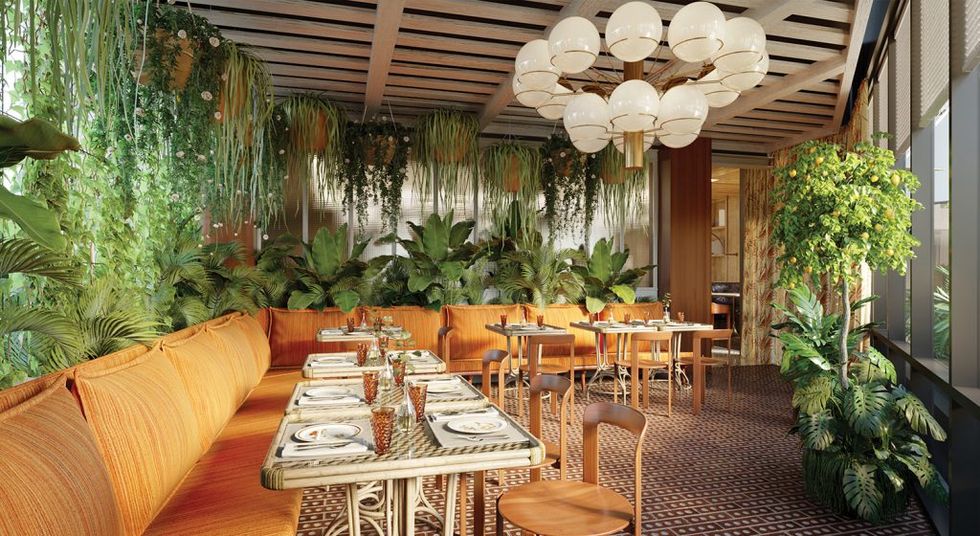 A rendering of the forthcoming Rosalie restaurant on the ground floor of the new C. Baldwin hotel
in the Allen Center
It's Going Down(town)
H-Town's hottest submarket shows no signs of cooling.
The hospitality industry has long considered Downtown Houston a Monday-to-Thursday market. And until recently, that translated to drab, big-box hotels. But as the New York Times observed in 2017, investors have realized that "comparatively few environmental regulations, an expanse of cheap land, a premium on rapid approval of development ... real estate tax abatements and other incentives" make Downtown a prime location for unique and boutique concepts. The DoubleTree in Allen Center was transformed into the posh C. Baldwin (400 Dallas St., 713.759.0202) over the summer, complete with exciting restaurants — like Rosalie, from West Coast chef and Chris Shepherd pal Chris Cosentino — and high-end meeting spaces. The Cambria Hotel (1314 Texas Ave., 713.222.2100) also opened in August, marketed to tech-minded travelers — think Bluetooth-enabled bathroom mirrors. And in the vein of Downtown's happening and historical J.W. Marriott, the hotel chain has debuted Houston's first AC Hotel (723 Main St., 832.516.6635) — a "European-inspired design hotel" — in a 105-year-old building on Main.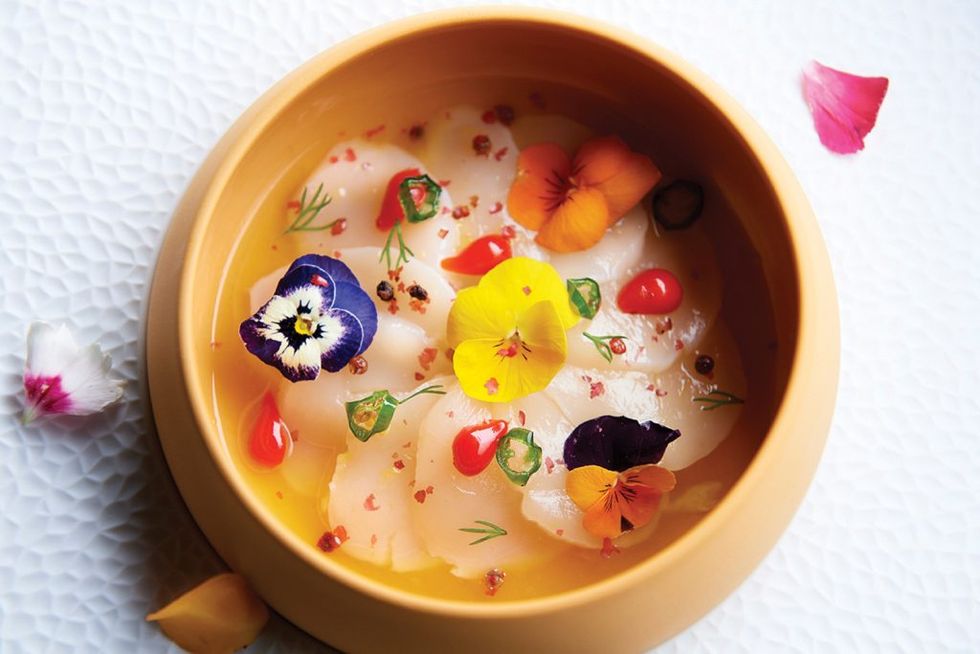 The scallop crudo at society-set favorite Bloom & Bee in the Post Oak Hotel
New Standard
The last couple years' most celebrated openings retain their five-star status.
When it was announced that Houston would host the Super Bowl in 2017, many new hotel projects were also announced — but only a handful crossed the finish line in time. The Marriott Marquis (1777 Walker St., 713.654.1777) was among them, and it's still a party place, with its Texas-shaped lazy river and high-profile restaurants a la Biggio's and Xochi. Hotel Alessandra (1070 Dallas St., 844.204.5851), a multi-million-dollar project by the Valencia Group, followed just after the Big Game — and, with its chic Bardot cocktail bar, tasting-menu-savvy restaurant Lucienne and urbane pool setup, quickly became the cornerstone of the GreenStreet development. The following year, in 2018, Tilman Fertitta's much-ballyhooed, super-stylish Post Oak Hotel (1600 W. Loop S., 844.386.1600) bowed, fulfilling its promise of delivering a true five-star property to Uptown. And across town, Hotel ZaZa's newest outpost opened around the same time, bringing its brand of rock'n'roll-chic — and its beach-club-style pool — to Memorial City (9787 Katy Fwy., 713.465.9292).
The Allen is a mixed-use development featuring a Thompson Hotel along Allen Parkway.
Making Room in Montrose
The hip 'hood prepares to welcome deluxe new digs.
One of Houston's most-visited neighborhoods, boasting some of the best restaurants in the nation, Montrose is sorely lacking in hotel accommodations — but not for long. Master Sommelier David Keck's development group, Goodnight Hospitality, has announced plans to open the nine-room Montrose Hotel (2509 Dunlavy St.), a stone's throw from its other businesses including Goodnight Charlie's honky-tonk, and the highly anticipated Montrose Cheese & Wine and Rosie Cannonball restaurants.The hotel, which will be designed in a "luxe mid-century" style by Biscuit Home Goods' Bailey McCarthy and Houston-based architecture firm HR Design Dept, will have a patio, rooftop garden, and a bar and restaurant exclusive to hotel guests, and is expected to open by late 2020. And Houston's first Thompson Hotelis slated to open within The Allen mixed-use development at 1711 Allen Parkway. The $450 million complex will include office space and nearly 100 condos, in addition to the 170-room hotel. Expect a sceney pool with cabanas and a gala-worthy ballroom. Developers behind The Allen, which will be situated on a six-acre site next to the Federal Reserve Building, plan to make the most of its proximity to Buffalo Bayou Park and Downtown.While that project isn't scheduled to open until 2022, Montrose visitors will likely find themselves at the renovatedLa Colombe d'Or (3410 Montrose Blvd., 713.524.7999), slated to reopen — bolstered by an additional 18 rooms in a high-rise tower — next year.
Business+Innovation