Lift Off
With a timely body-positive message, fitness entrepreneur Yami Mufdi rises up.
Jhane Hoang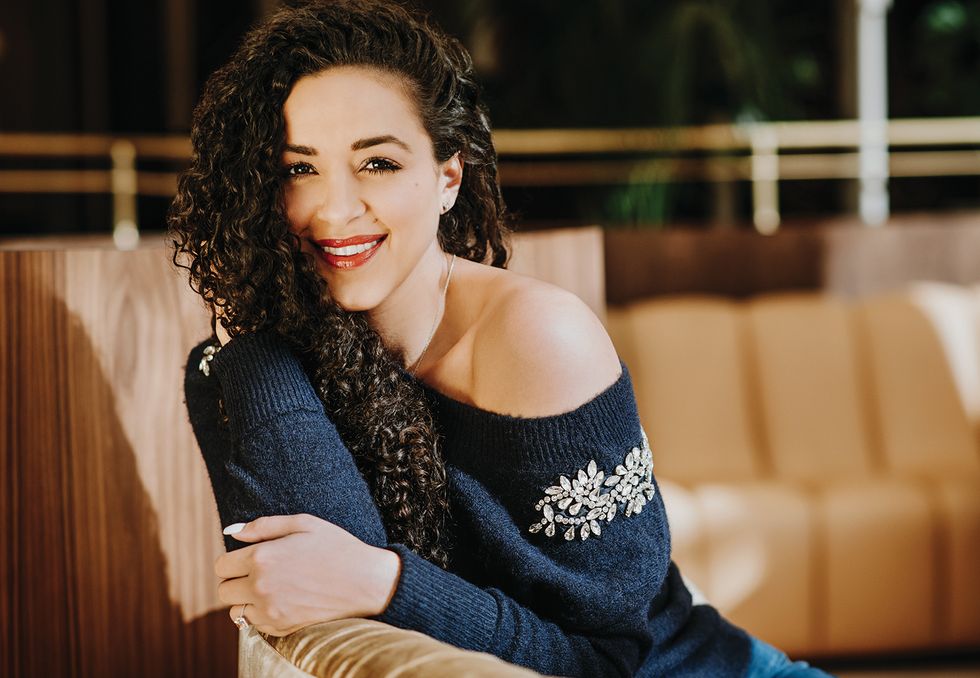 It's a cool Wednesday night in December, and Yami Mufdi is getting prepped for the 7pm yoga class she's leading after a full day of online fitness coaching. The Houston influencer is equal parts stunning, energetic and confident, with a head full of curls and an infectious laugh. Mufdi, a YouTube star who moved here in 2017 after a seven-year stint in New York, has paired her love of health and wellness with her passion for uplifting others to create a small empire with a big future ahead. In 2019, she launched her own activewear line as well as a fitness app with workout routines and nutritional advice — and 2020 promises to be just as exciting. 
---
Born in the Dominican Republic, Mufdi spent her childhood in Miami. A lifelong dancer — "I was always moving," she says — she made her move to the Big Apple to chase her dream of modeling. "All of these agencies told me that I was too fat, I would never make it and no one would ever book me. I was doing every diet under the sun, and at times I wasn't eating. I had a very bad relationship with food and exercise. I was trying so hard to fit this mold I thought they wanted." 
After six and a half years, the curvy bombshell started doing at-home workouts since she was uncomfortable exercising around others. She eventually gained enough confidence to step foot into a gym, and "got my diet back in a good place." She posted an impressive transformation pic of her progress on Instagram, and her footprint as an influencer began. Mufdi's DMs blew up with people asking for fitness tips. "I didn't know what to say, because I just stuck with a plan I found online. So I got certified to train at Equinox." 
Deciding it was time to try modeling again, the trainer went back to the agencies who once criticized her for her size. Mufdi was emboldened when she was told, once again, to lose weight. "I said, 'screw this, I'll just make a YouTube channel.'" Interacting with people from all over the world through her videos, Mufdi saw her future in fitness. And her video content eventually made its way into a smartphone app called Playbook, which launched last year.
Mufdi felt empowered when she connected with others by sending a health-forward and body-positive message, and she and her fiancé, Taylor "Taz" Frase, a professional photographer and videographer, wanted to find a way to spread that message even further. "We were in Grand Central Station and we thought of the phrase 'lift and be lifted,'" she says. "People think [those in the fitness world are] very self-centered, but we wanted to let people know that you can lift yourself up and also build others up with you." As they contemplated their next business move, Mufdi and Frase also contemplated a physical move: After a visit to Houston, the couple decided to head south, observing that their dollar stretched more in H-Town than it did in the Northeast. 
Here in Houston, which Mufdi deems "a health-conscious place and a great, active city," she launched Levavi, her activewear line whose name comes from the Latin translation of "lift." 
Levavi's website boasts pics of women in all shapes and sizes wearing pastel-colored crop tops, shapely leggings and more. Mufdi herself designs, packages, ships and advertises the brand through her social media accounts and website, with photos and videos shot by Frase; plans are in the works for a men's line. "I always said I want Levavi to become bigger than me," she explains. The one-woman show is on the front lines of an inclusion revolution for people of all sizes, races and backgrounds to feel empowered to be the best versions
of themselves. 
Mufdi embraces the challenges ahead and speaks passionately about her inspiration and motivation for keeping the hustle alive. Remembering her days of being told she wasn't good enough, Mufdi sums up her mission: "I don't want another woman to feel the way I felt."
Uncategorized