Sitting Pretty
Over decades, Houston has quietly become a major player in the international beauty industry, a city uniquely situated to help new brands go from clever pipedreams to celebrated bestsellers almost overnight. Here's a peek into the billion-dollar business in our backyard.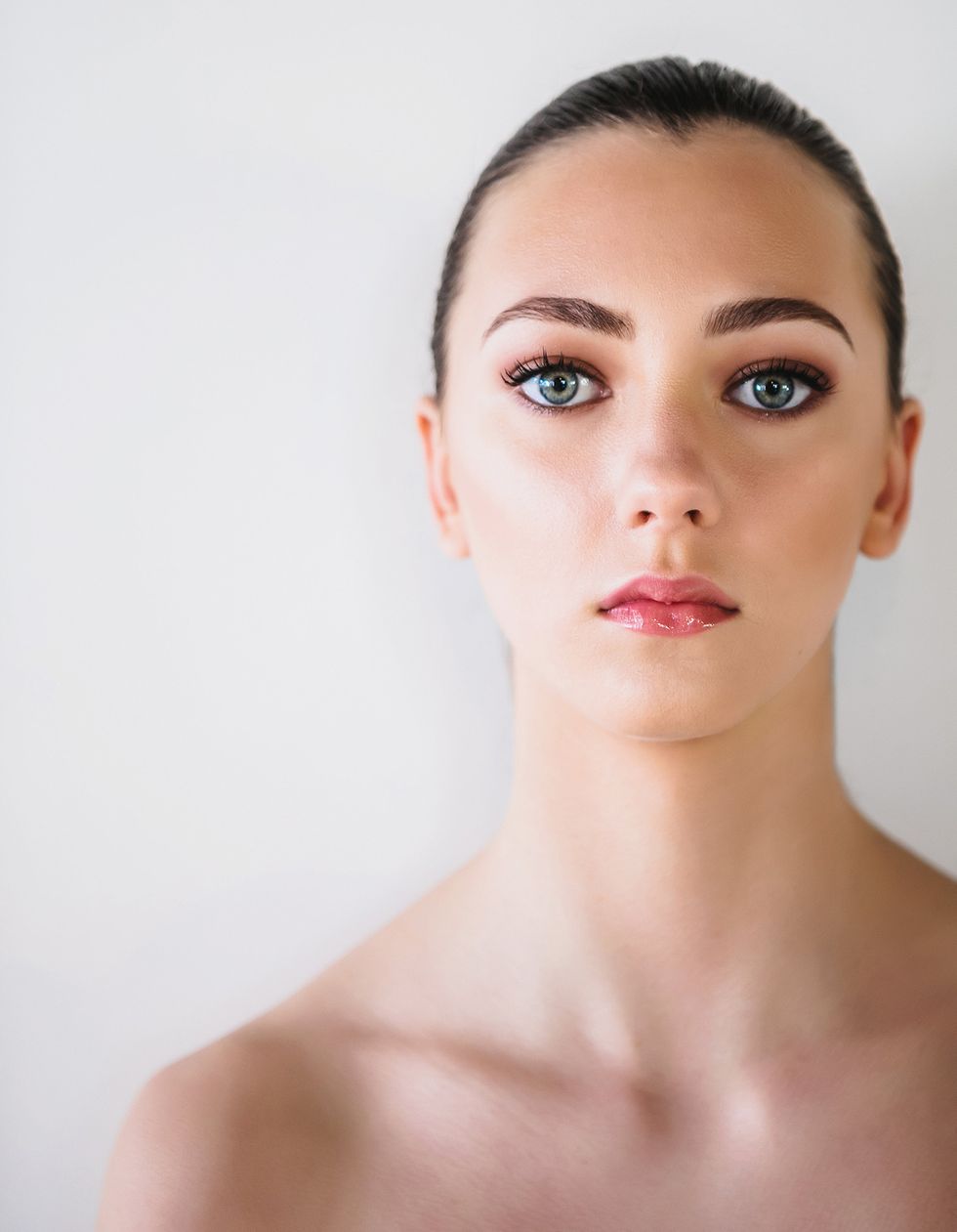 Most know Houston as an oil-and-gas town, but the soil here is also rich in another type of energy. It's appealed to a broad range of bold entrepreneurs, and it's helped propel Houston-based brands like Luminess, Drunk Elephant and Chi into household-name status globally.
---
The name of the game is beauty.
The Houston area, after all, is where, in 1963, Mary Kay Ash launched her iconic company, now a $3 billion line sold by 2.4 million consultants across 35 countries. And where, in 1986, Farouk Shami pioneered Farouk Systems, the parent company of billion-dollar megabrands BioSilk and Chi, which distributes products to 144-plus countries worldwide, has 2,000 employees and holds 23 patents. It's also where beauty biz-whiz (and former Neiman Marcus exec) Janet Gurwitch brought Laura Mercier Cosmetics to life in 1996 and began manufacturing the celebrity makeup artist's products with a cult following that became a worldwide phenomenon. 
And now, a new crop of brands is growing tall. Among them: Drunk Elephant, founded in 2012, one of the fastest-growing brands in the skincare industry and one of Sephora's top sellers. Houston native Tiffany Masterson's little line of non-toxic skincare is estimated to have annual sales upward of $150 million, and industry experts fathom the company could garner $1 billion if Masterson sells Drunk Elephant later this year, as is rumored.
Drunk Elephant's popular Protini polypeptide cream
But the volume of Houston-born beauty brands and their tremendous successes doesn't surprise anyone in the trenches of the local scene. "We see beauty differently in the South, and we're more conscious of it in Texas. But in Houston, it's a community, not a competition," says makeup artist Tonya Riner, a frequent CityBook contributor who has grown her business from solely editorial work to include celebrity clients — hello, Kate Upton! — events, lessons and group classes. "Houstonians will make calls for you and create opportunities, and if you're creative without a business background, someone will connect you to someone who does in five minutes. I don't think that happens everywhere else."
That communal vibe is part of what drew Laura Lemon, founder and CEO of Lemon Laine, to select Heights Mercantile as the second location for her popular Nashville-based natural beauty and wellness boutique. "When visiting in early 2018, my husband and I were blown away by the richness of culture and celebration of diversity," she says. "We are hyper-focused on creating a warm and open experience, something we felt we bonded with Houstonians on." Lemon Laine is known for its oil bar experience, during which specialists formulate a customized facial oil for clients on demand. It's the type of innovation that Houstonians are eagerly embracing.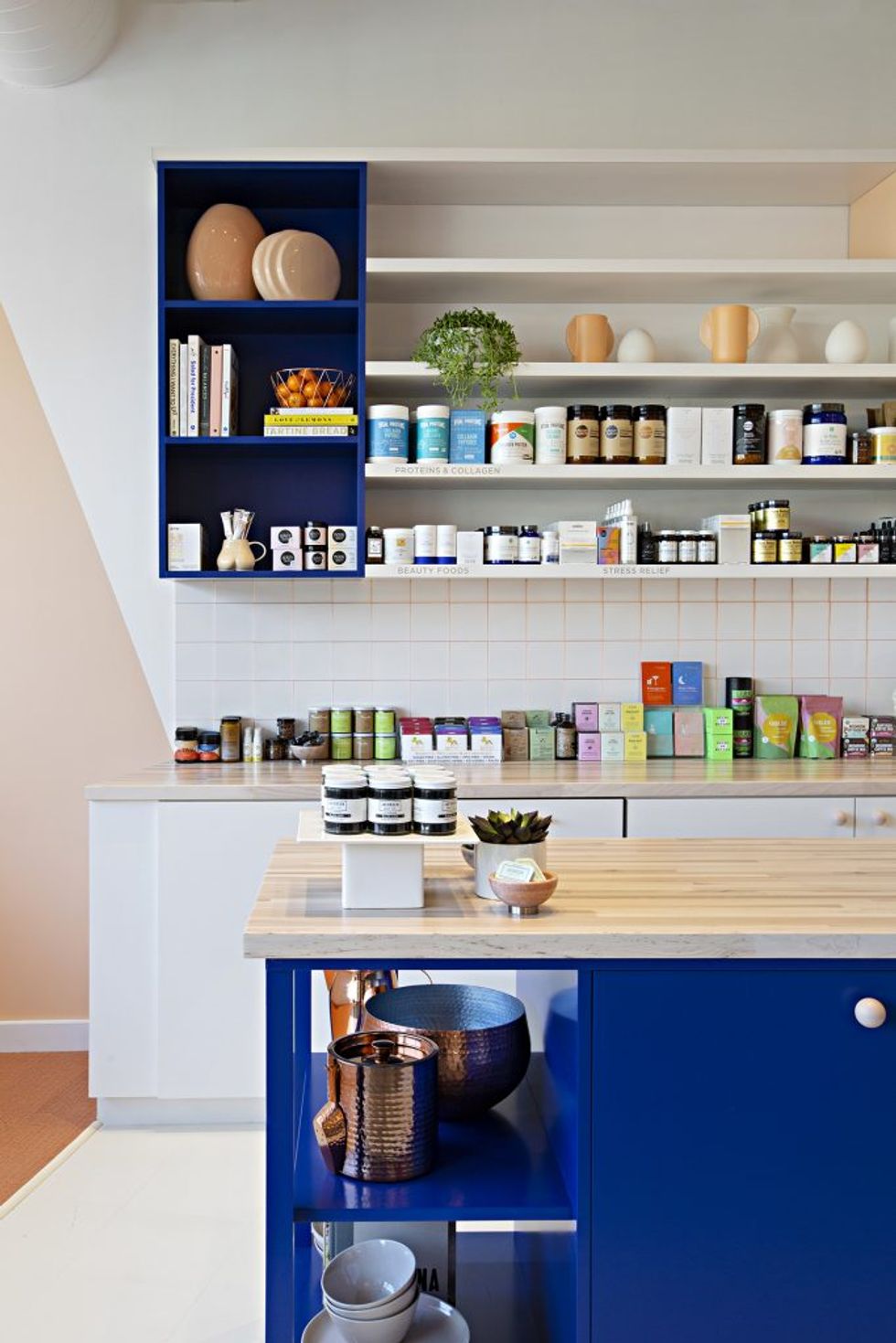 The new Lemon Laine boutique in Heights Mercantile
"Houstonians are willing to spend more time — not just slap on red lipstick and be done," explains Riner. "They want a more curated look, so this is a perfect breeding ground for new ideas, products and services … because Houston is ready for it and wants it at a high level."
Studio A Salon owner David Armendariz agrees, and says it has changed the local salon business. "The Houston beauty enthusiast seeks curated experiences, and wants to go somewhere he or she feels at home or like they are the only ones there," says the former pro dancer who first opened with an intimate two-chair salon in 2013, and, in November, redesigned his Rice Village storefront. "I wanted Studio A to … channel the warmth of this city."
In addition to a demand for custom experiences, Houston has huge bottom-line benefits for businesses, largely thanks to the absence of corporate and personal income tax at the state level. A new study by the University of New Hampshire ranked Texas as the best place in the country for female entrepreneurs. Elizabeth Parry, an interior designer who launched Parry Botanicals in 2015 after years of battling allergies and skin sensitivities, says she's a testament to that finding, with her brand averaging a 214 percent growth in sales annually over the last four years.
"It's been thrilling to see how well the Parry Botanicals line has been received, people helped and lives changed," says Parry, whose gentle products have a following among physicians, patients and medical practices across the country. She recently created a Cancer Care Kit for chemotherapy patients and is on the cusp of introducing eight new products, including eye balm and meditation mist. "Houston is filled with so many dynamic people and resources, costs and regulations are relatively low, and we have two airports with easy access to national and international destinations," Parry notes. 
And being in the coastal center of the country has perks beyond accessibility. Operating in the central time zone makes it easy to communicate with the East and West Coasts, says New Delhi-born UH grad Sean Mehta, founder and CEO of Luminess — the number-one airbrush cosmetics company in the world, launched here in 2002 and headquartered in Stafford. "Houston is a great place to be in business, and so many indie brands are based here now," says Mehta. "Texas is a great incubator in that respect. There are no borders. In a way, we're everywhere."
Mehta and many others, like Switch2Pure founder Estela Cockrell and makeup artist Jentry Kelley, say the notion that everything beauty-related begins in New York or Los Angeles simply isn't true anymore. "Things are changing," says Kelley, who grew up in Friendswood and created her eponymous cosmetics brand in the summer of 2011, after working for Clinique, MAC and Laura Mercier at Neiman Marcus. It started with five products and $35,000 charged on her credit cards. "I had no clue what I was doing, and I begged people on Facebook to show up and support me," she remembers. To her delight, 200 people purchased $10,000 of makeup at her launch.
And in just seven years, Kelley has grown her business to 200 products sold at 15 locations in four states; Jentry Kelley Cosmetics is approaching $2 million in annual sales. In 2017, she purchased a building off Highway 59 to consolidate her team, warehouse and retail operations into one location with its own billboard, and a charming space for private makeup lessons and applications. "People like to shop local and support businesses here. I love being here, and I will always call Houston home."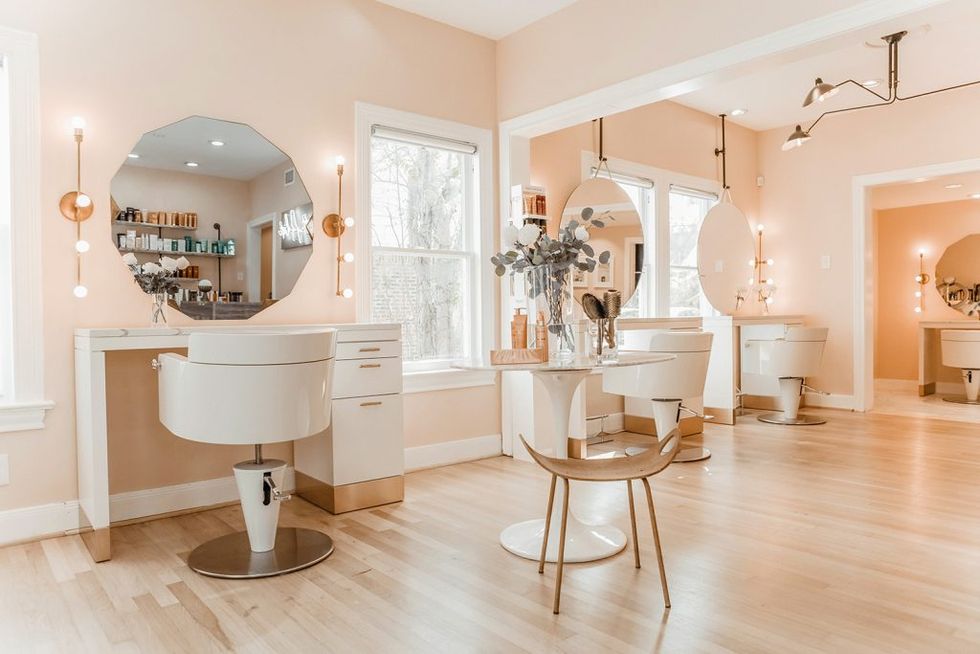 Studio A in Rice Village was recently redesigned to channel the warmth of the city
For Cockrell, who started her clean-beauty concept a year and a half ago through "purposeful pop-ups" like her temporary location at River Oaks District, she had a "burning passion" to share her wellness journey with people like her — new moms and those with autoimmune diseases — in her own city. "You don't have to go to New York or L.A. to be exposed to beauty brands," she says. Cockrell stocks a well-edited collection of brands that meet her "Pure promise": sans carcinogens, neurotoxins and endocrine disruptors alongside a stable of her own products like probiotic deodorant. "We call it 'health off the shelf,'" she says. "From teenagers to 80-year-old men looking for our CBD muscle rub, people are coming in and saying, 'Please tell me you're not going anywhere.'" 
Her pop-up experience and interactions with grateful customers like a young colon-cancer survivor are "a breath of fresh air" that has the former attorney hunting for a permanent Switch2Pure location. "It will have anything you can think of to complete your wellness journey: crystal facials, sugaring, non-toxic spray tans, and makeup will be the icing on the cake." Cockrell hopes to unveil her new space by August. 
"People are on the forefront of understanding the relationship between beauty, health and wellness, and I'm really excited to be a part of it," she says. "The future of beauty and health in Houston is so bright."  
AT TOP: Makeup artist Jentry Kelley beautified Page Parkes model Amelia Conner using some of the most popular products from Kelley's eponymous Houston-based cosmetics line. Photo by Traci Ling
Uncategorized