Turning the Page
Houston-based Brit Michael Zilkha is a record-industry veteran and renewable-energy tycoon. His next project? An edgy little publishing house.
Phoebe Rourke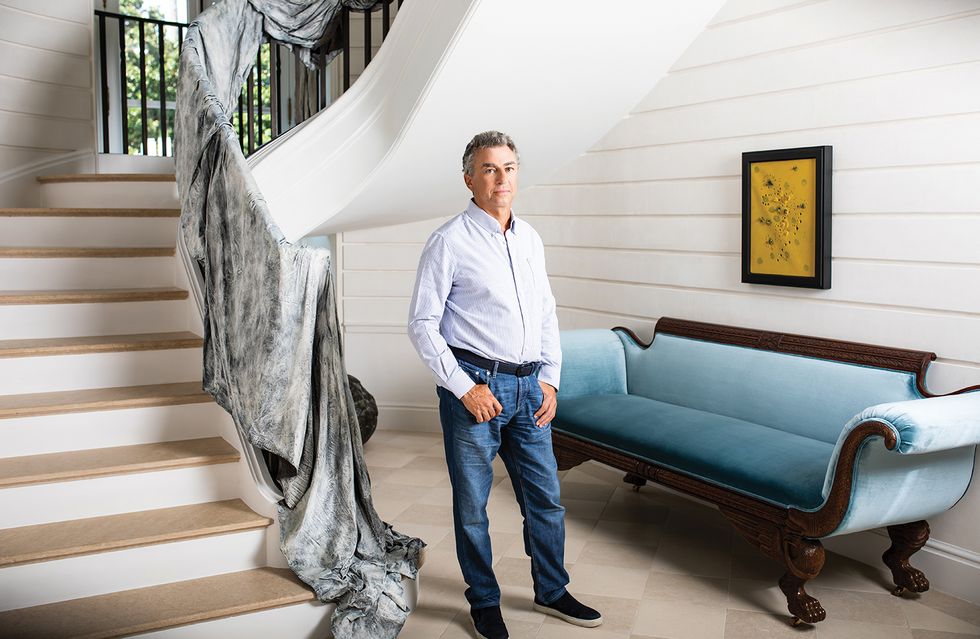 Michael Zilkha, U.K.-born and Oxford-educated, has been an entrepreneur his entire life. In New York in the early 1980s, he was known as the super-hip co-founder of ZE Records, described by Spin magazine as the "no-wave-dance-punk-salsa-whatever label," and home to Kid Creole and the Coconuts among others. He closed down the label after just five years, in part, he says, because, "I didn't want to get to the point where I was twice as old as the artists." A visionary, he got into renewable energy early, a move that brought him to Houston, where's he's been a fixture on the philanthropic social scene supporting organizations such as Inprint and the MFAH. (That was his voice narrating the audio tour section on Vivienne Westwood, punk rock and the Sex Pistols at this summer's Icons of Style exhibit.) Now, at 65, he's jumping back into the arts, launching ZE Books, a boutique book publishing company, which has its first title, Intelligence for Dummies by Glenn O'Brien, available this month.
---
Book publishing is a notoriously difficult business, particularly in Houston, which is far from the media capitals on the coasts. Why launch this venture now? The inspiration came from my friend, the [late] writer Glenn O'Brien. He was one of my closest friends. He was part of Andy [Warhol]'s The Factory and a writer in New York, and he would come and review my bands for Interview when I had the record label. We made a film on [Jean-Michel] Basquiat together called Downtown 81. We knew each other for 40 years, and when he was down here at M.D. Anderson for a last-ditch attempt to get him some more time, we were sitting in the hospital's garden, reflecting on his life. He was worried that he wouldn't be remembered. And it was there and then that I made him a promise that I would publish his work. This first book is the result of that promise. 
O'Brien, who passed in 2017, was a colorful character, known to some as the host of TV Party on cable access in New York and to later generations as GQ's "Style Guy." Why is he not known as a writer? He did write several books, including a bestseller, How to Be a Man, which is just a wonderful collection of essays, published by the Italian house Rizzoli. But there is so much of his oeuvre that isn't available or easily accessible, and I wanted to bring it together in a book. Glenn wrote about so many things — from fashion to politics — so well, that it would be a shame for it to be forgotten. This book is a cultural history of the last 40 years by a great writer, presented in a beautifully illustrated edition. It really honors his career. 
You have a second book in the works from a fellow Houston celebrity, the writer Nick Flynn, who teaches at UH. How did that come together? The idea for ZE Books is to publish what I call literary mixed-tapes. It's a way of paying a kind of homage to my previous career in music. So I knew Nick wanted to do this intimate sort of self-portrait in mixed-media that his usual publisher didn't quite "get." It was going to be visually quite complicated, so I asked artist Mary Ellen Carroll for help. She introduced me to Jiminie Ha, a great designer, who did the books and developed a system for the publishing house. These are not random at all, there is an internal and external elegance to them. We put a lot of thought into these first two books, both Glenn's, which is labeled "a portrait," and Nick's, which is called Stay and labelled "a self-portrait." It will be published in March [2020].
So far, ZE Books has a strong connection to Houston. Will that continue? We already have a third book in the works with Fred [Baldwin] and Wendy [Watriss], the founders of Fotofest. And I'm trying to find out if Bun B might want to do a book. You could think of this as a Houston press — because I live in Houston, built businesses here, got married here — but I don't think of it as specific to Houston, really. The books are being designed in New York City and being published in partnership with Unnamed Press, which is in L.A. I next want to do a book with [photographer] Nan Goldin, who is a friend.
It's a different world now than when you were a young punk in U.K. and a subversive music impresario in New York. Is it stimulating to be a publisher in this age of contention and political correctness? Yes, the culture has changed: Everything now is so black-and-white, and no one understands nuance and irony. But there are a lot of interesting people writing out there — some off-color, yes, but also interesting. I think for a book to be good, it has to be a little bit dangerous. Don't you agree? I think I'll be able to do this for a very long time.
Art+Culture