Christopher Paul Creates Wearable Masterpieces — and Encourages Viewers to 'Untether' from Racism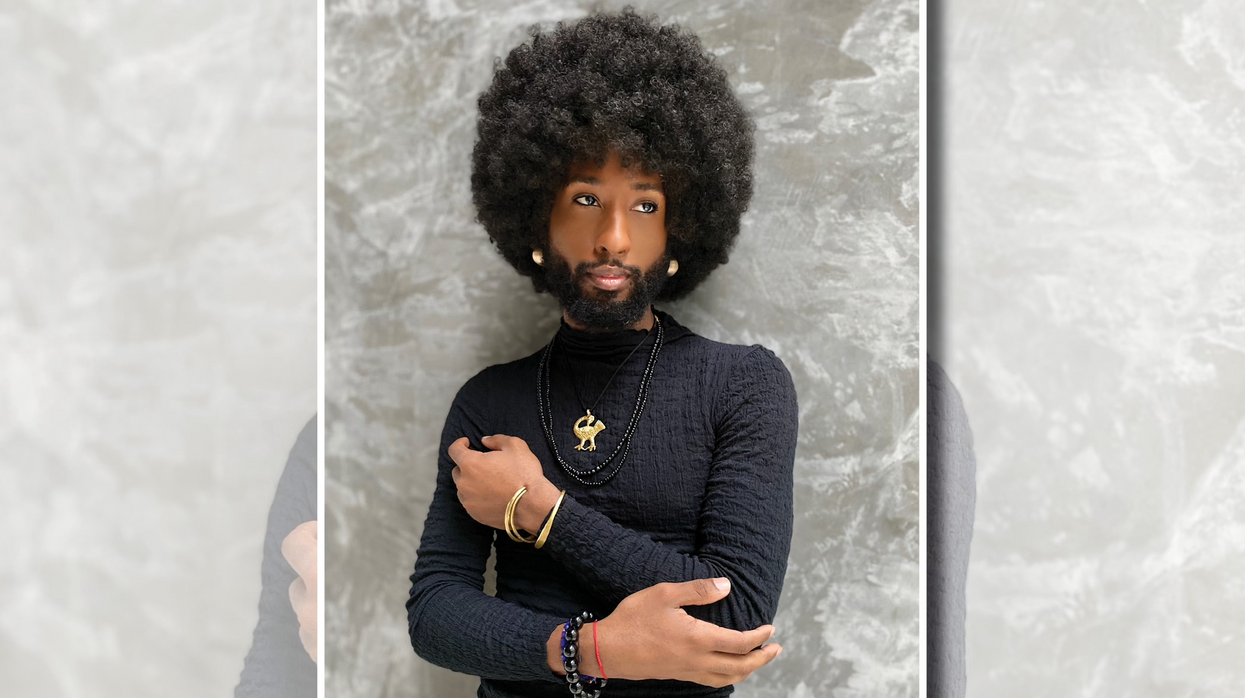 IN THE SPRING issue of Houston CityBook, we flag 27-year-old Houston-based, multi-disciplinary artist Christopher Paul as one of the city's "art stars," and his star is certainly rising.
---
Last May, Paul was the only undergrad invited to be a part of Nuanced Black — an exhibition at Community Artists' Collective of works by Black Master of Fine Arts candidates at the University of Houston. (Paul is currently pursuing a Bachelor of Fine Arts in sculpture at UH.) In January, at the opening of the Blaffer Art Museum's winter exhibition, Paul teamed up with sound artist Mo Nikole to present the moody, ritualistic movement-based performance "Transmigration Through the Void to No Place." And on Sunday, April 16 at Kindred Stories, as part of Folk Fest 2023, an afternoon of workshops celebrating methods of familial and cultural preservation, Paul will lead an audience participatory piece titled "Earth Seed." Be it wearable sculpture, installation art, movement, or sound, it's all material Paul mixes up and uses to "tap into" transcendental practices within Afro-American and Black diasporic culture.
With his full afro, earrings in both earlobes, and a penchant for beaded bracelets, Paul cuts a dramatic figure; but his fashion sense serves a purpose beyond just looking cool. "I have a uniform," says Paul with a smile when asked about his sartorial choices. "I like to wear kaftans and tunics or wrap something around my body. Those pieces speak to spiritual and shamanistic practice."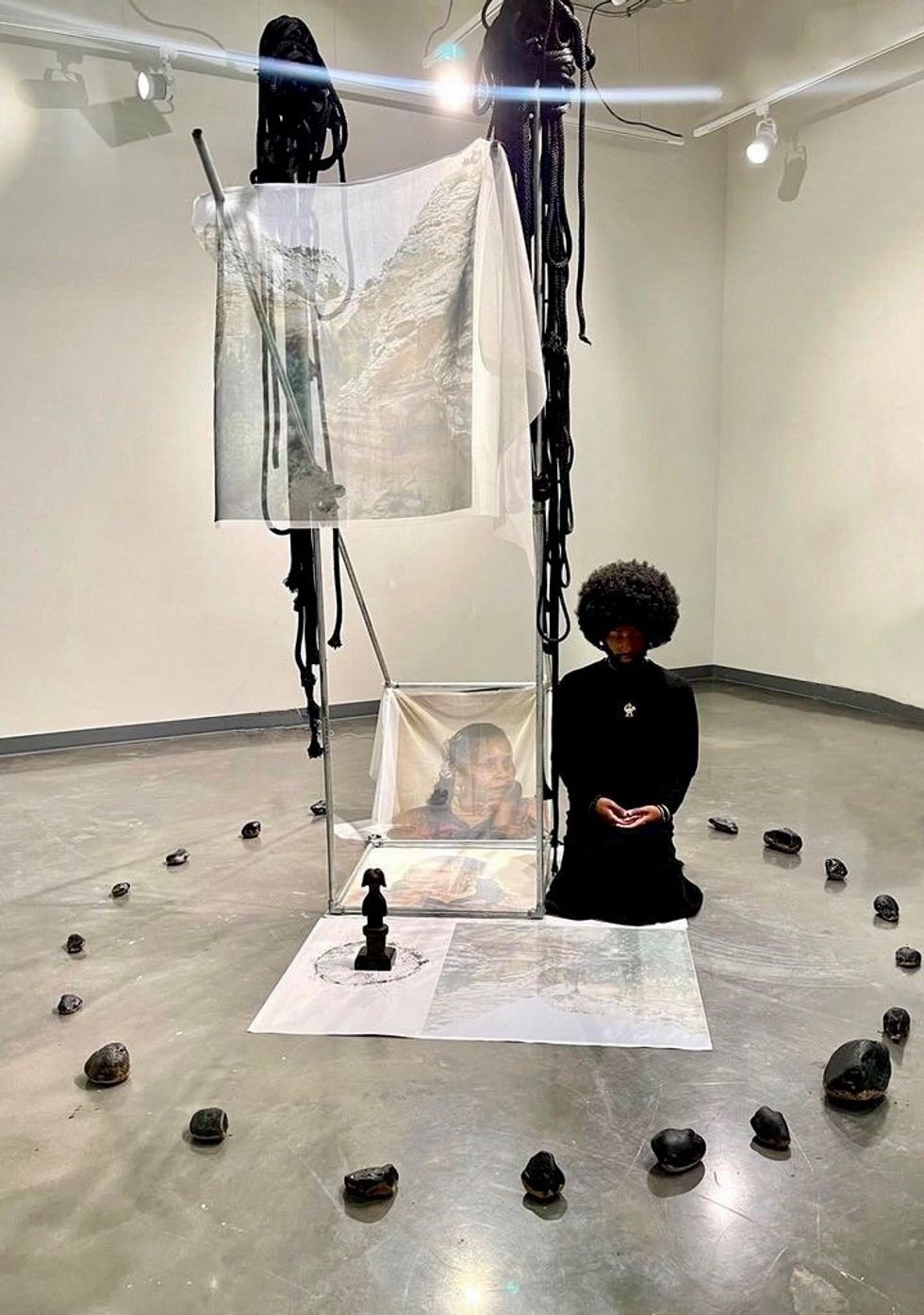 'Earth Seed'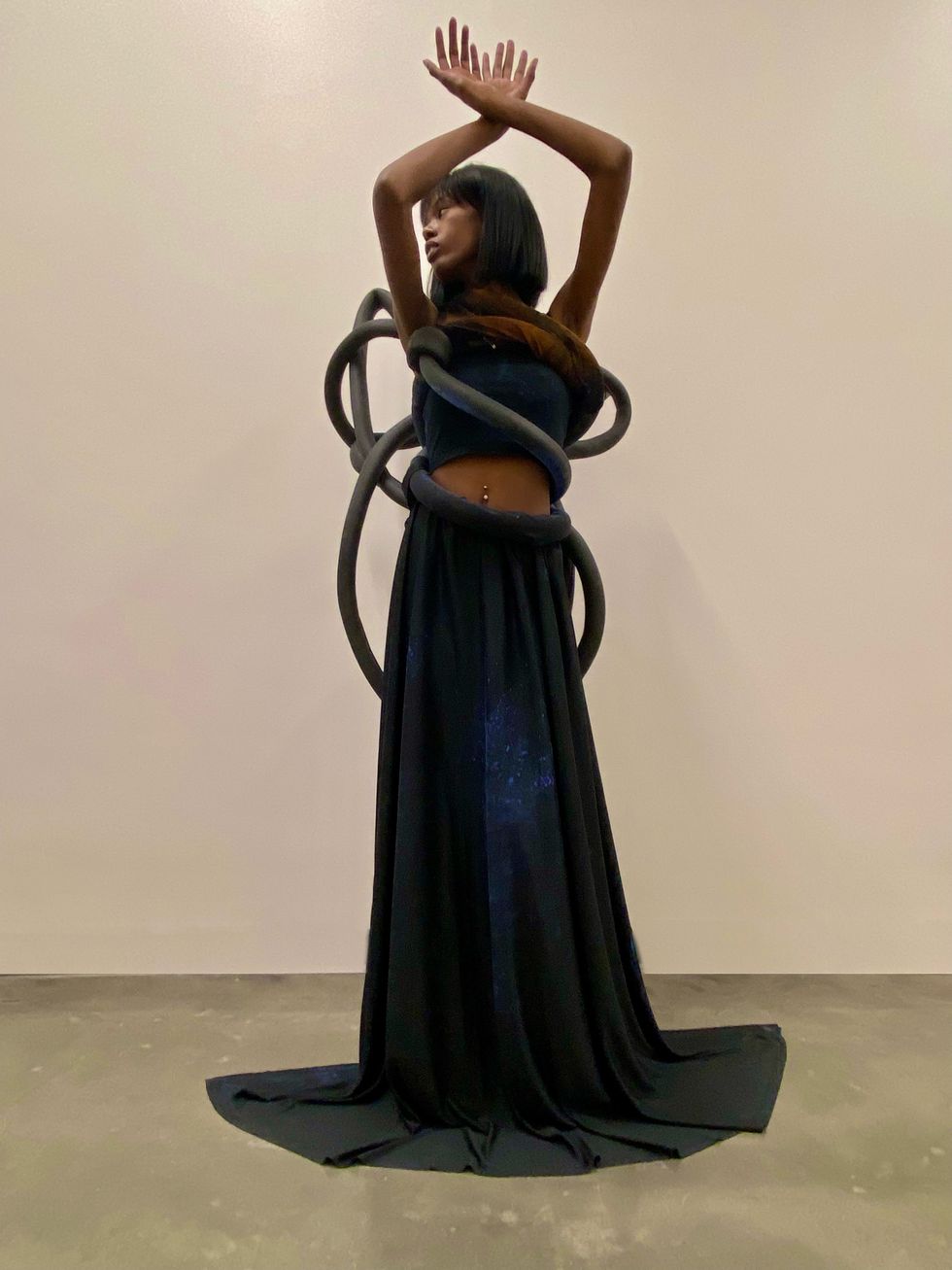 'transmigration through the void to no place II'
Born in Bulverde, Texas, a small town between Austin and San Antonio, Paul came to Houston to study at UH. He grew up with three sisters and a brother, surrounded by creativity and creative people, including his father Lionel, who is a painter and a musician. "He was very multi-disciplinary," says Paul, "very much a jack of all trades." Paul's older sister worked in the entertainment industry as a publicist, and actors, models, and other creatives often visited the house, which inspired Paul at age 16 to commit to art as a vocation.
Earth Seed brings together Paul's divergent interests with his ability to guide an audience into a communal experience. His plan is to usher the Folk Fest crowd to move around a sculpture he created, which will be decorated by the participants. "The movement is inspired by the ring shout," says Paul, "this sort of circular movement that is in African American dance culture." The ring shout was originated by slaves as a religious activity, with elements of Christian worship complementing with its African roots. At the end of the dance, Paul will invite each participant to sit with his sculpture, meditate on an ancestor, and share what they felt during the dance. For Paul, these actions are a means of transcendence, a way for people of African descent to "untether" from the racist and Eurocentric ideals of what is and is not "human." "Black people have been and still are dehumanized," says Paul. "So let's figure out other ways we can exist that are centralized within our own culture."
Meanwhile, back on terra firma, Paul is enjoying a new gig as an assistant at Art Is Bond gallery and is considering what to do next upon completing his degree in 2024. Grad school in London or New York is a definite possibility, along with a long-term goal to open an African American art residency program for youth. Until then, we're glad he's made a niche for himself in Houston — and look forward to traveling wherever he takes us next.
Art + Entertainment