A Young Jazz Prodigy Is Blazing His Own Musical Path Utilizing an Unexpected Instrument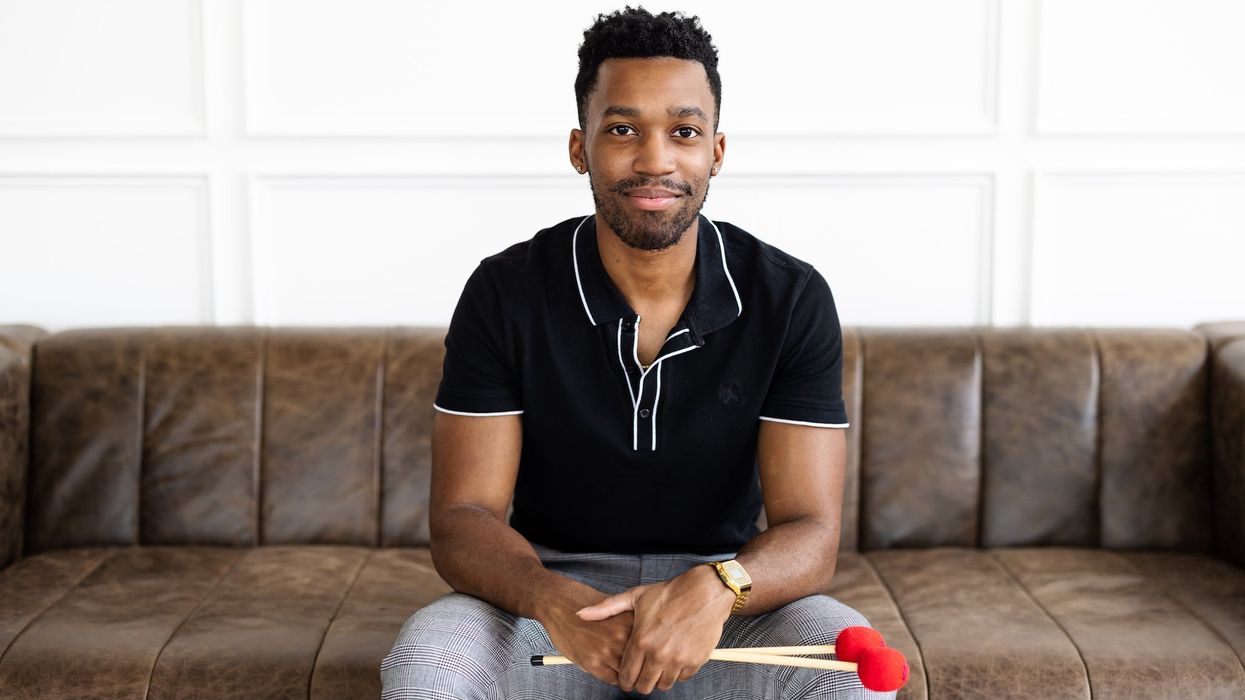 CONSISTING OF METAL bars that match the white and black keys of the piano, and played using two to four mallets, the once utilitarian vibraphone was co-opted from NBC studios in 1930 by master drummer Lionel Hampton for a recording session of the ballad "Memories of You" with Louis Armstrong. (The watery, vibrato-like quality of the opening notes heard on the recording comes from the rotation of small metal discs inside the instrument's resonating tubes and its pedal, which sustains notes just like a piano pedal.)
---
Over time, the vibraphone found its way into the hands of a select number of forward-thinking jazz musicians, who each brought something new to the instrument — "a child of the electrical age" that has retained its ability to surprise and delight listeners.
One such musician is 28-year-old, Houston-based vibraphonist, composer, and bandleader Jalen Baker, who brings a unique myriad of musical influences to the instrument. Baker's new album Be Still, which drops Friday, July 7, is his second as a bandleader, and like his 2022 debut This Is Me, This Is Us, the music blends a mature, compositional vision with the joy and freedom of improvisation.
Baker grew up playing drums, but while at HSPVA he heard a CD by vibraphonist Stefon Harris, and was inspired to move from his classical percussion studies to the vibraphone. "It was nice to be able to articulate harmony and melody as clearly as rhythm," says Baker of the shift. With relatively few vibraphonists to refer to, Baker felt free to draw melodic, harmonic and interpretive inspiration from a diverse array of instrumentalists past and present, including pianists Herbie Hancock and Gerald Clayton, "Mercy, Mercy Me" saxophonist Cannonball Adderley, and Houston-born reeds master Walter Smith III.
Throughout Be Still, Baker takes on the role of a horn player, locking in tightly with bassist Gabriel Godoy and drummer Gavin Moolchan, and laying out to let pianist Paul Cornish come to the fore. (Cornish can be heard singing along with his solos ala Keith Jarrett.) "Paul is a literal genius," says Baker. "It just makes more sense from an ensemble standpoint to allow him to put his imprint on the music harmonically."
That said, throughout Be Still, Baker's compositional vision is steering the ship. His contemporized arrangements of Joe Henderson's "Jinrikisha" and Bobby Hutcherson's "Herzog," as well as the album's coda, a slow-motion version of the standard, "Body and Soul," complete with a cadenza for vibraphone, all bear Baker's unique stamp. "A lot of jazz can be very head-chart oriented," explains Baker, whose exposure to the music of trumpeter Ambrose Akinmusire compelled him to compose. "Maybe just a twelve-bar melody, and a lot of improvisation. But with Ambrose, it sounded like the written parts were the most important, and the improvisational was more transitional." And that said, there's plenty of burning solos on Be Still, including the opening "'Twas," where Baker and Cornish take turns sending the tune into the stratosphere with Godoy and Moolchan goading them to even further heights.
July is the final month of a two-year-long Young Artist Jazz Ensemble residency Baker's trio has enjoyed with DACAMERA. During that time, Baker brought his unwieldy, yet gorgeous-sounding instrument for educational concert events at the Harris County Public Library, Houston public schools that currently have no arts programming, and juvenile detention centers. The vibraphone in combination with the music Baker writes and plays is often something completely new for these audiences. "I was fortunate that most of the schools I went to were performing arts schools," says Baker, and praises DACAMERA's efforts to bring culture into institutions stigmatized as "arts deserts." "The world is a better place with more musicians and artists," says Baker.
Before the end of this summer, Baker hopes to book a show in Houston to celebrate the new album. In September, Baker's quartet heads to Florida for a month-long tour; and later this fall, he joins trumpeter and Be Still producer Jeremy Pelt for a US tour.
Art + Entertainment