Lust and Found
If you thought the heaving this and throbbing that of romance novels were over, think again. Romance writing is still the most popular and profitable genre of fiction going, and, believe it or not, Houston is its, ahem, torridly tumescent global capital.
Traci Ling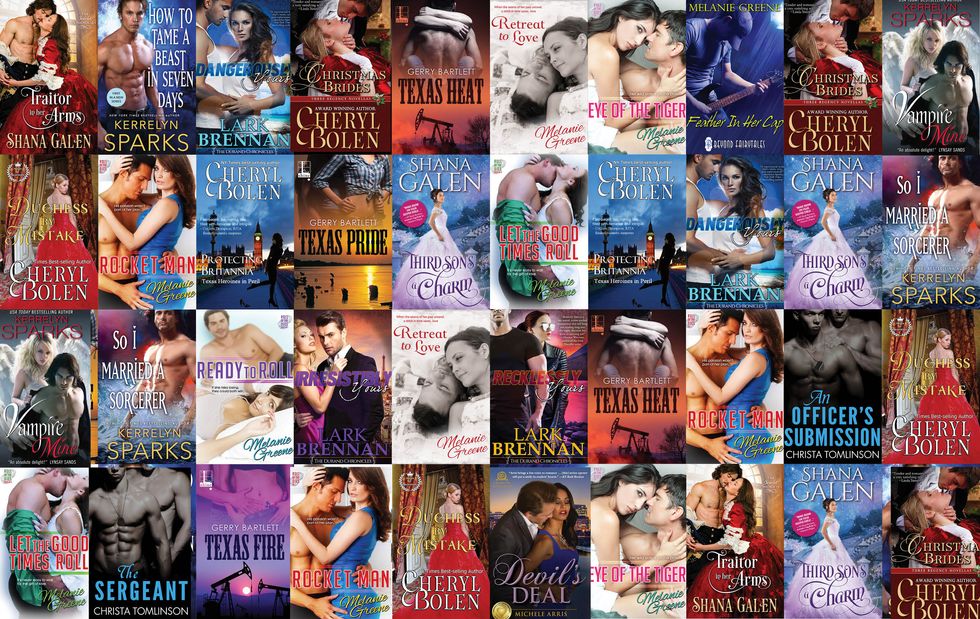 Editors' Note: Many readers were surprised to learn that Houston is the world capital of romance-novel writing when we first covered the booming cottage industry a couple years ago. If you're thinking of digging into a good old-fashion bodice-ripper to pass the time in quarantine, you might want to reacquaint yourself with H-Town's unique role in the lusty literature! 
---
In the era of all-you-can-consume internet porn and easy access to app-enabled hookups, romance novels — you know, the steamy love stories with Fabio types on the cover, once found at the grocery-store checkout near the National Enquirers and chewing gum — are quaint, anachronistic concepts from the forgotten past. Right?
Actually, no. One of every three novels sold each year nationwide is a romance novel. In all, eager readers happily spend more than a billion dollars on them annually. And, truth is, the permissiveness of our society may very well be the reason that romance writing persists. After all, what's missing from our frenetic, push-button lives if not romance?
So romance novels are, very much, still a thing. And here's another newsflash: Houston has a unique and important place in the world of romance writing. The headquarters of the Romance Writers of America, the industry's trade association, is here, and always has been.
The group was founded in 1980, growing out of a group of writers who met at UH. Today, RWA, as it is known colloquially, offices near Cypress and touts 10,000 members across 145 chapters in 45 countries, spanning the globe, from France to Azerbaijan. Its annual conference, which was first held in The Woodlands and is set for Orlando in July, is now among the biggest book events in the world. For its part, Houston has three of the organization's most active U.S. chapters, with nearly 200 members.
But what exactly is a romance novel these days? Is it all kinky Fifty Shades of Grey–style erotica, with alpha males dominating dim women in the "playroom," or is it something more discreet, with overtures and seduction and subtlety? You know, something … romantic?
"It's not a 'bodice ripper,'" says Erin Fry, editor and publications manager of RWA. "Nobody uses that term anymore. We've evolved well beyond that. Today, romance encompasses all sorts of stories for all kinds of tastes. This ranges from historical period pieces to paranormal stories, to thrillers and mysteries, and faith-based erotica." There's even an offbeat new subgenre featuring dinosaurs and dragons coupling with damsels, invented by Texas A&M coeds.
Yes, sex is a big attraction for readers, admits Fry, who also insists sex is not the main attraction. "We find that most romance readers are so committed to the genre because they can be assured that the books are going to end in a way that is emotionally satisfying." This is called HAE, an acronym for "happily ever after." Or, in books that are part of a series, it's HFN, "happy for now," which lasts long enough for the writer to finish the next book.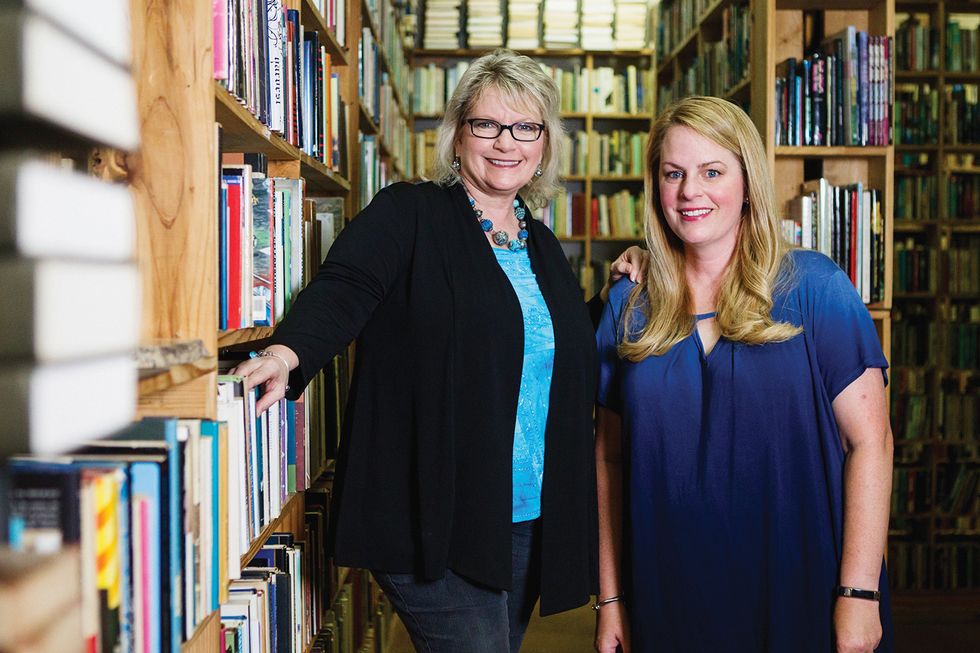 Houston romance novelists Shana Galen, an author of more than 30 titles, and Christie Craig, who has been writing books of the genre for more than 20 years, at Kaboom bookstore in the Heights
Like the military, the world of romance writing relies on a lot of acronyms and jargon. IR is an "interracial relationship." MFM is the typical love triangle, but often with brothers or twins. BBW is "big beautiful woman," and a TSTL is a disposable supporting character who is "too stupid to live." Jargon-wise, you have a "Mary Sue/Gary Stu," which is the character who is just a bit too perfect; there's a "woobie," a romantically tortured male character, often with a dead lover in his past; and the Duke of Slut, an uber-promiscuous male character in historical romances especially invulnerable to STDs (an acronym to be avoided, surely).
And like the military, which has prescribed "rules" governing most everything, so too has the world of romance writing. There's the rule about not starting a book with a sex scene; rape is a no-no, though "forced seduction" works fine; books must end on an up-beat note; and so on.
And if you want to learn all this, the RWA is your university. The association and its branches hold monthly meetings with guest lectures and training and run numerous contests that draw the attention of literary agents and editors. In Houston, several of the city's authors credit the RWA with giving them the boost they needed to make it.
Caroline Leech emigrated to Houston from the U.K. — her husband Perryn Leech is managing director of Houston Grand Opera — and she says she joined RWA to give herself a "feeling of a community of writers working together." And though she doesn't strictly write romance, she entered and won several RWA writing contests with early chapters from what would eventually become her debut book, Wait for Me, a young-adult novel set during World War II in Scotland, featuring a romance between a local girl and young German POW. "I can say that the RWA is directly responsible, in many ways, for the start of my career. It gave me confidence, introduced me to some people who eventually became my writing circle, as well as [provided] opportunities that eventually led to me finding my editor."
Among the most successful Houston-based romance novelists affiliated with the RWA is Shana Galen, who has published more than 30 books and is best known for her Regency-era romances in series such as "Lord and Lady Spy," featuring a husband and wife each with a secret identity as a spy, and "Covent Garden Cubs," which features aristocrats interacting with the London underworld. Asked what the appeal is of the early 19th-century British settings, Galen cuts right to it: "The dresses and the balls and the monarchy.
"I've set books during the French Revolution, but those don't sell," she adds. "Readers just can't relate to the French the same way. The idea of revolutionaries cutting off the heads of aristocrats just isn't the same sort of sexy."
And how about the dashing Regency swordsmen getting those ladies out of their frilly ball gowns? That also has something to do with it? "Yes, there's sex — usually three to five scenes is the prescribed amount — but you don't have to have that many. You can have a few less or a few more, depending. It's important for the characters to have sex when it's going to make sense to the story, to signal a shift in their relationship or in the plot of the novel somehow."
The Med Center-based Galen, the 40-something mom of a teenager, taught high school for years before turning to fiction. She says she knew she'd "made it" when her paperback covers shifted away from the traditional "clinch" — a man holding a swooning woman — to just the heroine herself. It meant Galen's name on the cover was more important than airbrushed depictions of man candy. Today, she's popular enough that she's enlisted a manager for her social networks, posting news about her new releases — often three or four books a year — as well as the proverbial cat pics, and pictures of beautiful dresses. "Readers want to be able to project themselves into that dress, to become the fantasy, if only in their imaginations," she says.
Galen's fantastical historical locations are lovely. But what about Houston as a setting? "Houston is a fun and fascinating city to write about," says author Melanie Greene, who has published several contemporary romance novels set here, including Rocket Man and Eye of the Tiger. Greene's ambitions as a writer led her to pursue her masters in creative writing at England's prestigious University of East Anglia, where she met her husband, Robert Cremins, fellow novelist and UH Honors College professor. Today, she's found her calling in creating the fictional love lives of her fellow Houstonians.
"There's a great deal to draw upon when setting a novel here — the diverse community, the international cuisine, the vibrant culture," she says. "I've sent my characters on road trips to fields of bluebonnets in Washington County, to the beach at Galveston, to the jazz clubs of New Orleans, but they always return to find love in my hometown. Houston is full of ideal backdrops for my characters, whether they're baking empanadas in a shotgun house in the Sixth Ward, browsing a farmers market in the Heights, or watching Fourth of July fireworks from a Downtown skyscraper."
Again, for Greene, the local RWA chapters provided her with a community of like-minded writers to help with critiques, and with whom she could generally commune. "They were essential to giving me more confidence and know-how," says Greene. And in return the author is helping to mentor the next generation of writers. Among those is Lisa Knight.
Though Knight, a petite blonde with a big smile and a background in sales, has yet to publish a book, she is fully committed to the RWA — she's secretary of the West Houston chapter — and busy at work on a series of paranormal romances featuring demigods in ancient Rome. "Writing romance appeals to my intellect, and writing paranormal historical romance appeals to my desire to build an entire world," says Knight. "But ultimately, it's about having something worthwhile that you have to say out there for everyone."
Of course, demigods only come about through sex between gods and humans, so Knight isn't producing PG work. "But this isn't 'mommy porn,'" she assures. "This is a nuanced, layered story about two people falling in love. The sex is a real part of life and, just like in life, it's about self-discovery, reunion or healing, or just something they need to do to advance to the next stage in their lives."
For writers like Knight who are new to the craft, RWA is a training ground. And fortunately for romance, er, virgins, the woman who literally wrote the book on how to write a romance novel is also a Houston resident. Christie Craig is not only the co-author of The Everything Guide to Writing a Romance Novel, but she's the author of 35 other books, including the popular "Hotter in Texas" series and the "Divorced, Desperate and…" series. "Membership in RWA really is like college for romance writers," says Craig, who was born in Alabama and has the soft lilt of a Southerner. "It's such a community here, and people want to pay it forward when they have success."
Craig has been publishing romance novels since 1993 and has seen the cultural reaction to them evolve over the years. She says folks now largely accept storylines that would have been considered taboo as recently as 25 years ago. "Houston is in the Bible Belt, so initially there was some reticence among some writers to go into areas such as gay and lesbian romances," explains Craig. "But those are hot, hot areas now. And there was a time when it was taboo to write sex scenes for younger readers, but I've moved into young-adult fiction and, the fact of the matter is, by the time most high schoolers go to their prom, getting the perfect kiss isn't what's on their mind."
And while society has changed — and romance writing with it — the nature of romance hasn't. "The way people date has changed, the speed with which they might sleep together has changed," says Craig. "But meeting and feeling that sizzle, then falling from lust into love, and knowing this is the person that completes you, that makes you a better you … that is romance. That's the HEA."
Art+Culture