Fried Chicken, Banh Mi and More: Where to Eat This Week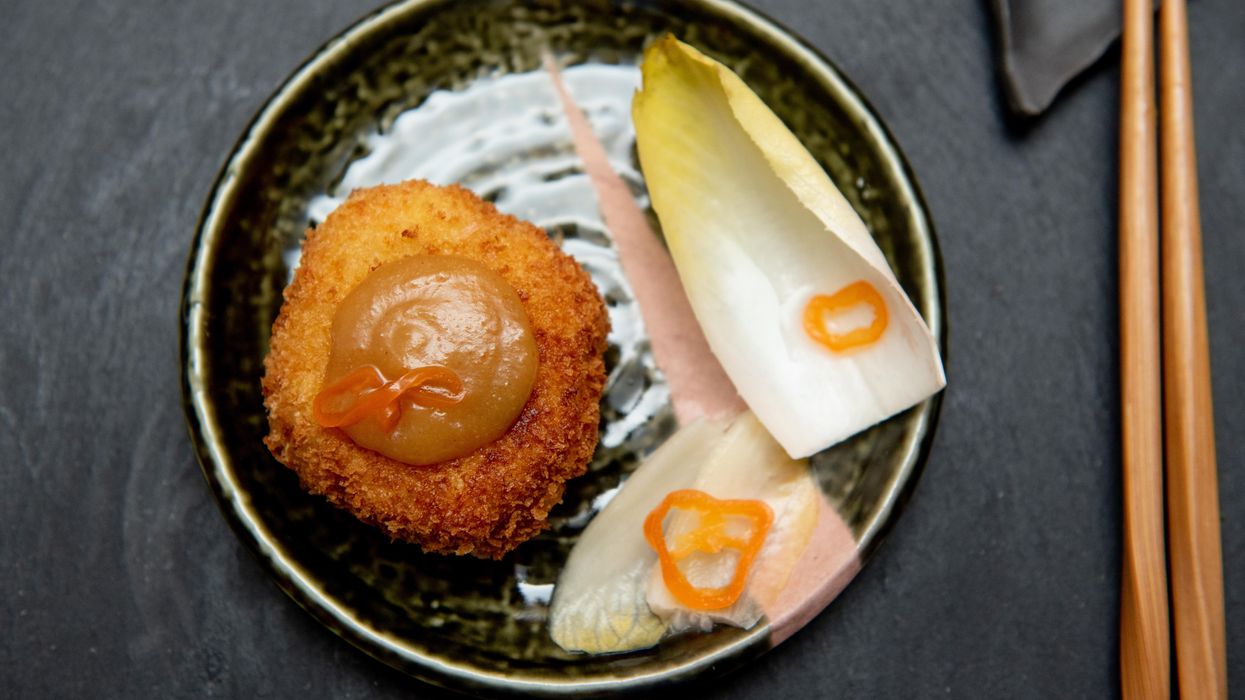 Beloved chefs, new restaurants, charity events and pop-up purveyors — Houston's scene is as delicious as ever! From Katy to the Heights, here are five foodie-friendly destinations to add to your list this week.
---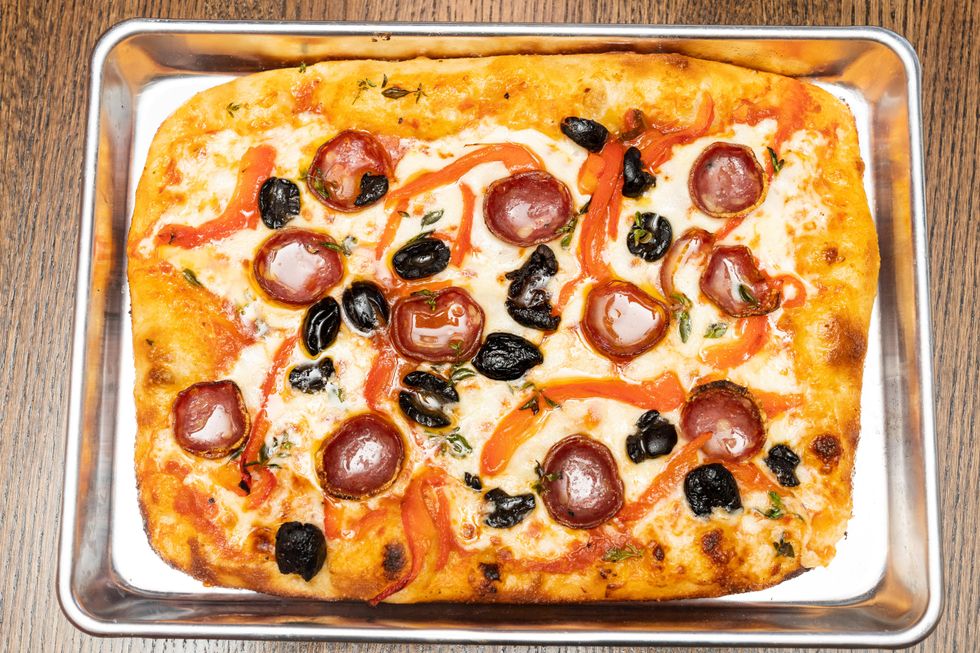 Gaitano's Cosenza Square at Fegen's
FEGEN'S Along with his F.E.E.D. TX partners, chef Lance Fegen — formerly of BRC and Liberty Kitchen — has opened his namesake restaurant Fegen's in the original Libery Kitchen space on Studewood. Expect more refined versions of dishes Fegen has been cooking for years, like Neapolitan-style pizza, comfort-food classics like chicken schnitzel and "Surrago's Sunday Meatball," and hearty seafood-topped salads. The restaurant's Texas-tinged coastal vibe has been replaced by a darker color scheme and richly textured elements — red leather banquettes, black-and-white photography, deep green ceramic subway tiles — that evoke the feeling of dining in a sophisticated pub. At the bar, order bites like "chowder fries" and cheeseburgers, and wash 'em down with creative spins on classic cocktails — heavy on the gin and whiskey — by Nicole Meza, who previously led the bar program at Weights + Measures.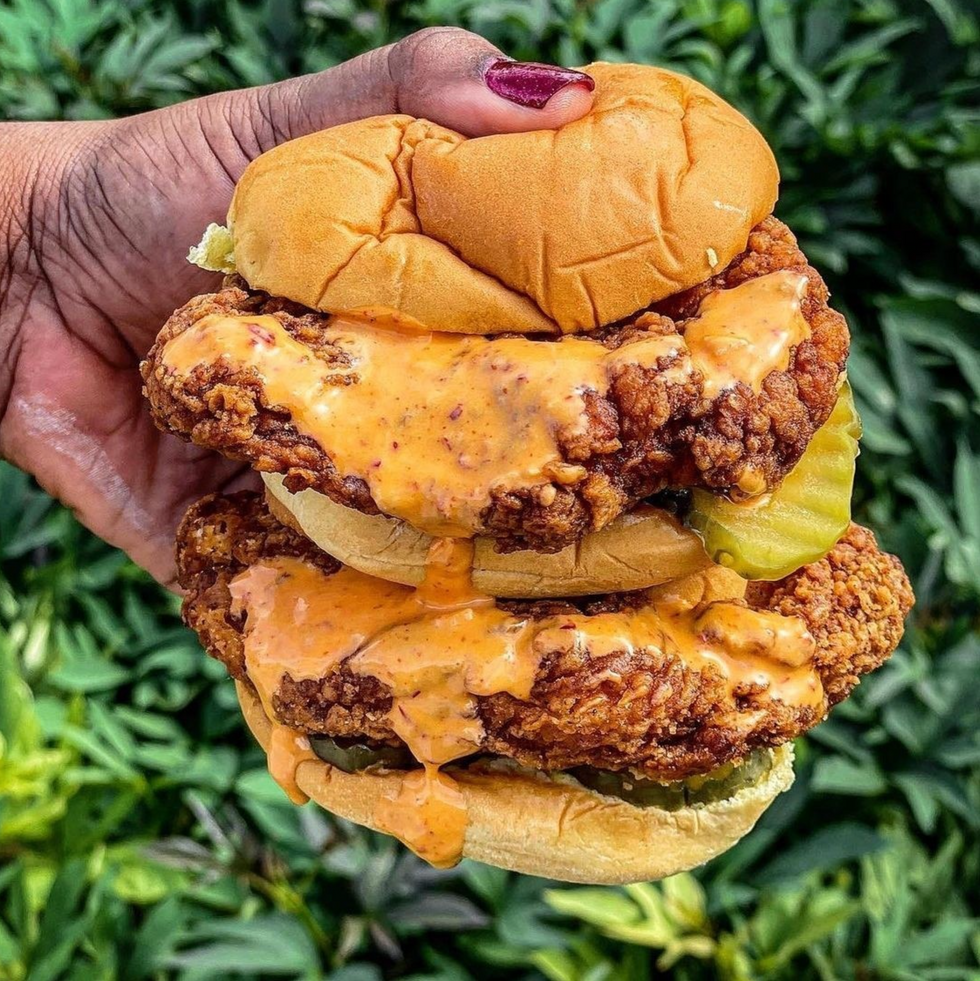 Fuku Sandwiches
FUKU This week, celeb chef David Chang — of Momofuku fame — rolled out his delivery-only fried-chicken joint in Houston. The delightfully crispy chicken sandwich, made with a habanero-brined chicken breast and topped with a special mayo and crunchy pickles, originated as a secret menu item at Momofuku, and Chang spun it off into its own restaurant chain in 2015. In the years since, and bolstered by a Covid-friendly trend of ghost kitchens and delivery-only concepts, Fuku has expanded from New York to cities like Miami and D.C., and as of this week, Houston. The sandwiches are crafted at a ghost kitchen operated by REEF Neighborhood Kitchens on Westheimer; orders can be placed via Door Dash, GrubHub, Postmates and Uber Eats. Chang donated a portion of proceeds from the first day of sales earlier this week to Southern Smoke, Chris Shepherd's charity for industry workers, which also received a $1 million donation through Chang's appearance on Who Wants to Be a Millionaire at the end of last year.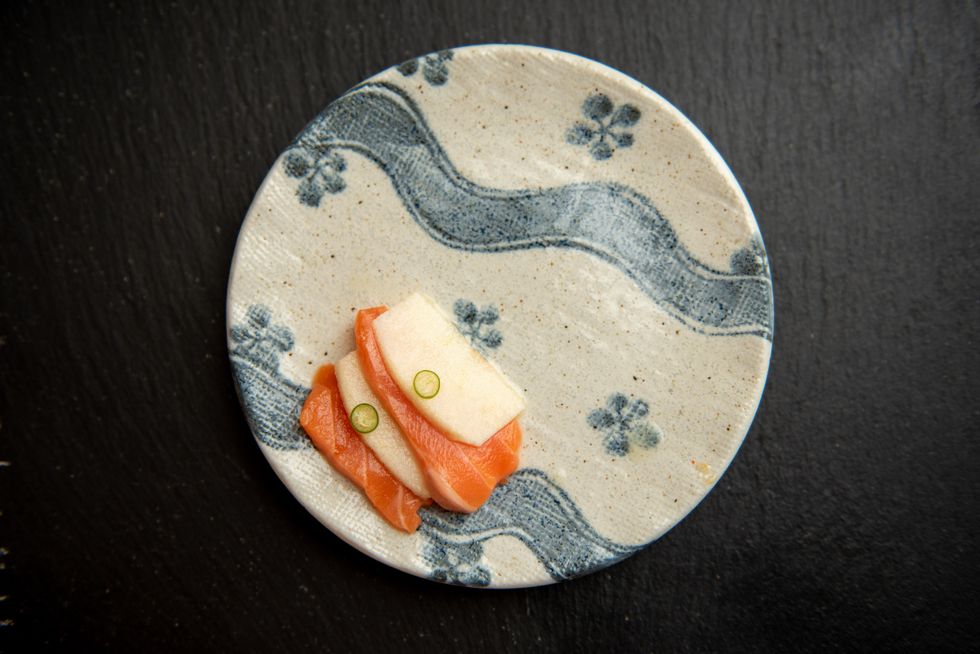 Salmon with Apple, Thai Chili and Yuzu Vinegar
REIKINA Former Uchi chef Thomas Stacy used the difficulties presented by Covid to bring joy to people in the form of food, hosting private, multicourse dinners for friends at his Montrose apartment. Now, Stacy and fellow UH alum Andrew Herron — who's worked for a number of local hot spots, including Rosie Cannonball and Tiny Champions — have announced a more permanent version of the intimate, chef-driven dinners: a 20-seat, BYOB restaurant dubbed ReikiNa, opening soon in CityCentre. It will highlight Asian flavors while utilizing European techniques, and the menu will rotate every six to eight weeks. Foodies can preview the concept during a series of pop-up dinners, with proceeds benefiting Southern Smoke. Events take place at Sanman Studios near UH Downtown on April 8, 15 and 23, and reservations can be made for $150/person via Resy.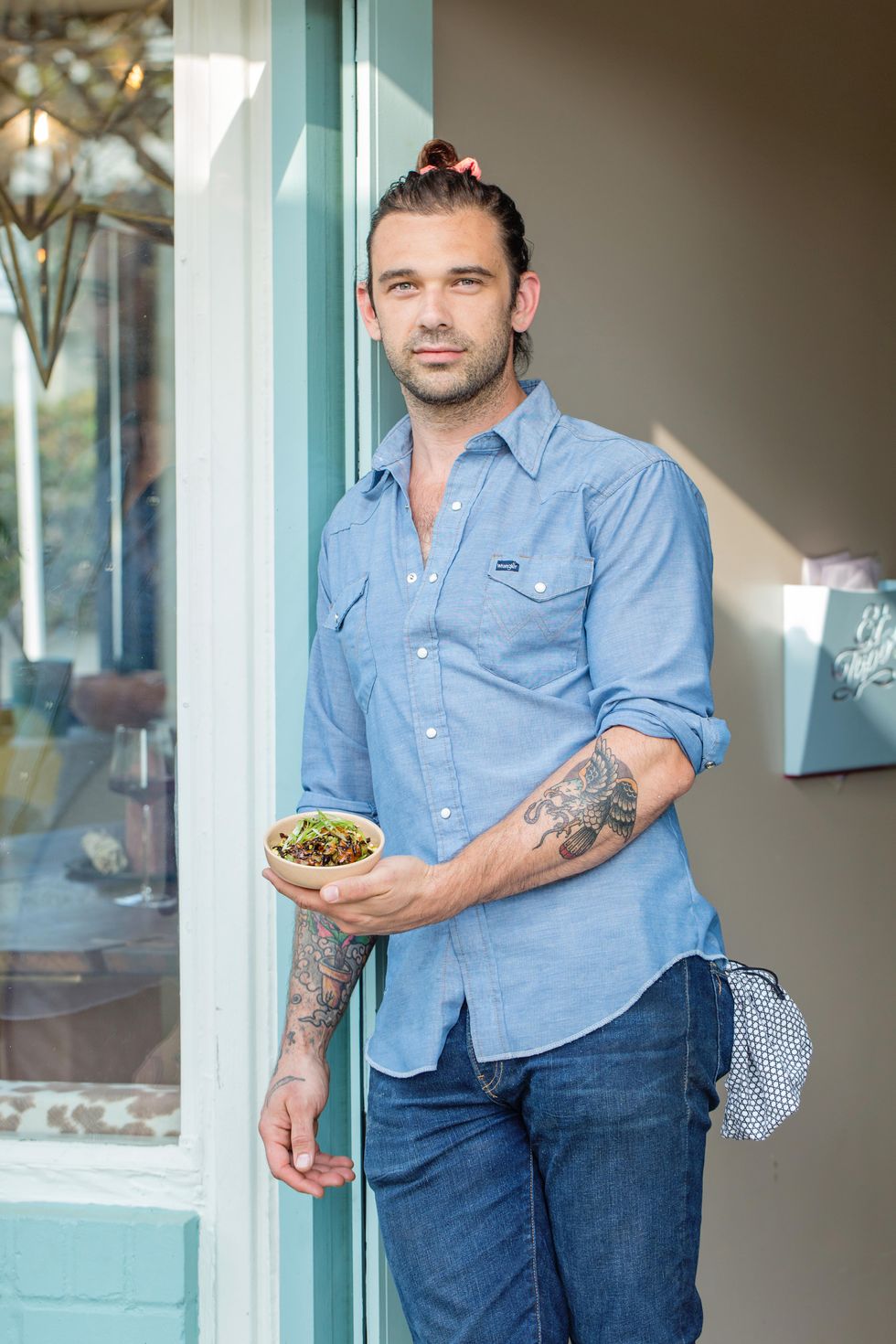 Chef Tony Luhrman with Funky Brussels / Photo by Emily Jaschke
EL TOPO Food truck fave El Topo, which opened a brick-and-mortar near West U a little over a year ago, is participating in Second Servings' new charity series all month long. Fight Hunger, End Waste encourages restaurants to minimize food waste while simultaneously raising funds and awareness to fight hunger — all in honor of Stop Food Waste Day, which is on April 28. Participating restaurants craft a zero-waste dish or cocktail and donate a portion of proceeds to Second Servings. El Topo's Funky Brussels side features brussels sprouts marinated in Japanese white shoyu and subsequently vac-sealed, which extends their life while and amplifies flavor. The veggies are baked with a spicy glaze and topped with candied pistachios and scallion grass. Fourteen other restaurants are participating in the initiative, and for every dollar donated (additional donations can be made here), Second Servings is able to deliver $50 worth of food to local charities.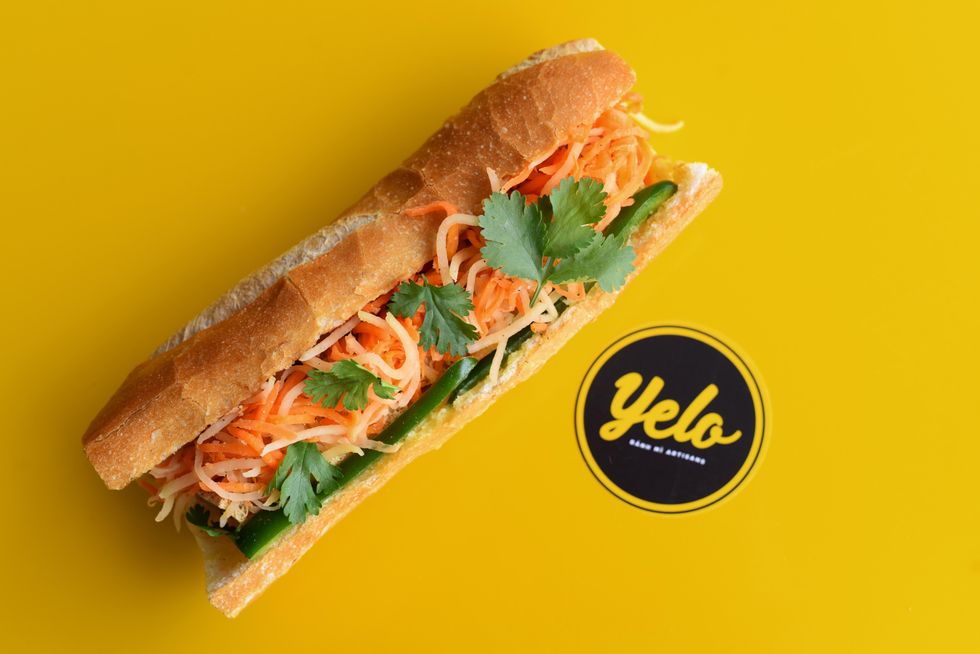 Tofu Banh Mi
YELO In Katy's Asia Town, new Yelo Banh Mi Artisans is all about happiness — and, of course, delicious banh mi! Chefs Alex Au-Yeung and Cuc Lam opened Yelo, named for yellow a color associated with joy, in March next-door to their acclaimed Phat Eatery. Originally envisioned as a traditional diner, the concept evolved in light of Covid to a grab-and-go concept, beautifully designed with yellow walls and smart charcoal accents. The menu features Southeast Asian favorites like spring rolls, vermicelli bowls, juices and specialty coffees — but the star is the inspired banh mi sandwiches. Lam leaned on her Chinese-Vietnamese heritage to create dishes like the Pho-rench Dip sandwich, stuffed with spiced brisket and served with pho broth for dipping. And, borrowing from Phat's Malaysian menu, the Beef Rendang bahn mi uses Phat's winning beef with curry sauce. The herbs and produce are sourced from Happy Farms of Texas.