Here's How to Have a Speakeasy-Style NYE at Houston's 'Number-One' Hotel. But First — Holly Jolly Cocktails!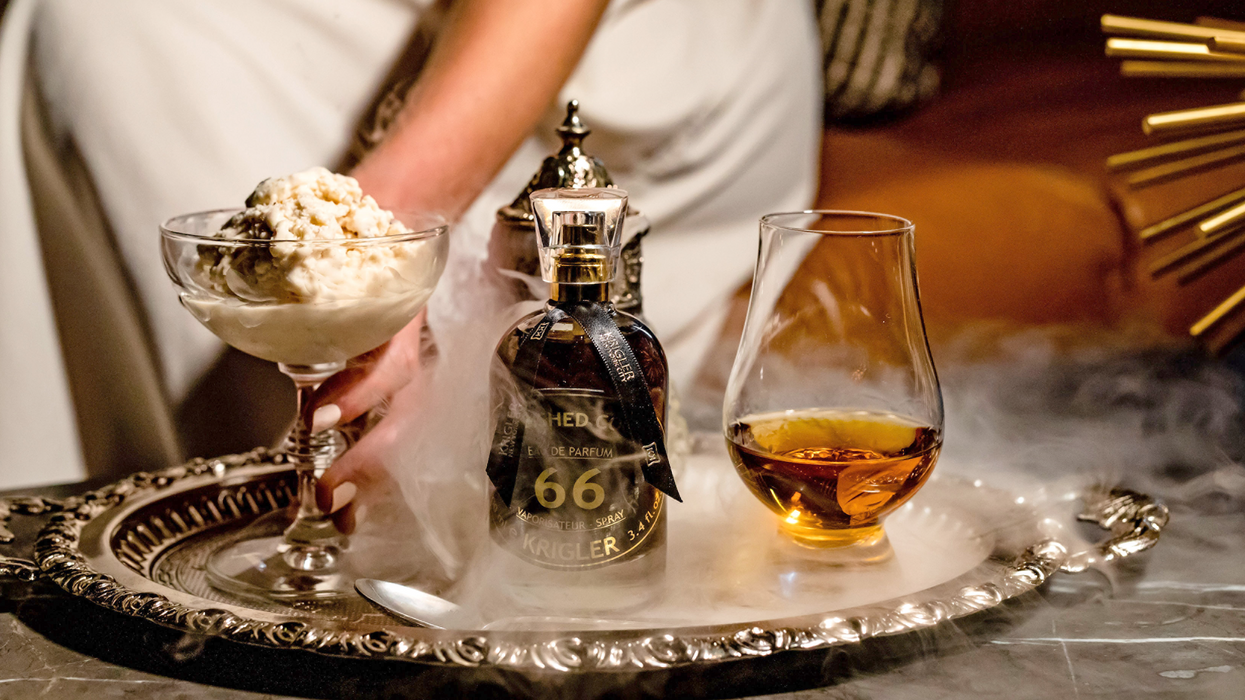 ENTER THE CODE on the hidden door disguised as a bookshelf and give it a hard shove. Then wind through the bustling kitchen and enter another door, which opens to a softly lit hideaway. You've arrived at Bandista, the cool little speakeasy upstairs at the Four Seasons Hotel Houston.
---
Feel lucky, because with only 20 seats, dim lighting and zero outdoor views, it could be any time of day and in any city, which makes it truly feel like an escape. Spiffy bartenders are extra attentive to each guest, carefully crafting high-end cocktails that are works of art served in specialty glassware and goblets. (With service like this, it's no surprise the Four Seasons was recently named No. 1 hotel in Houston and the No. 19 hotel in the world by Condé Nast Traveler.)
You'll be greeted with a snack of fried mushroom chips with a horseradish cream dip, a tasty nosh complemented by one of Bandista's classics like the beautiful Spirited Courage. This must-try is a fruity take on the French 75 made with house made raspberry purée and meticulously garnished with whole raspberries. If that sounds like a chick drink, The Dead Man Walking is stout with Sipsmityh V.J.O.P, lemon, Americano, Italicus, and Nouvelle-Orleans Absinthe (um, this one has a limit of two — whew!).
To make things even jollier, consider the roster of new holiday cocktails —some of which come with little treats! — created under the guidance of beverage manager Johnathan Jones. Rich in flavor, the cocktails are prepared with elements of surprise and glamour. Its Menage a Trois pushes the envelope by transforming a Brandy Alexander into a trio of experiences: Expect a fog of Krigler's "Established Cognac 66" perfume, followed by made-to-order Brandy Alexander ice cream. Lastly, sip cognac with an added bouquet of chocolate and mouth feel of cream.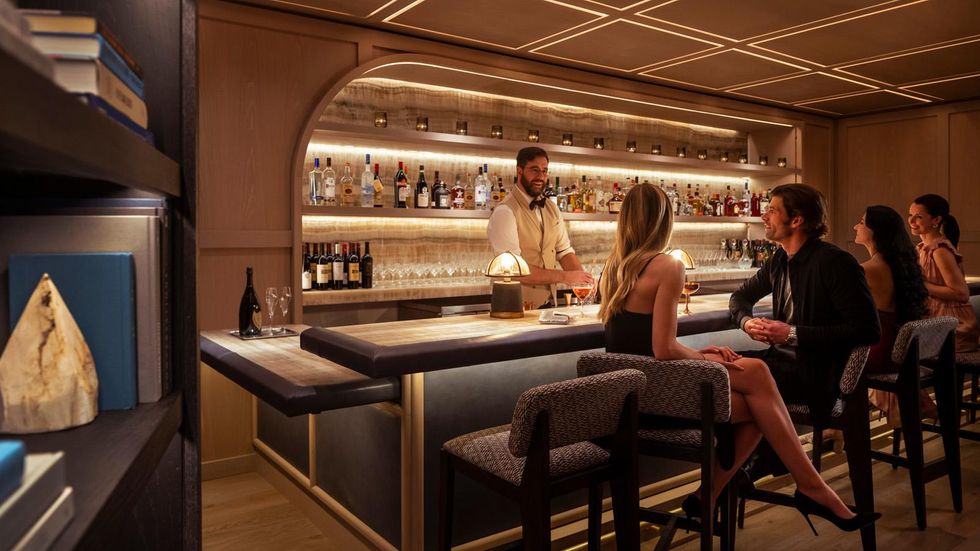 Crime of Passion is a tangy (and showy!) twist on a traditional tiki cocktail combining passion fruit, coconut and tequila, transporting you to another time and place. Served in a carved wooden goblet, the libation is briefly set aflame at presentation. For a refreshing rum libation, try Strawberry Fields for Now and dance through strawberry and cabernet fields with subtle hints of balsamic and Fernet-Branca. This cocktail is accompanied by a goat cheese biscuit snack. (Want a meal? Check out Bayou & Bottle or more upscale Toro Toro upstairs.)
Because of its intimate size, reservations are required to enter Bandista. The speakeasy, which just added service on Wednesdays, has also refined its extensive fine spirits list, as well as its curated menu of half bottles of wine and Champagne.
Speaking of bubbles, to celebrate the last night of 2022, Bandista is hosting a New Year's Eve Party. Guests who reserve a 90-minute seating between 5pm and midnight will have the option of ordering a la carte or selecting a NYE menu ($125), which includes a half-bottle of Laurent-Perrier Champagne, a "bump" of caviar, and a cocktail from the Bandista menu (Menage a Trois not included). Guests of the 10:30pm seating will also receive a molecular Champagne "toast" at the turn of the year.
Food