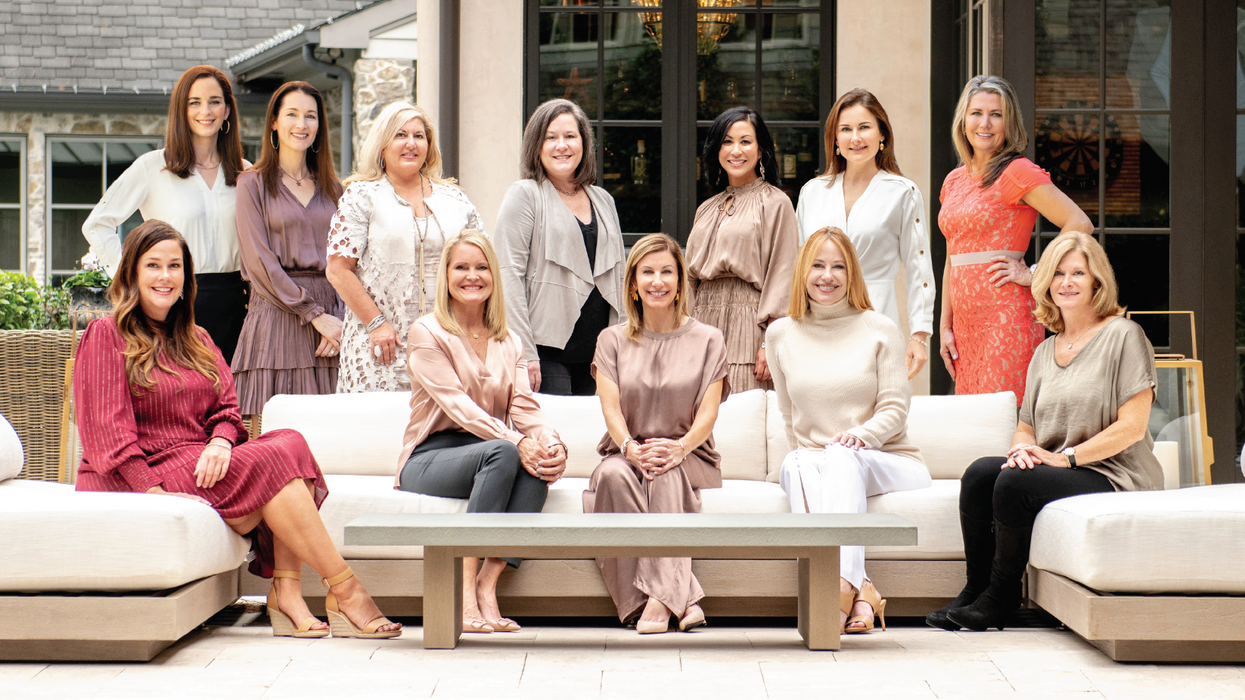 HOW DID YOUR team form? After ten years as a realtor for a top firm in Houston, Kim Perdomo established a boutique brokerage in 2011. The team grew organically and joined forces with Compass in 2019.
What is the relationship within the team? We have a very special relationship as a team. A lot of us have been friends for many years prior to working together in real estate. With that brings a camaraderie and loyalty to one another that is truly remarkable. We all work together to help everyone succeed, and that is a huge benefit to our clients.
What makes you unique? Our Brand Promise:
Maintaining Lifelong Relationships With Our Clients
Personal Service
Distinctive Marketing
Helping Our Clients Make the Right Move
How do you bring this promise to life? We specialize in presenting our listings to the market to achieve the best results. Our personalized, hands-on service includes coordinating staging services, repairs, inspections and through distinctive marketing we attract the largest group of buyers. A few metrics we use to define best results include sales price, contract terms offered, days on market and list price to sales price ratios. Since we are with our clients throughout the entire process, our business relationships typically evolve into true friendships. We have done this successfully in a seller's market and buyer's market. As a team, we have 140 years of experience. We have seen it all.
What's the secret to your success? Integrity. Doing what we say we are going to do and putting our clients' needs above ours.
What's next for the end of the year and 2023? We just returned from our top producer awards trip in Alys Beach, Fla., and we are beginning to set goals and prioritize on how we can continue to raise the bar as individuals and as a team. We are currently working with clients to help them evaluate their real estate needs and monitoring the luxury market while communicating exclusive listing opportunities to our buyer clients and fellow agents. Our team expertise and the Compass advantage provides the ultimate results for our clients.
Daniel Ortiz and Jacob Power
MORE THAN 600 party animals gathered at the Royal Sonesta to celebrate 50 years of Citizens for Animal Protection (CAP).
The ballroom was decked out with glittery, glamorous floral arrangements and swaths of shiny fabric, in addition to several IG-worthy photo backdrops. Violinist Radu John warmed up the crowd with electrifying tunes played on a light-up violin, and JD Entertainment characters — like a Champagne-toting cat — roamed the room.
The main event was, as always, a fur-tastic fashion show, emceed by animal-loving television personality Frank Billingsley. Gala honorees strutted their stuff alongside their pets, and supporters Jody Merritt and Steve Spencer's cat, Yuli, was named the Celebrity Pet of the Year. Other honorees included JD Adamson with Dolly; Deborah and Ernesto Bautista with Asher and Penelope; Rose Chen and David Webster with Muffin; Cortney Cole-Hall with Leo and Elia; Michael Gabbanelli with Daisy; Danielle and Derek Gillespie with Claire; Casey and Ryan Mitchell with Gabby Win; and Sonia Soto and Jeff Hoffman with Layla.
West Houston Subaru raffled off a 2023 Crosstek, which revved up the evening's proceeds. The till currently stands at $725,000, with more donations rolling in.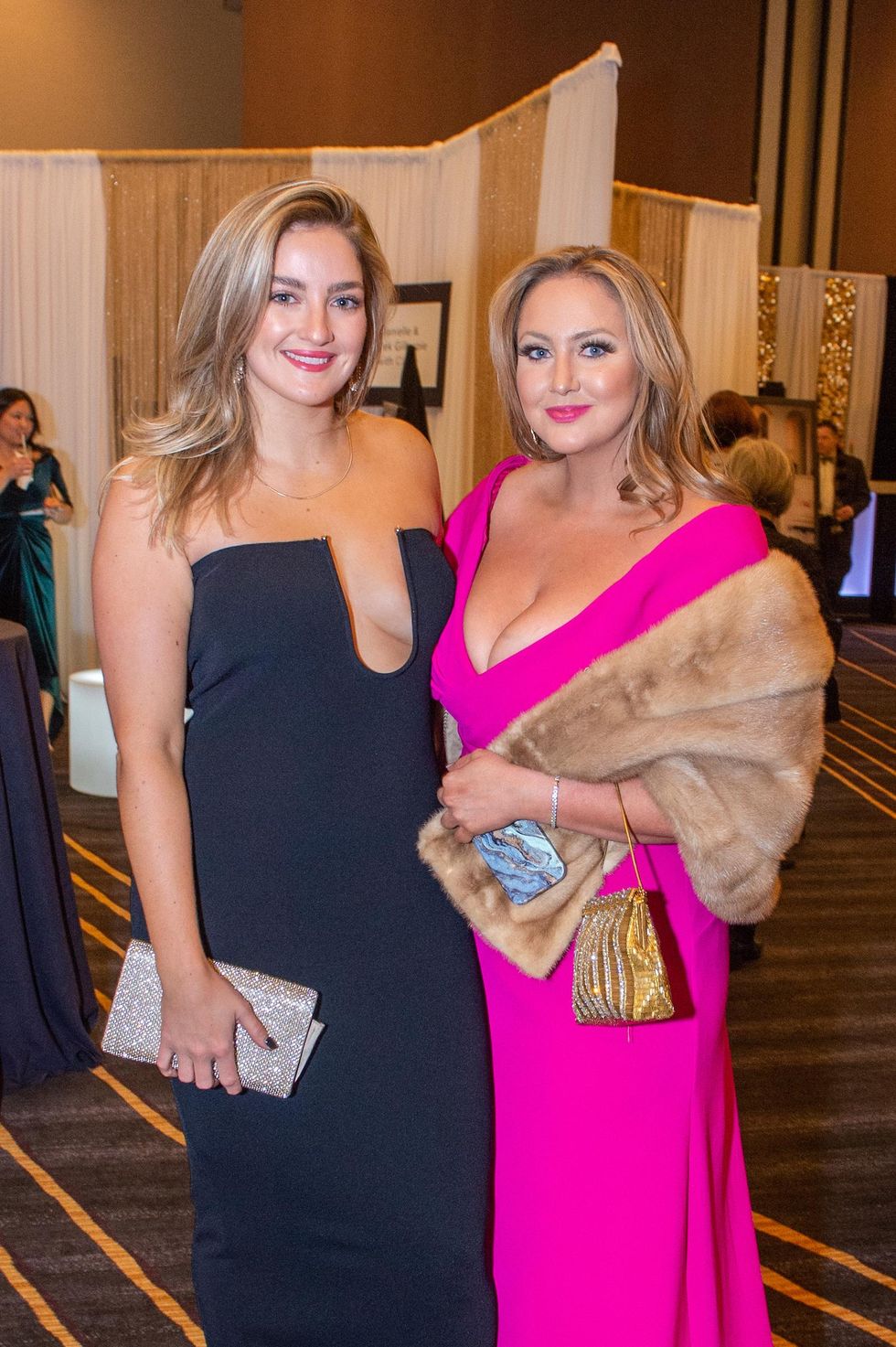 Sterling Woerner and Kathryn Bonesteel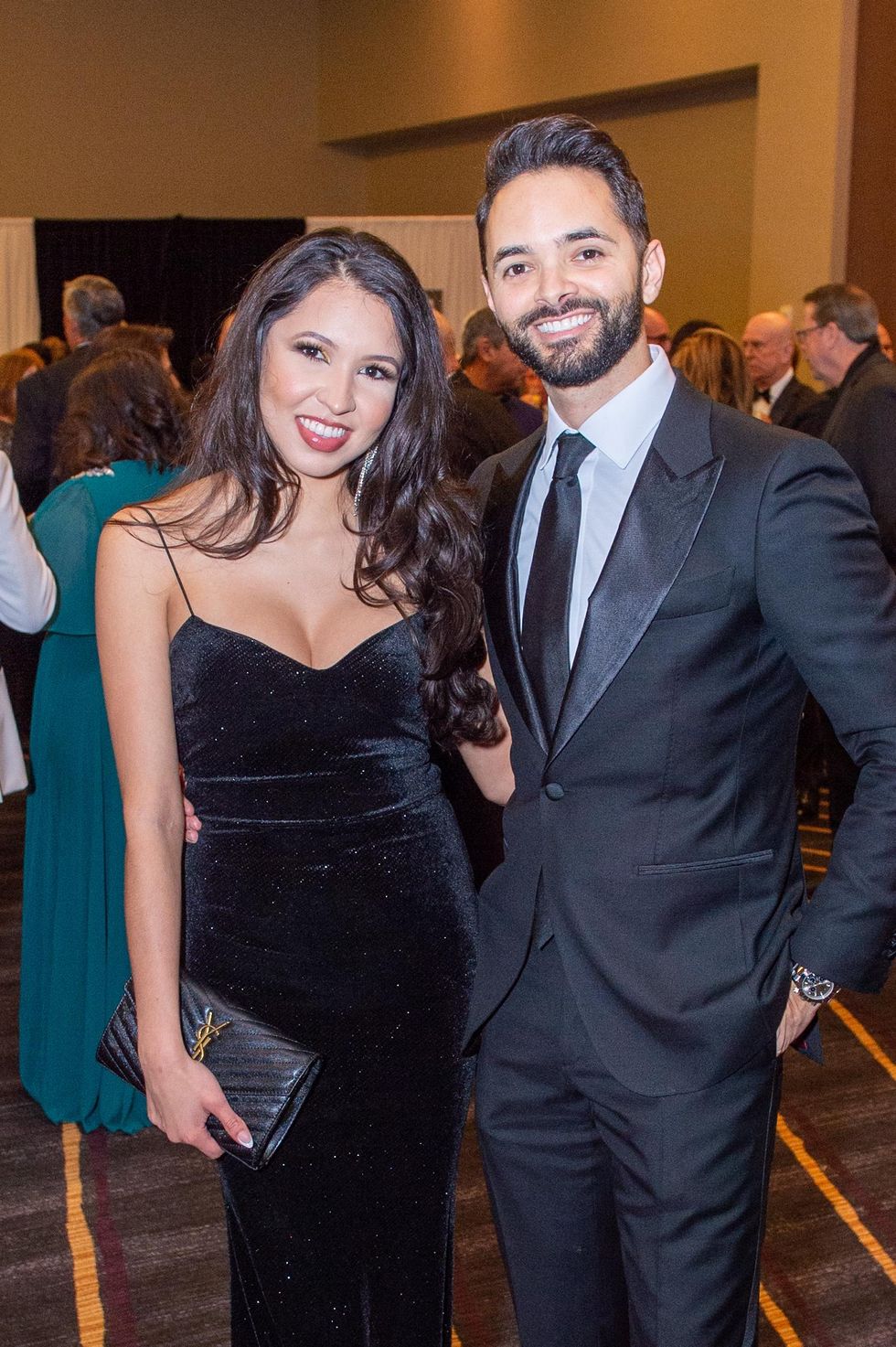 Yaritza and Alexander Scott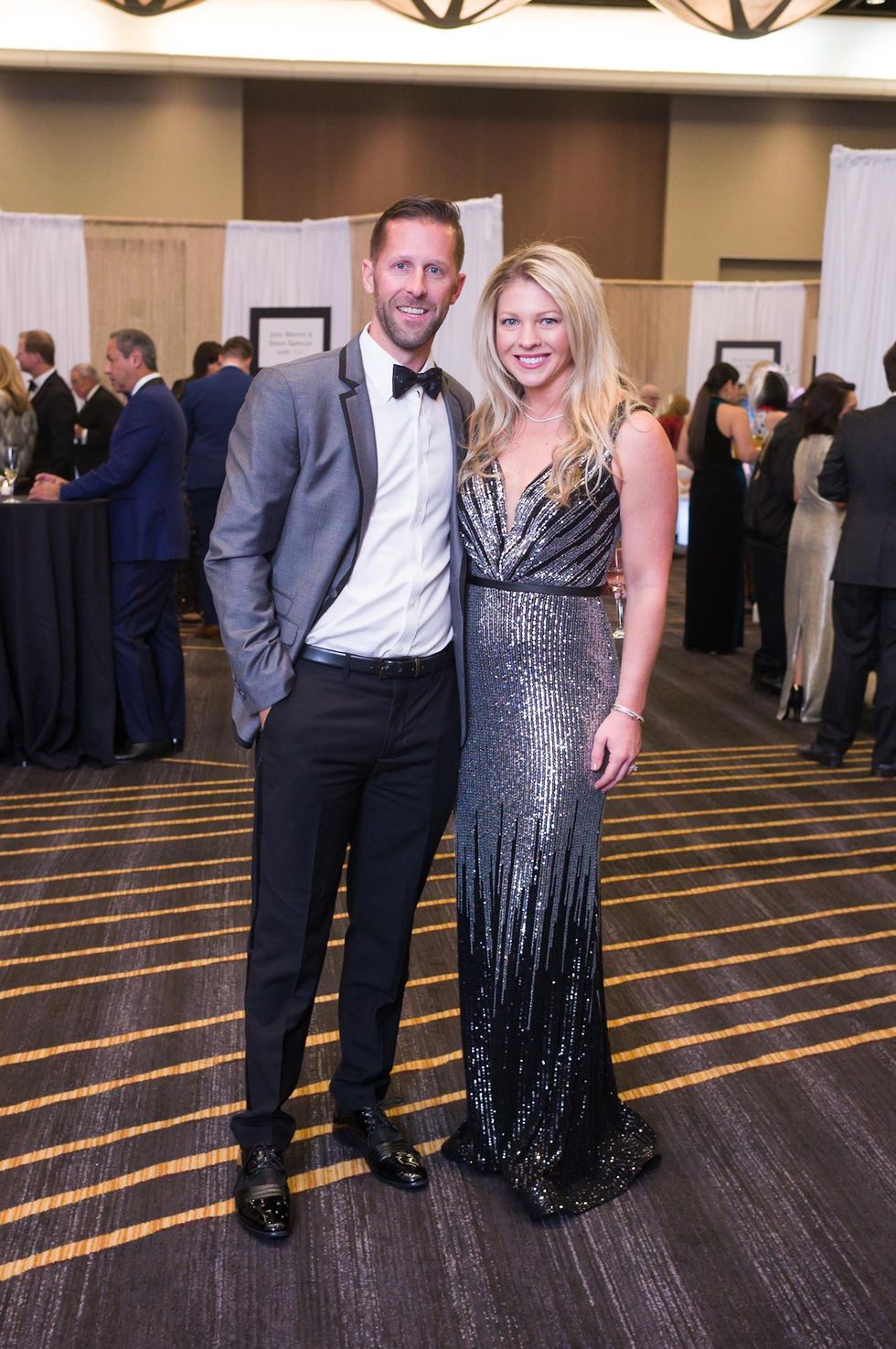 Austin and Marian Cornelius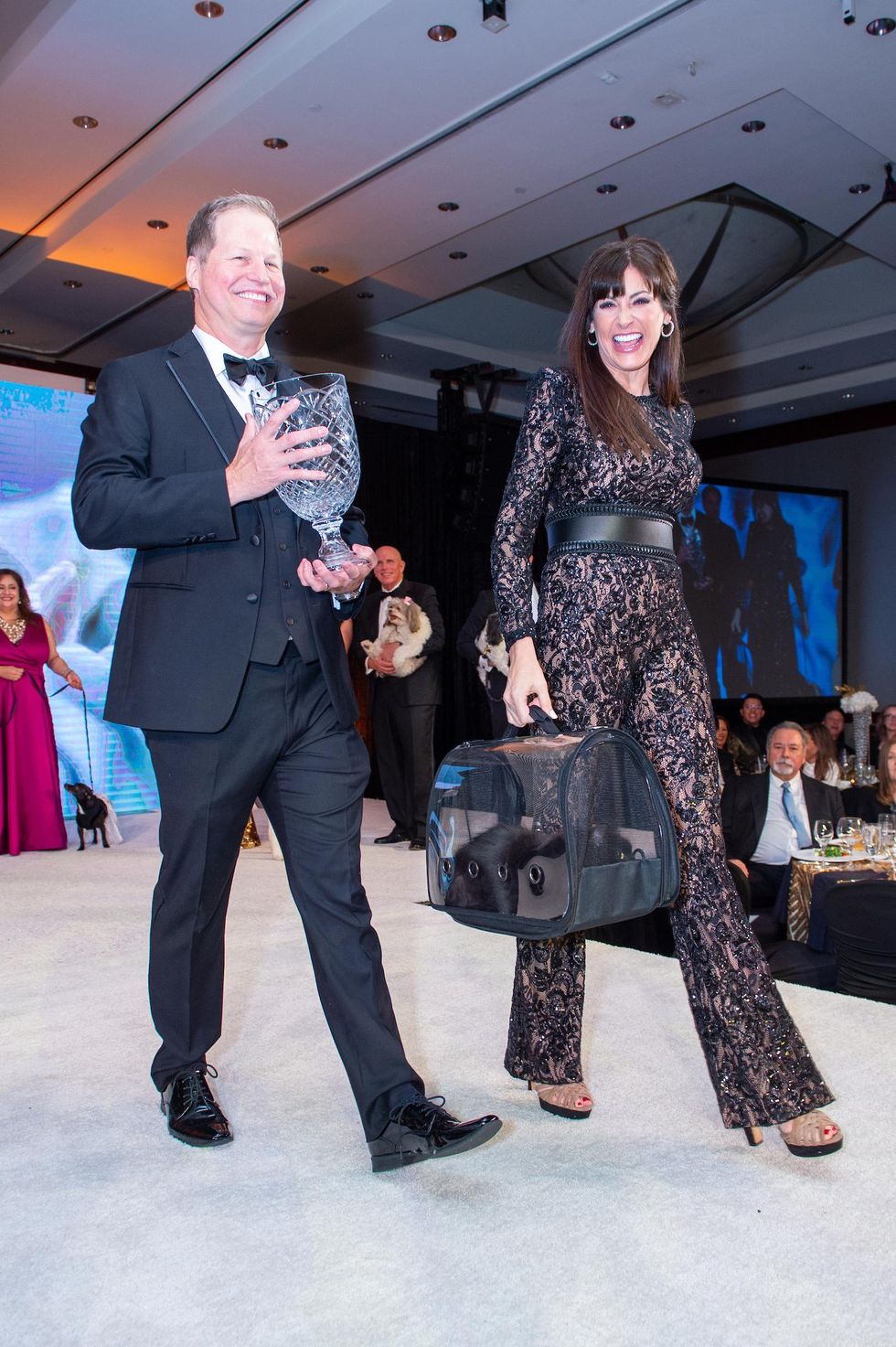 Steve Spencer and Jody Merritt with Yuli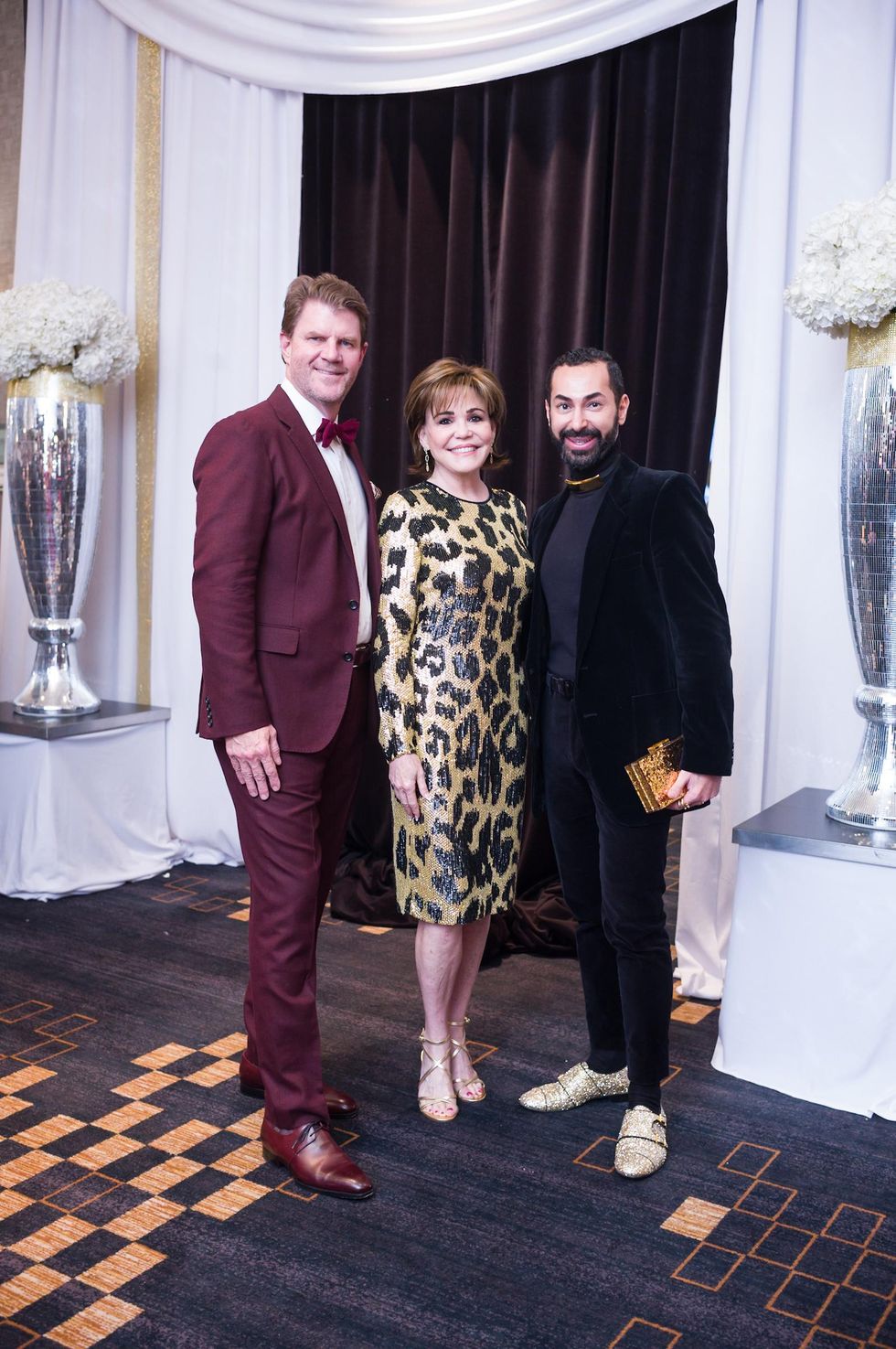 Bill Baldwin, Hallie Vanderhider and Fady Armanious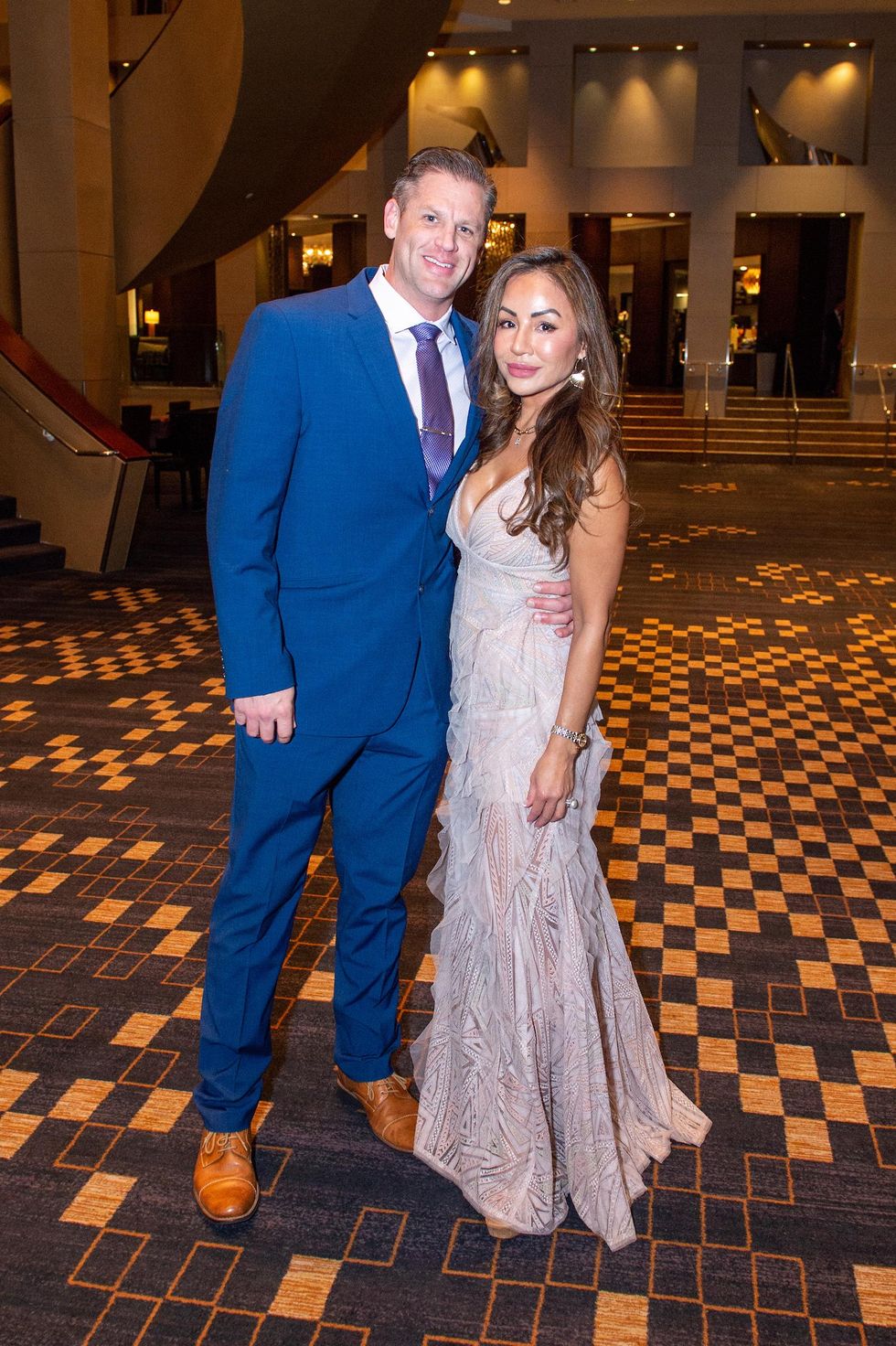 Cassidy Harriman and Dinah Linn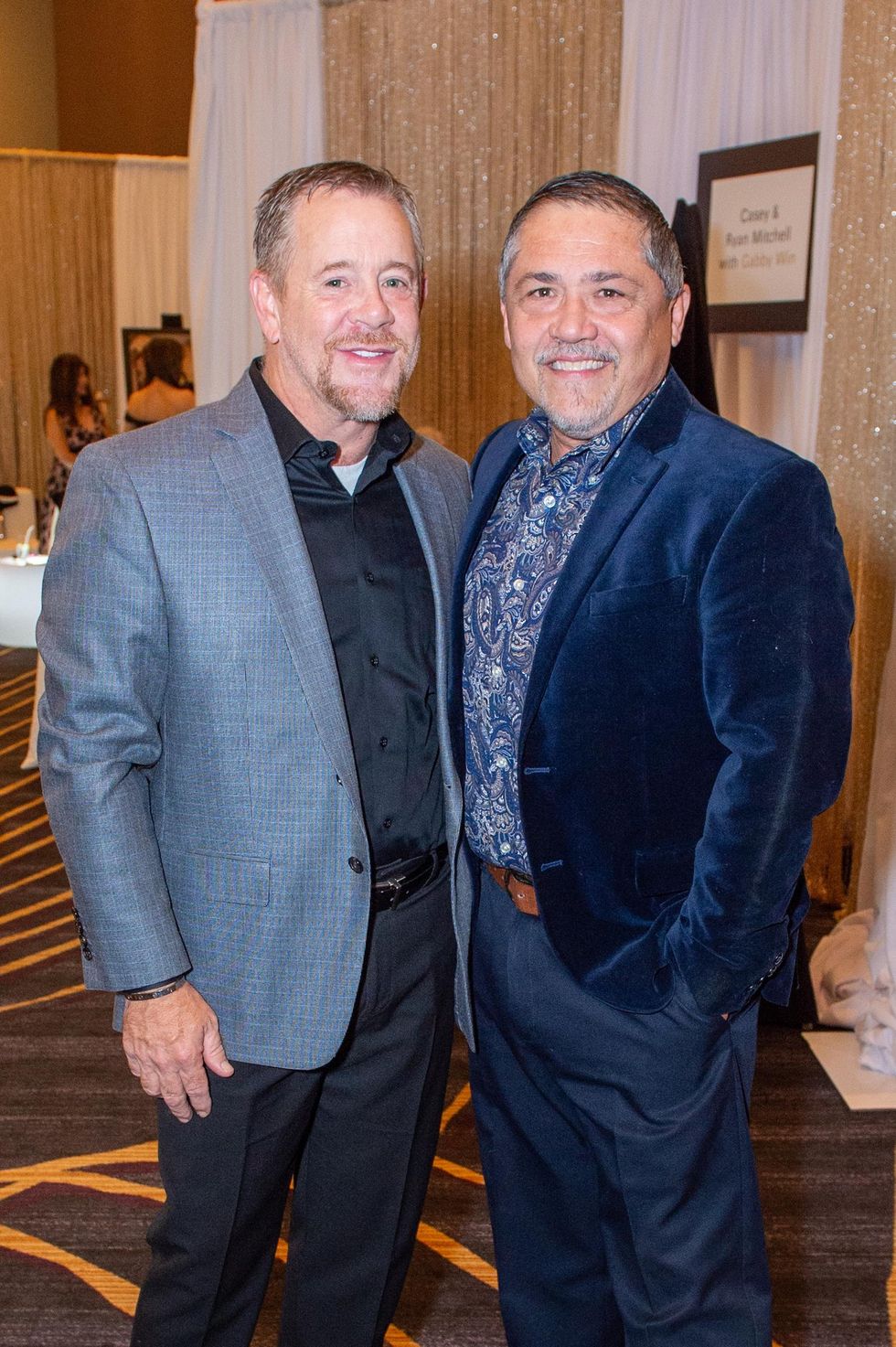 Shelby Kibodeaux and Bruce Padilla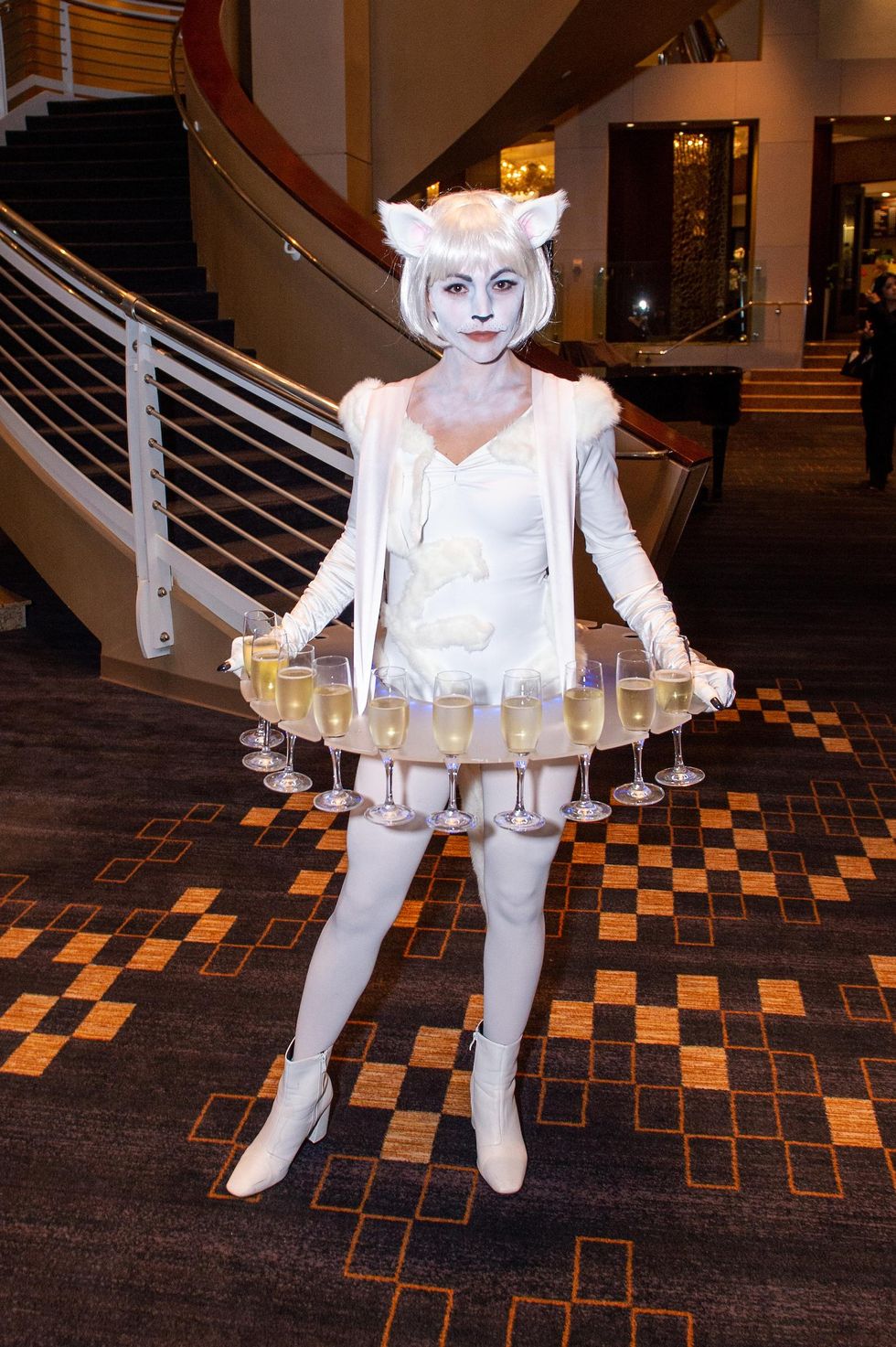 JD Entertainment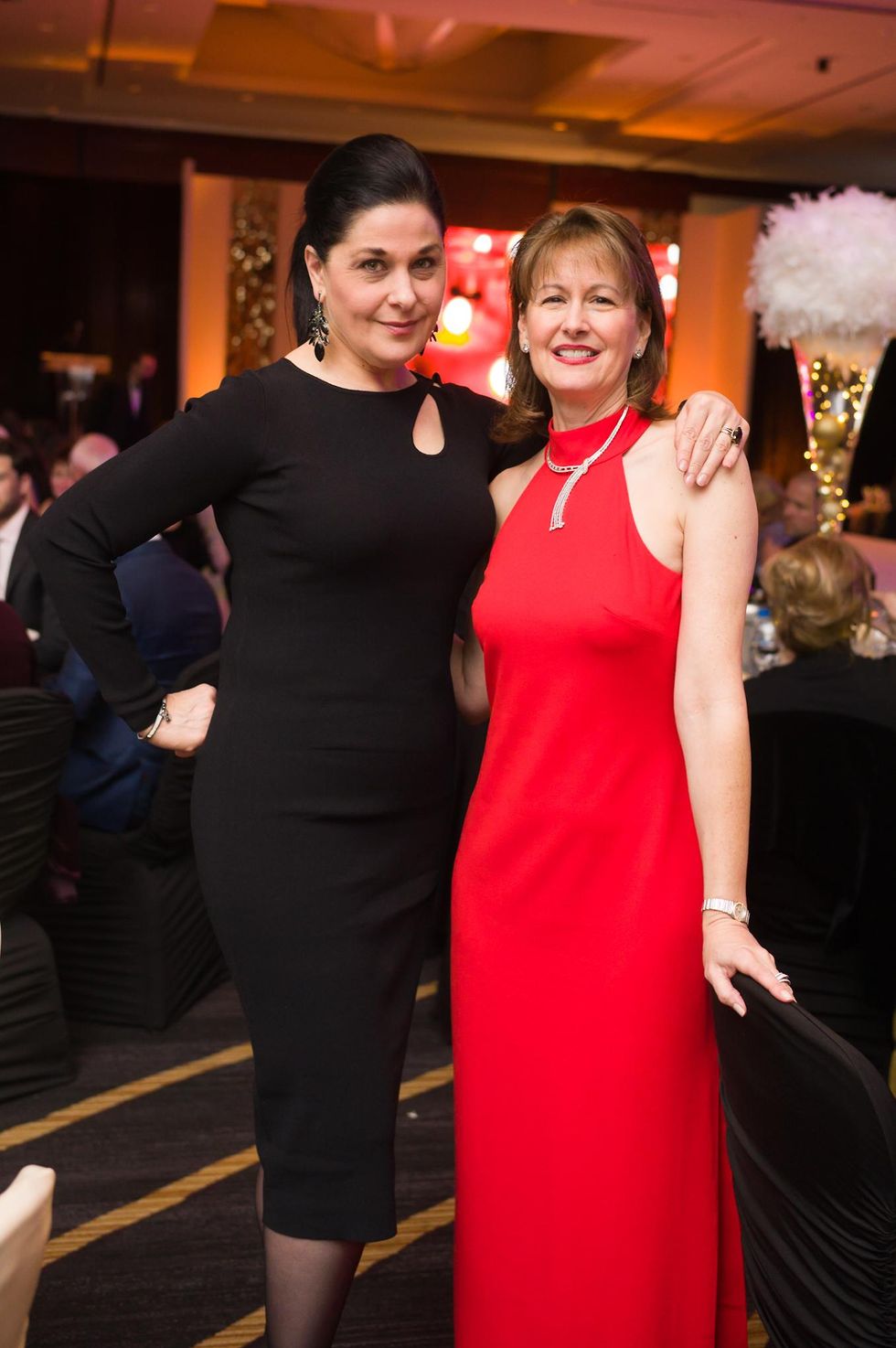 Cindy Peoples and Mary Kenner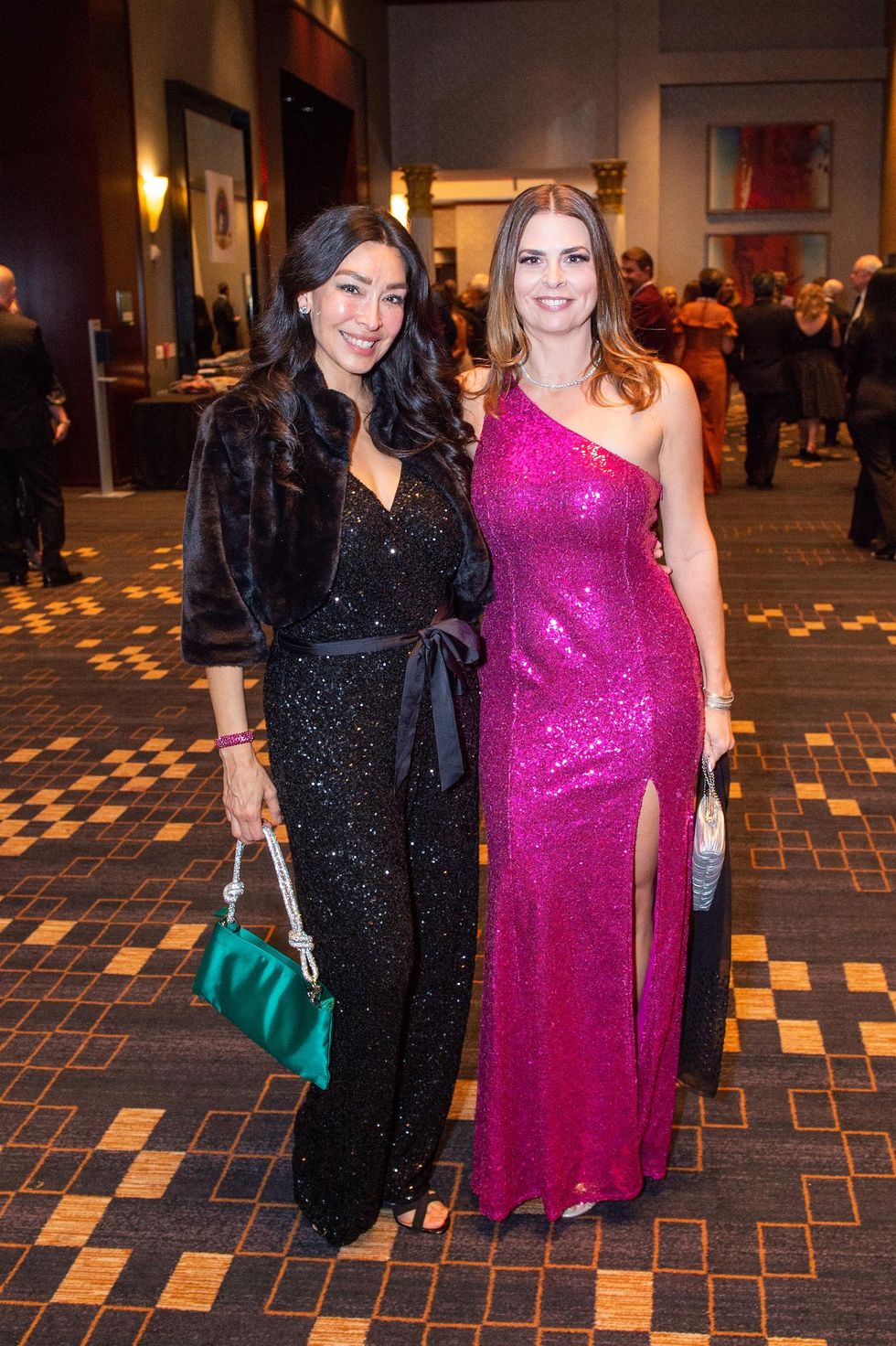 Rosemary McDonald and Jacqueline Swilling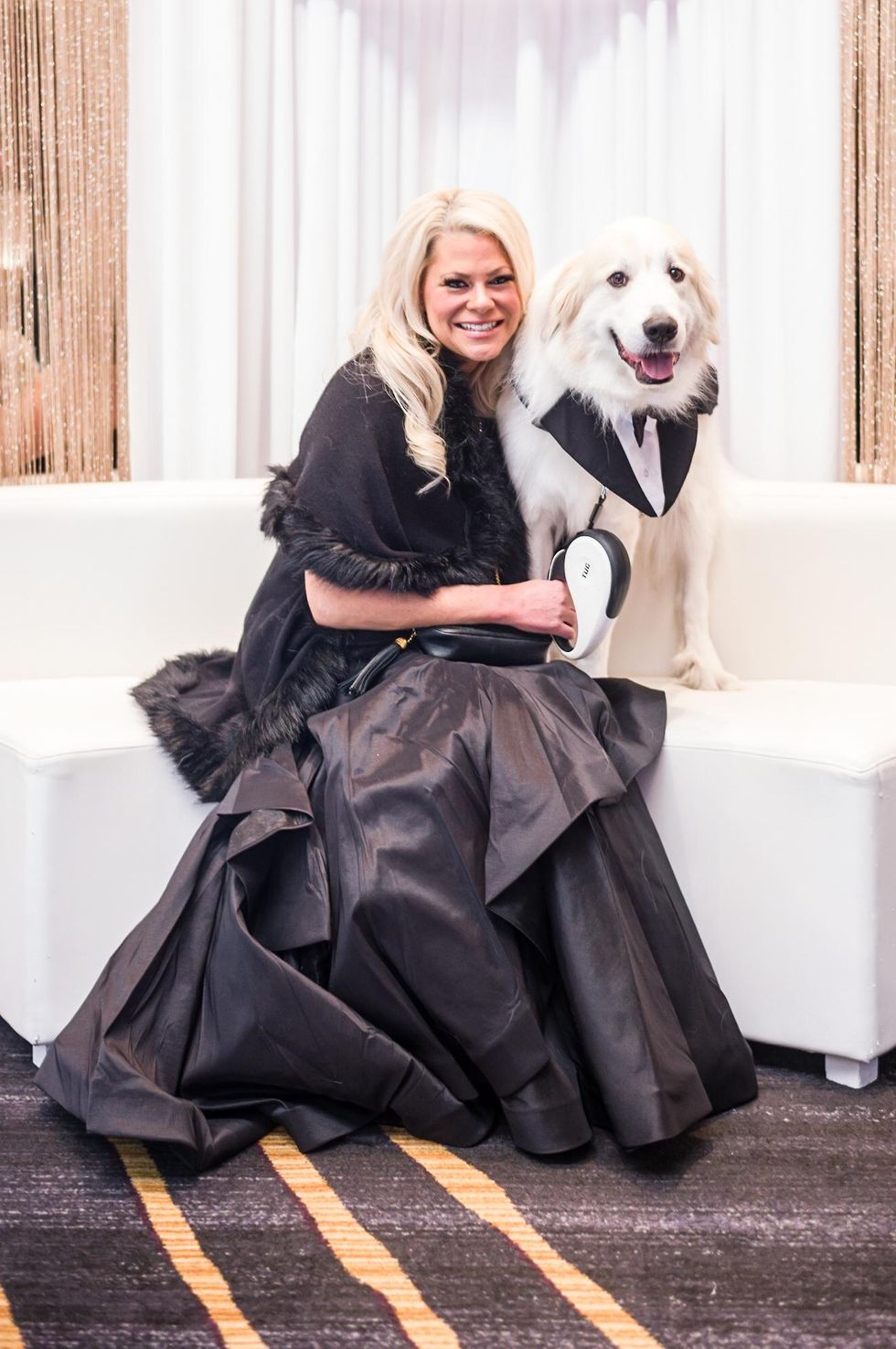 Courtney Cole-Hall with Leo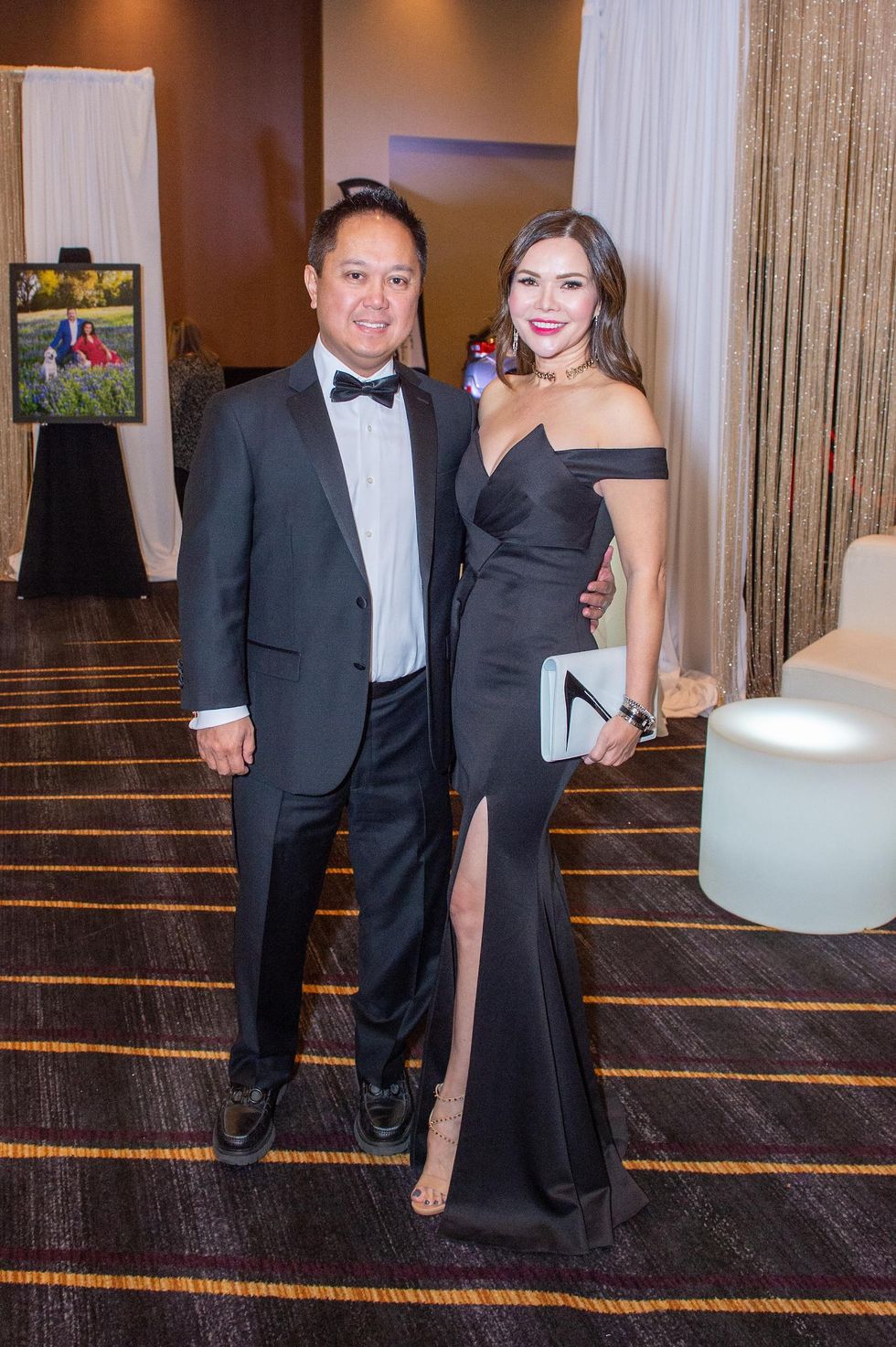 Daryl and Amy Dichoso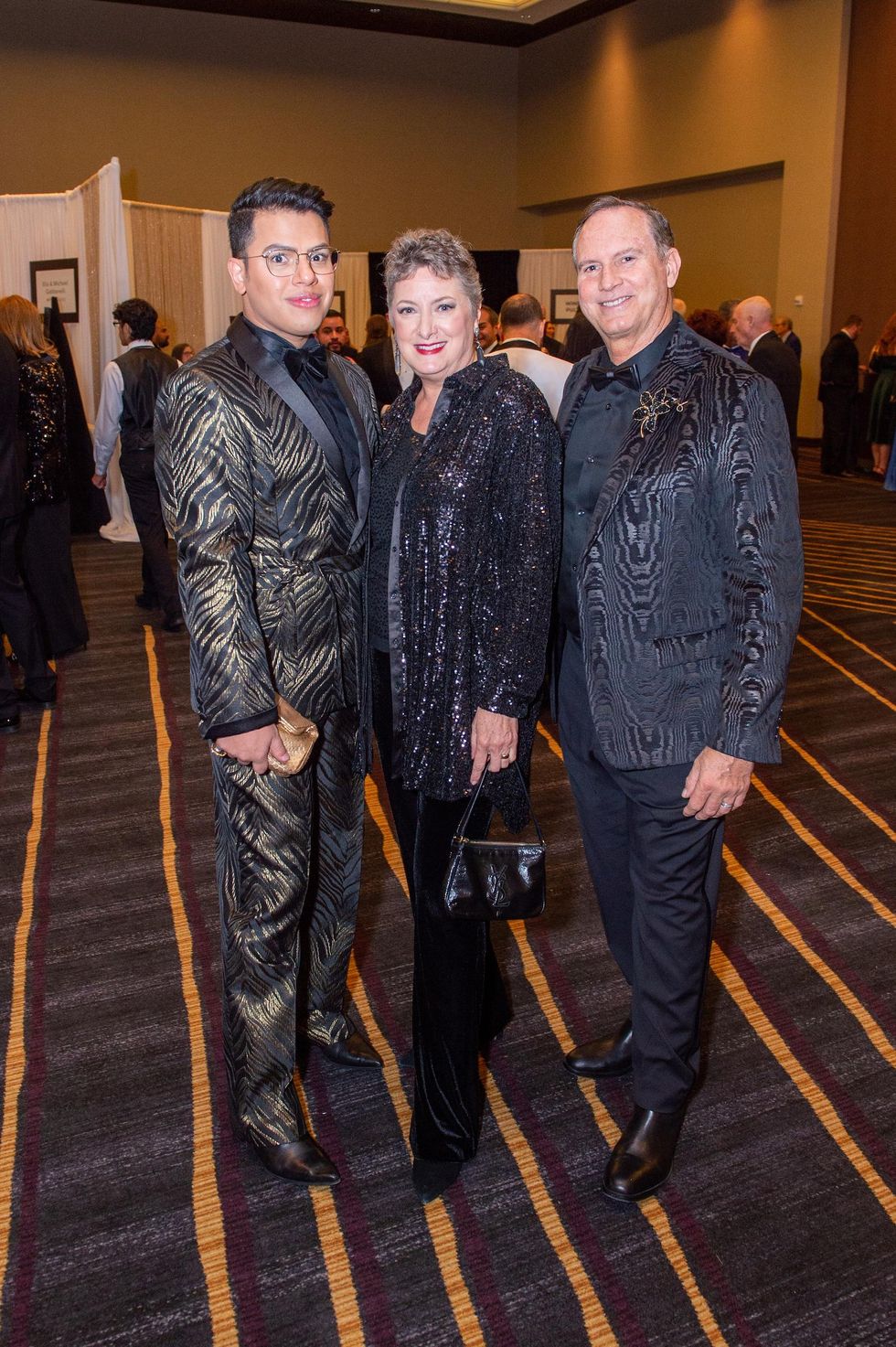 Richard Ray, Tamara Bonar and Anthony Dowd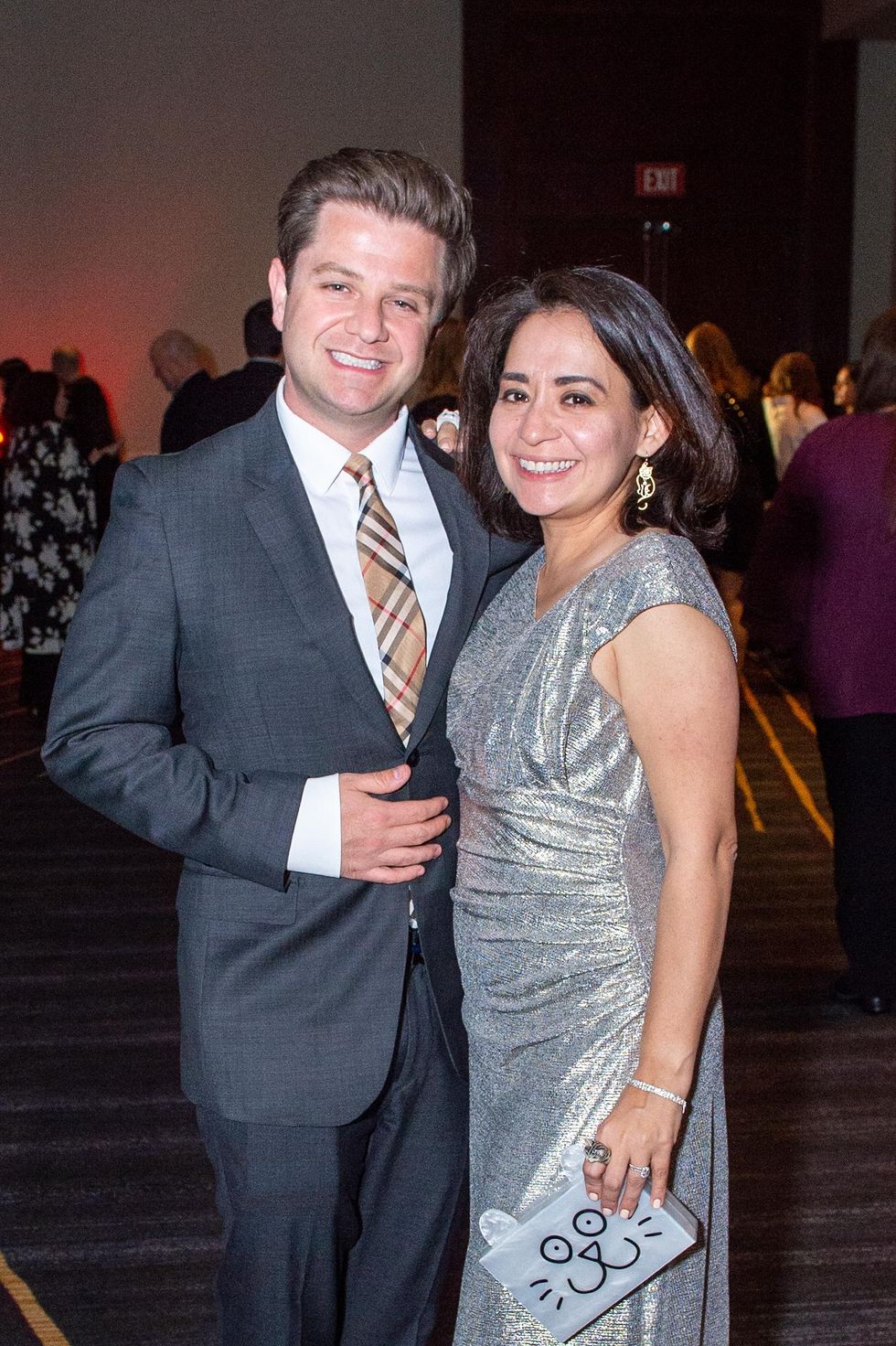 Michael and Ivanne Corsi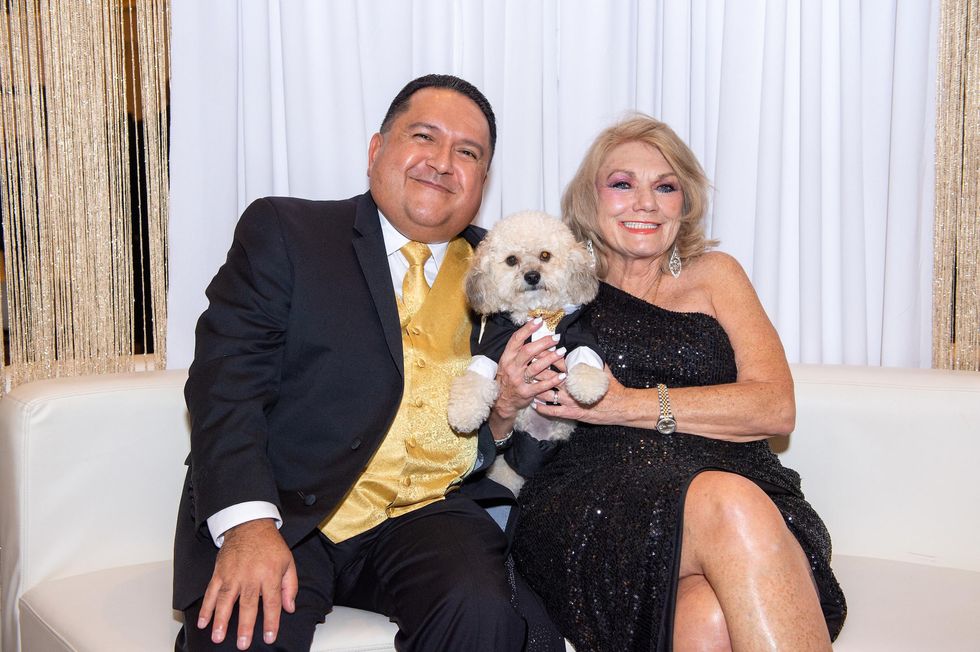 Deborah and Ernesto Bautista with Asher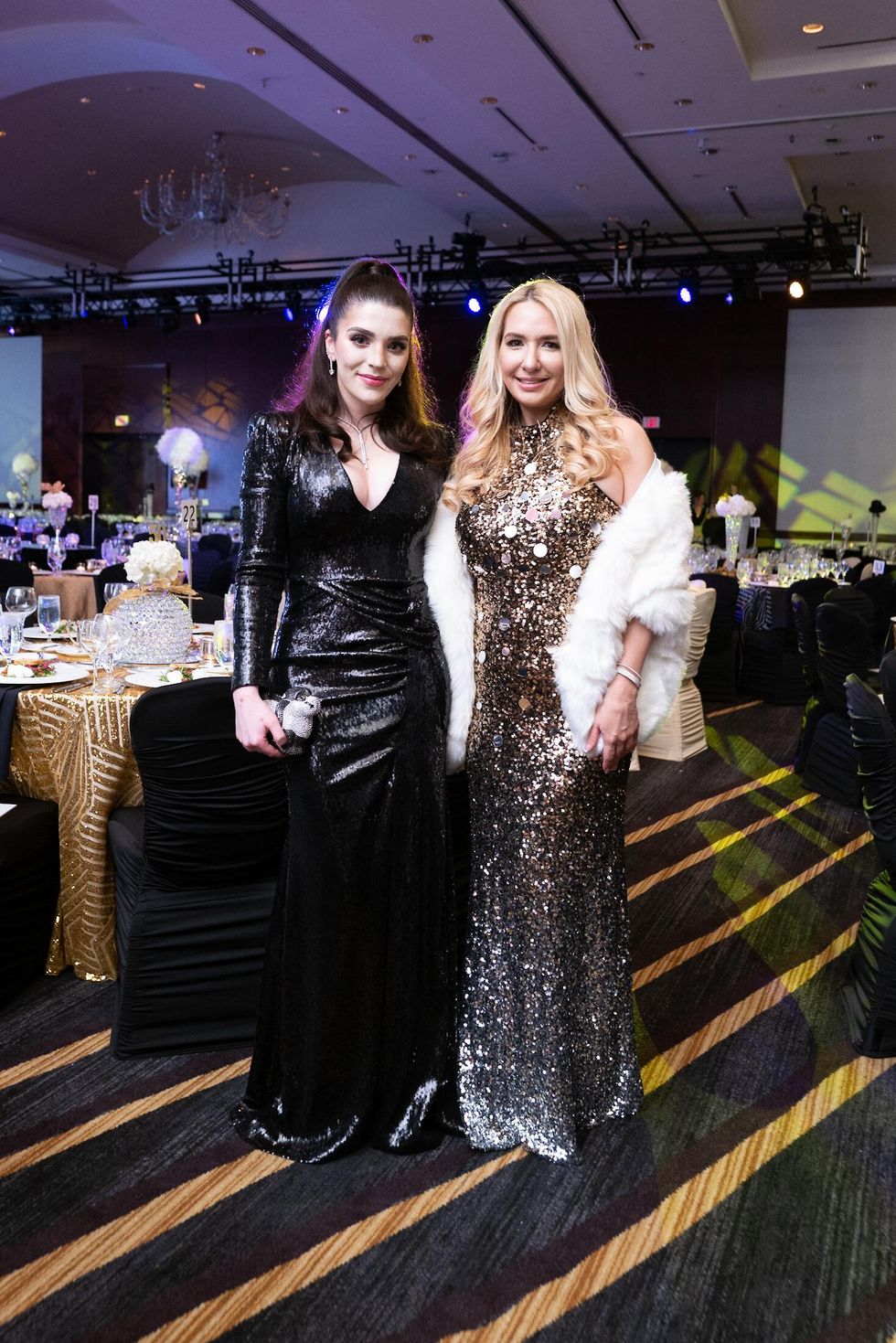 Mica Piro and Anna Kaplan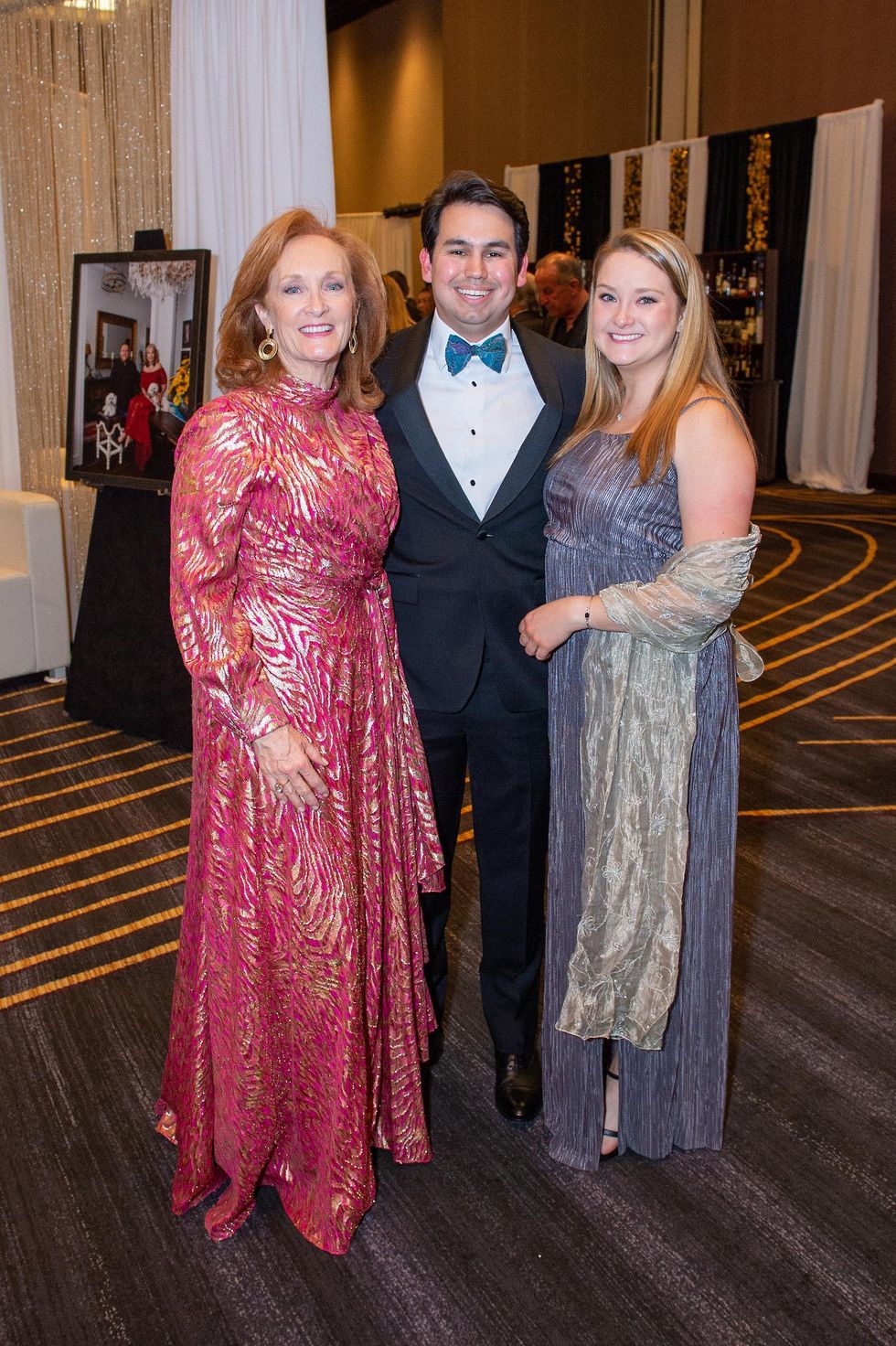 Melanie Cizik, Alex Gonzalez and Reilly Cizik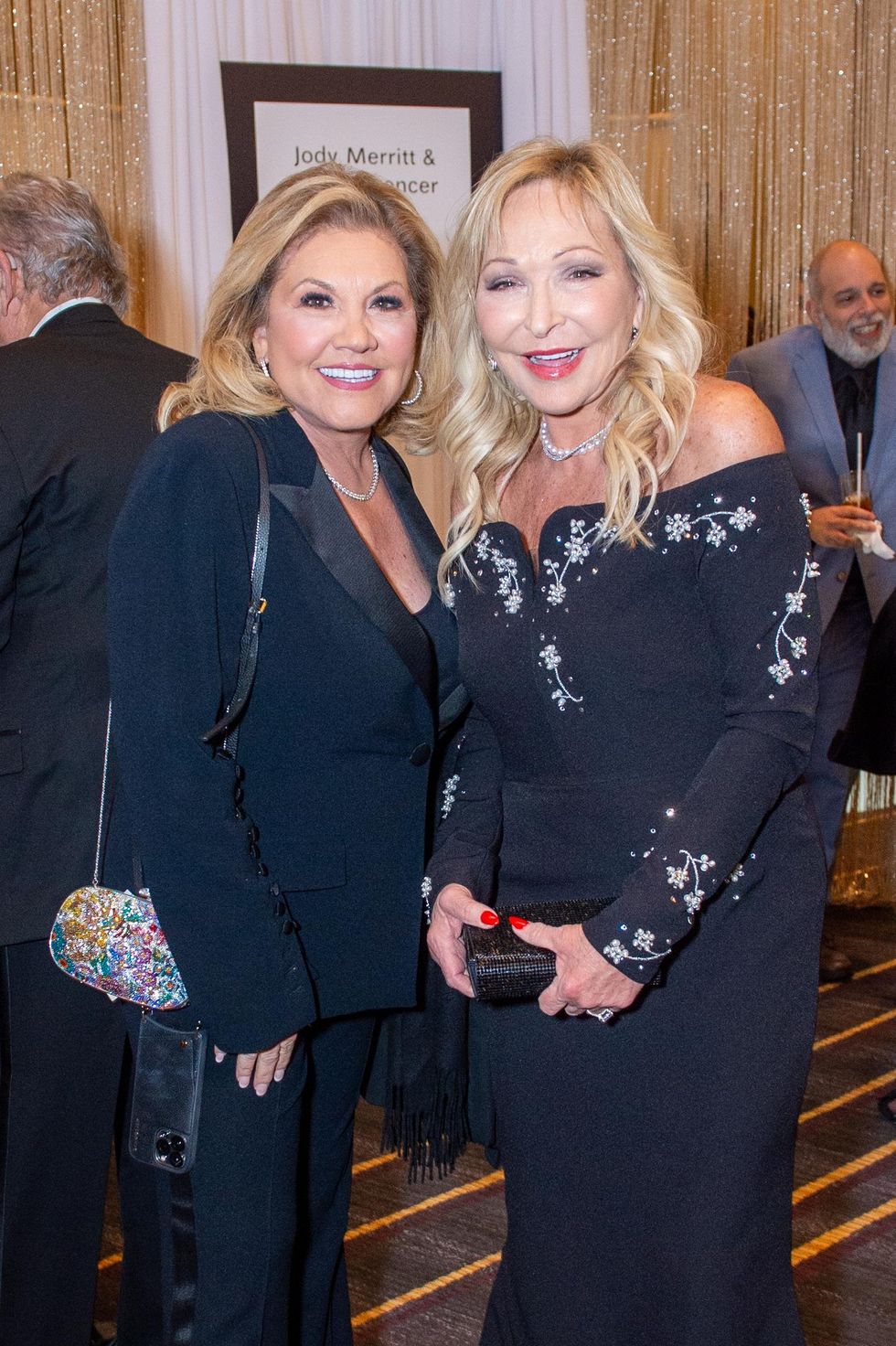 Edna Meyer-Nelson and Julie Brookshire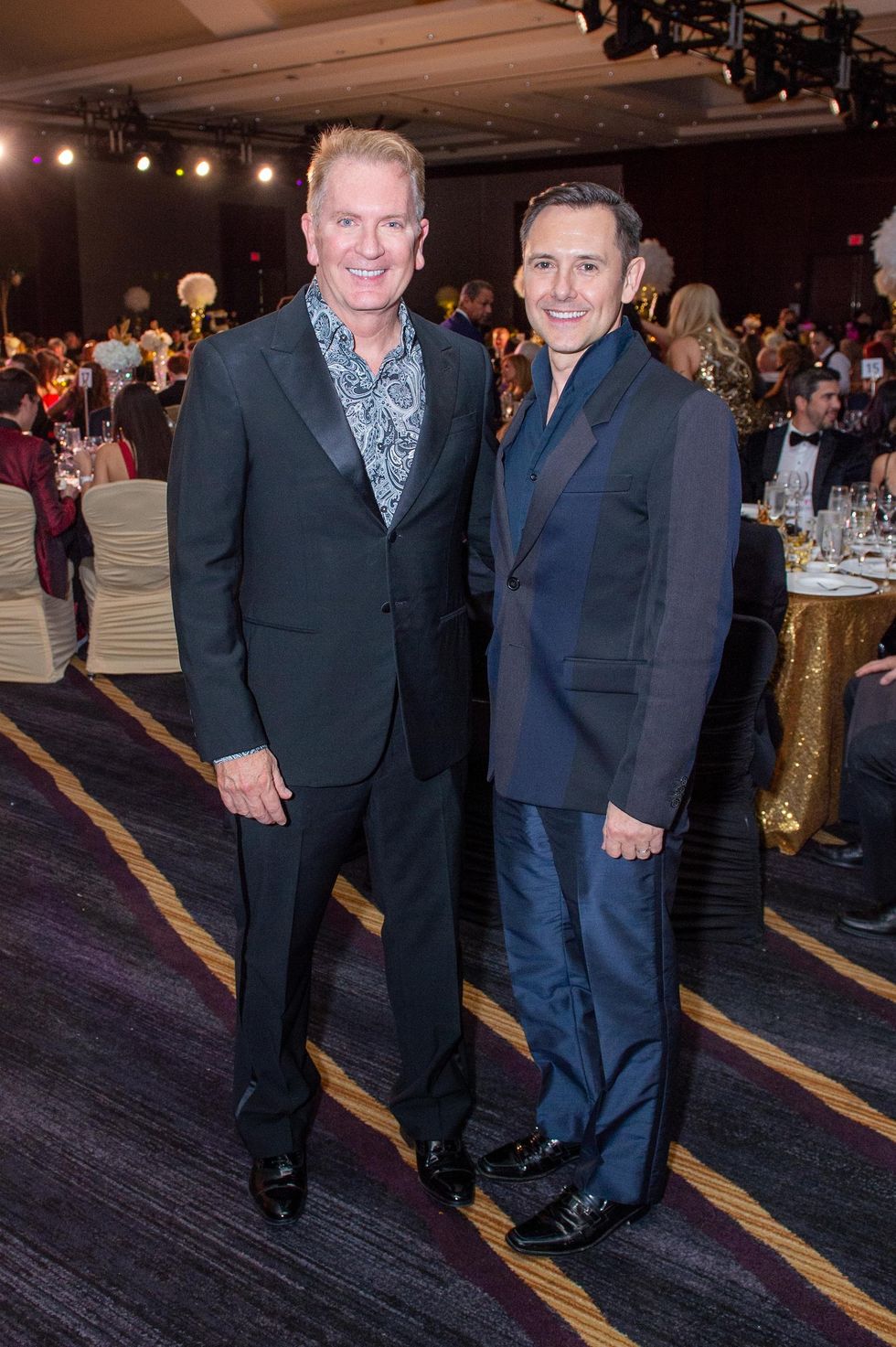 Frank Billingsley and Kevin Gillard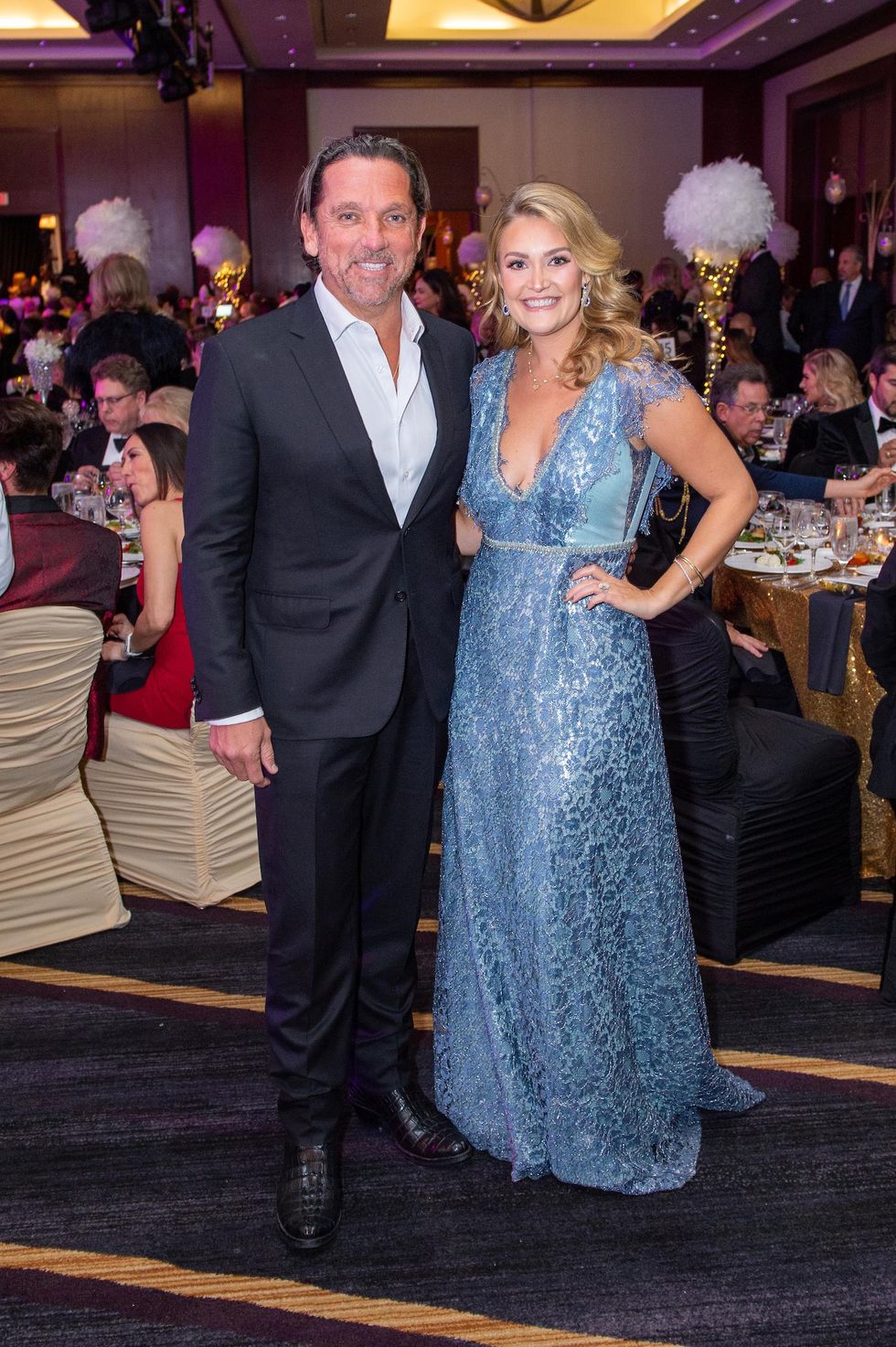 Tony and Frances Buzbee
From Your Site Articles
Related Articles Around the Web
People + Places
FASHION DESIGNER JONATHAN Blake didn't have to dig too deep for inspiration for Lynn Wyatt's dress for the Menil's 35th anniversary gala in early December. The woman herself was inspiration enough.
"One look at the gown," he says, swooning a bit, "and you know exactly who it's made for." It's a red silk crepe number emphasizing good tailoring and timeless taste. And the cuffs of the sleeves and neckline are trimmed in ostrich feathers that themselves have a glitzy backstory. The Houston-based designer brags they're from the same place — a South African vendor he won't disclose — that famous designers have been calling on for 100 years. Why, it's where Bob Mackie and Óscar de la Renta got plumage for the likes of Marilyn Monroe and Judy Garland! Talk about fine-feathered friends.
"It may not sound like that big of a deal," Blake acknowledges, "but to even purchase the feathers, I had to have five references." He says the quality is much better than he could find elsewhere.
Such are the wiles of a young luxury womenswear designer who, after a long break, is very much back — and booked solid through the new year. He has a whole new business model, and he's ready to make a big splash with lavish looks, for Wyatt and other grand dames, set to debut at year-end's most anticipated gala.
Between Covid and challenges in his family — you may have heard the gossip — Blake had been off the radar almost entirely. "Originally, the plan was for the hiatus to be a year," says the third-generation Houstonian, once a widely celebrated wunderkind, "but I traveled and pursued things that I had not been able to pursue."
Among other off-the-grid interests, the shy, soft-spoken and still boyishly cute Blake turned to his pet snake for companionship. They're incredibly misunderstood, he says of venomous reptiles, and he often feels misunderstood himself. "People don't get me, and that's okay." His break gave him the opportunity to obtain the necessary permits and to educate himself on safe snake handling.
He was the opening designer for Runway Houston's 10th anniversary show and unveiled his first collection in two years, Regal, in April. "It was inspired by powerful, independent women," says Blake, now 31. Moving forward, the designer will focus on one collection per year, filled with what he describes as seasonless pieces. "What I call 'seasonless' are those you can wear for both fall and winter — all you have to do is request a change of fabric or color, and the option to have it made to your measurements." Fans of the collection include Saudi royals and Paris Hilton, he says.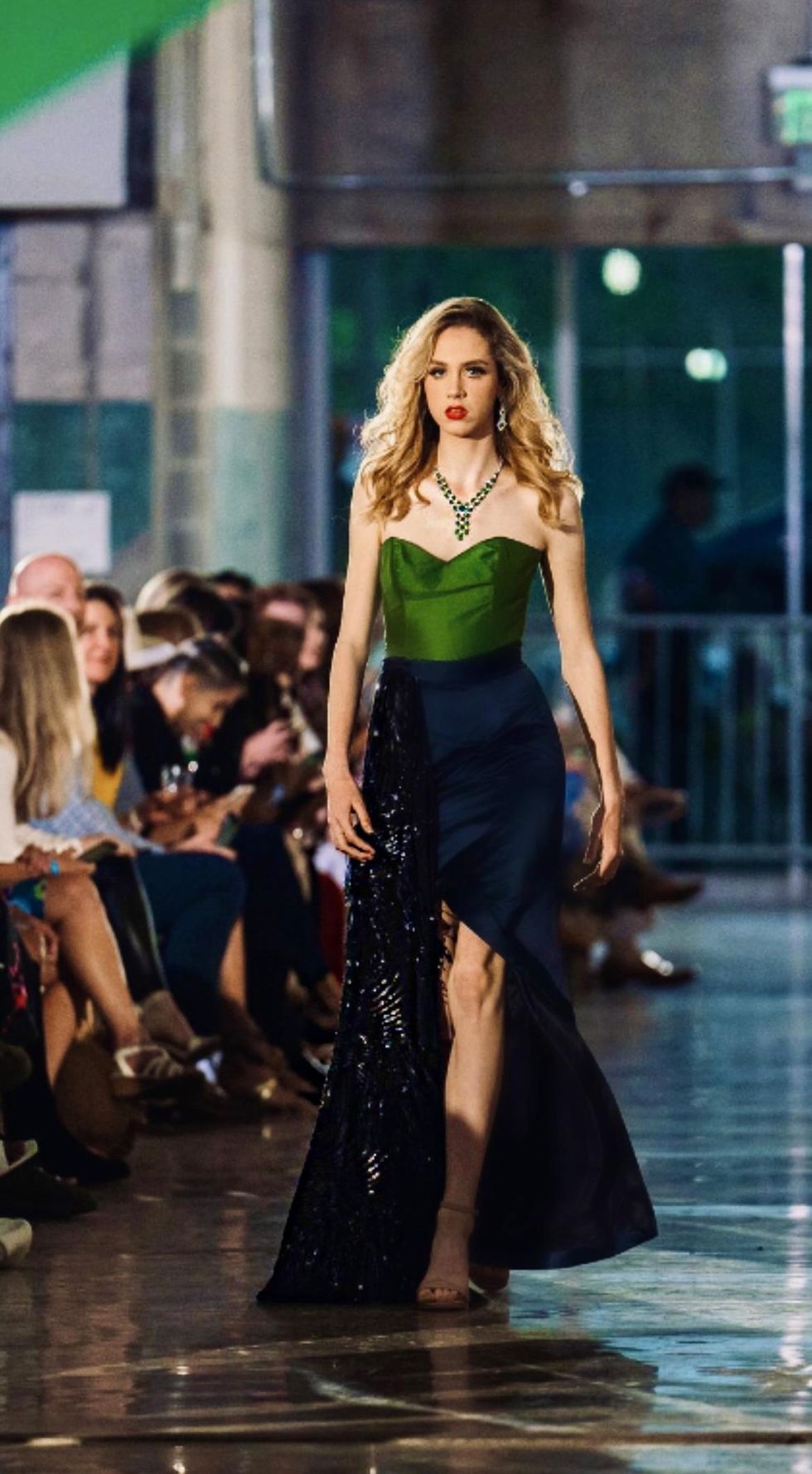 Crowds turned out in the spring to see Blake's first collection in two years.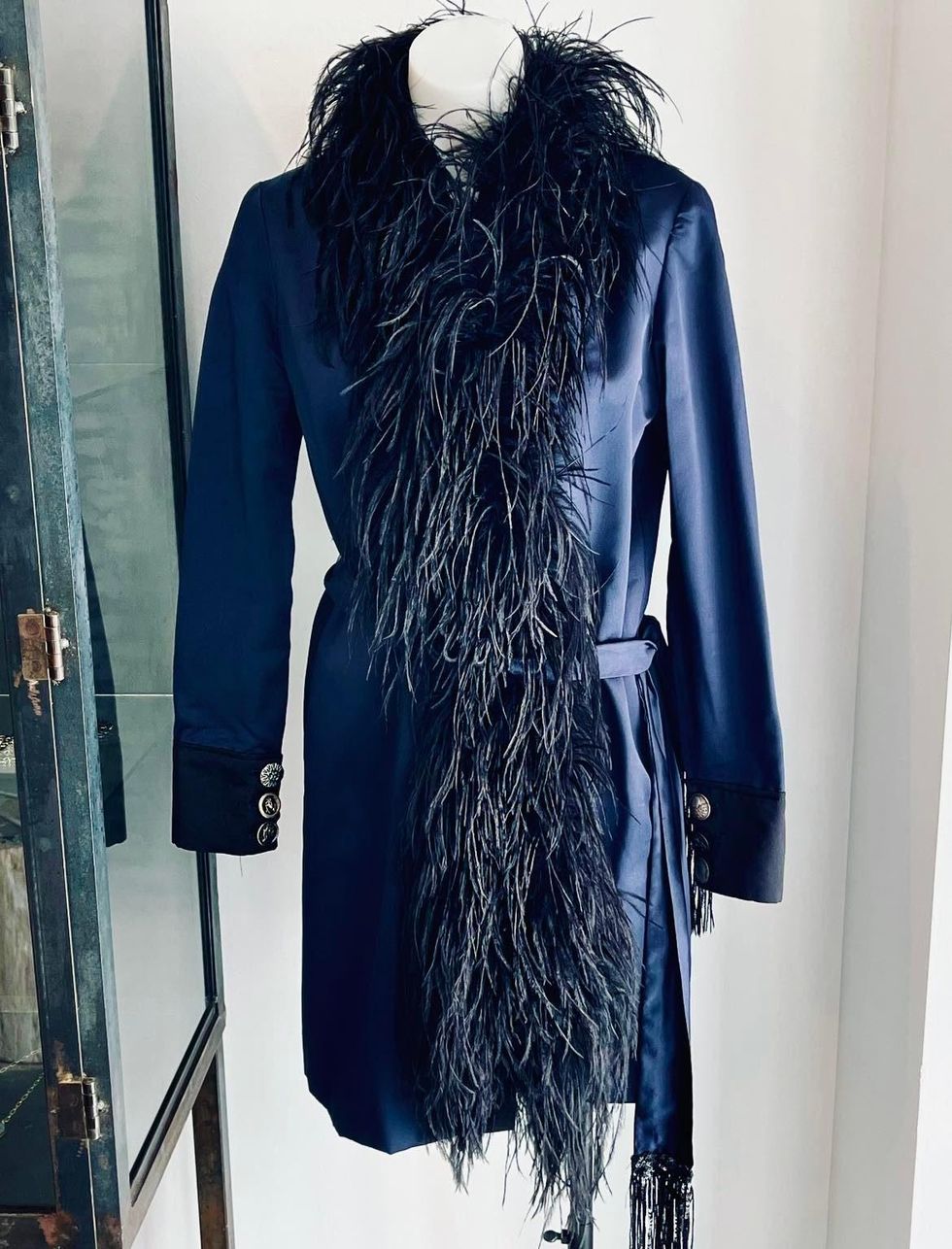 A new piece by Jonathan Blake, who has reemerged after a two-year break
Lynn Wyatt, in a jacket Blake made for her a few years ago, has long been a fan of the young designer.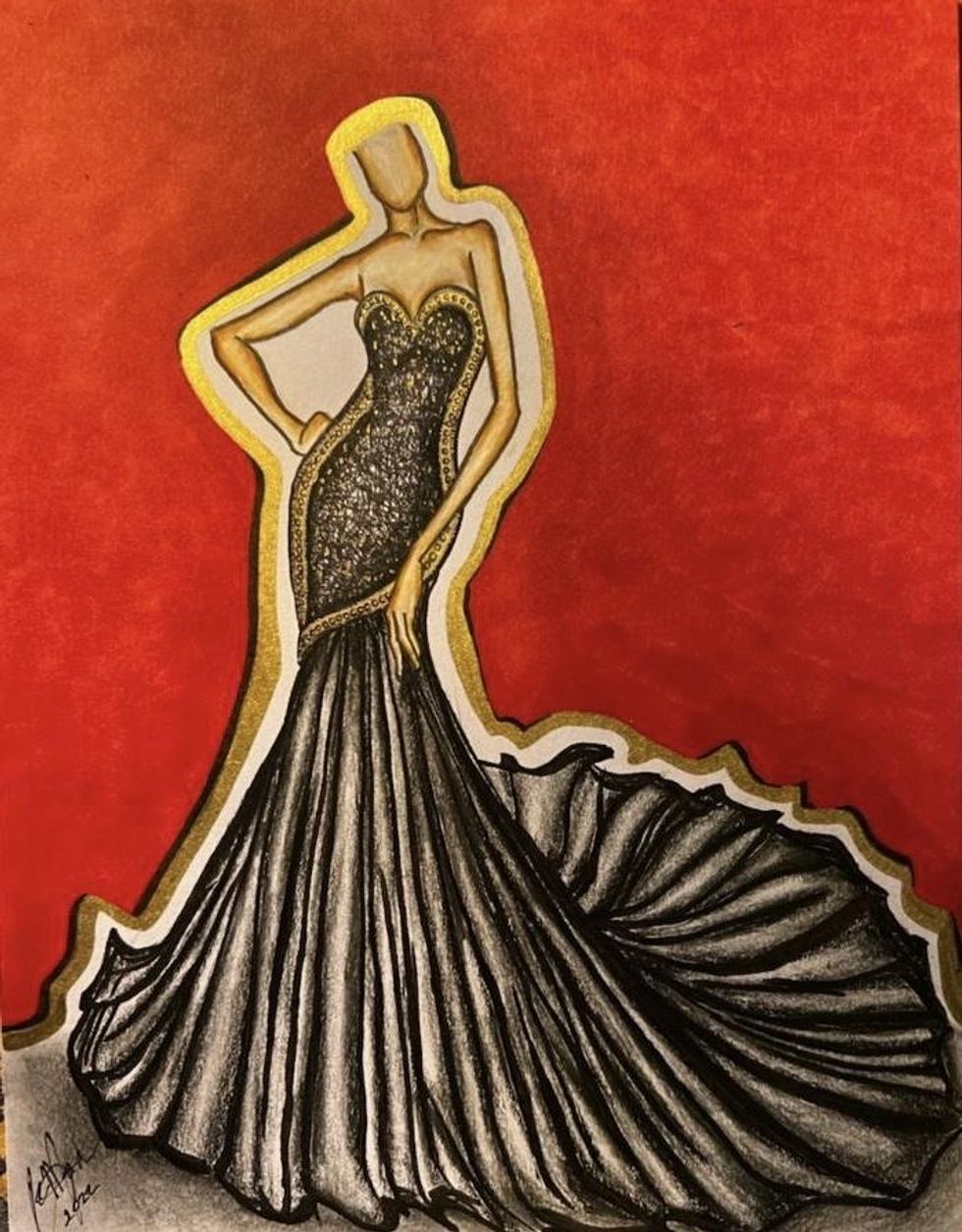 Blake's sketch of a gown from his latest collection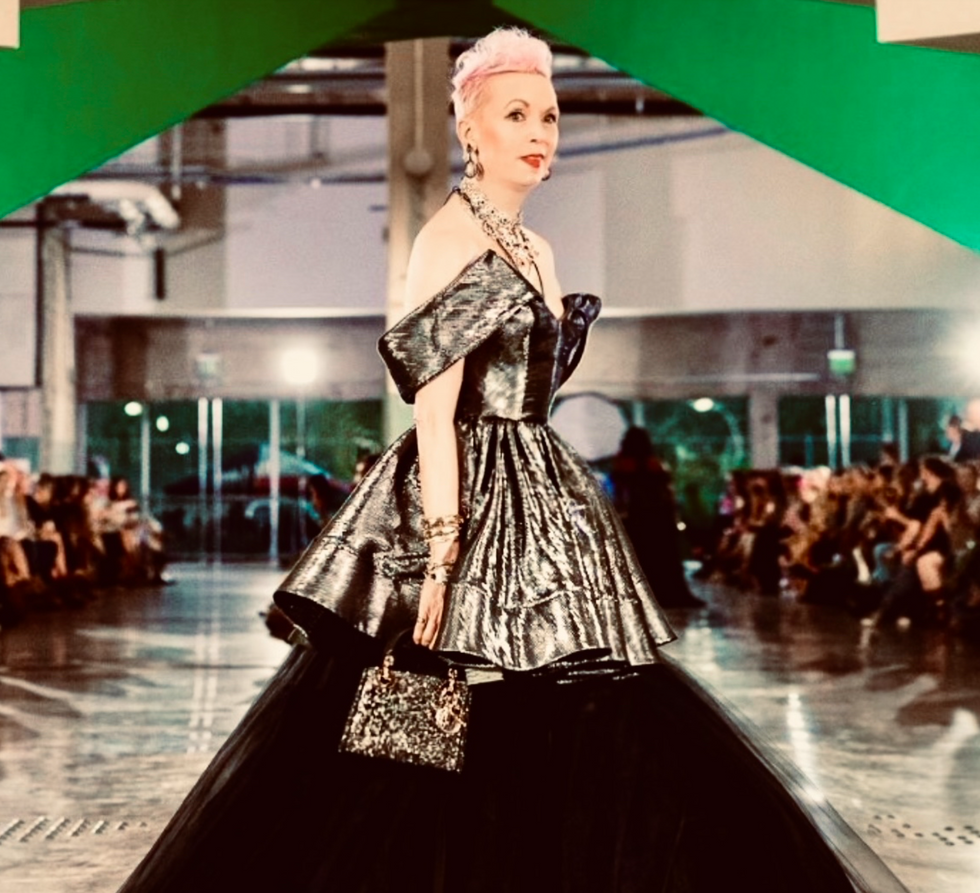 Celebrated "pink hair, don't care" fashionista Vivian Wise has long been Blake's friend and patron.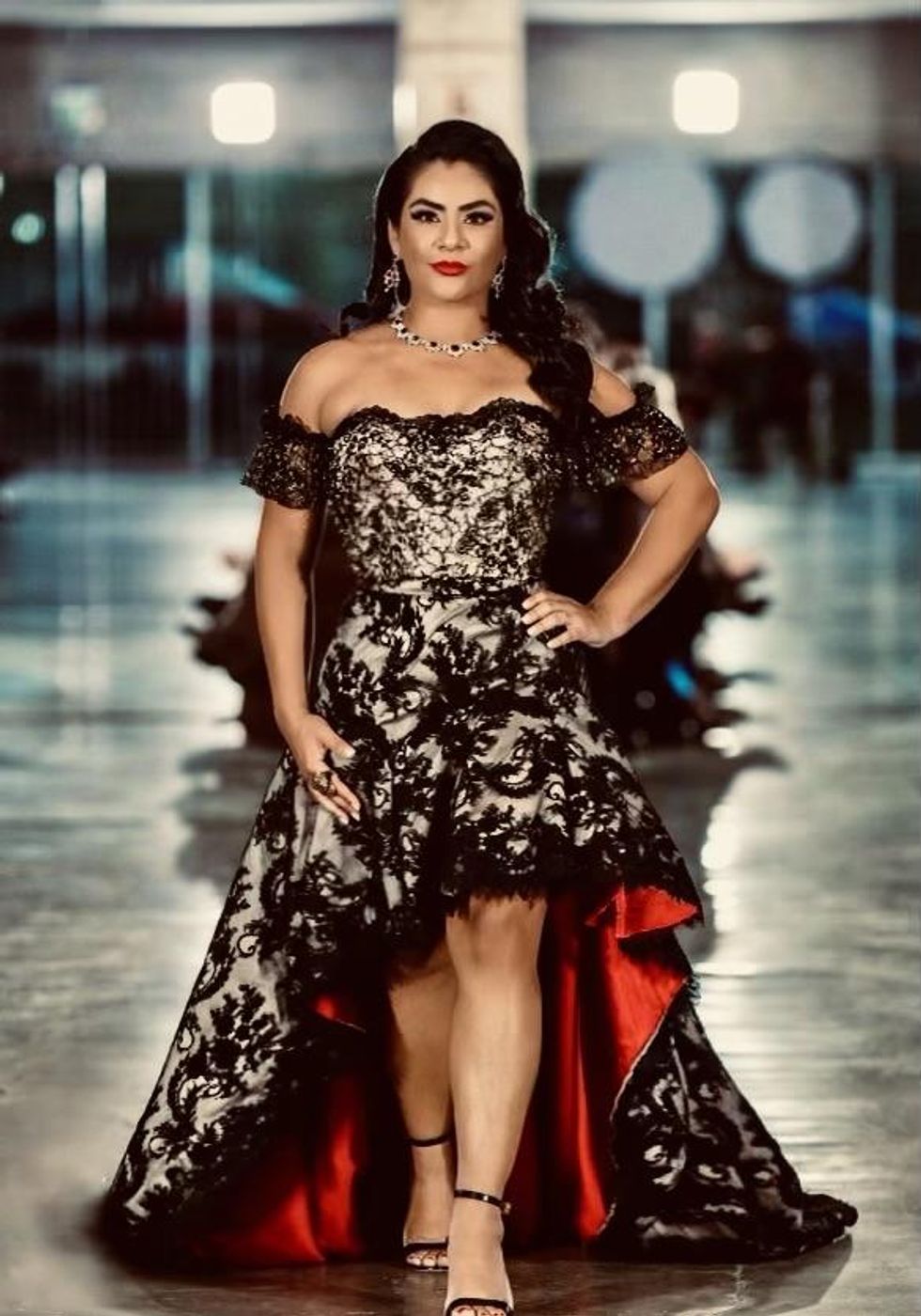 Blake's friend and client Elia Gabanelli, in his creation earlier this year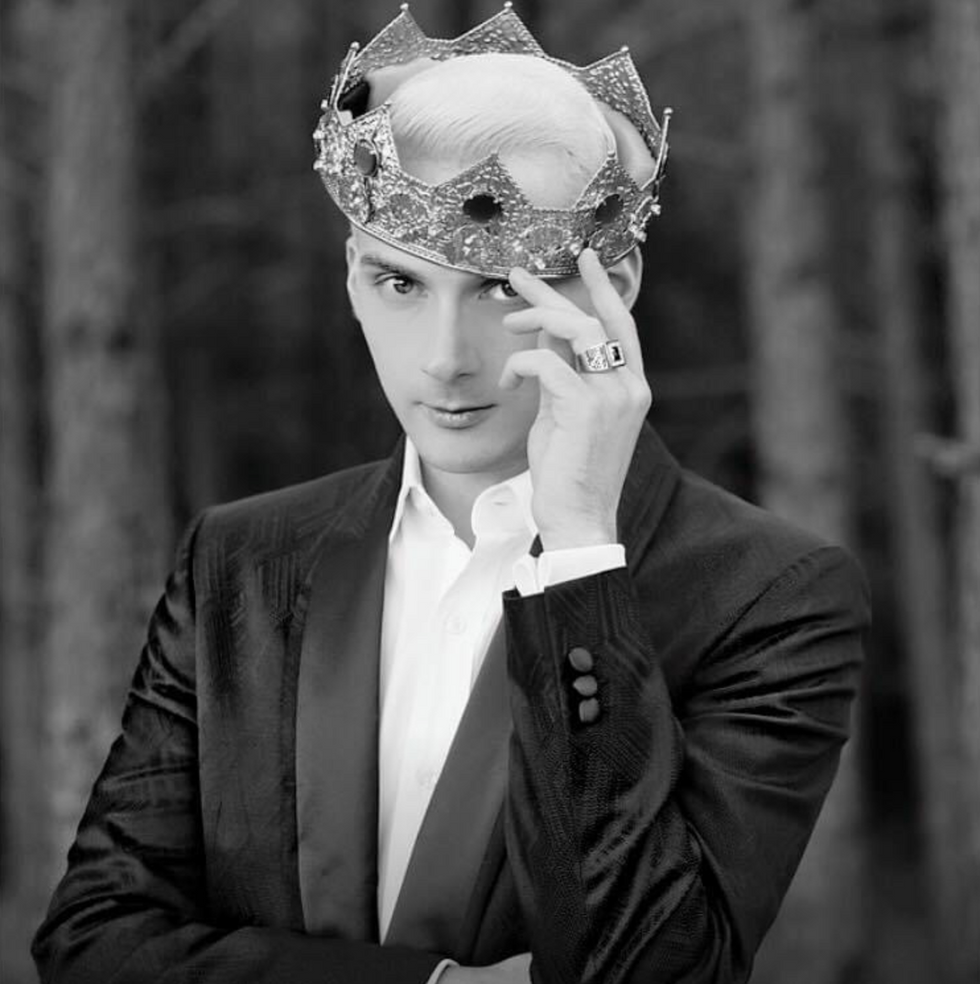 Blake had a crowning moment — in a stylized promotional portrait from earlier in his career.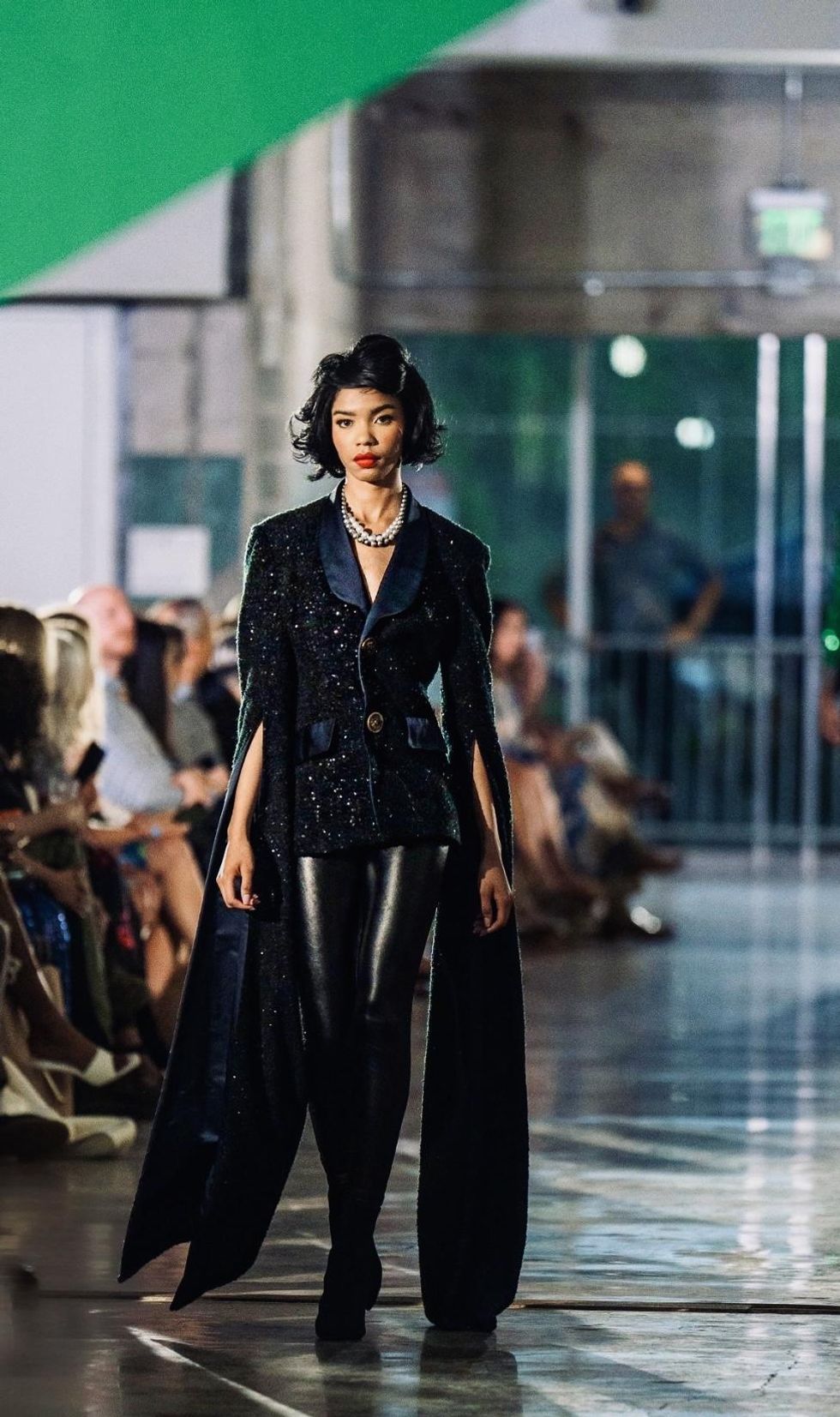 Blake's pieces were highlighted at the 10th anniversary of Runway Houston, at Downtown's Post in the spring.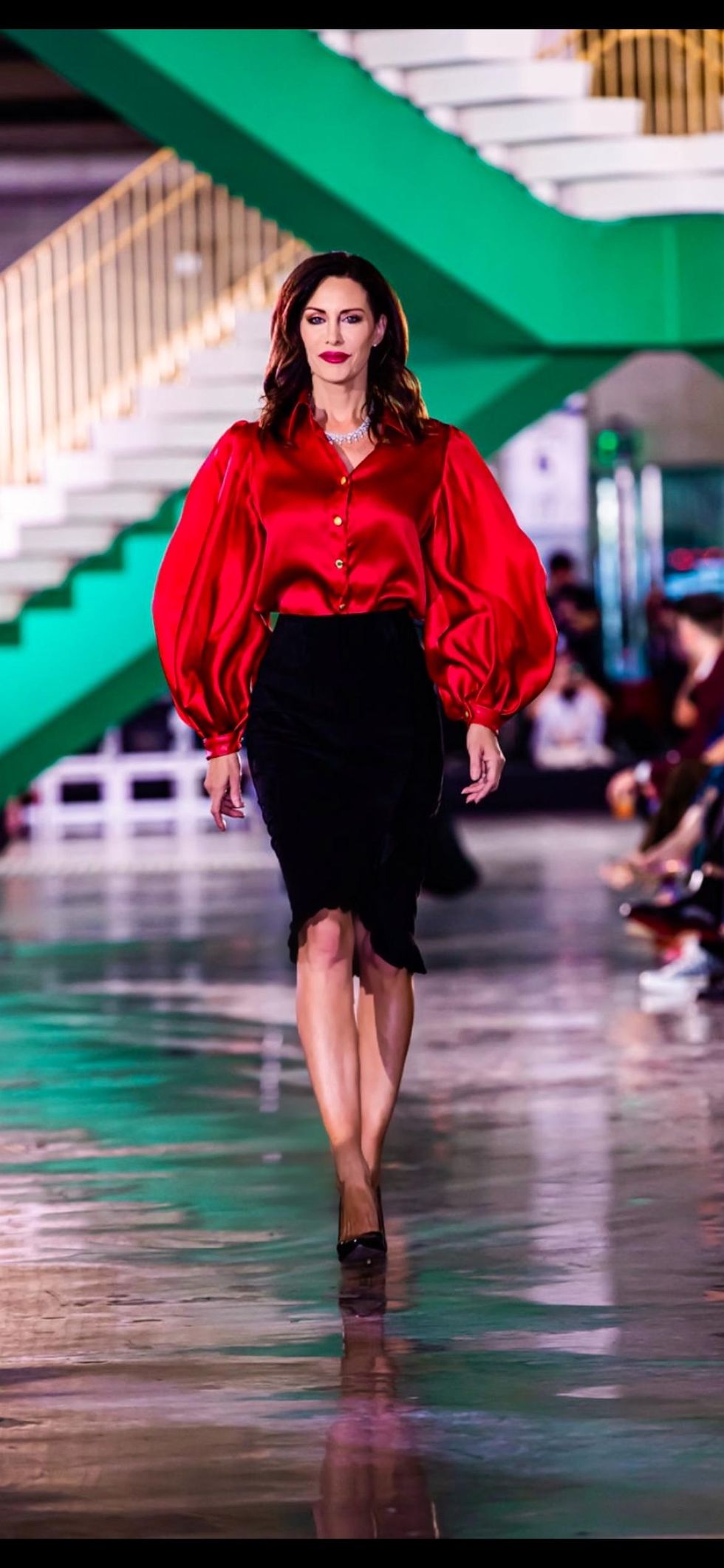 The designer named his newest line "Regal."
The label operates like a small-scale couture house solely focusing on made-to-measure. Blake has measurements on file and even mannequins made explicitly for his top clients — so if they see something in the collection that catches their eye, he can make it without them having to come in every time.
"Even though I can't say Jonathan Blake is haute couture, because that's a very special label that's really only for Parisian designers, I operate very similarly," Blake says.
Blake became a staple in Houston's social/fashionista circles in 2012 when he, barely legal at the time, released his first collection at the Junior League. Ten years later, he's sticking to what he knows, with the heavy, expert use of jewel tones. "They look good on almost anyone, and they are never going away."
Blake is dressing Wyatt and several notables for the Menil gala Dec. 3, including Carolyn Farb, Elia Gabanelli and Vivian Wise. The pieces are a little bit rock 'n' roll, with an infusion of celestial motifs, the combo yielding a bit of dreamy old Hollywood.
Farb will stun in a gown Blake originally envisioned in a liquid silver ottoman fabric from France, with the skirt in soft veil tulle. Farb and Blake opted for Italian lace for the top and Spanish tulle that is an ombré of deep sapphire blue to gold with platinum foils for the skirt. The gown has more 75 yards of the unique tulle, and the petticoat inside is all handmade, while the lace top has a complete corset with satin ribbons built in.
When Elia Gabanelli reached out to Blake, her inspiration was the late actress and muse of Cartier, Maria Felix. As a result, she will be wearing an embroidered Chantilly lace corset with a high-low genuine Alencon lace, both handmade, all lined in silk and cashmere. The lace for the corset was hand embroidered in Switzerland and took almost six months to make, with her corset taking well over 100 hours to construct.
For her part, Wise, whose gown is 100 percent handmade and also took months to complete, will be covered in Swarovski crystals reflecting shades of pink, lavender, blue, green, orange, red and yellow.
The designer himself will also attend the Menil ball, perhaps a kind of second coming out party. What has he come up with to wear? His jacket will be a deep, almost aubergine purple, trimmed in black handmade French lace. "I chose a smoking-jacket-inspired jacket instead of the typical tuxedo," he says, "because the theme is 'surrealiste,' and what's more surreal than a dream?"
Business+Innovation