Pod Almighty
As podcasts become mainstream media, a pair of podcast 'networks' foster and further the craft in Houston.
Fulton Davenport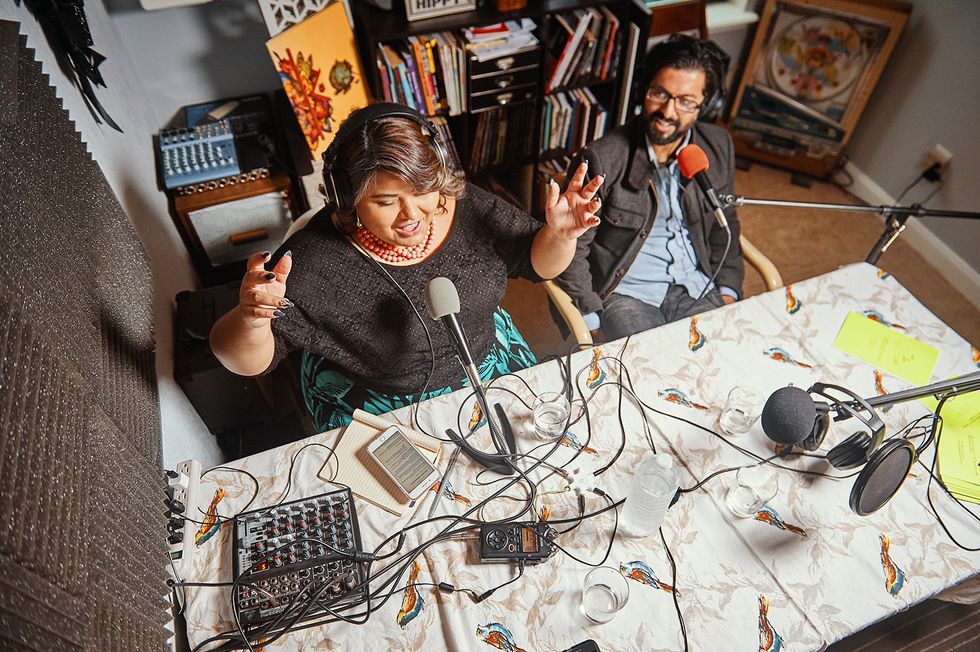 Brenda Valdivia collects things. "Comic books, knickknacks, whatever I can get my hands on," she says. Now, she collects podcasts, too, via the Mocking Bird Network, which she founded in 2016.
---
Mocking Bird emerged, like many artistic endeavors, from a definable absence: the lack of a home for podcasts in Houston. She noticed this need while floating around the city for years, participating in improv, storytelling, live book readings and other performing-arts endeavors. "I kept running into different performers who would casually mention their podcasts," she says. "These were people I'd known for years … and I'd say, 'What do you mean you have a podcast? How did I not know this?'"
Valdivia decided to gather equipment and build a studio in her own two-bedroom apartment in the East End, on a pot-hole-blasted street near the freeway. (Spend enough time in Houston and one may realize that creativity tends to live in neighborhoods that look despairing, but actually thrive on open doors, people coming and going.) She figured if she and her friends could spread costs across the board, create a website through which people could easily discover their work, and build a community, they could be at the forefront of a movement establishing Houston as a hub for podcaster hobbyists and professionals. 
Mocking Bird began with five shows, the very first of which, The Stacks, was a live-recorded comedy show through which Valdivia made connections to many other future hosts; its website now lists 20 shows that have been produced by the network. What draws Valdivia to a project is twofold: The hosts need to have some connection to Houston, and they need to have a unique point of view and subject matter. "On the radio, you want to be as broad as possible to catch people just flipping through stations. But with podcasts, you want to be as niche as possible," she explains.
Luke Brawner, who owns similar Houston podcasting operation Milieu Media Group, concurs. "It's an industry built on niche interests," says Brawner, who in the last four years has recorded several podcasts, including the popular Serial-inspired storytelling series The H and faith-based ones called Sons & Doubters and Hymnistry. "Literally anything a person is interested in, no matter how specific or unique, there will likely be at least one well-produced corresponding podcast." 
Houston podcasting has a brief but interesting history. PR pro Nick Scurfield is the rare H-Town podcast veteran, having launched Off the Turf With Scurf six years ago. He worked for the Houston Texans at the time, and began recording interviews and conversations with players. "When I started in 2013, I don't remember other podcasts at all in Houston," says Scurfield, whose new series, Welcome to Houston, co-hosted with Jordan Smith, riffs on local art, food and sports, and general Houston pride. The landscape has changed lately, and podcasts have become a mainstream part of local media.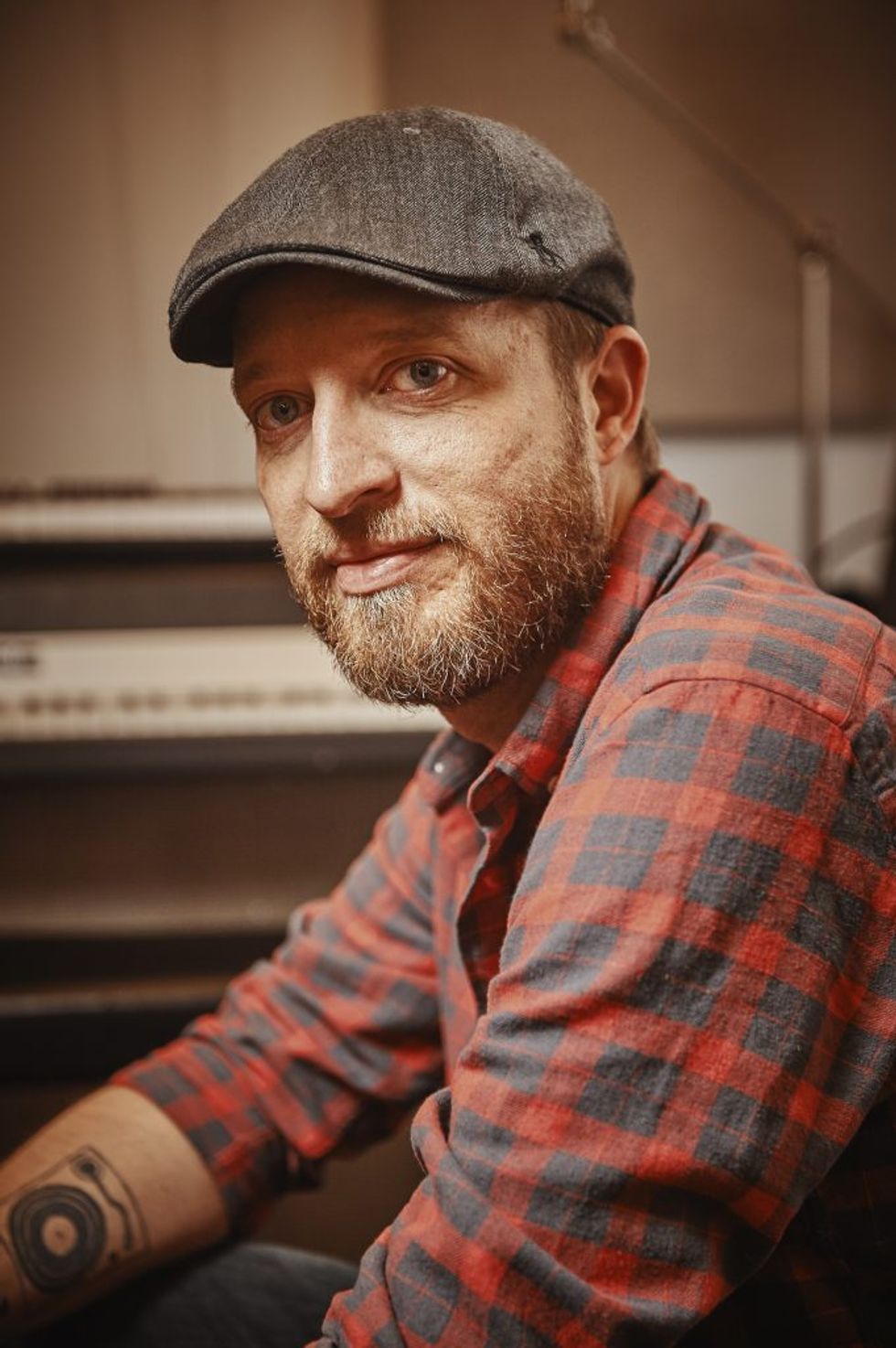 Podcaster Luke Brawner, who owns Milieu Media Group
Other local podcasts include Space Case, featuring the musings of the members of synth-pop duo Space Kiddettes on topics such as "crazy fast-food chain debacles of the '90s" and wisdom-teeth removal. And on Styling Social Justice, fashionista Donae Chramosta and Crime Stoppers' Exec Director Rania Mankarious discuss social-justice issues. "The Houston Chronicle and CultureMap have podcasts," adds Scurfield. "It gives them a chance to tell deeper stories. Podcasts are really starting to emerge."
And so are podcast networks such as Mocking Bird and Brawner's Milieu. The latter "helps folks with every step of the process," Brawner explains, "from conceptualization to pre-production, production, and post-production to distribution, promotion and monetization." He assists with music licensing, sound mixing and art design. "I get several calls and emails a week from individuals and companies locally who are interested in launching their own shows," says Brawner, a worship pastor who hopes to make Milieu his full-time gig by the end of the year.
"There's a fantastic and steadily growing community of podcasters and aspiring podcasters. ... There's increased print, television and radio media coverage of Houston podcasters, and even podcasting classes and workshops at several local high schools and universities." Brawner himself leads a workshop at Rice at the end of each semester. 
He cites the convenience of the medium as crucial to its success. "Unlike YouTube, its content can be enjoyed fully while driving, jogging, working, doing dishes," he says. Plus, "barriers to entry into the podcasting space are so disproportionately low relative to any other similar medium, companies are able to get tremendous return on minimal investment, enabling them to try just about any concept they imagine." He calls it a revolving cycle of growth: "Increased awareness begets increased revenue begets increased creativity begets increased awareness."
As for Valdivia, who has a job at a law firm to help support her podcast habit, she considers herself more of a curator, a word from her childhood; the daughter of Mexican immigrants who owned a corner store, she grew up frequenting the Museum District, drawn to the escapism and beauty that art exhibits offered. And like a good curator, Valdivia chooses what to highlight, gives the work a home, and then keeps her hands "as far away as possible, creatively. I'm not one of the artists. I like hanging back and watching them work." She sees Mocking Bird as a gallery, and "people can take a look around."
And what will they see? 
Many of the podcasts are a result of Valdivia's comedy-scene connections. Can't Tell You Nothing, co-hosted by comedian Antoine W.B., is a fresh and funny look at all things Houston. The hosts fall so deftly into improv routines and other characters that sometimes you can barely keep up. "It was exciting to support somebody we know with a Houston-grown entity," Antoine says, "and Mocking Bird makes it very easy to start. You get a page on the website, bios, the ability to upload, a full studio, everything." 
On Ryan's Crush Corner, a shy-sounding comedian named Ryan McGee invites women on whom he has had crushes onto his podcast. "What did you think of me?" he basically asks, a form of therapy on which we're all invited to eavesdrop.
These shows, and many more, feel of Houston but not about Houston — something that's important to Valdivia. "I wanted Houstonians to be the hosts, but didn't necessarily want Houston to be the subject," she explains, noting that she aspires for Mocking Bird to grow far and wide, just like the podcasting medium as a whole. "You know who doesn't go to church if the preacher's just preaching to the choir? Everybody else."
AT TOP: Brenda Valdivia and Abhinav Kumar record the podcast  '610 News' at Mocking Bird's studio, inside Valdivia's East End apartment.
Uncategorized