Previously Inspired by Trauma, Painter Thedra Cullar-Ledford Lightens Up, Offers a 'Warm Comforting Hug'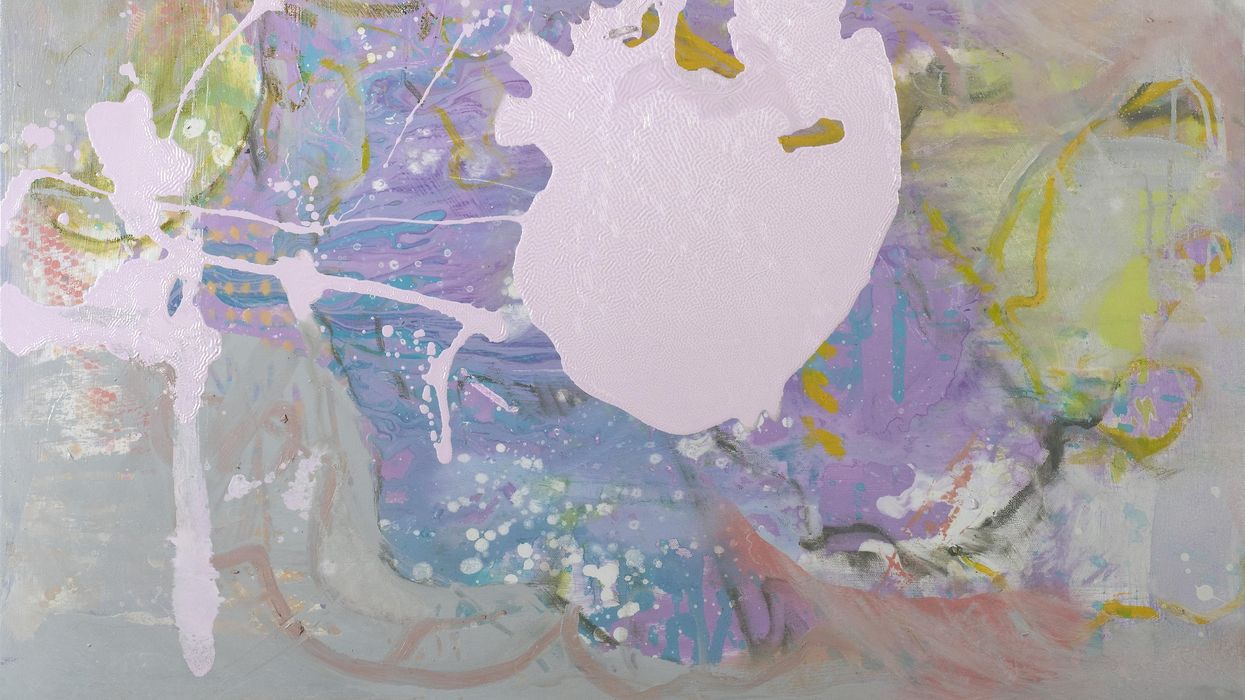 "IT'S TIME FOR some flowers in my life," says Houston artist Thedra Cullar-Ledford when describing her upcoming exhibition Petals and Spikes, which opens Saturday, Jan. 14, at Heidi Vaughn Fine Art.
---
Cullar-Ledford is well known for her garish, politically-charged paintings, mixed-media installations, and performances which fearlessly confront such difficult subjects as body image, gendered stereotypes and breast cancer. (Cullar-Ledford was diagnosed with breast cancer in 2013, and underwent a double mastectomy.)
But her new body of work, consisting of colorful floral paintings, each one practically bursting with life beyond the frame of the canvas, is definitely a new direction for this acclaimed artist, who explains, "Whatever I am doing is what I'm making art about."
So what's going on in Cullar-Ledford's life now?
"My son's getting married!" says Cullar-Ledford in a loud, sing-song-y voice with a mixture of pure joy and pride. Cullar-Ledford is also ready to be a grandmother, a very cool grandmother, with hair dyed in colors ranging from bubblegum pink to purplish red. (Cullar-Ledford and her husband Stephen have another high school-age son, a dog named Lola, at least two cats, and six chickens.) But she also acknowledges feeling burnout as our country's politics feel more divisive than ever and admits there are times when you just need cat videos and "a warm comforting hug."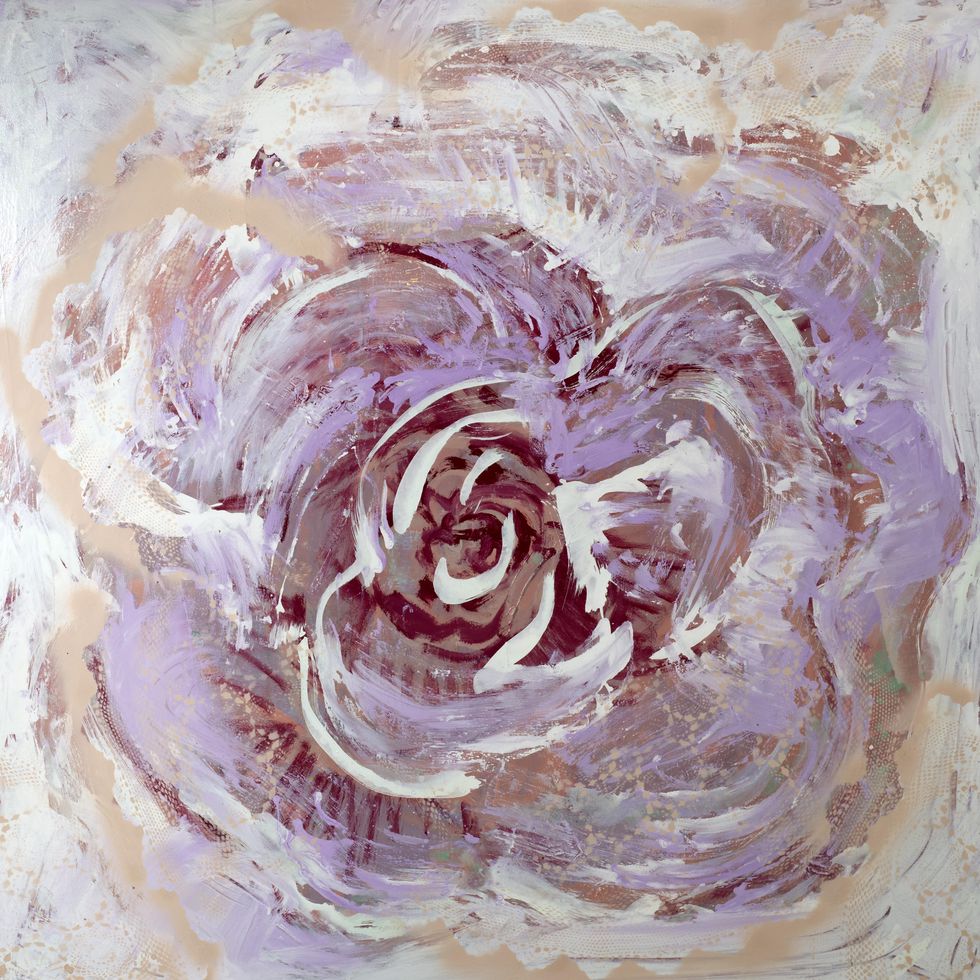 'Rose'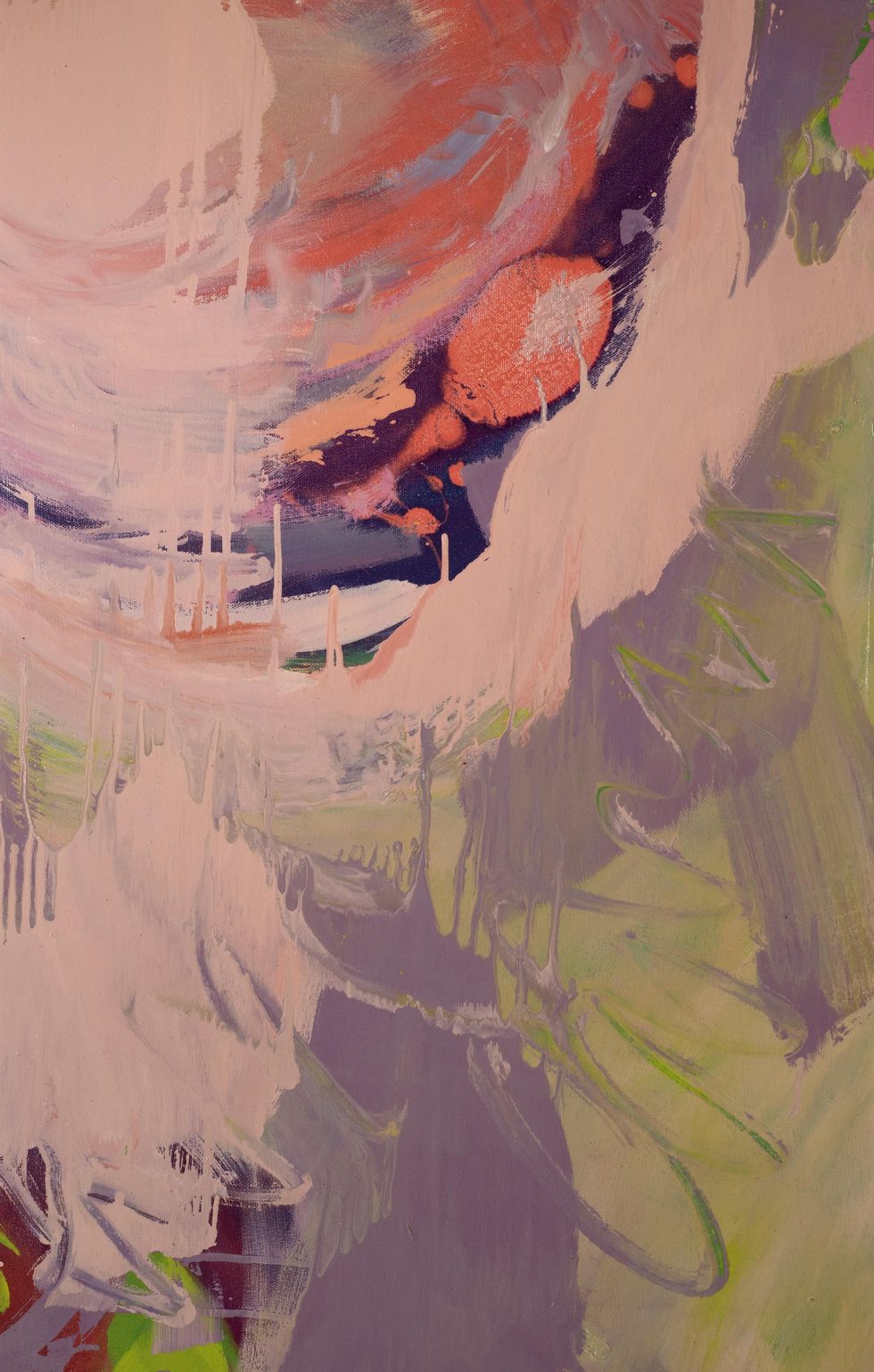 'Extra'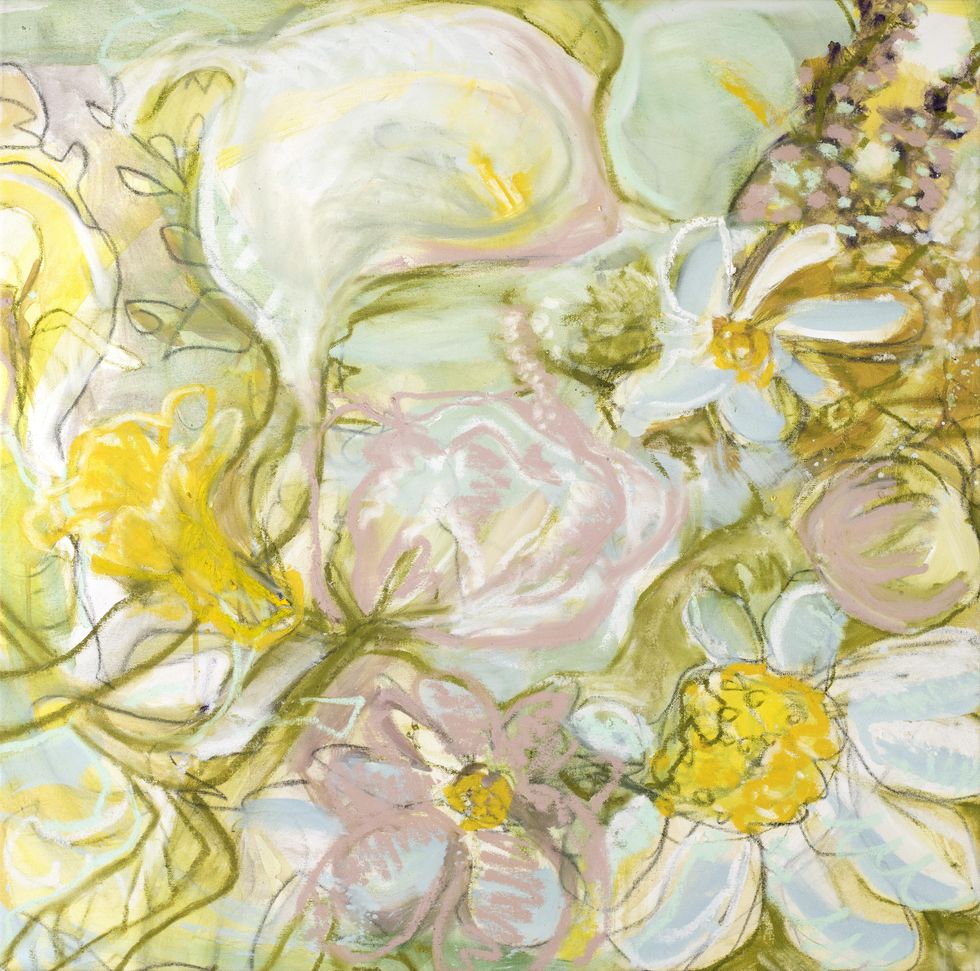 'Daisies'
That said, Cullar-Ledford hasn't exactly mellowed with age. Her flowers are abstracted to the point of pure textures, though recurring shades of pink, yellow, and blue will trigger in the mind of the viewer the sights and smells of a springtime bouquet, or maybe the walls of a newly married couple's nursery. Cullar-Ledford earned her BFA in painting at California College of the Arts and an MFA in printmaking and sculpture at the Ruskin School of Drawing and Fine Art at Oxford University ("I'm the most overly educated artist there probably is."), and with Petal and Spikes, she is referencing the whole of art history, including such works as Monet's Water Lilies and Van Gogh's Sunflowers series, which he painted using just a few shades of yellow.
Cullar-Ledford describes art making as "the cheapest therapy there is," and speaks openly and specifically about the personal traumas that have inspired her work. The only child of two artists, her father worked as a commercial painter of flowers for cruise ships, and at one point, hired his talented daughter to help out. Sadly, he was overly critical of her work, and eventually disowned Cullar-Ledford when she was 40. "It made me a huge overachiever," says Cullar-Ledford of the experience, who insists she feels no animosity toward her father, and the flower paintings are a way of showing this. "Right now I'm happier in my life than ever, but it's because of all the hard work," says Cullar-Ledford. "But the hard work was just a way to deal with the trauma."
The opening of Petals and Spikes is timed to take place on Cullar-Ledford's birthday (she turns 53), and guests are encouraged to wear "something creative and artistic" to celebrate the art and life. "The new work is … lighter," says Cullar-Ledford. "It's another chapter. Because now there's gonna be babies and I'm gonna be a grandmother."
Art + Entertainment