This Week at Lawndale: See How Pianist Jason Moran Used His Instrument to Make a Different Kind of Art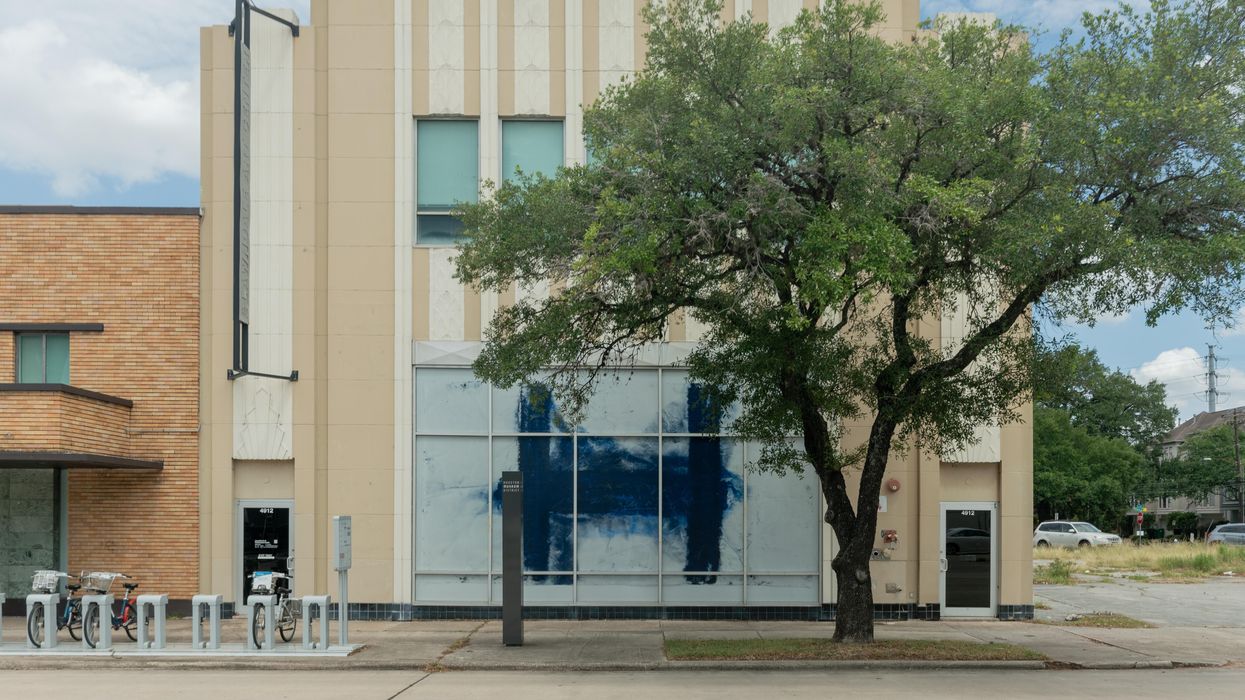 HOW MUCH PROFUNDITY can be hidden in just a few lines of poetry? How much history can be contained in the pressure of fingers on the strings of a guitar, or the keys of a piano?
---
Currently on view through Aug. 13 in the Main Street windows of Lawndale Art Center is Houston-born pianist and multidisciplinary artist Jason Moran's "Barline Hopkins Deathbed." A horizontal reproduction of the original work-on-paper, it's yet another dramatic installation in Houston artist and curator Tierney Malone's multi-year series The Sankofa Project, which explores the history of racial oppression of Black Americans through large-scale works by Houston-born artists. (The Ghanaian word "Sankofa" is commonly translated as "one must acknowledge the past in order to move forward.")
Other artists featured in the project include Malone, David McGee, Robert Hodge, Ann Johnson and Rabéa Ballin. While McGee's contribution to The Sankofa Project referenced the horrors and legacy of the Middle Passage, and Malone's artwork featured a young Ruby Bridges confronted by lions beneath the words "Black Lives Matter," the subject and content of "Barline Hopkins Deathbed" is more elusive.
To create the piece, the musician draped what he describes as "delicate" paper over a piano keyboard, then covered the paper with dry, dark blue pigment. He proceeded to play the keys, availing himself to the range of his formidable technique, and perhaps communing with the spirit of the blues guitarist and "sound griot" Samuel John "Lightnin'" Hopkins, who is the "Hopkins" in the title of the resulting work.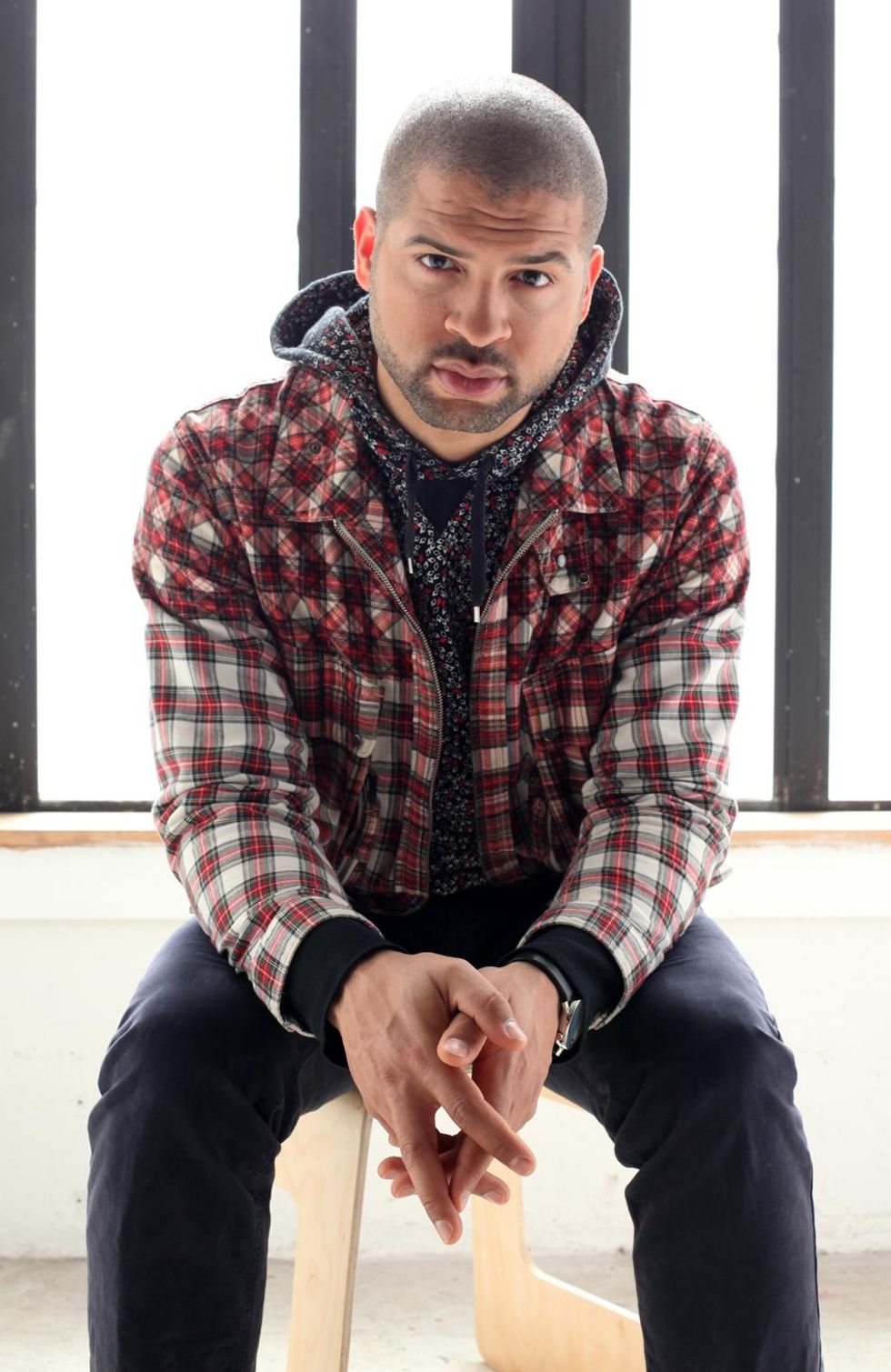 Jason Moran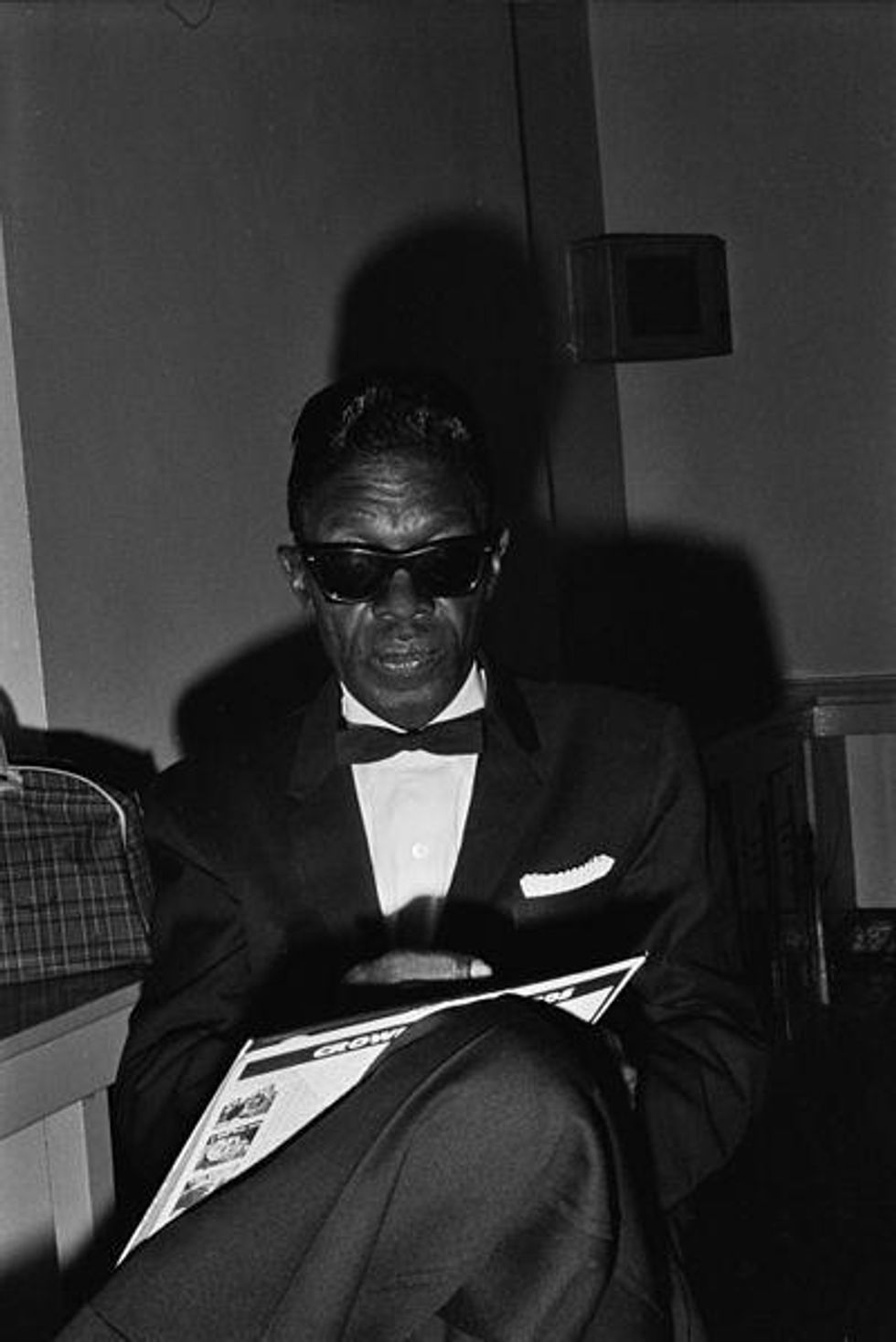 Samuel John 'Lightnin' Hopkins
By the end of Moran's private ceremony, the pigment formed the ghostly shape of what could be a bed or the letter "H." "H" is of course the first letter in "Hopkins," but in a statement, Moran explains the "H" shape is also "about the bridge between worlds and states," the liminal zone between heaven and earth, the physical and the abstract, and life and death. (Hopkins, whose playing had a profound influence on Dallas-born guitarist Stevie Ray Vaughn, and continues to inspire new generations of blues musicians, died of esophageal cancer in Houston on Jan. 30, 1982, at the age of 69.)
"Barline Hopkins Deathbed" has all the quality of a step across the border, and a glimpse into the abyss, a place you may not want to think about, let alone visit. But as Moran writes, "The blues stares unflinchingly into the mirror. … It asks us to ask ourselves the hard questions." With "Barline Hopkins Deathbed," Moran pays tribute to a fellow musician who asked those questions, using only the humble tools of an electric guitar, the voice and a few lines of poetry to give his listeners a means to cry, dance and otherwise boogie into the great beyond.
Art + Entertainment