A Day in the Life of the Arts 2020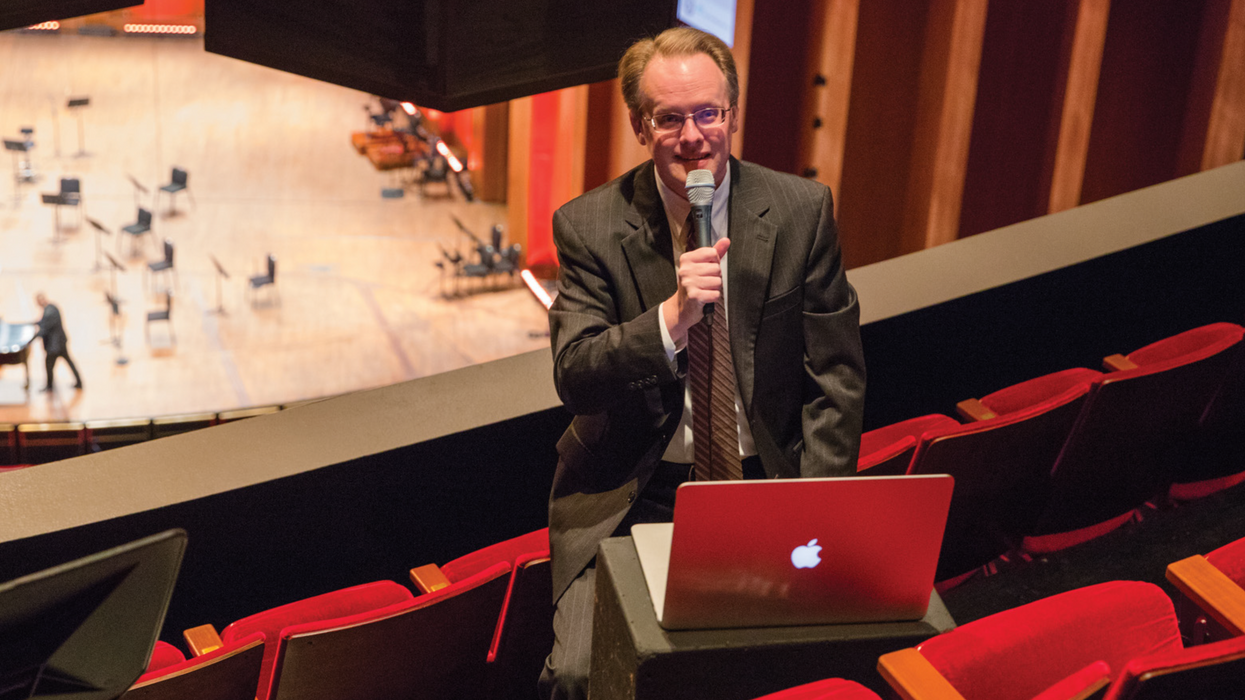 Even in a pandemic, the arts culture of Houston never stops — from movie screenings in the wee hours of the morning, to public art installations that light up the night. Seven photographers capture the everyday wonders of art in the most resilient city in America, over the course of 24 hours on Saturday, Oct. 3.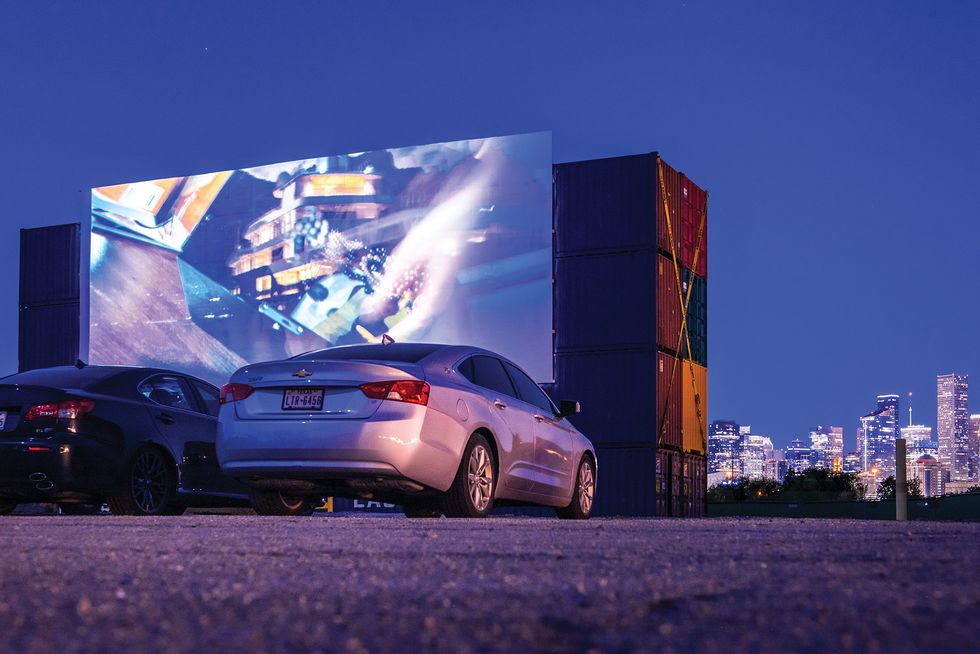 ---
12:01am

Patrons park to enjoy a screening of 'Tenet' (and skyline views) at the new Moonstruck Drive-In Cinema at East River. Drive-in theaters — and music festivals and even Christmas-light displays — are among the Covid era's most successful trends. Photo by Jhane Hoang.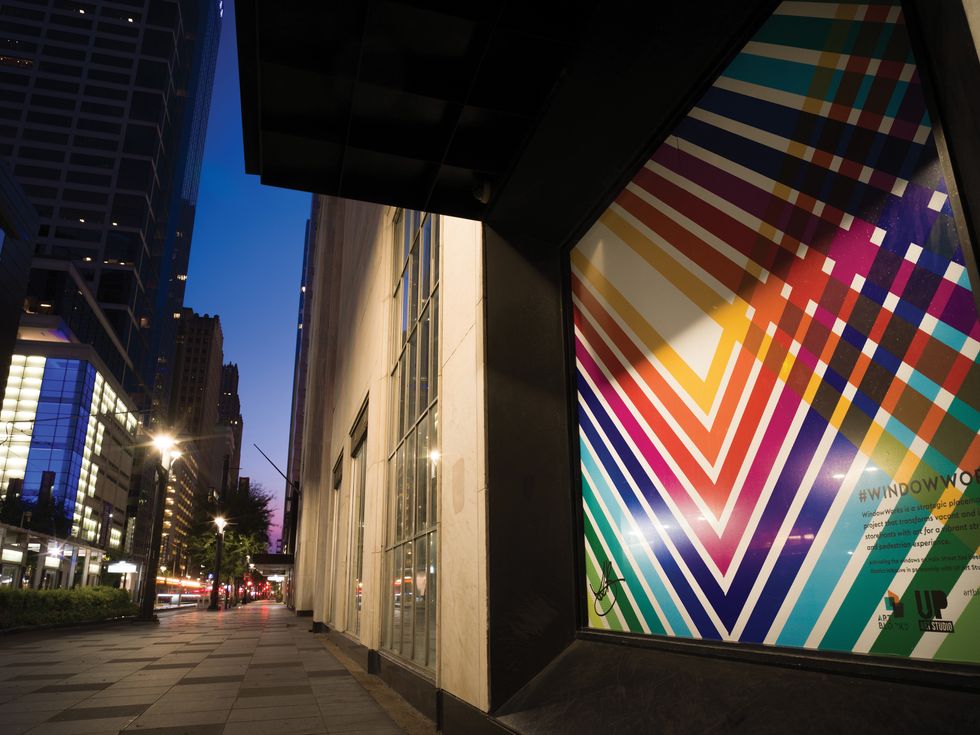 6:54am
The sun rises Downtown, where public art has lent a sense of life during the pandemic. At 1111 Main, Steffany Brady's 'Brilliant Tapestry' hangs as part of the WindowWorks initiative to transform vacant storefronts. Photo by Daniel Ortiz.
9:46am

Katrina Buerger smooths out a new mural by artist Carra Sykes on the third floor of Downtown's GreenStreet complex. Weingarten Art Group curates and manages the development's rotating art displays. Photo by Lawrence Elizabeth Knox.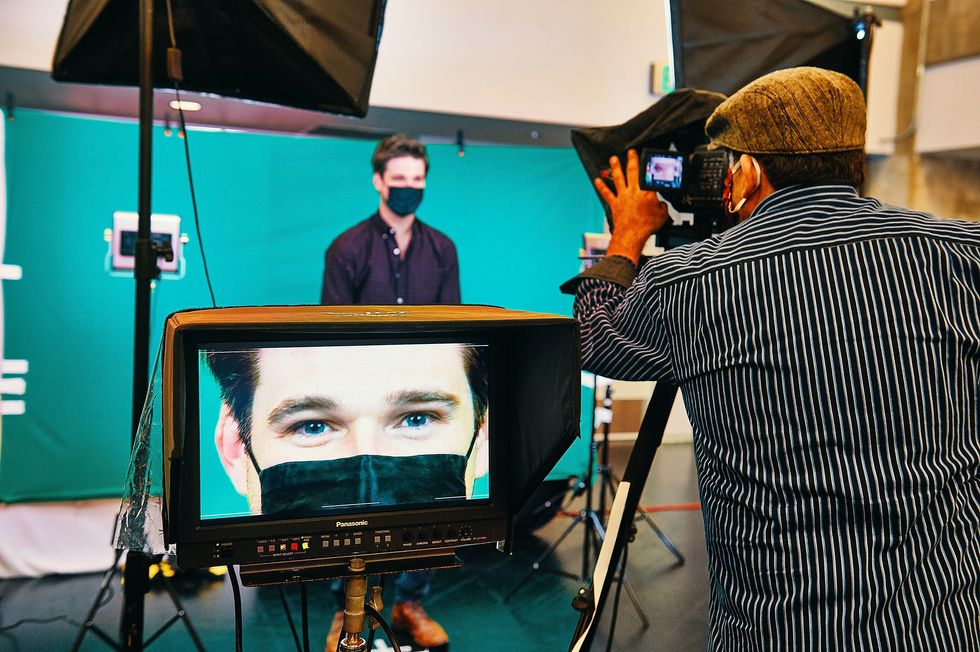 10:03am

Scott Gibbs and Baldemar Rodriguez of the Alley Theatre's Education and Community Engagement team film content for Spring ISD's virtual-learning program. The Alley has partnered with school districts around the city to educate kindergarten, first- and second-grade students through the magic of theater. Photo by Fulton Davenport.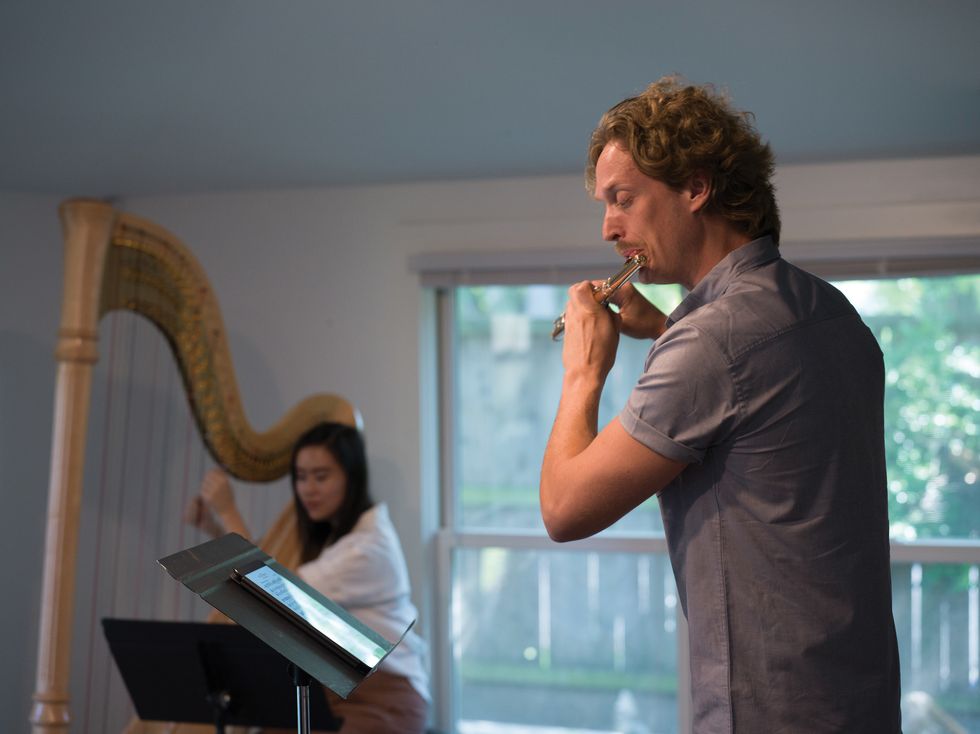 11:37am

DaCamera 'Young Artists' Kelsey Sham and Douglas DeVries rehearse for an upcoming performance. The chamber-music group's Young Artist initiative is a fellowship program for emerging professional instrumentalists, vocalists and composers. Photo by Daniel Ortiz.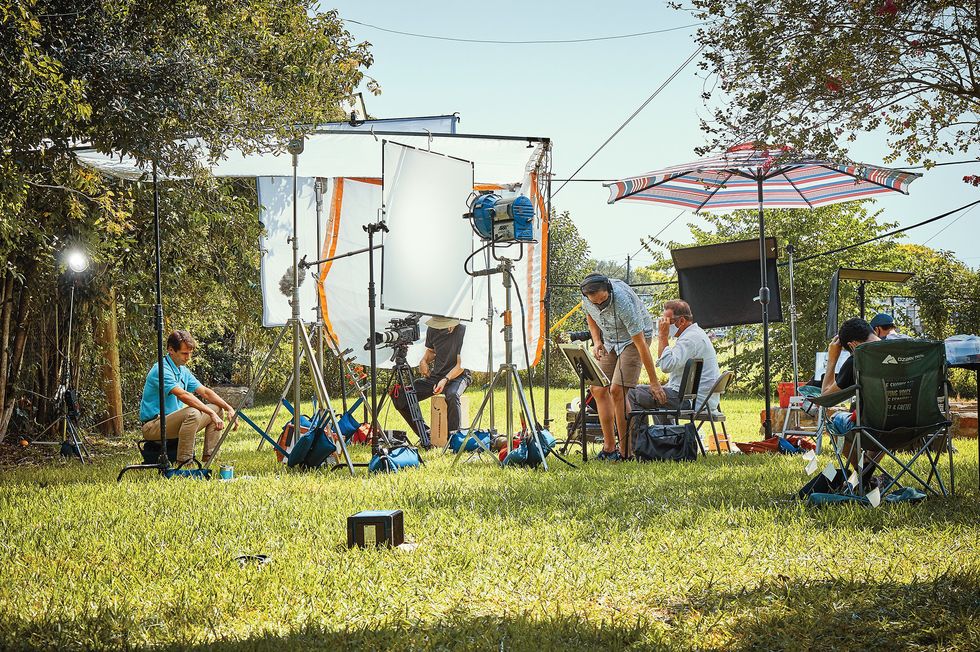 12:25pm

The Houston Grand Opera readies to film its streaming-on-demand opera, 'Vinkensport, or The Finch Opera.' The team rented a house near Westbury, and did all recording outdoors. Photo by Fulton Davenport.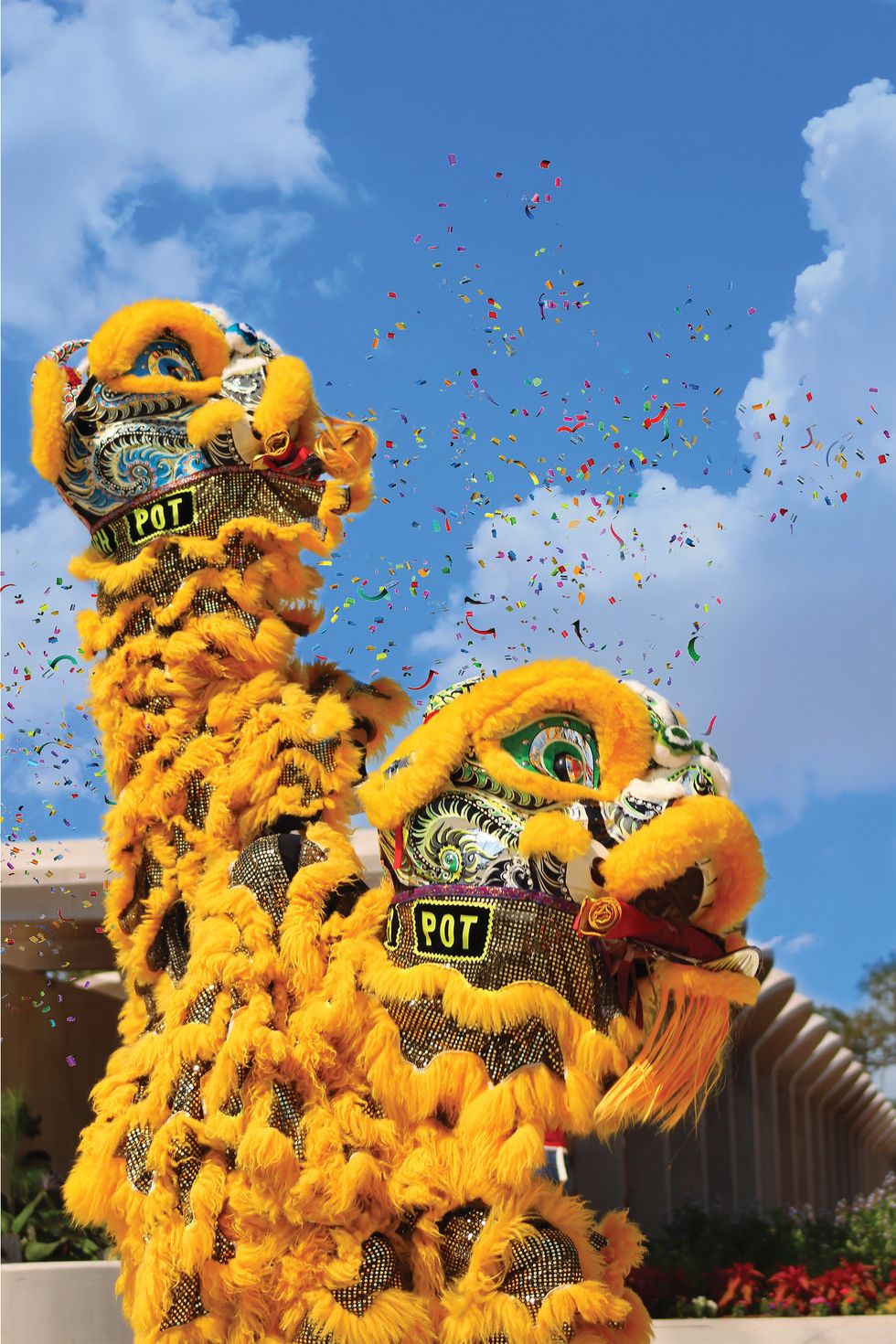 1:02pm

The brand-new Houston Botanic Garden, located near Hobby Airport, toasted its grand opening with the Celebrating Asia event, featuring a performance by the Soaring Phoenix Dragon and Lion Dance Association. Photo by Greta Connolly.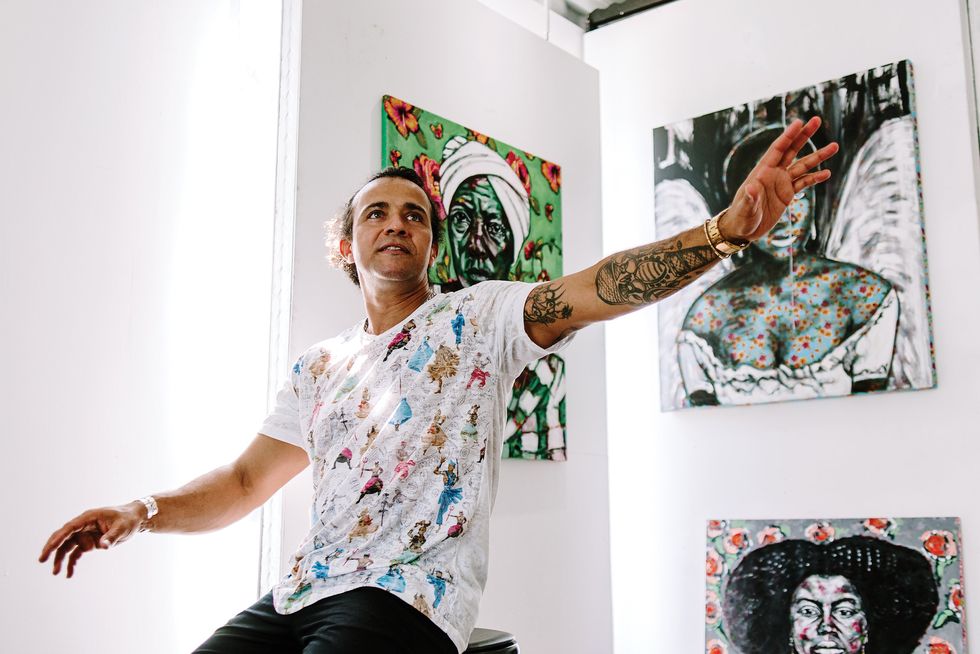 1:08pm
Brazil-born, Houston-based painter Tony Paraná finishes up pieces for display at the Bayou City Art Festival, which this October went virtual for the first time in its 50-year history. Photo by Jhane Hoang.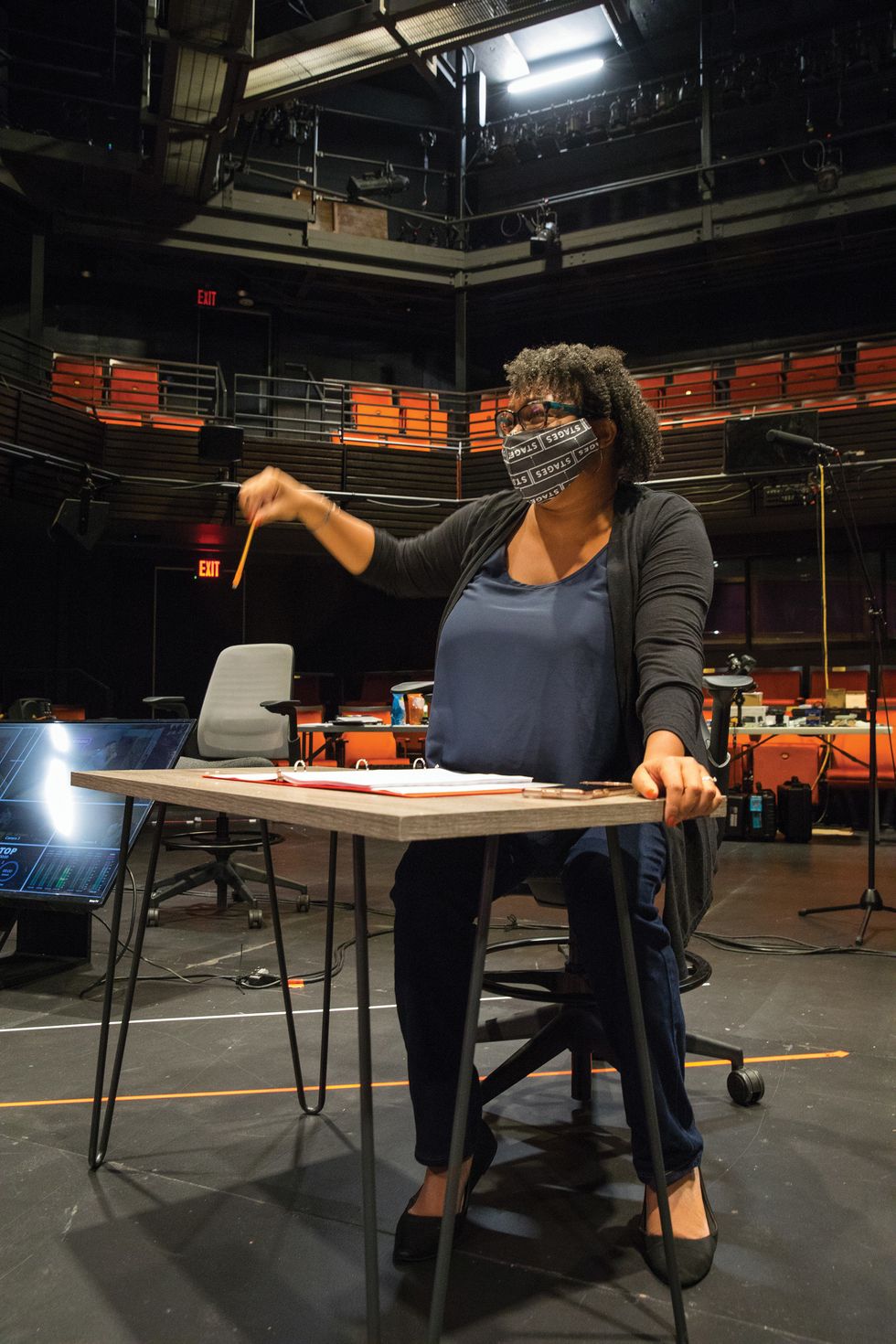 1:10pm

At Stages' Gordy theater, Eboni Bell directs a rehearsal for actor Mark Ivy's Studio Session. Stages' Studio Sessions performance series spotlighted different actors each weekend in one-hour world-premiere shows, streamed on YouTube Live on Friday nights. Ivy's was the eighth and final show. Photo by Shannon O'Hara.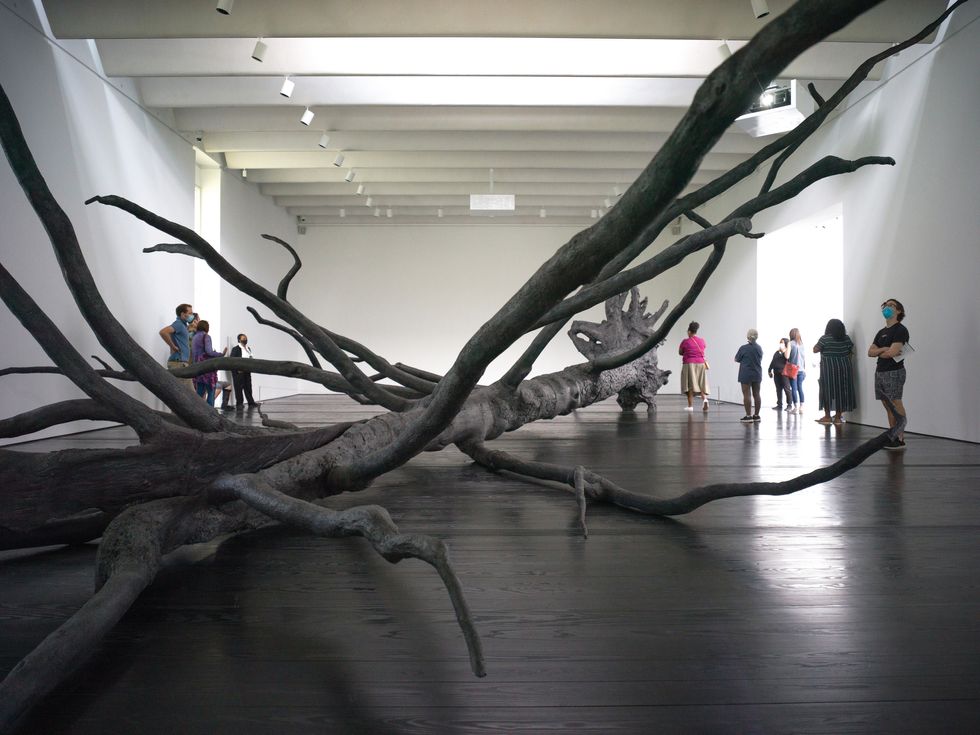 1:54pm

Masked Menil patrons take in the 'Specters of Noon' exhibit with seven newly commissioned pieces by Puerto Rico's Jennifer Allora and Guillermo Calzadilla. The Menil Collection reopened its buildings just weeks prior, after six months of Covid-related closures. Photo by Daniel Ortiz.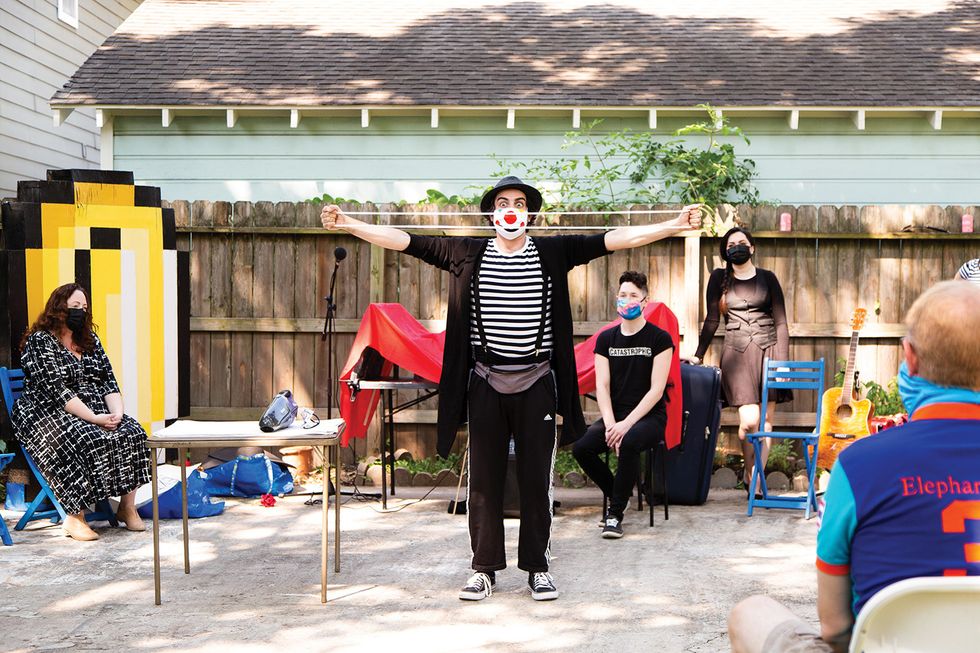 2:46pm

Actors with the Catastrophic Theatre's Drama Squad present a pop-up performance in a Heights-area front yard. The group can be commissioned for socially distanced, site-specific productions on weekends. Photo by Lawrence Elizabeth Knox.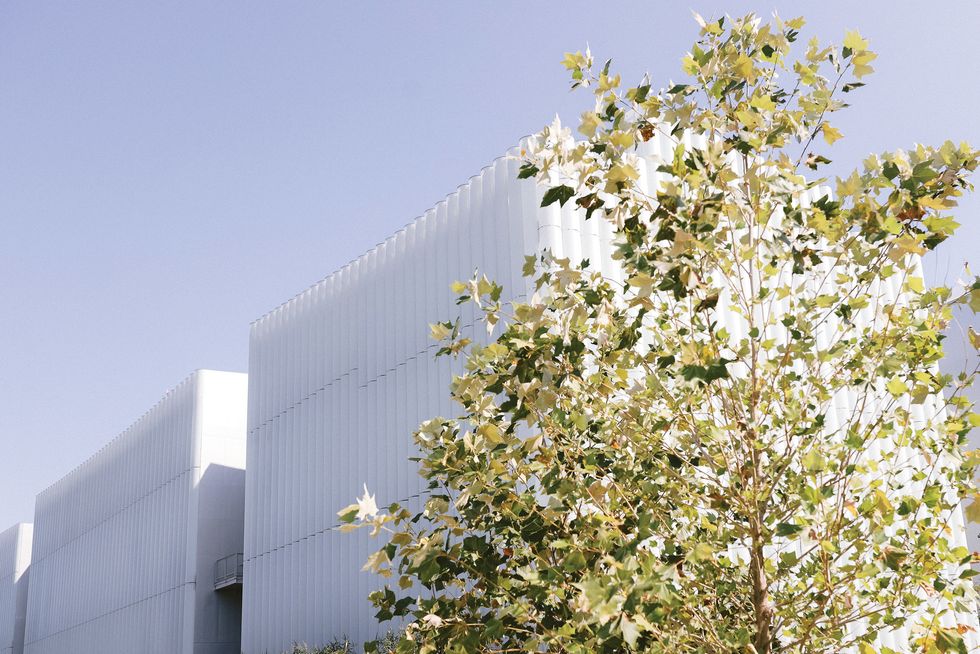 3:39pm

Afternoon sun reflects off of the Museum of Fine Arts' nearly finished Nancy and Rich Kinder Building. The third and final component to open as part of the $450 million campaign to redevelop the Susan and Fayez S. Sarofim Campus, the Kinder Building opens on Nov. 21. Photo by Kelli Durham.
6:44pm

Houston Symphony CEO and Executive Director John Mangum sets up to host the livestream performance of the Houston Symphony's Clyne, Haydn and Dvořák program. Photo by Shannon O'Hara.
7:10pm

Photographer Isabelle Perreau talks with Austin journalist Jennell Lewis during the virtual opening reception for her show 'Diverse-City, An Ode to Houston' at Archway Gallery. Photo by Jhane Hoang.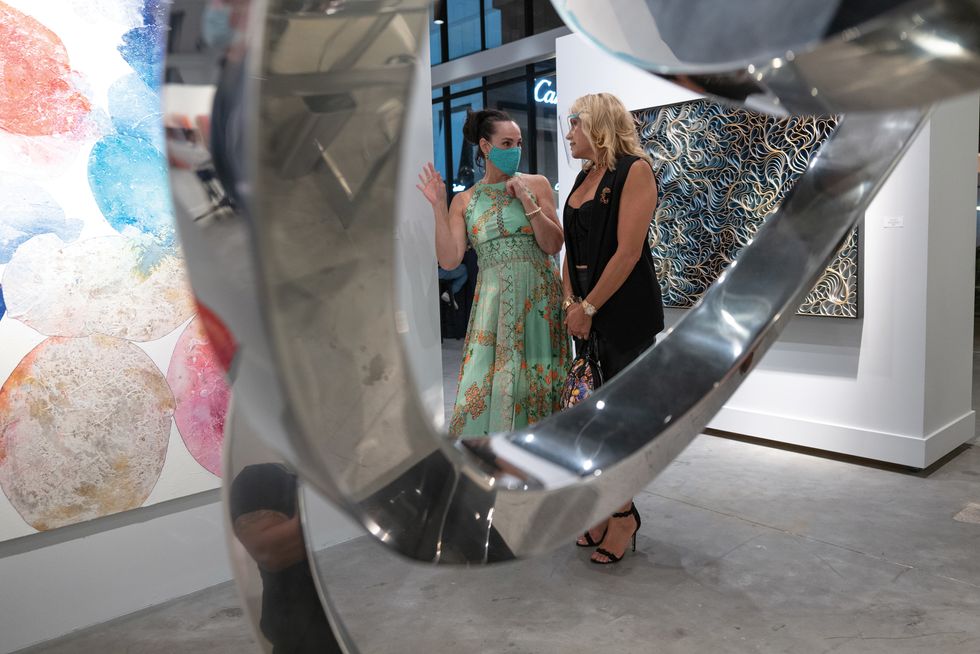 7:45pm

Supporters attend a socially distanced, timed-entrance party celebrating the grand opening of Laura Rathe's River Oaks District gallery. Photo by Daniel Ortiz.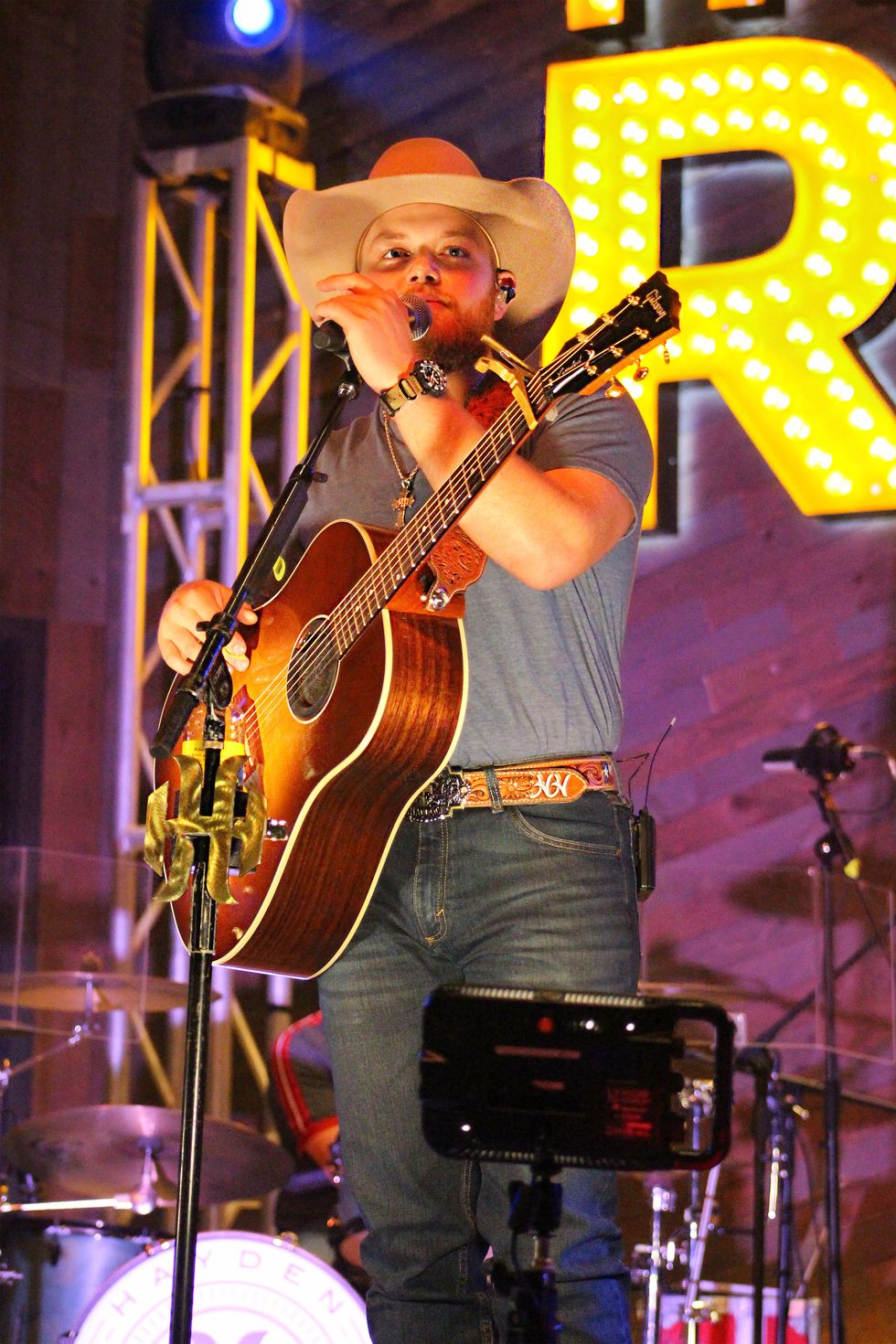 10:36pm

Texas country artist Hayden Haddock performs at The Rustic Downtown, a sprawling open-air restaurant and music venue that has continued to host concerts throughout the pandemic. Photo by Greta Connolly.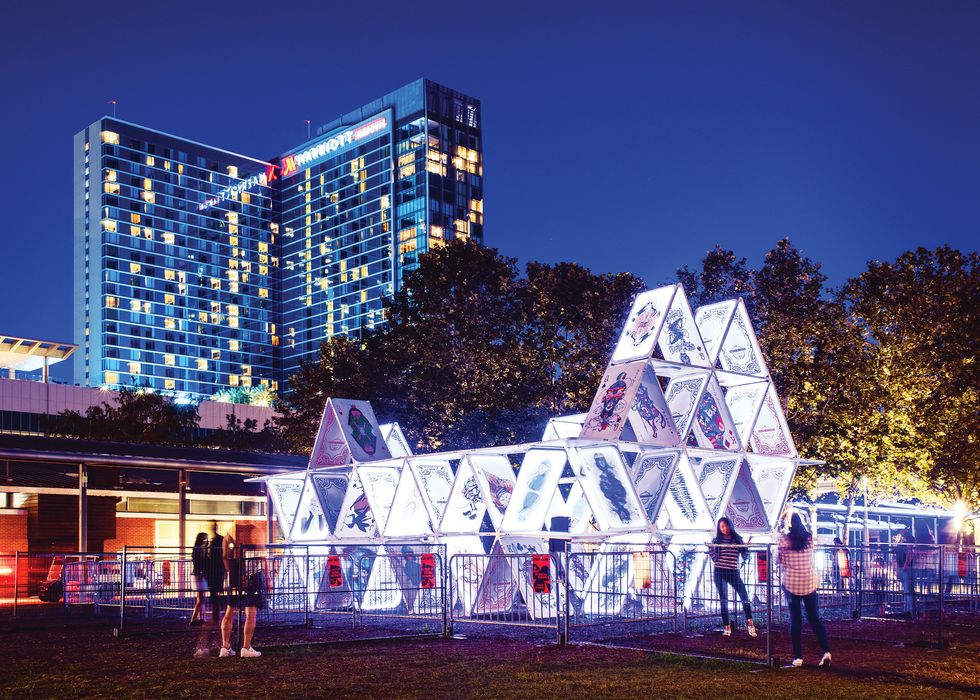 11:34pm
Below, 'House of Cards' glows during its final days on display at Discovery Green. After sunset, the art installation turned into a synchronized light display set to music. Photo by Jhane Hoang.
Art + Entertainment